Here are a few morsels from the soon-to-hit-a-newsstand-or-digital-device-near-you August issue of Latitude 38:
The 50th Transpac Race Report
"We worried that we were going to go into a crash jibe, and we were preparing for that. But we realized quickly that: a) we had no steering whatsoever, and b) we were taking on water pretty quickly," said OEX owner John Sangmeister in a video shot at night on the dock in Marina del Rey. Roy P. Disney was also interviewed in the video. Sangmeister matter of factly described the loss of his famed Santa Cruz 70 Orient Express, which shockingly became the first yacht to ever be lost at sea in the history of the Transpac race.
In the August issue of Latitude 38, we'll bring you the full story of Disaster and Deliverance from the 50th Transpac. While numerous boats suffered rudder damage on the hard reaching section that makes up the transition between the coastal west-to-northwesterly headwinds and the trade winds, there was also all the downwind, spinnaker flying, wave surfing glory we've come to expect from the Transpac once the fleet muscled into the revered east-to-northeast trades. Ronnie Simpson, our reporter on the ground, brings you the full story.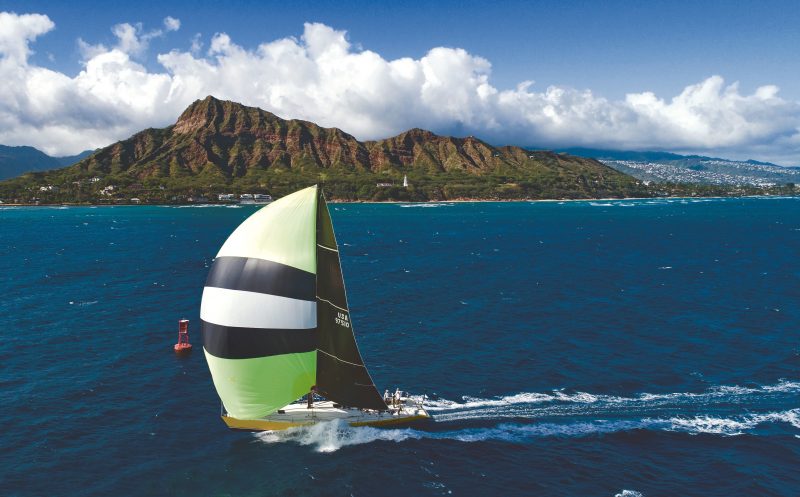 The Gidleys of Sausalito, Part 3
"In 1973, when Mary Gidley returned from the transatlantic crossing chronicled in the documentary The Raft, the family moved to a rented apartment in San Rafael. 'Then Cass moved out,' said Mary. 'He still had the Yo Ho Ho.'"  In this month's Sightings, we bring you the third and final installment of The Gidleys of Sausalito.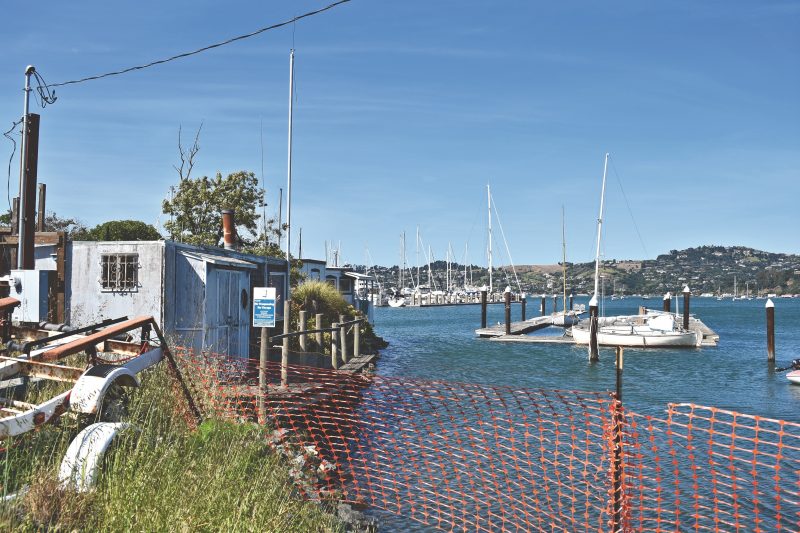 "'Luckily, in 2010 I got the call to attend a meeting about reinventing Cass' Marina as a wooden boating center. Memo got me to go to the first meeting. I like the idea of wooden boats; I like the idea of having kids of all ages able to get out and learn about the Bay and the history of those boats and to work on the boats. If they don't work on them, they don't appreciate them or really care for them, just like having a pet. In 2014, we got the lease from the city of Sausalito. We have to wait until Dunphy Park looks a little bit better. It's kind of dug up and access is limited." Sausalito's Dunphy Park, in front of Cass' Marina, was completely torn out and is being rebuilt with a new layout."
Finding Something Unexpected on the Other Side of the World
"Why would anyone want to cruise the doldrums? The Intertropical Convergence Zone that hovers near the equator is the opposite of classic trade-wind sailing, and, instead, is famous for being hot and windless with bouts of rainy squalls. However, generalizations and stereotypes are often misleading, causing many of us to miss the beauty and opportunity available once you get past your prejudices. By avoiding cruising near the equator, one of the places you might miss is the crowded, smoggy, hectic and sweltering    . . . but undeniably beautiful Republic of Indonesia, which sits more or less right on the equator."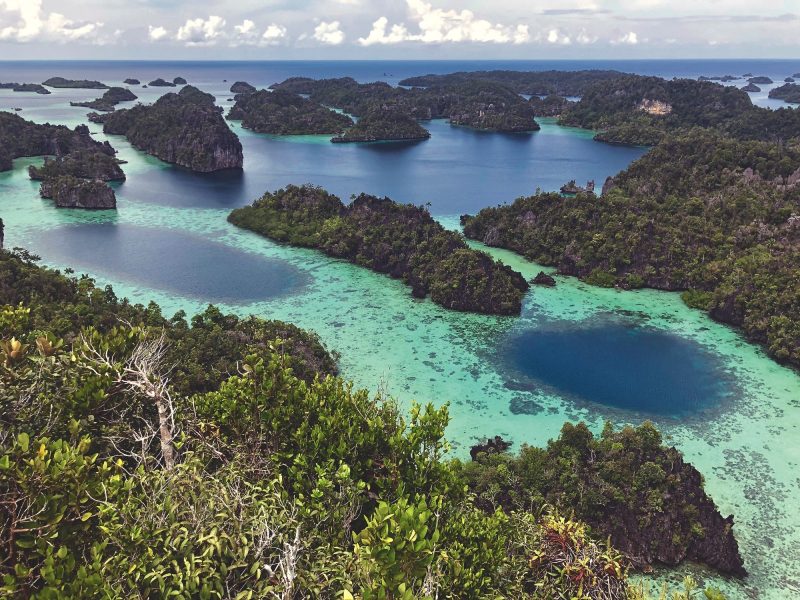 This is a dispatch from Latitude's publisher, who took a dive trip last March to Raja Ampat, a pristine and secluded gem tucked away in the eastern corner of the Indonesian archipelago. While this wasn't a sailing trip, our publisher could not help but "mind cruise" or imagine sailing Indonesia's endless nooks and crannies.
Logan's Changes 
"My name is Logan Bugenig and I have lived aboard Caramba nearly half of my 14 years. The last five years, my family and I have cruised down the North American coast from Washington state to Mexico, and then to where we currently are in French Polynesia," wrote Logan in this month's Changes in Latitudes.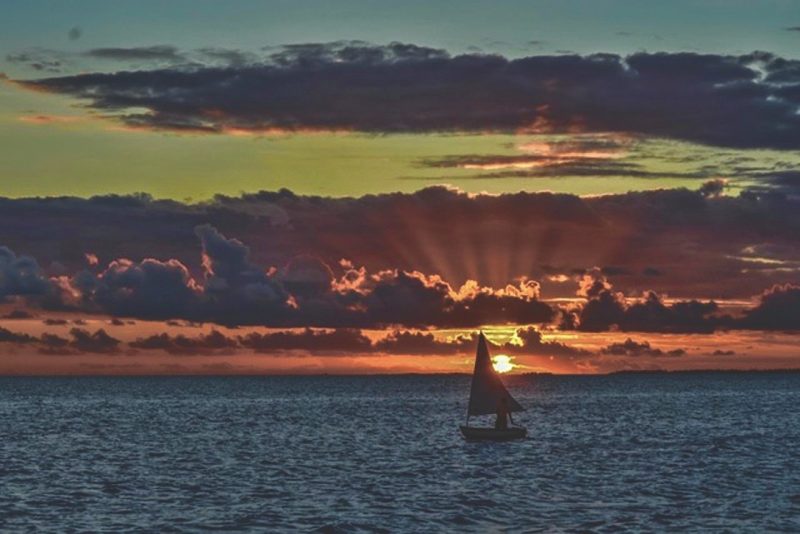 "Sailing in general gets you really close to your family, literally and metaphorically. My parents, Heather and Louie, and my 12-year-old brother, Hunter, understand each other a lot more than if we lived in a house. Of course there are conflicts from time to time, but we've also learned better how to work them out."
Rendez-vousing in Polynesia
"When a fleet of ordinary sailors completes a goal as ambitious as crossing three or four thousand miles of open ocean nonstop, it's only natural that they'd want to do a bit of celebrating, right?" So goes the story — brought to you, as always, by Latitude's editor-at- large Andy Turpin — of the annual Tahiti-Moorea Sailing Rendez-vous that went down this past June.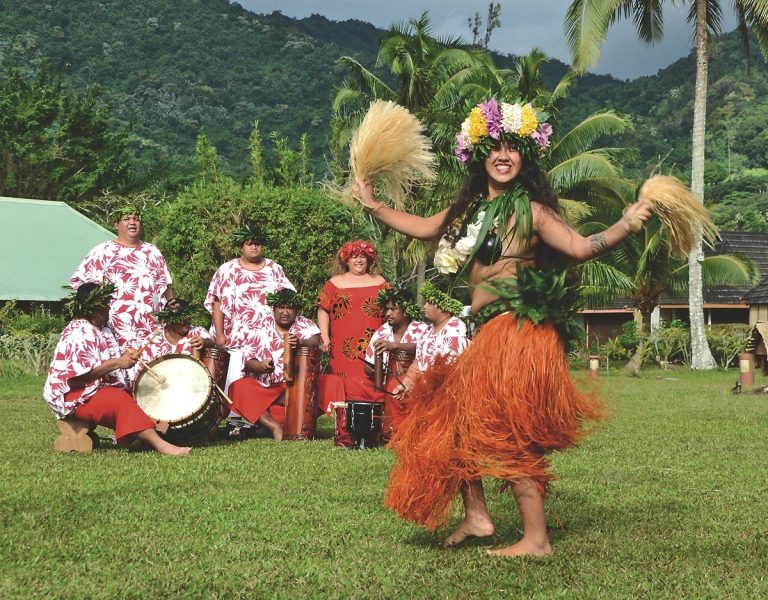 "Entering the roughly sculpted cradle of Cook's Bay is always a stunning experience," Andy wrote. "Jagged, tooth-like peaks jut up from the sea floor, sheltering the lagoon below."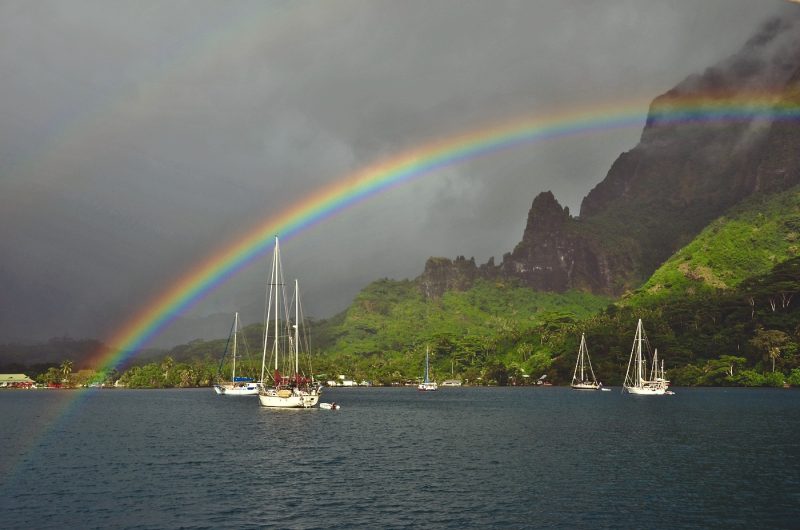 So there's an hors d'oeuvre tray of the forthcoming August issue to whet your palate. We hope that you find one of our many distributors, pick up an issue, and dig into the main course tomorrow.
Receive emails when 'Lectronic Latitude is updated.
SUBSCRIBE