After two days of racing in a variety of conditions on San Francisco Bay, Jack Sutter and Charlotte Versavel bested the fleet of seven competitors to win the Nacra 15 Youth World Qualifier at St. Francis Yacht Club on March 22-24. After this second of two qualifying events, US Sailing will now nominate the Sutter/Versavel team (StFYC/Richmond YC) to represent the United States at the 2019 Hempel Youth Sailing World Championships in Gdynia, Poland, on July 13-20.
The first day of racing saw light southerly wind and rain, sometimes heavy, making for a challenging day on the water. "We had to throw out our first race," Sutter recounted, though they managed to subsequently score two bullets. "But we were nervous going into the second day. When we saw the forecast, we were super-excited." The forecast called for a 15- to 20-knot westerly — classic Bay racing conditions.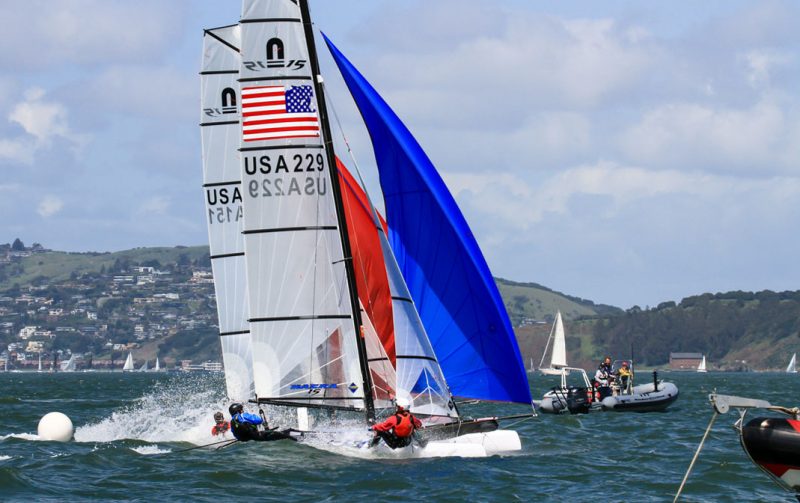 A different sort of challenge soon arose for the team. "As we were about to finish our first race of the day, Jack said, 'We have a problem, but we're going to finish,'" recalled Versavel. They dropped the chute, crossed the finish line in first and assessed the situation: The rudder casing had come free of the steering rod. Coach Adam Corpuz-Lahne was soon on the scene with bungees, duct tape and Spectra line to lash the boat parts back together. The fix held long enough for them to sail three more races, winning two of them, in increasing wind conditions.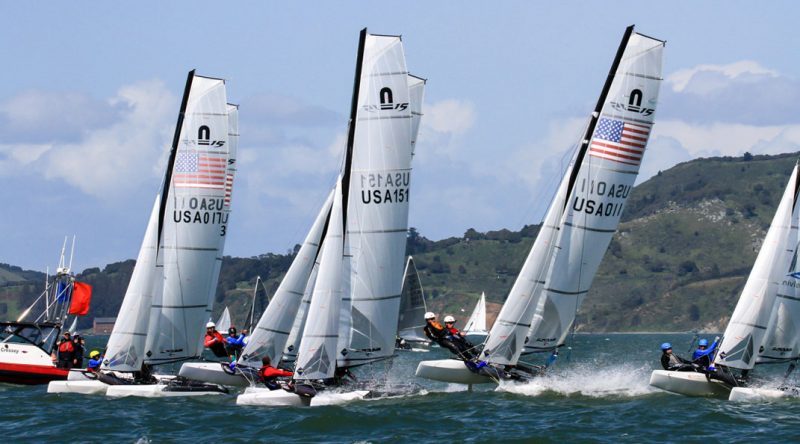 Sutter and Versavel, 17 and 16 years old respectively, have been sailing together for less than two years, honing their skills and competitive spirits. In spite of attending different high schools and living two hours apart at opposite ends of the Bay Area, they commit to practicing as many days as they can. "We trained for this every day that we could," said Sutter.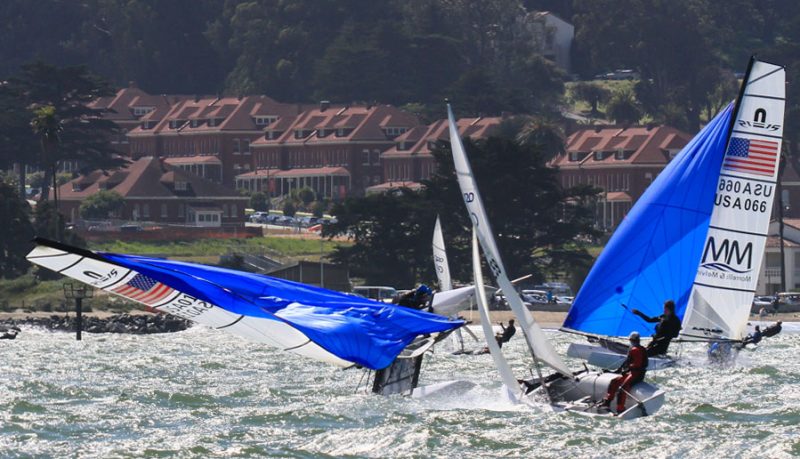 The Nacra 15 is a smaller version of the Olympic Nacra 17. The cat has become a pathway toward the Olympics for junior sailors. "Kids love speed, and sailing as mixed teams is a success that we took away from the Rio Olympics," said Malcolm Page, US Sailing's Chief of Olympic Sailing. "Everyone is working together in North America's three centers of Nacra 15 sailing. That's why they're making great progress," said Page. "They're bringing the boats together; they're coaching together and creating critical mass. Catamaran sailing has been growing in popularity When you look at SailGP, which will be here in May, it's not too dissimilar."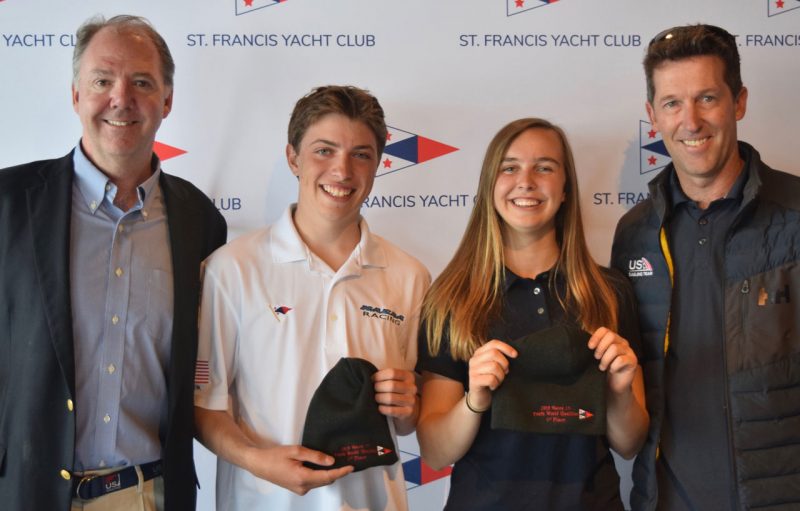 Three days of racing were scheduled, but the final day was canceled. Light wind from a northerly direction made the necessary mile-long race course untenable with the Bay current. A total of eight races were completed, run in conjunction with StFYC's annual Spring Dinghy Regatta. For more photos, see https://stfyc.pixieset.com/g/springdinghyandnacra15youthworldqualifier.
Receive emails when 'Lectronic Latitude is updated.
SUBSCRIBE