French sailor Yann Guichard and the crew of Spindrift 2 set sail on a new Jules Verne Trophy attempt at Ushant today, Wednesday, January 16, at 11h 47min 27sec UTC. "Won't they be getting into autumn in the Southern Hemisphere?" inquired one head-shaker, contemplating worsening conditions in the Southern Ocean. Not hardly. To win the prize, the Spindrift Racing team will have to recross the line by February 26 at 11h 16m 57sec UTC. The record, held since 2017 by Francis Joyon and his crew, is a mere 40 days 23h 30m 30s, slightly more than half the original challenge inspired by Jules Verne's novel, Around the World in 80 Days.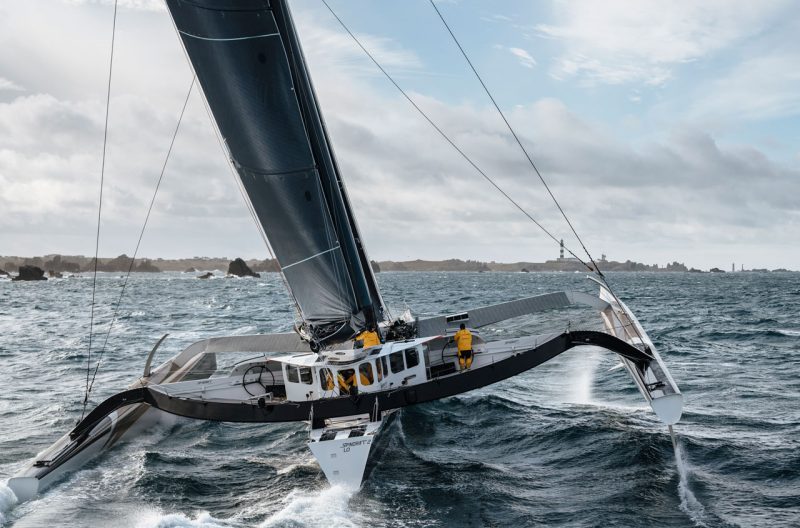 The steed of choice is a 2008 VPLP 131-ft trimaran, formerly called Banque Populaire V. Under that name, Loick Peyron and crew used her to break the Jules Verne record in 2012. Sprindrift Racing has made two previous attempts with her, in 2015-2016, when they completed the circumnavigation but fell short of the record. Then, last January they started but turned back to await a better weather window — and dismasted on their way to the restart.
The weather conditions were favorable this morning at the Créac'h lighthouse. The light marks one end of the start and finish line of the course, which circles the globe via the three Great Capes. A southwesterly breeze of 20 knots and calm seas allowed the maxi-trimaran to head quickly toward a front off Ushant and pick a good system from the northwest. These strong winds should propel Spindrift 2 quickly down to Madeira, the Canaries and the Cape Verde archipelago.
"It looks good up to the equator!" said the 44-year-old skipper. "The trade winds are well established: It should take less than five days." According to the team's onshore weather router, Jean-Yves Bernot, the mighty tri could reach the equator during the night of this Sunday to Monday.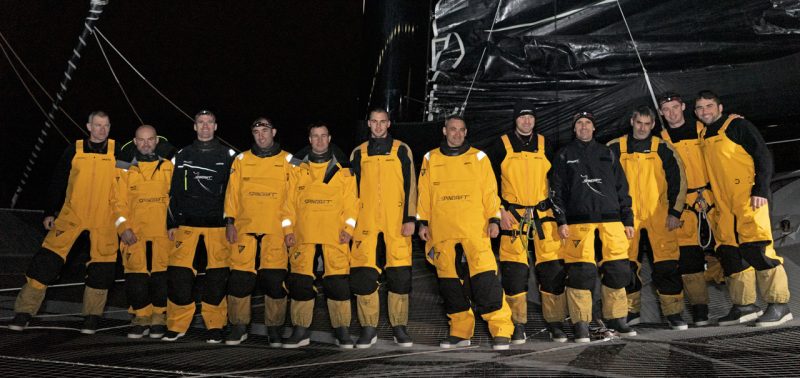 "This world tour is also a passing of the seasons at high speed!" continued Guichard. "We start in the northwest with drizzle, then in the Canaries we will be in the trade winds with 30°C, at the equator it will be 40°C and three days later, we are in the Forties, in the Southern Ocean. We are slightly lighter than the last time, which is why we are only 12 onboard. Below 20 knots we have a very slight speed deficit, but anything above that Spindrift 2 is faster than before! We can keep our average speed above 35 knots, if the sea remains manageable." To see who's on the team (Guichard's partner Dona Bertarelli is not onboard), and to follow their progress, see www.spindrift-racing.com.
Receive emails when 'Lectronic Latitude is updated.
SUBSCRIBE