On Sunday, the Coast Guard located the cutter Kelaerin adrift off the coast of Fort Bragg. The Omega 45 belongs to Jim and Joy Carey, who had been cruising for 27 years, and were just 150 miles from completing a circumnavigation to their homeport in Bellingham, Washington, when they ran into gale-force winds and 30-foot seas, and were forced to abandon ship on June 16. They were airlifted by a Coast Guard helicopter in a dramatic rescue.
A Coast Guard cutter found the vessel while on routine patrol near Fort Bragg, according to a press release. Kelaerin was more than 440 miles south-southeast from its position in mid-June. The Coast Guard cutter towed the Omega toward the coast, where a 47-ft Motor Lifeboat crew relieved the tow and brought the vessel into Noyo Harbor on Monday morning. The Careys are at the boat now and surveying the damage, according to a Latitude reader who's in Fort Bragg. We can only imagine that this is fantastic news in what had been an unbelievable piece of bad luck. "It's not the loss of all the individual things we had on the boat, but the situation," Jim Carey told KGW8 News. "Sailing 70,000 miles around the world and having one more day to go."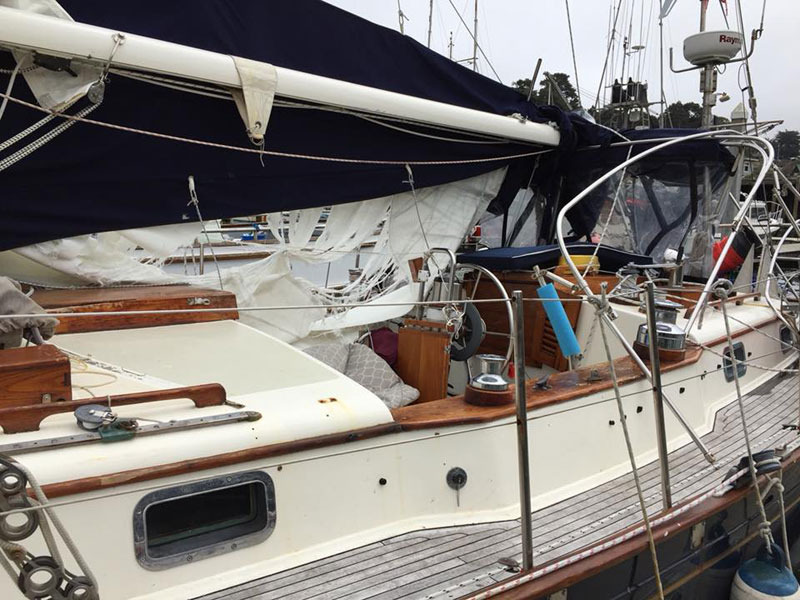 Joy Carey wrote a long, detailed version of the event that led up to their June 16 rescue. Here are a few edited excerpts: "I awoke around 3:30 to first a hard hit by a wave, so hard it literally felt as though we had been hit by a train while sitting on the tracks," Joy wrote. "I was suddenly on the ceiling and tons of water came in through the companionway hatch. The noise inside the boat was deafening. I managed with some difficulty to swing out of the berth and when I put my feet on the floor I was standing in water up to my ankles . . . The sight was so horrifying and complex that I could barely take it in. It just couldn't be possible that my beautiful boat, the one we had for 27 years and was so lovingly maintained, could look like this.
"I saw Jim at the wheel. He had blood covering half of his face. He looked shocked but was steering us down a huge wave. I had a hard time taking this view in as well. He asked me to get on the VHF and put out a MAYDAY call. I felt strange doing this, as I never pictured us asking for help. We never had since our first time together out in sailboats back in 1978. We got no answer.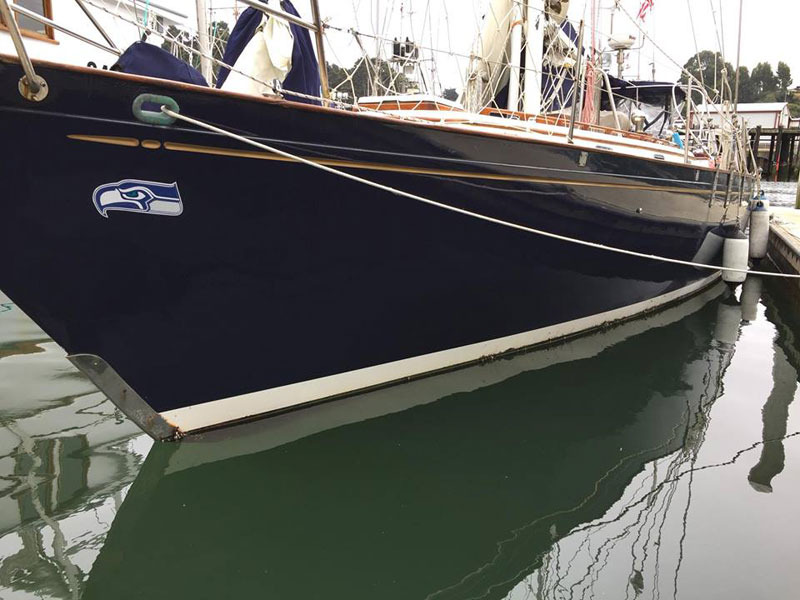 "Jim was pretty sure that we weren't taking on any more water. It had been almost two hours since the wave had tossed us and we were both showing signs of hypothermia. Jim said my lips were turning blue and the blood caked on his face looked ghastly. I was doing OK with steering, but every once in a while a bigger wave broke near me and we would begin to broach. I had to hold on to the wheel with everything I had to keep it stern to. I screamed now and then. I know this because my voice was getting hoarse.
After getting no response on the VHF, the Careys made the decision to activate their EPIRB. "Almost four hours later, I heard the Coast Guard call us on the old VHF radio . . . and immediately felt we just might survive this ordeal after all . . . I was not aware when [the rescue swimmer] came aboard. I looked over to see [him] coming towards the cockpit and and informing me that we were getting off the boat. 'No,' I said. 'We are staying on the boat.' Jim was behind him and said, 'Joy, we are getting off.' I was incredulous. It was beyond comprehension that we would ever leave the boat. I still felt that, although, we were in serious trouble here, that we could save Kelaerin. How could we possibly leave her, after nearly 70,000 miles of cruising and 27 years together with only 150 miles to go? When [Jim] confirmed the Coast Guardsman's declaration, with all his experience at sea, I knew finally that this battle was over. The sea had won.
"The hardest moment of both Jim's and my lives were when we could see Kelaerin through the window and we both realized she was probably lost forever, that somehow we had failed her when she had been so good to us for so many years." After rescuing the Careys, the Coast Guard had an hour-long flight back to the coast. The helicopter reportedly landed with just one minute of fuel left.
Receive emails when 'Lectronic Latitude is updated.
SUBSCRIBE