Most regattas succeed with a few basic ingredients — a good venue, decent sailing conditions and good race committee work, but, as always, the most important ingredient is the people. It's the people who step up to organize the event and invite attendance, and the people who show up to participate.
Pax Davis is an endlessly energetic booster of Mercury class racing who keeps the fleet connected, informed and inspired. But he also passed on a letter from another booster who took the time to inspire participation in the High Sierra Regatta at Huntington Lake. We thought we'd share it so you can join them at Huntington Lake, but also so you can save this to use to build participation in your own regatta.
"My name is Nick Mockridge and I am the owner of the rather slow 1906 wooden Broads One Design sailboat, Snipe (photo below). This message is for any of you who sail a classic design and own a trailer… or know someone who does. I am reaching out to the few names I have found on the Internet for the California-based owners of Folkboats, Knarrs, IODs, 110s, Kettenberg PCs, Dragons, etc., with an invitation to have an adventure this summer."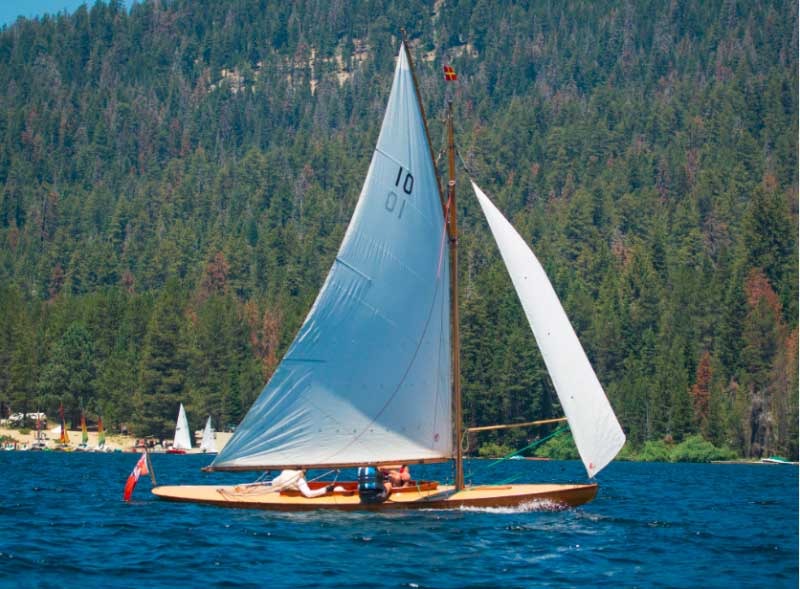 "I realize that most of you have the luxury of racing one design in an area local to you which is highly convenient, but are you interested in briefly trading this convenience for the inconvenience of sailing in fresh water for just one weekend this year? Fresno Yacht Club has told me that they will offer a separate start for a 'classic' fleet this summer at their greatly lauded High Sierra Regatta, if we can get five boats… well, four more, as I am already committed to race there (in a regular PHRF class if necessary).
"So what do you get for the effort of trailing your boat high into the Sierras? Clear, fresh water surrounded by mountains and alpine forest. The wind is almost guaranteed to arrive at 10 each morning and to blow a steady 9-11 mph straight up the lake until about 5 p.m. The weekend offered to us (July 14-15) plays host to FYC's second race weekend, with three starts on Saturday and two on Sunday (allowing time for homeward travel), and classes range from one-design fleets of small Thistles, San Juan 21s, Viper 640s, Martin 24s, etc., to PHRF starts containing boats as large as Olson 30s, Flying Tigers (33-ft) and 11:Metres (34-ft). Those of you that have done this regatta before will know that the conditions tend to be idyllic in a somewhat rustic setting; those of you who have never experienced the 'thrill' of dragging your boat 7,000 feet into the Sierra Nevada mountains, followed by the very real pleasure of friendly racing in clean, fresh (and bloody cold!) water with a steady wind, no waves, no kelp, no tides, no current and next-to-no powerboats, need to add this event to your 'bucket list'."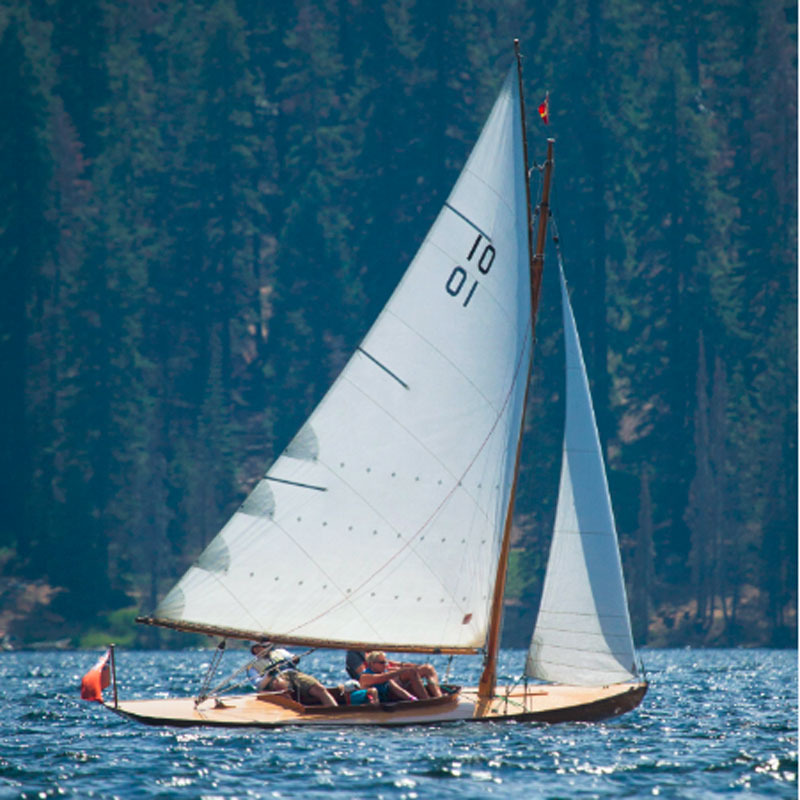 "We may not be in New England where classic boats abound, but how great would it be to have a selection of our graceful and elegant designs — whether wooden or plastic — sailing on a shimmering lake out west with a backdrop of pine forest and mountains? What better way can there be to promote classic boat ownership and racing to a new audience? FYC's homepage has photos as well as a video of starts, to give those of you who have never been to Huntington Lake an idea of what to expect."
"I realize that most of you have no interest in such a trip, whether due to not wanting to travel, not owning a trailer, not wanting anything but one-design sailing or purely out of apathy, and that's fine. But if you know of an owner of any classic design (apart from the classes listed above, I'm thinking Shields, 210, Buzzards Bay 15, Luders 16, Alerion, 5.5-Meter, 6-Meter, old Star Boat, Atlantic One Design, Yankee One Design, Herreshoff S-Class, Catboats, Stuart Knockabout, etc., etc.) who might be interested, I should be grateful if you would forward him/her this on my behalf. Many thanks, and good sailing (and varnishing!)."
Nick Mockridge
Santa Barbara Sailing Club
(805) 368-1050
Receive emails when 'Lectronic Latitude is updated.
SUBSCRIBE