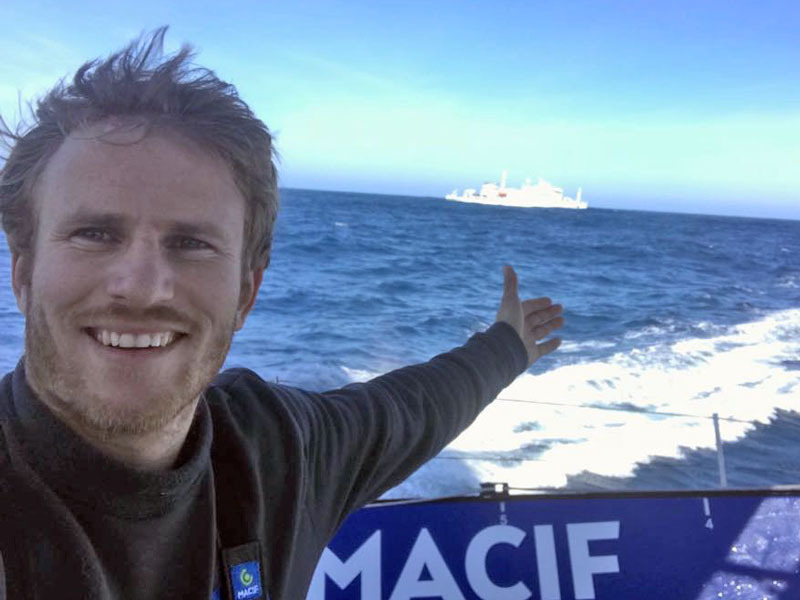 French sailor François Gabart has continued to rack up the miles — and the records — en route to challenging Thomas Coville's solo non-stop round-the-world record. Since setting a new outright reference time from Ouessant, France, to Cape Agulhas, South Africa, and a new solo 24-hour speed record a few weeks ago, Gabart has continued to hold a frenetic pace in his 100-ft trimaran Macif, setting new records at almost every major milestone. As of this writing, Gabart is rocketing up the South Atlantic Ocean, now east of the southern part of Brazil. After maintaining speeds of 30+ knots since rounding Cape Horn, Gabart only just recently slowed down a bit in a lighter-air transition zone before reaching the southeast trades and merging onto the long, northbound highway back to Europe and the finish line.


While we don't want to jinx François, it is beginning to look more and more as if his shattering Thomas Coville's record is now fate. Since benefiting from a tailor-made weather window across the South Atlantic Ocean on the outbound voyage, he has managed to do so on the inbound voyage as well. Once rounding Cape Horn, Gabart and his trimaran hooked into strong southerly pressure between an area of high pressure and an east-moving area of low pressure. Threading the needle through the compression zone between the two systems, Gabart has since watched his lead over Coville's reference time balloon to close to 1,700 miles as of this writing. Barring any unforeseen failures, once this record attempt is all done and dusted, it will have been the South Atlantic Ocean that first allowed François to jump to a commanding lead on the reference time, and again the South Atlantic that cemented his place well ahead of Coville.
While down south however, it wasn't just the Atlantic that helped François make gains on the record; it was the Pacific as well. Seemingly on one huge low-pressure system that in reality comprised multiple systems merged together, François again managed the unthinkable — he beat out every single crewed boat in history, by himself. While crossing the Pacific, even with his foot firmly off the throttle in an effort to preserve the boat in massive and treacherous seas, Gabart managed to set another outright record on this journey, besting every time in history to set a new record from Tasmania to Cape Horn with a time of 7 days, 15 hours, 15 minutes; nearly 6 hours faster than Francis Joyon and a full crew on IDEC Sport, which set the record last year en route to their outright record around the world.
As of this writing, François has a roughly 3-day lead on Coville's solo record of 49 days, and he shouldn't be far off Francis Joyon and IDEC Sport's record of 40 days, 23 hours, 30 minutes. He has been at sea for 32 days and is expected to finish in the next 8-10 days. Keep track of François at www.macifcourseaularge.com.
Receive emails when 'Lectronic Latitude is updated.
SUBSCRIBE