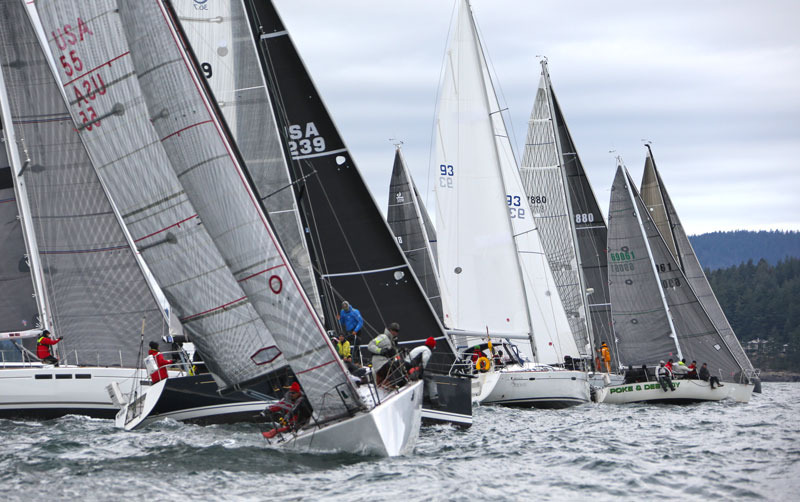 "The race is different every year," says race chair Betsy Wareham. "This time it was a mixed bag; no one was blown off the water nor beset by the doldrums. Most people finished, and we all had a great spinnaker run to the finish." The 30th annual Round the County was held November 11-12. Approximately 76 miles, with an overnight stop in Roche Harbor, San Juan Island, the course leads contenders alongside scenic landscapes and through the challenging waters of San Juan County, Washington. Sailors from the Puget Sound region on up to Canada compete.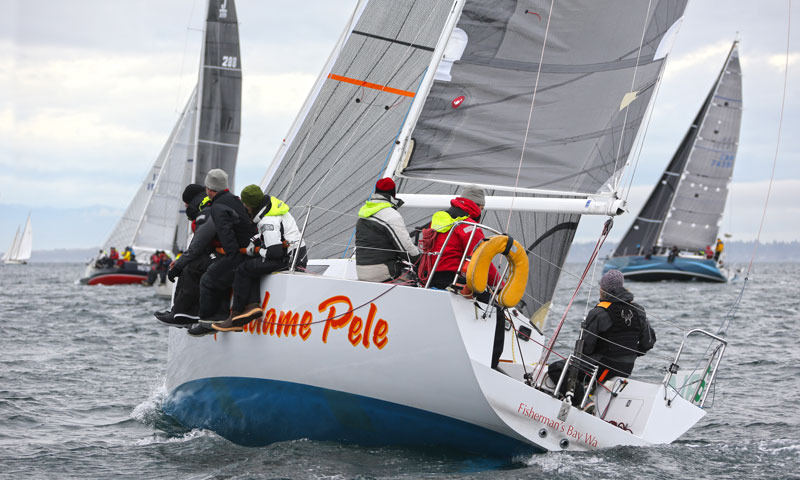 Activities launched Friday night with a rendezvous at the Orcas Island Yacht Club in West Sound, Orcas Island. On Saturday, officials timed the starts for 112 boats spread over eight divisions. Leg 2 commenced Sunday with starts in Mosquito Bay, south of Henry Island.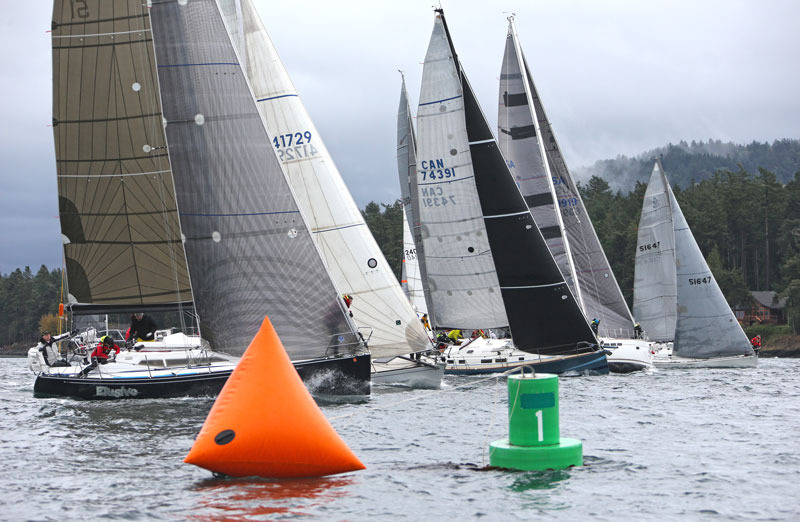 The 2017 counterclockwise circumnavigation saw fast vessels in Division M, such as Ackrill & Sailing's Formula 40 catamaran Dragonfly, on the water for a combined total (Saturday and Sunday) of 8 hours, while slower boats braved the elements for 17 or more hours. Dragonfly ran the course with an elapsed time of 8:33:38, to finish 3 hours ahead of Nigel Oswald and Ivan Reiff onboard the F-23c trimaran Makika. With a scant few moments between them at finish lines and elapsed time tallies, the ORC big boats saw John Buchan's TP52 Glory (elapsed time 8:44:52) besting Steve Travis's TP52 Smoke.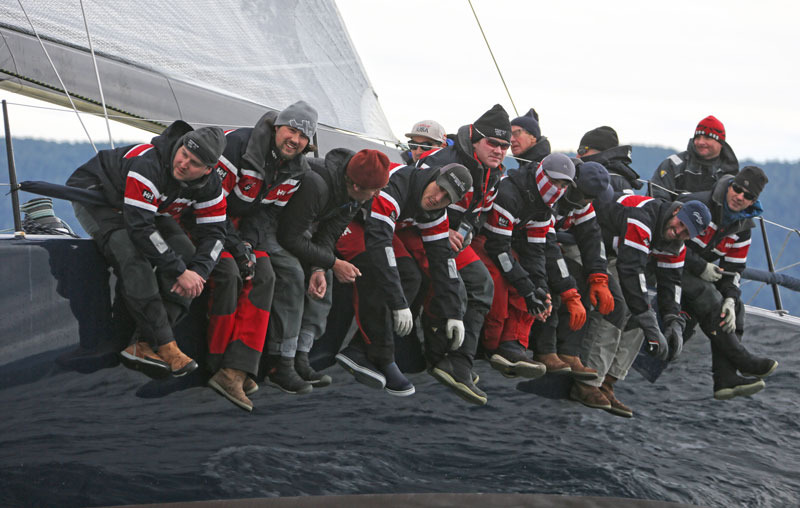 Elsewhere on the course, in Division 1 Bob Brunius on the J/120 Time Bandit (rating 54) fended off skippers Jim Hinz and Peter Dorcey aboard the J/120 Hinzite (rating 51). Brunius and crew crossed the finish line on Saturday and Sunday a minute-plus faster than Hinzite, but Time Bandit had indeed stolen the prize.
Another hot spot on the water was Division 5. "There was solid action among the Santa Cruz 27 and Moore 24 boats duking it out," says Wareham. Morgan Larson and Christa Scheer's Moore 24 Bruzer beat a sistership, Ben Braden's More Uff Da, to the win. The overall winner was Darrin Towe's Melges 32 Wicked Wahine from Seattle.
Robert Darcy's 84-ft 110-year-old schooner Martha, which California sailors may remember from races in venues ranging from San Francisco Bay to San Diego in 2015, plus the 2015 Transpac, was among the competitors in Division 4.
Round the County was started by Betsy's father, Mike Wareham, and Sunny Vynne. It remains a grassroots gathering with nearly all hands-on logistics handled by an army of volunteers from local yacht clubs and the community.
View more photos at https://janpix.smugmug.com/Events/Round-the-County-2017. For complete results and more, see www.roundthecounty.com.
In November, the Bay Conservation and Development Commission (BCDC) Enforcement Committee held a public hearing to review allegations of permit violations by Westpoint Harbor and Mark Sanders, the owner of the marina. The Enforcement Committee voted 5-0 to refer the complaint to the full Commission, and recommended a cease and desist order that Sanders and Westpoint Harbor stop alleged violations of their permit, that those alleged violations be corrected, and that Sanders and Westpoint pay an administrative civil penalty of $513,000. The full Commission is tentatively scheduled to consider the recommendation on January 18, 2018.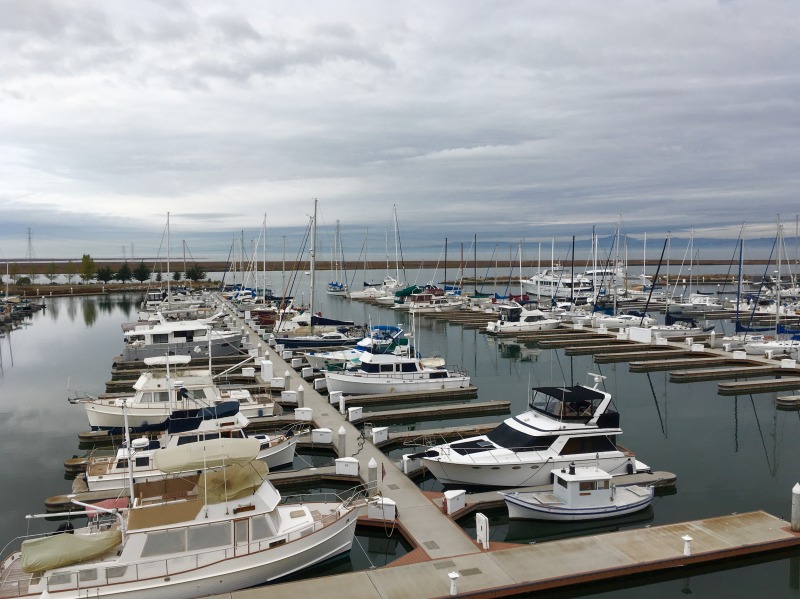 The Violation Report/Complaint contains 36 separate allegations of permit violations, which have been aggregated into 21 alleged violations for purposes of calculating the civil penalties. Many of the specific allegations appear to be quite minor, and the eye-popping penalty results from the daily accrual of fines for each violation from the time of the alleged violation until the time it is resolved.
According to Sanders, one of the central problems is that the original BCDC permit was written in such a way that it was impossible to meet all of the permit requirements and Commission goals simultaneously. For example, the complaint alleges that Sanders failed to provide eight signed public parking spaces plus 15 signed public parking spaces for vehicle and boat trailer parking from September 2009 until present. This violation carries a fine of $30,000. However, Westpoint Harbor has painted "Public Parking" on the pavement in every required spot.
BCDC claims that the signs must be mounted on posts, even though post-mounted signs are discouraged by the US Fish and Wildlife Service because such signs become roosting spots for birds of prey that feed on endangered species. So there is a conflict between the laudable Commission goals of promoting public access and wildlife protection. Curiously, Pacific Shores Center, which is immediately adjacent to Westpoint Harbor and which is also subject to BCDC permit requirements, has over 100 public parking spaces that are denoted only by painted markings on the pavement.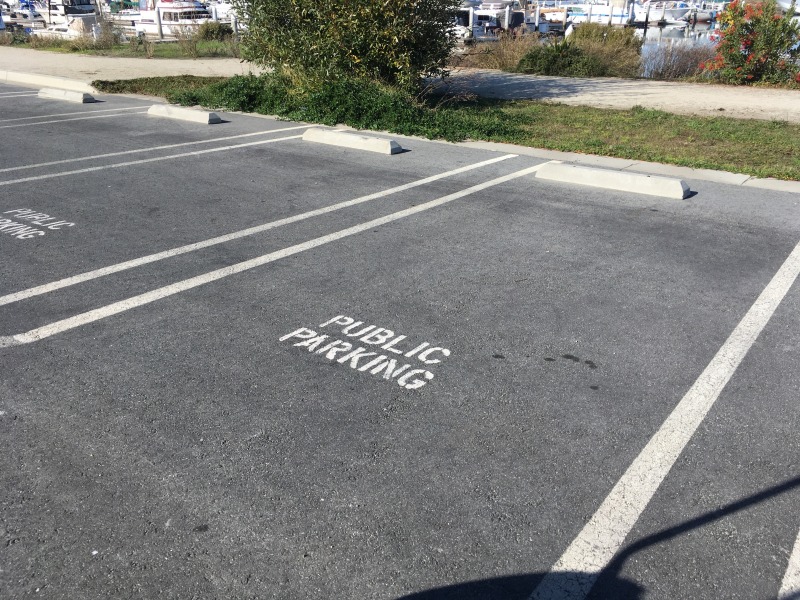 Sanders also notes that some of the required actions in the permit are a violation of the permit requirements of other agencies, or are illegal under federal or state law. The BCDC permit requires buoys to identify a "No Wake Zone" down the center of Westpoint Slough. However, federal regulations require that navigation buoys be placed to mark the outside of the navigable channel, and "No Wake" buoys anchored where they can be clearly seen would likely be a hazard to navigation in the narrow channel, especially in the dark. Furthermore, according to Sanders, BCDC's sign guidelines state that "buoys must follow US Coast Guard regulations for proper placement and spacing" because Westpoint Slough is considered a navigable channel and is therefore under the jurisdiction of the Coast Guard. Sanders does not appear to have authority to install "No Wake" buoys, regardless of what the permit requires.
In some cases, fines are being levied for alleged violations that both parties agree have been corrected. For example, the Violation Report/Complaint states that " . . . Sanders failed to provide verification to BCDC staff that he had submitted certain specified information to the National Oceanic and Atmospheric Administration (NOAA)" (section II, page 6), but then later acknowledges that Sanders had satisfied the permit requirement to provide verification to the Commission that he'd submitted certain information to NOAA. However, even though this issue was settled in 2011, BCDC staff allege that "[p]rior to achieving compliance, standardized fines of $3,000 had accrued for this violation." (section VI.S.4, page 14)
From the perspective of an outside observer, the entire complaint has an otherworldly quality to it. BCDC is tasked with protecting the natural resources of the Bay and minimizing the amount of 'Bay Fill' that any given project creates, while maximizing public access in the shorefront areas under their jurisdiction. Whatever the merits of the specific complaints in the Violation Report, Westpoint Harbor replaced a toxic bittern pond that was essentially a dead zone for wildlife with a harbor that now teems with sea life. In addition, there was no public access whatsoever before the creation of the harbor, so even if public access can and should be improved, what is there now is substantially better than what preceded it.
According to Sanders, Westpoint Harbor could very well be at risk of bankruptcy if the full Commission votes to issue a cease and desist order and impose the civil fines. This would be a shame for many reasons, not least because Westpoint Harbor is a model of environmental stewardship for the marina industry, including pumpout facilities at every slip. In addition, the plans call for the creation of a new boatyard and gas dock at the marina, and given the dwindling number of yards and fuel facilities in the Bay Area, a new boat yard and gas dock would be a boon to boaters throughout the Bay.
Although the challenges appear daunting, there is still reason for hope. Closing Westpoint Harbor is in no one's best interest. Neither habitat protection nor public access will be enhanced, and closing the marina that sets the standard for environmental stewardship in the Bay Area will deprive other local marinas of the beneficial example of how a marina can be environmentally responsible and also successful. Marc Zeppetello, Chief Counsel for BCDC, said he is still hopeful that the permit violations can be resolved, and pointed out that the Enforcement Committee agreed to reduce the civil penalty by half if the parties can reach an agreement regarding permit revisions. But the best reason for hope is that Mark Sanders has been fighting this fight for 28 years, and is not going to give up. As Bay Area sailors and boaters, we should do everything we can to support him.
For more information about Westpoint Harbor, go to westpointharbor.com. For more information about the Enforcement Committee Meeting that was held on November 16, including legal documents and public comments, click here.
And for the summary of the Enforcement Committee Meeting, go here.
And if you'd like to express your opinion to us on this matter, please write us here.
Receive emails when 'Lectronic Latitude is updated.
SUBSCRIBE