In a longstanding tradition, the Sunday pursuit race at Richmond Yacht Club's Great Pumpkin Regatta is peppered with distractions. Not only must skippers choose which direction to round Alcatraz and Angel Island, but they are also tasked with hunting pumpkins dropped from RIBs and solving a trivia quiz laden with historical teaching moments and recent news factoids — all sailing-related of course.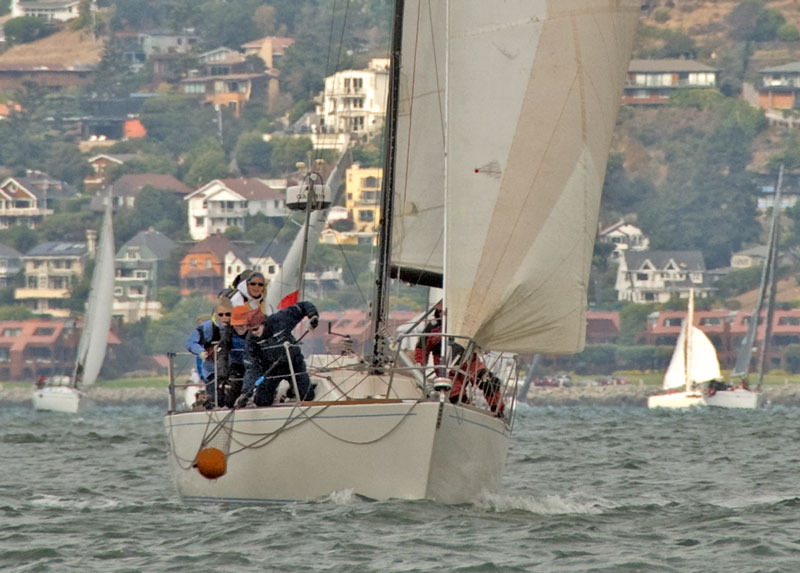 Did you yesterday, or can you now, answer the following 10 questions without consulting outside sources?
1. After 44 years of construction, the world's largest engineering project ever completed was finally in service in August of 1914. The Panama Canal, "Supreme Human Achievement" of two great nations was done. With the completion, in 2016, of new expanded locks, this canal can transit more than 24,000 ships per year. Why was this opening not front page news in every newspaper on earth in 1914?
A. The first electric traffic light was installed on the corner of East 105th Street and Euclid, Cleveland, Ohio.
B. A dismissed servant set fire to and killed seven people at American Architect Frank Lloyd Wright's home "Taliesin" in Wisconsin.
C. Sir Ernest Shackleton sailed from England on his Trans-Antarctic Expedition on "Endurance", his ship was crushed by ice, his crew sailed small skiffs to Elephant Island in the Antarctic then to Georgia Island and the rescue of every member of his crew.
D. Germany declared war on Russia starting a world wide conflict, later re-named the First World War.
E. All of the above.
2. In the late 1880's, 5 potential location sites were conceived and considered for a new water canal crossing of Central America. These building locations would enable ships to travel between the Pacific and Atlantic Oceans without the expense and experience of "Rounding-the-Horn". One of these design locations went before the United States Congress and in 1902 came within 5 votes of being the "Approved Location of the U.S. Canal". Where was this canal located?
A. Nicaragua, San Juan del Norte to Brito
B. Panama, San Blas to Old Panama City
C. Columbia, Gulf of Uraba to Cupica Bay
D. Mexico, Gulf of Mexico to Tehuanatepec
3. After 40 years, three California environmental organizations won a lawsuit against the federal government. In August of 2016, the last part of this court mandated clean-up was completed from a northern inlet of San Francisco Bay. More than 50 tons of toxic heavy metals, 14 million gallons of oil and 38,000 cubic yards of PCB's have been removed. Where was this clean-up site?
A. Suisun Ghost Ship/Mothball fleet
B. Mare Island Submarine dry-docks
C. Franks' Tractor was finally found
D. Old San Pablo Bay remote oil pier
4. Captain Cooks' crew collected animals and plants where ever they landed for study. One crew member, after landing in New Zealand in 1769, discovered a 'sweet potato' known to be native of South America. For many years this potato was on display in a London Museum until scientists tested its DNA and confirmed it indeed was native to South America. How did come to grow it New Zealand?
A. This crew member hid it on board to fool Captain Cook.
B. Thor Hyerdal took it there.
C. Polynesian sailors traded their chickens for them in South America.
D. South American sailors delivered them there.
5. Captain Cook, in 1770, needing to careen his ship "Endeavor", make repairs and study this newly discovered area, made land fall on this land. He found the native people "timid", completely naked, friendly and helpful to his crew. His crew collected plants and the native animals for study. The natives called a particular animal a "gangurru". Where was he?
A. Cook Islands
B. Tahiti
C. Australia
D. New Caledonia
6. In 2016 a sailing race was covered by 80 TV Stations, had over 1000 reporters working the story and was broadcast in 150 nations around the world. Over 2000 people visited the 'race village' and it is estimated that 2 million people may have watched the start. This race had sailors from 12 nations represented. What race was this?
A. Sydney Hobart Race-Australia
B. Fastnet Race-England
C. Middle Sea Race-Malta
D. Vendee Globe Race-France
7. In 1845 the Hudson Bay Company laid claim to San Juan Island and built a salmon curing factory in this protected harbor that became "Friday Harbor". The 1846 treaty between US and Britain tried to described the border between Canada and the USA. But the description was open to interpretation. In 1873 the San Juan Islands became part of the USA alter the conclusion of the 1859 Pig War between the US Army and British Navy. Only one pig was injured in the war. How did the name "Friday Harbor" come about'?
A. The ferry boat went to this harbor only on "Friday".
B. The Catholics went to this harbor on "Friday" for a fish dinner.
C. Named after Hawaiian sheep farmer, Joseph Poalie Friday.
D. Captain Vancouver, who named the Canadian City 'Vancouver', with his ship and crew, took shelter from a storm in this harbor on a "Friday", rode out the storm until the next "Friday".
8. Presidential politics and sail boat racing usually are not associated together. But New Zealand and Italian Luna Rosa have confirmed their 2021 Americas' Cup races will be sailed in monohulls, accept only club challenges and have a strong nationality rule for the crews. A US presidential cabinet member has taken this nationalistic requirement to heart. They have announced they will finance an "All American Crew" Americas' Cup challenge with the New York Yacht Club". Who is this cabinet member?
A. Jeff Sessions, Attorney General, "The South will Rise Again Challenge" with Ted Turner.
B. Steve Mnuchin, Treasury, "Money is no Object Challenge" with Michael Bloomberg.
C. Nikki Haley, UN Ambassador, "America First Challenge" with Bill Kock.
D. Betsy DeVos, Education, "Bella Mente Quantum Challenge" with John Fauth.
9. The MOD 70′ Trimaran class was originally created as a professional racing class for racing around Europe. The class did not quite materialize and the few boats that were built were sold. One of these boats was acquired by Californian Lloyd Thornburg and is now "Phaedo3". It does seem that every race this boat starts it finishes first and sets a new course record. Except for two. One of these races was the 2016 "Middle Seas Race", which starts in Malta with a course around Sicily, Aeolian Islands, and other islands in the Mediterranean to port, the last island to starboard and finishes back in Malta.
With "Phaedo3" leading the fleet, on course record pace with only 70 miles to go, what happened to leave her to finish second, leaving "Maserati", MOD 70, with skipper Giovanni Soldini to finish first and set the 2016 course record'?
A. Hit a UFO and lost the port ama rudder.
B. Navigator, Tactician and Owner disagreed about something important.
C. Missed an island and had to go back 3 hours.
D. Lost all electronics and had to navigate "Old School" while sailing at 32 knots.
10. The whaling ship "Essex", that was sunk by a whale, became the story for "Moby Dick". Essex had three long boats that the crew used to escape from their sinking ship. They elected to sail east, upwind and up current 3000 miles to South America instead of to the Polynesian Islands that where probably only 1200 miles down wind. Why did they attempt the longest possible route to safety?
A. They really did not know where they where and wanted to re-trace their course.
B. Afraid of cannibalism in the closest islands.
C. They were hoping that other whale ships in the area would rescue them quickly.
D. Had no navigational equipment so just got anyway as fast as they could.
In 2016, The United States Naval Academy in Annapolis, Maryland, has re-instated this particular knowledge discipline. This maritime study has not been required of graduates since the middle 1990's. This is being taught again and now is a required class cadets need to complete with a passing grade. What does this class teach?
A. Dance the "Fox Trot".
B. Dress with a "Windsor Knot" tie.
C. Celestial navigation with sextant.
D. Nuclear submarine power.
Quizmaster Gordie Nash has promised to provide us with the answers to run in Wednesday's 'Lectronic Latitude. We'll also divulge the name of the boat whose crew answered all 10 questions correctly!
Receive emails when 'Lectronic Latitude is updated.
SUBSCRIBE