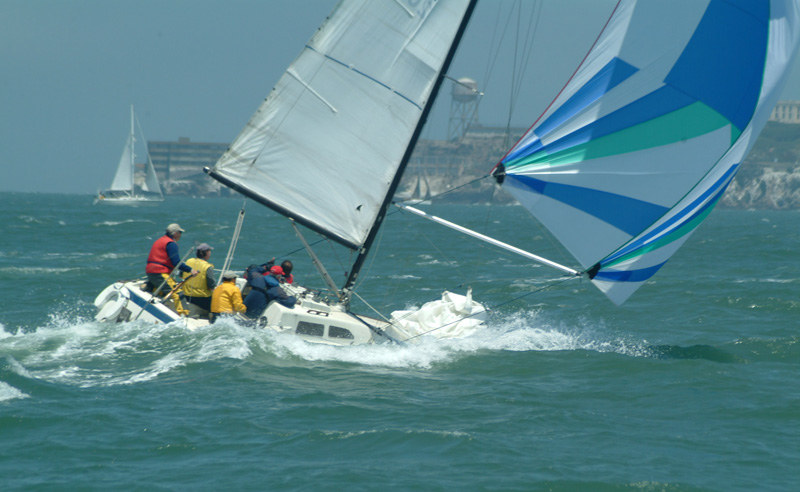 We've probably all made New Year's resolutions that were eventually broken or forgotten, but that's no reason not to jot down a list of personal goals for the new year — especially those that might lead you to more time out on the water.
What sorts of sailing goals are we talking about? The possibilities are almost limitless, but a few might include:
• Do at least one weekend getaway outside the Gate to places such as Drake's Bay, Bodega, Half Moon Bay, Santa Cruz or Monterey.
• Install all the gear and gadgets that remain in boxes weeks, months or even years after they were purchased.
• Get your boat handicapped and participate in a few local races.
• Make a commitment to race your boat to Hawaii either in the 2017 Transpac, or in the following year's Pacific Cup or Singlehanded TransPac.
• Take a course to upgrade your offshore sailing skills or get your (USCG) Captain's License.
• Complete Latitude's Beer Can Challenge by sailing in any five consecutive beer can races in one week, Monday-Friday.
If you've made some sailing resolutions that are out of the ordinary, we'd love to hear about them. From those of you who write in, we'll select several suggestions randomly, and reward the senders with some official Latitude 38 swag.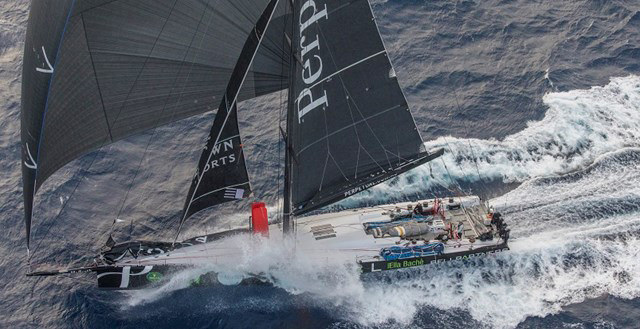 Like Thomas Coville breaking Francis Joyon's solo 'round-the-world record after several failed attempts, today's 'Lectronic is about persistence and faith's paying dividends. When Anthony Bell purchased the supermaxi racing yacht Perpetual LOYAL (ex Speedboat and Rambler 100), he had purchased what was arguably the fastest supermaxi on the planet, though one with a checkered past. As Speedboat, she had failed to live up to the hype, and as Rambler 100, she had lost a keel in a very high-profile failure in the Fastnet race. Two painful failures in the 2014 and 2015 editions of the Rolex Sydney Hobart yacht race, made her record-breaking line-honors victory in that race last week particularly sweet.
With a crew consisting of some of Comanche's rock stars in combination with some of the boat's regulars, Perpetual LOYAL absolutely crushed Wild Oats XI's 2012 course record. Slashing nearly five hours off the existing record, the big black supermaxi sailed into Hobart to establish a new course record of 1 day 13 hours 31 minutes; a mark which is likely to stand for many years. Wild Oats XI retired with a hydraulic keel-ram failure, but has already committed to coming back for next year.
"It defies a lot of the worries we had. It is one for the true believers," owner Bell said on arriving in Hobart. "We worked on this. So many people believed in this; we came back and had another go at it and it paid off."
In a year that saw ideal record breaking conditions — a high formed over the Tasman Sea, creating strong downwind running conditions for most of the course — it was another boat with a history of heartbreak in the race that stayed close to LOYAL to finish second on line honors and claim the coveted Tatersall's Cup for overall handicap honors: Jim Delegat's New Zealand-based Volvo 70 Giacomo (ex-Groupama). Since dismasting in the late stages of the 2014 edition of the race, the team kept the faith, and their eyes on the prize. This time making the most of the running and reaching conditions that so greatly benefited the Volvo 70's, Giacomo beat out not only fellow VO70's Black Jack and Maserati, but also a handful of supermaxis to finish an incredible second place over the line in a 'little' 70-footer, just two hours behind LOYAL. For the New Zealand wine magnate, Delegat, the moment was made all the more special as he was able to share it with his two sons Nikolas and James, the latter of whom was this year's youngest Hobart competitor.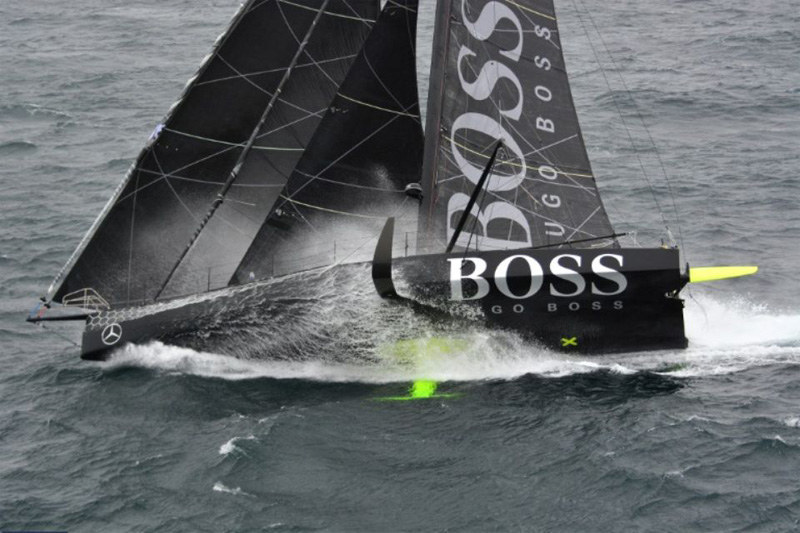 As usual, it was a couple of big boats who may have stolen the limelight, but for more, check in on the race site or wait for our recap in February's Latitude 38.
Vendée Globe: Meanwhile, in the Atlantic Ocean there are now a half-dozen boats that have rounded Cape Horn and are homeward bound in the Vendée Globe. At the front of the pack is Armel le Cléac'h who has placed second in the last two Vendée Globes and is still desperate for a win, while Alex Thomson on Hugo Boss — sailing in his fourth VG — has made a surprise comeback to close the gap significantly. With that gap currently hovering around 130 nautical miles after nearly two months of racing, the two leaders are negotiating a final ridge of high pressure off the coast of Brazil before reaching the southeast trades for the long reach north; a reach that could likely benefit Thomson, who has shown a speed advantage when sailing on starboard tack, his boat's 'good' tack, as the foil on the opposite side was damaged. Both skippers are searching for their elusive first victory, while behind them Jérémie Beyou sits comfortably in third place, having rounded Cape Horn for the first time despite having made five 'round-the-world attempts.
Trophée Jules Verne: Down south in the Indian Ocean, IDEC Sport's skipper Francis Joyon has clearly maintained the faith,a and the boat is currently putting up huge numbers of well over 800 miles per day while riding a low-pressure system that is hurtling them east — just 250 miles behind Banque Populaire V's Trophée Jules Verne record. After finishing just two days off the record pace last year, and having already attempted the record this season, Joyon and crew are hoping that persistence will again pay off.
If 2016 didn't turn out the way that you wanted it to, learn from the world's best racing sailors and come back stronger in 2017. Anything is possible.
Receive emails when 'Lectronic Latitude is updated.
SUBSCRIBE