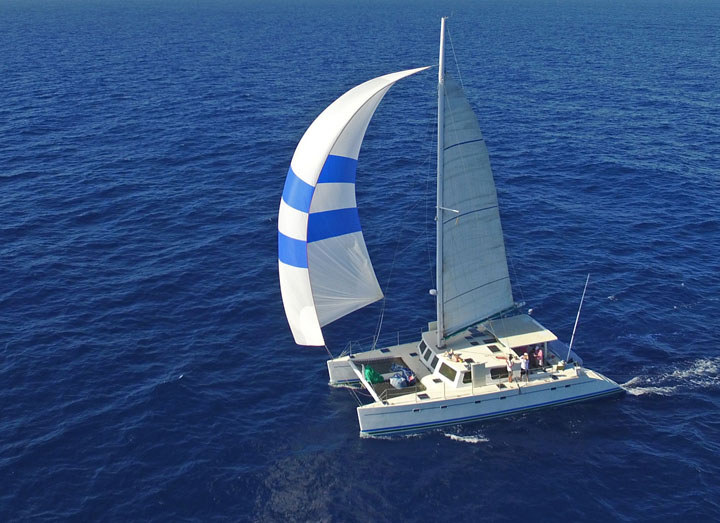 Thanks to Internet and other issues in Cabo San Lucas, the Baja Ha-Ha photo wrap-up report we'd planned for today has been postponed, and may not even appear until Friday because of a mandatory 300-mile crossing to Puerto Vallarta. So instead we're offering you an article we'd already written about Profligate, the Latitude 38 founder's catamaran that has been so closely associated with the Ha-Ha. Enjoy.
The conclusion of November's 23rd annual Baja Ha-Ha marked two important milestones for Latitude founder (and now former publisher) Richard Spindler's 63- by 30-ft catamaran Profligate. It was not only the cat's 20th birthday, it also marked her 20th year as the mothership of the Ha-Ha. During that time she's carried approximately 200 crew and accompanied more than 10,000 sailors on some 2,500 other boats to tropical Mexico.
The cat is a heavily modified version of the Kurt Hughes stock 60-ft term charter cat. "I loved — and still love — Hughes' compromise between speed and load-carrying ability of the hulls," says Spindler. "Beyond that, the design was heavily customized: hulls raised six inches and thus bridgedeck clearance raised to four feet; transom extended three feet; bow profile dramatically changed; and owner-conceived cockpit and interior. She was designed to be a very simple day-charter boat — she has no doors — that could easily sleep 12 in their own bunks."
The basic structure of the vinyl ester and Divinycell core boat was built at Dencho Marine in Long Beach, and literally dropped into the water after a high-speed, middle-of-the-night ride on the back of a flatbed truck through the mostly deserted streets of Long Beach. Despite not being ready for prime time — the steering didn't work, the rudders were way out of balance, there was only one lightbulb in the boat, and much, much less — the crew voted to head south, catching up with the Ha-Ha fleet she was supposedly 'leading' as they left Turtle Bay.
Profligate has had considerable work done on her over the years. Driscoll Boat Works in San Diego replaced the cockpit sole that was crushed after 156 people came aboard for a Pusser's Rum 'tasting' during one Ha-Ha, greatly beefed up the support of the salon house, and has done lots of other work. However, it was Peter Vargas' Sea Tek Marine at the La Cruz Shipyard that has done the most extensive work, beefing up the length of both hulls as well as the decks and making the bilges watertight. "She's much stronger now than when she was launched," says Spindler.
Profligate is on her second Forespar mast. The first one didn't break, it was simply deemed to be too much of a noodle. The cat is on her second set of Yanmar 56 diesels, her second set of saildrives, her third mainsail, her third Solent, and perhaps her 25th spinnaker. Most of the Harken winches were just replaced. A failed stay caused the forward beam to break during a Wanderer/de Mallorca doublehanded race on windy San Francisco Bay, but the mast didn't come down.
Profligate's worst teething problem was with the hydraulic steering that never worked. The Mamba bevel and rod-steering system that replaced it has proved to be a godsend. In order to solve the problem of the rudders being out of balance, they were 're-engineered' by Gino Morrelli in just nine words. "Have Dencho chop one inch off the leading edges." The rudders were dropped off at Dencho at 9 one morning, and the reshaping and reglassing was completed by 5 p.m.
Things like 3-in diameter, 3/4-in wall stainless rudder posts mean that Profligate isn't the lightest of catamarans, and, combined with a tiny Solent, means she's sluggish going to weather in winds under seven knots. But on a reach or in a breeze, she flies.
"We hit 24 knots with white sails on San Francisco Bay in her early days," says Spindler, "and about the same speed during one windy Ha-Ha. There is rarely a Ha-Ha when she doesn't hit 20 knots. But as I'm no longer a kid, my general rule is don't sail over 20 knots during the day or 15 knots at night."
Spindler, who retained ownership of the Baja Ha-Ha after selling Latitude to longtime advertising manager John Arndt, has no plans for Profligate's being replaced as the mothership of the event. The two yachts with the second-most Ha-Ha's to their credit are Harry Hazzard's San Diego-based Frers 50 Distant Drum, which burned last month, and Patsy 'La Reina del Mar' Verhoeven's La Paz-based Gulfstar 50 Talion, with 10 each. We assume that Ragtime or Bill Lee's 67-ft Merlin has done more long-distance races to Mexico than any other boat, although almost always under charter.
"I love Profligate more than ever," says Spindler. "With the solid cockpit cover added two years ago and the electric toilets added last year, she's more comfortable than ever. And despite her size — I think of her as a medium-sized country rather than as a big boat — she's actually very easy for two people — or even one — to sail. She's been a great nautical vehicle for the countless thousands of guests who have sailed on her, and my intention is to sail her until my living end."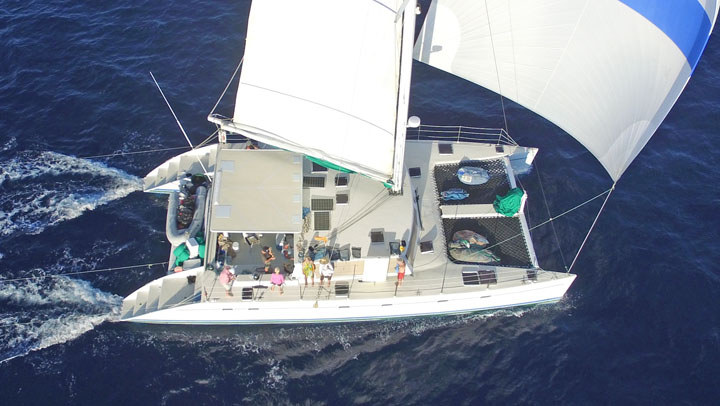 'Profligate' means 'ruthless spendthrift', which is a bit of an inside joke, as she is almost certainly one of the least expensive professionally built cats of her size ever built. Although it didn't include the mast, sails, winches, and windows, the initial quote by Dencho was for $250,000. As you might expect, she's not the polished yacht that you'd get from the likes of Westerly, but that never bothered Spindler. "I'm a big bang for the buck kind of guy, and I got what I wanted."
Receive emails when 'Lectronic Latitude is updated.
SUBSCRIBE