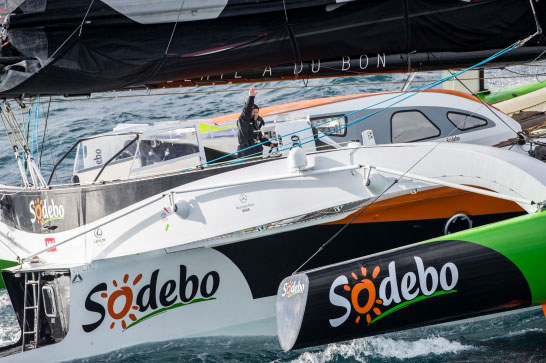 While the Vendée Globe has been stealing all of the headlines — in the sailing world at least — Thomas Coville departed from Brest, France, on Sunday afternoon at 2:49 and is quietly romping his way down the Atlantic ahead of Francis Joyon's reference time for fastest solo circumnavigation. Like having a birthday on Christmas, Coville's record attempt is flying below the radar despite the fact that he and his 102-ft maxi-trimaran Sodebo Ultim' are currently sailing at about 25 knots of boatspeed some 227 miles ahead of Joyon's reference time. To set a new record, Coville will have to beat Joyon's historic 2008 solo circumnavigation time of 57 days, 13 hours and 34 minutes set on IDEC 2. Follow the tracker here.
As we write this, Coville is currently some 400 miles north of the Cape Verde Islands off the coast of Africa and has emerged into steady northeast pressure, which is shifting to the east and lining him up for what looks like a quick crossing of the doldrums and a mad dash to the Southern Ocean. After a series of unplanned jibes near Madeira, Coville is showing impressive speed and looks likely to cross the equator nearly a day ahead of Joyon's time of 6 days, 17 hours. In the South Atlantic Ocean, the Saint Helena High remains quite far south, making the route to the Southern Ocean longer but with plenty of breeze to keep Coville moving at warp speed and ahead of the reference time.
Speaking of Joyon, he and his crew ended up bailing on their simultaneous Trophée Jules Verne departure in light of the Saint Helena High's aforementioned southerly position. With legendary weather router Marcel van Triest calling the shots, the team stood down to 'Code Red' just as Coville was making his Sunday departure, claiming that they may leave within three to four days once they have a quick window to both the equator and the Southern Ocean. The team has announced that they are once again 'Code Orange' to leave this weekend on the 104-ft trimaran IDEC Sport with a tentative departure date of Saturday, November 12. See www.idecsport-sailing.com.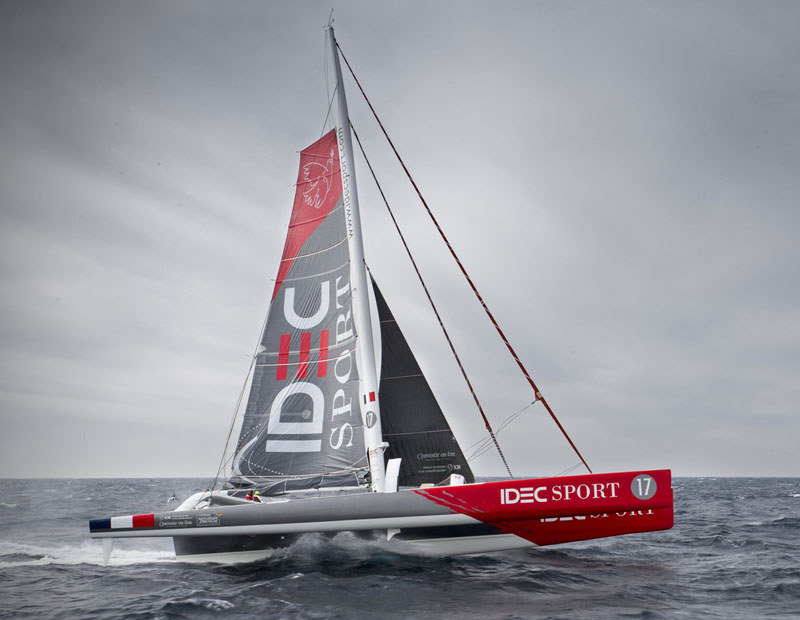 Meanwhile, the Vendée Globe has seen an incredible zero retirements, though Spaniard Didac Costa is still in Les Sables d'Olonne effecting repairs to his yacht, One Planet One Ocean. As long as he restarts within 10 days of Sunday's start date, he'll be eligible to sail in the race. Frenchman Armel Le Cléac'h, one of the race's favorites to win, leads the fleet onboard his new foiling IMOCA 60 Banque Populaire VIII, though the fleet is still very tightly grouped.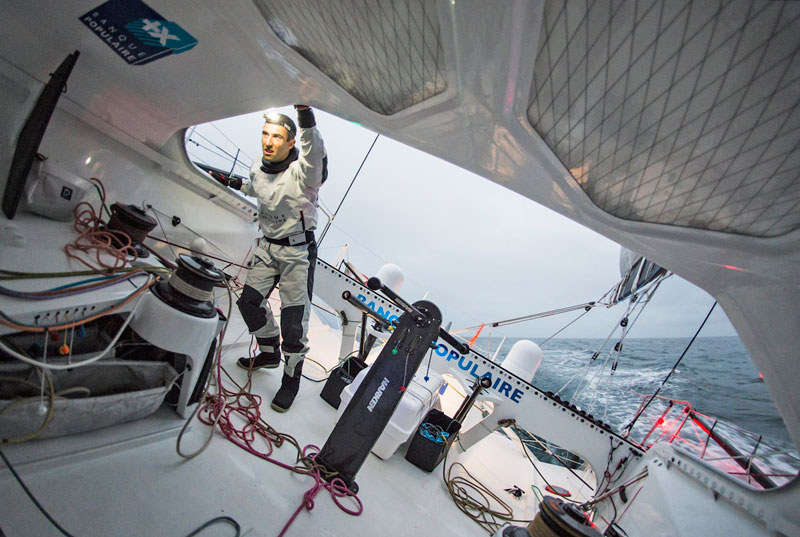 Receive emails when 'Lectronic Latitude is updated.
SUBSCRIBE