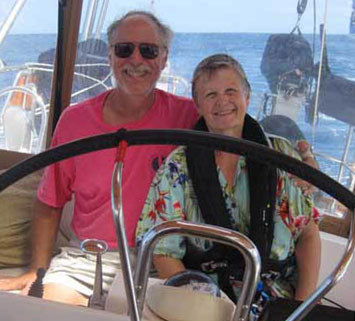 Judging by the enthusiasm in their voices, you'd think Charlie and Cathy Simon are a couple of millennials about to take off on their first sailing adventure. In reality, Charlie is 62. "And I'm even older — a lot older," laughs Cathy.
Furthermore, the owners of the Spokane- and Nuevo Vallarta-based Taswell 58 Celebration did an 11-month World ARC circumnavigation in 2014-2015, mostly doublehanded. Based on that, they have spoken at the Annapolis Boat Show for the last two years and authored the Quick Start Circumnavigation Guide.
"Our next adventure is the Northwest Passage," the couple told Latitude 38 in excited tones during a recent telephone interview, "meaning the 2,500 miles from the Atlantic Ocean end of the Arctic Circle to the Pacific Ocean end of the Arctic Circle. It will be the highlight of our yearlong, 14,000-mile circumnavigation of North America."
Only 250 boats in history have managed to complete the Northwest Passage, although, thanks to climate change, it's currently a more viable voyage than it used to be. Sixteen boats did it last year.
"Why are we doing this? We want to see a different kind of environment, and different kinds of animal life, such as the polar bears," says Cathy.
"In addition," says Charlie, "we'd like to do our part to highlight climate change. To that end, we hope to be working with both NASA and NOAA, and stir the pot a bit."
The couple will leave Annapolis in May, then depart Greenland in July for Resolute, the northernmost part of Canada and the eastern end of the Northwest Passage.
"Everybody who is going to do the Northwest Passage gathers at Resolute and waits for the water to clear of ice," says Charlie. "Once it does, everybody scurries to get to Alaska on the other end of the Passage."
"Contrary to common belief, the Northwest Passage is mostly a coastal rather than an ocean passage, and it's not that remote or isolated. "There are six small communities along the route that actually have commercial air service," says Charlie, "where it's possible for us to have parts and other stuff flown in. We were far more isolated and remote when crossing the Pacific and the Atlantic."
Yet another misconception is that the weather will be terrible on the Northwest Passage. "It's far enough north where the weather usually isn't too bad from July to September," says Charlie. "It's almost certain that we'll encounter our worst weather farther south in the Gulf of Alaska after we've completed the Northwest Passage." Having already sailed to Alaska twice, the Simons aren't naive about the conditions.
"We're actually not daredevil types," says Cathy. "We like to be comfortable." As was the case on their circumnavigation, Celebration's entire cockpit can be enclosed. And to make the passage physically less strenuous, six young males have tentatively signed on to do the trip with the couple.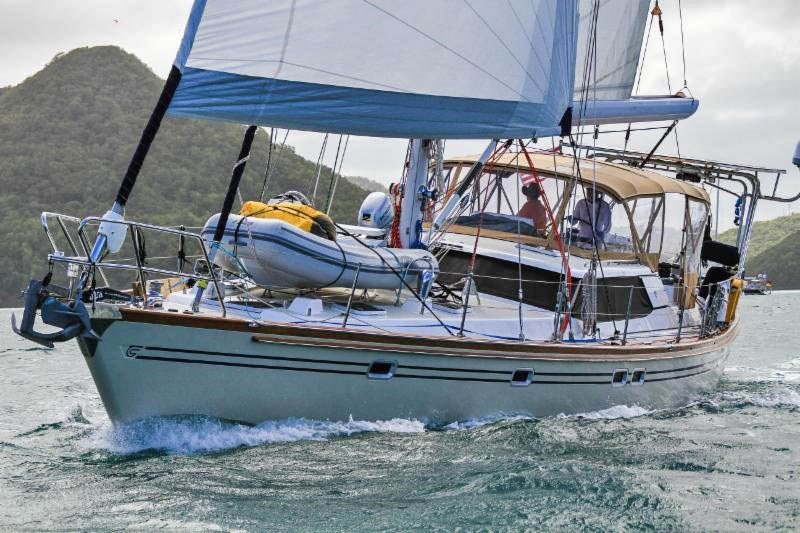 Celebration returned from her circumnavigation in excellent shape. In order to prepare for the Northwest Passage, Charlie has installed a 150-gallon fuel bladder and a masthead camera, added a proper heater to augment the one in the reverse-cycle air-conditioning system, added a shortwave radio, and put on extra safety gear.
There is a Northwest Passage Facebook group that, thanks to his enthusiasm, Charlie has 'inherited'. He'll put out calls for other boats starting in January.
"One time during our circumnavigation, we went ashore to lunch at the same time a bunch of people did from a cruise ship," remembers Cathy. "They had walkers or were hobbling along. Charlie and I noted how old they were — and then we realized we're the same age as they are! Sailing is our Fountain of Youth. We're doing it to keep young. And yeah, these sailing adventures have us feeling like kids again."
Receive emails when 'Lectronic Latitude is updated.
SUBSCRIBE