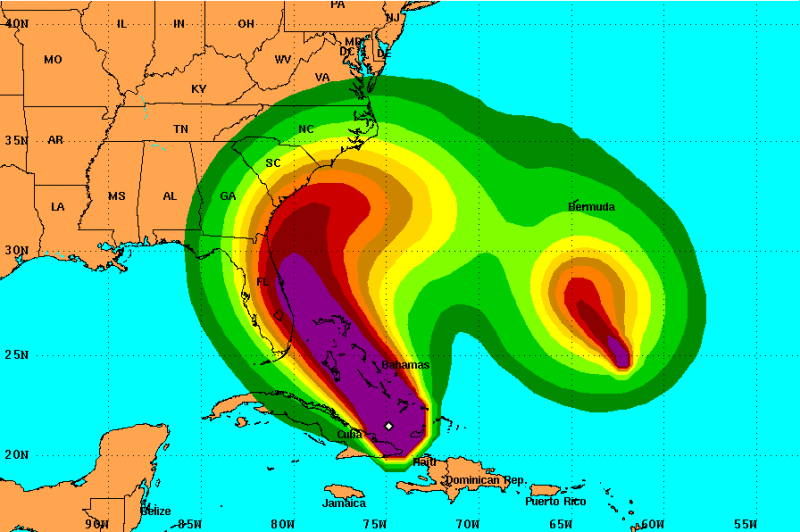 Hurricane Matthew is currently barreling toward the Bahamas, after causing widespread destruction in Haiti and Cuba yesterday. Now a Category 3 storm packing sustained winds of 120 mph, Matthew is expected to slam into the Bahamas tomorrow morning, and reach southern Florida by tomorrow afternoon. It is predicted to advance NNW along the eastern coastline of that state before curving toward the northeast, thus threatening Georgia and South Carolina on Saturday.
On its approach to the northern Caribbean islands, Matthew reached Category 5 status (winds higher than 156 mph or 136 knots), but downshifted to a Category 4 (130- to 156-mph winds) before slamming into Haiti and Cuba yesterday with max sustained winds of 145 mph. Needless to say, there was widespread destruction and flooding on both islands, with at least 11 deaths reported so far. Haiti, which is by a wide margin the Caribbean's poorest country, has never fully recovered from a series of four major storms in 2008 and a devastating earthquake in 2010.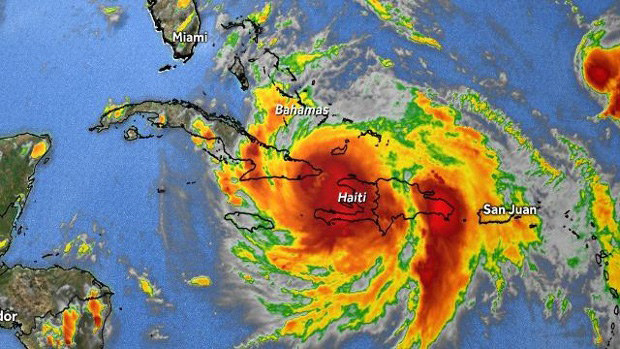 More than a million people are now preparing to evacuate from coastal areas of Florida and South Carolina. Matthew is already the most powerful storm to affect this region in nearly a decade, but storm watchers fear that it may build in intensity as it arcs to the northeast.
Needless to say, millions, if not billions, of dollars worth of boats and boating infrastructure are vulnerable to Matthew's wrath as it advances. In addition to the damage potential of storm-force winds, big surf and the punishing effects of storm surge are expected. Meanwhile, sources in the British Virgin Islands — the Caribbean's most popular boating destination — tell us there was virtually no impact there from Matthew other than a period of 30-knot winds. The storm passed far to the east of the archipelago yesterday.
Receive emails when 'Lectronic Latitude is updated.
SUBSCRIBE