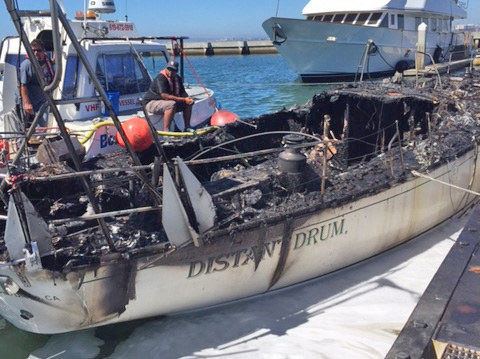 Harry Hazzard, a veteran of 11 Baja Ha-Ha's, including 10 with his Beneteau Frers 51 Distant Drum, had to leap into San Diego Bay on Friday or Saturday morning to save his life. He's fine physically, but his boat is a complete loss and he's lost most of his possessions.
"I was motoring from California Yacht Marina in Chula Vista to Shelter Island Boatyard about eight miles away for my annual haul-out," Hazzard told Latitude in a phone interview this morning. "I'd only gone a little way and was about an eighth of a mile off the Marine Group yard when I heard an unusual noise from the engine area and thought I smelled plastic or rubber melting. I assumed it was a belt going bad. So I went below to investigate."
The Frers design has the engine compartment farther forward than on most boats. It's only a little ways behind the mast, and one of the main access points is from beneath a salon seat directly above the engine.
"I was lucky I was a little off centerline when I lifted the engine cover, because as soon as I lifted it, it went off. Had I been centerline, it would have gone off in my face."
When he says "it went off," he doesn't mean there was an explosion as such, but super heat and flames coming up from the engine area.
"The fire was already going pretty good, with fiberglass and other stuff burning, so I couldn't breathe because of the chemical fumes. I rushed up to the fresh air in the cockpit, and almost as soon as I was up the companionway, flames were coming up the companionway after me. I could feel the heat all the way in the back of the boat. There was nothing I could do to combat the fire."
In addition to the fire itself, Hazzard had other safety concerns. "I was standing by two diesel tanks, the boat had two propane tanks, I had two medical oxygen tanks in the bow, and two dive tanks in the salon."
The engine was still running, so he directed the boat toward shore. By the time fire was starting to burn the dodger and bimini, Hazzard felt he had no choice but to jump into the water. It was from there that he watched the mast collapse and came to the realization that all his important papers, and a brand new mainsail, were going up in flames.
Two young Mexican workers from the Marine Group rushed out in a small boat and pulled Harry from the water. Harry thinks he was in the water for about 15 minutes. He had no sense if the water was cold or not.
He was immediately approached by several people wanting to salvage the boat in order to claim salvage rights. "I told them that I didn't want to talk to them, and, finally, to fuck off," says Harry.
Not that it would have mattered, but the San Diego Harbor fire boats were slow to arrive. Most of them had been eight miles away at another boat fire at Half Moon Marina.
Distant Drum was taken to the Marine Group yard, where it was hauled and inspected by a fire department investigator. Tomorrow the boat will be inspected by surveyors representing Pantaenius, the company that insures the boat.
Hazzard still has no idea why the boat caught fire. "My bilges were spotless. You could have eaten off of them," he says. As for Harry's future, it's up in the air. "I'm homeless, jobless and loveless," he told Latitude.
Receive emails when 'Lectronic Latitude is updated.
SUBSCRIBE