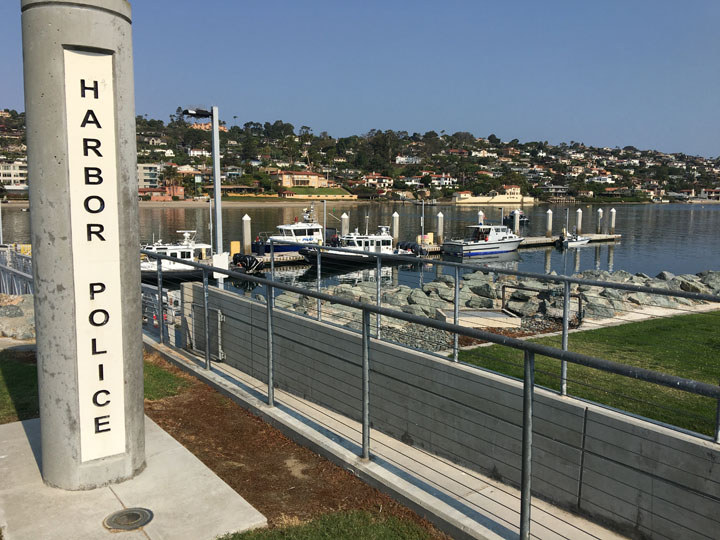 According to federal laws, when the operator of a small pleasure vessel arrives in the United States from a foreign port, the operator is required to immediately report the boat's arrival to the nearest Customs and Border Patrol (CBP) facility and, in person, fill out an entry application and have the boat inspected.
As we at Latitude have discovered, not only does the CBP sometimes make it difficult if not impossible for skippers to comply with the law, but oftentimes the agency doesn't even seem to care if anyone complies. In addition, some skippers of boats arriving from foreign ports have just been blowing off the requirement altogether.
For the record, there are four exceptions to having to report face-to-face with the CBP. Three of them have to do with boats arriving in the US from Canada and are area-specific. The fourth is something called the Small Vessel Reporting System (SVRS), which, based on the fact we'd never heard of it before, might be top-secret. More on that later.
As you may have read in Monday's 'Lectronic, this was the 18th year that Profligate has come north from Mexico and pulled into the Police Dock at San Diego to check back in to the United States. The procedure has changed slightly over the years, but basically we've always used their phone up the gangway from the Police Dock to call the CBP, or whatever it used to be called, and tell them we'd arrived. They would then let us know, give or take a couple of hours, when they might show up to check us in.
Eventually — and often not until the wee hours of the morning — not one but always two CBP officers, loaded down with all sorts of heavy-duty law enforcement paraphernalia, would come aboard our boat, inspect our papers, and on rare occasions look below to see if we were smuggling illegal aliens or bales of pot into the country this time, and if so, how many. If we didn't have a current Customs sticker, they'd sell us one for $25. Exact change only. And that was it.
When Profligate arrived late last Friday night, Captain Doña de Mallorca did the usual by walking up the gangway and trying to call the CBP on the phone. What was different this time is that nobody answered the phone. After it rang about 20 times, a recording identified itself by phone number only, and said leave a message. What the heck?
Risk-averse de Mallorca wasn't sure what we should do. The Wanderer had no such hesitation. If the massive CBP division of Homeland Security didn't care enough to staff their phone, leave a message, or have a sign indicating what skippers should do in such situations, he was moving on by taking Profligate to Driscoll Boat Works. He left a message to that effect for CBP.
In Monday's 'Lectronic we asked for the experiences of other skippers returning to the United States from Mexico. Several have told us they never bother to check in at all. Others said that they continue on to Long Beach, where officials apparently ignore the requirement for a face-to-face inspection. When one extremely law-abiding skipper couldn't get any response from CBP, he and his crew went to the airport and got cleared in there. (This was, of course, illegal because none of the crew are allowed to leave the vessel until she's cleared in.) Other skippers told us they reported in to CBP after the fact, and nobody seemed to care.
When one skipper tried to check in to Kauai after returning from the Far East, CBP in Honolulu told him that the station on Kauai had closed, although they didn't mention it on their website, and that he needed to check in with them in Honolulu "sometime in the next few weeks."
Always trying to be helpful, the Wanderer called up the CBP the day after we arrived to let them know what had happened and to ask what skippers should do when nobody at CBP answers the phone. The female supervisor who responded insisted that somebody always answered the phone. We don't know if she was ignorant or lying. When we told her we knew that wasn't true, she got mad. She didn't seem any happier when we told her that a number of skippers were blowing off the law her agency was charged with enforcing. She did, however, admit that the agency had been having some "problems."
Ever helpful, we tried to suggest that somebody from CBP take a few minutes and leave a sign at the Police Dock indicating what mariners should do — stay or continue on — when nobody answers the CBP phone. We never managed to fully communicate our suggestion because she — hung up on us! As Mark Twain observed, no good deed goes unpunished.
As for SVRS, if you are "low risk" you can enroll with CBP so that you are not required to meet with them face-to-face when you return to the States, but merely call in. But if they aren't going to answer their phone, having enrolled in SVRS isn't going to do you any good, is it?
So come on, CBP, please do a little better job of making it easier for skippers of boats arriving from foreign countries to make it easier for you to do your jobs. If you have a budget problem, we've got a solution. Send one officer to the Police Dock to check boats in, not one to do the job and the other to stand around watching. You'll raise productivity by 100%.
As a result of our request for skippers' personal experiences with the CBP, we've received a number of responses. We think they make for fascinating reading, which is why it's a shame that it's too late in Latitude's production schedule to include them in the September 1 issue. But they will appear in our October magazine. (All new issues of Latitude 38 are readable and downloadable from our website on the 1st of each month.)
Boat fires are on our minds this week, not only because we reported on a horrible fire in San Diego's La Playa Anchorage Monday, but because we just got the whole story on the loss of Sand Piper, an Island Packet 44 owned by Ed Staples and Annette Alexander. (Our initial report appeared here on May 27.)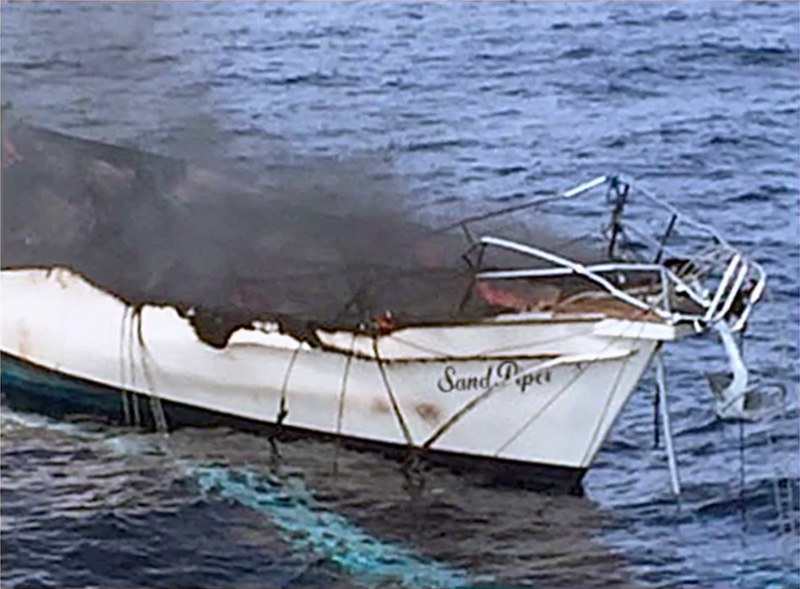 In a lengthy interview on Get Moving TV, Staples describes his repeated attempts to extinguish what started out as a very small fire (of unknown origin) in a quarter berth, using the extinguishers he had nearby.
The couple shut down the diesel engine and shut off the electrical panel, but to no effect. The fire came back several times, growing in intensity each time. Both smoke and airborne fire-smothering chemicals added to the difficulty of extinguishing it. By the time they had expelled all the suppression chemicals they had available — two extinguishers worked as designed, the third failed — the blaze literally chased them overboard. "We barely escaped with our lives," the skipper recalls.
Ed, who is a retired physician, is clearly a very intelligent and well-prepared mariner, but in the intensity of the moment it apparently didn't occur to him that regardless of the source of ignition (most likely something electrical beneath the quarter berth), what was actively burning was the mattress, bedding, and other non-chemical, non-electrical material — stuff that's classified as Type A in firefighter lingo.
The three extinguishers Ed had in the galley and engine area were, appropriately, Type BC (explained below), which did little to remove the heat of the smoldering bunk materials, hence the repeated ignitions. In hindsight, Ed probably now realizes he would have had better luck throwing buckets of water on the bunk — although we can certainly understand why doing so would be counterintuitive.
For your own onboard safety and preparedness, the following mnemonics may prove useful:
• Type A = "Ash," for wood, paper, rubber, plastic or textiles
• Type B = "Boil," for flammable liquids, such as gasoline, oil and grease (an alternate mnemonic is "things that come in barrels")
• Type C = "Current," for electrical equipment fire (alternately, "things that are charged")
In our opinion, an onboard fire is just about the most terrifying thing a sailor could face. So, let the Sand Piper incident serve as a reminder to be well prepared, and check your fire-fighting equipment often.
St. Francis YC's annual three-day Aldo Alessio Regatta was established in 1992 through an endowment by Aldo Alessio, who was the club's commodore in 1970. The Alessio trophy was awarded for Friday's ocean race, a jaunt out the Gate and back.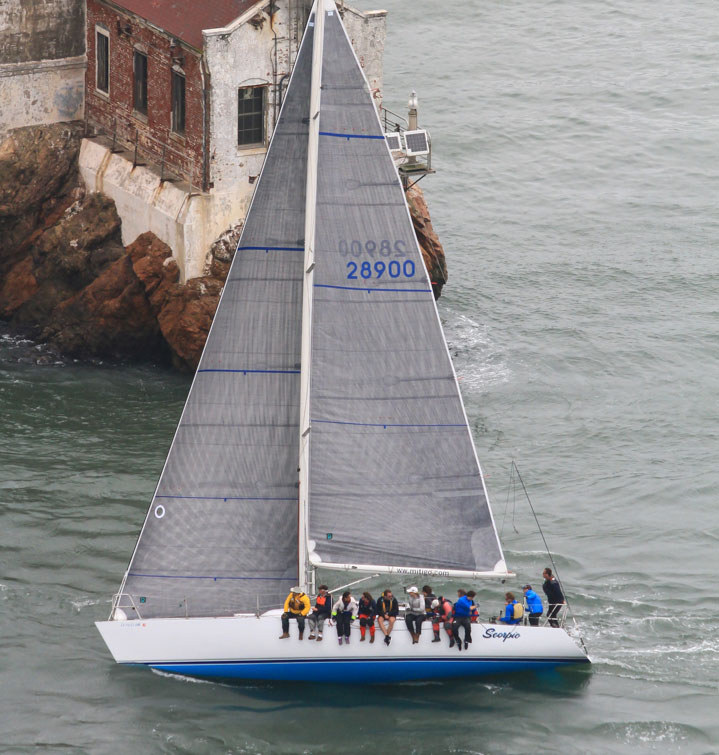 Winning the ORR division, and thus the perpetual trophy, was Sy Kleinman's Schumacher 54 Swiftsure II. Photographer Chris Ray reports that Friday was breezy and foggy and featured a big flood current. "All the competitors save one, Swiftsure II, went right looking for relief. While the fleet was apparently trying to visit the Lime Point Lighthouse, nestled under the north tower of the Golden Gate Bridge, with mixed success, Swiftsure II went left to the beach and steamed out the Gate in fine style to grab line honors for the ORR division some 21+ miles later."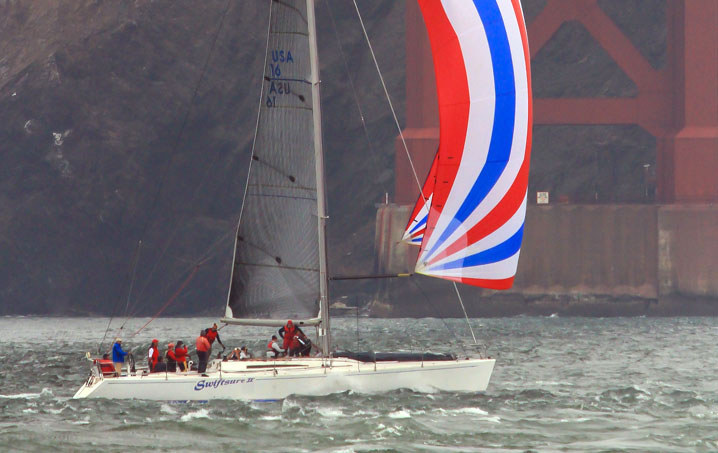 On the weekend, racing continued on buoy courses inside the Bay in the Phyllis Kleinman Swiftsure Regatta. The Phyllis Kleinman Swiftsure Cup was awarded to the ORR boat with the best overall performance in the buoy races. That boat was James Mullarney's Wylie 42 Scorpio.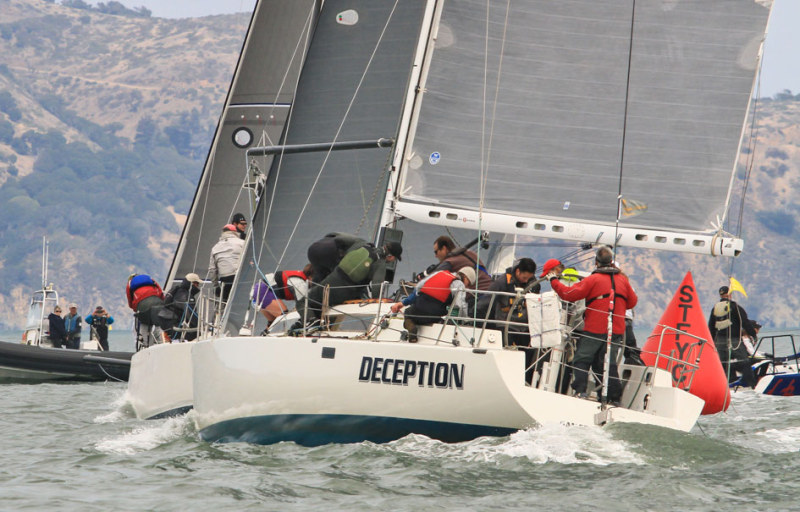 The only one-design class consisted of 19 J/105s. Phillip Laby's Godot topped that fleet, followed by Ryan Simmons' Blackhawk and Bruce Stone's Arbitrage. The newest hot class on the Bay, the C&C 30s, failed to achieve critical mass for their own division but raced in PHRF. Daniel Thielman's new-to-him 2006 Melges 32 Kuai corrected out on top of the other seven PHRF boats, and Frank Slootman's Invisible Hand beat the other two C&C 30s.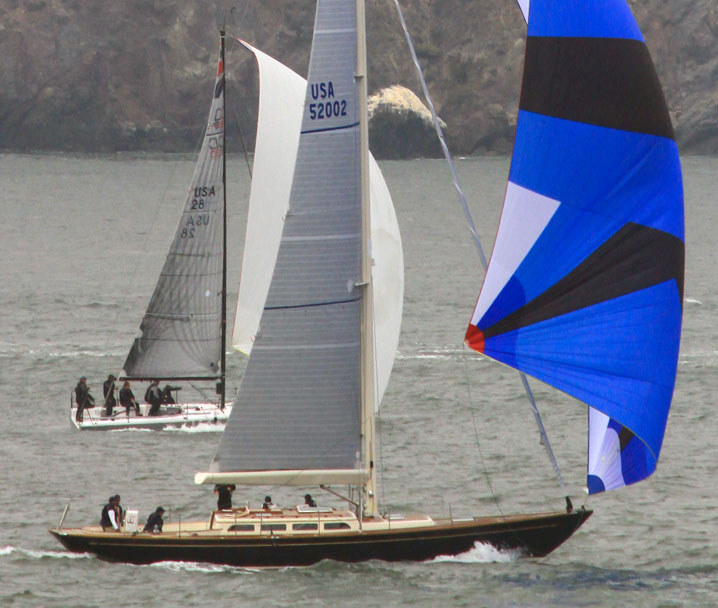 Receive emails when 'Lectronic Latitude is updated.
SUBSCRIBE