The Importance of the 'ABC's
Boat fires are on our minds this week, not only because we reported on a horrible fire in San Diego's La Playa Anchorage Monday, but because we just got the whole story on the loss of Sand Piper, an Island Packet 44 owned by Ed Staples and Annette Alexander. (Our initial report appeared here on May 27.)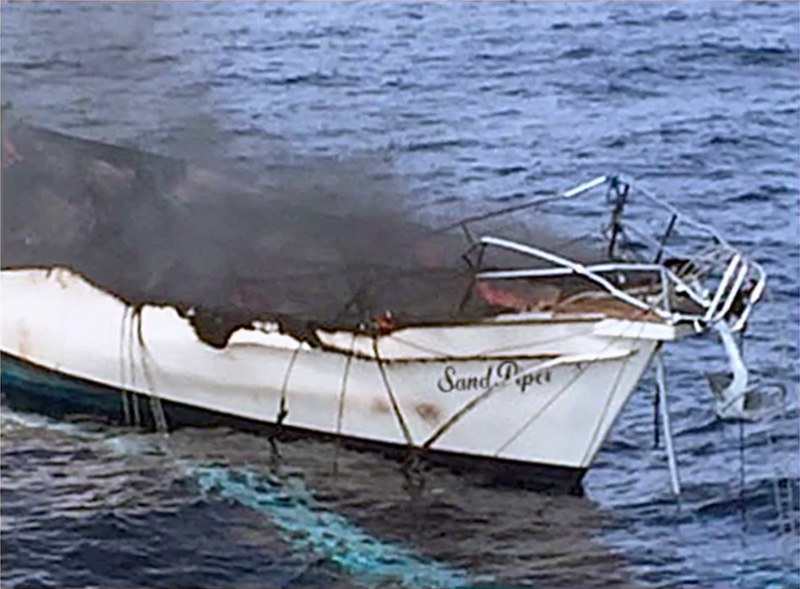 In a lengthy interview on Get Moving TV, Staples describes his repeated attempts to extinguish what started out as a very small fire (of unknown origin) in a quarter berth, using the extinguishers he had nearby.
The couple shut down the diesel engine and shut off the electrical panel, but to no effect. The fire came back several times, growing in intensity each time. Both smoke and airborne fire-smothering chemicals added to the difficulty of extinguishing it. By the time they had expelled all the suppression chemicals they had available — two extinguishers worked as designed, the third failed — the blaze literally chased them overboard. "We barely escaped with our lives," the skipper recalls.
Ed, who is a retired physician, is clearly a very intelligent and well-prepared mariner, but in the intensity of the moment it apparently didn't occur to him that regardless of the source of ignition (most likely something electrical beneath the quarter berth), what was actively burning was the mattress, bedding, and other non-chemical, non-electrical material — stuff that's classified as Type A in firefighter lingo.
The three extinguishers Ed had in the galley and engine area were, appropriately, Type BC (explained below), which did little to remove the heat of the smoldering bunk materials, hence the repeated ignitions. In hindsight, Ed probably now realizes he would have had better luck throwing buckets of water on the bunk — although we can certainly understand why doing so would be counterintuitive.
For your own onboard safety and preparedness, the following mnemonics may prove useful:
• Type A = "Ash," for wood, paper, rubber, plastic or textiles
• Type B = "Boil," for flammable liquids, such as gasoline, oil and grease (an alternate mnemonic is "things that come in barrels")
• Type C = "Current," for electrical equipment fire (alternately, "things that are charged")
In our opinion, an onboard fire is just about the most terrifying thing a sailor could face. So, let the Sand Piper incident serve as a reminder to be well prepared, and check your fire-fighting equipment often.
Receive emails when 'Lectronic Latitude is updated.
SUBSCRIBE