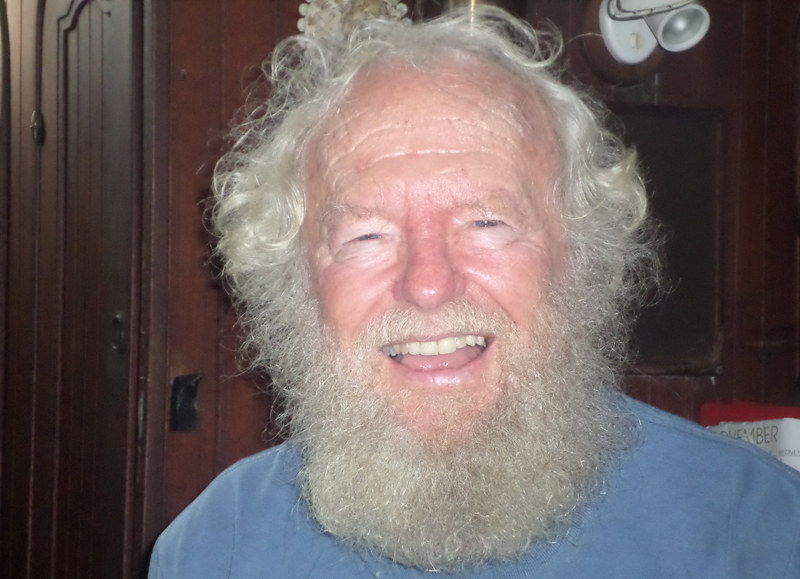 They say you only get one chance to make a first impression. We can only imagine what citizens of Bahia Caraquez thought when they saw this shaggy character roaming their streets this week. Had he just come out of hibernation after a long winter's nap? Was ZZ Top in town to do a concert?
No, it was Jeff Hartjoy, the Washington-based singlehander whom we've been reporting on here for the last six months. The above photo was shot by his one-woman shore support 'team', Debbie, not long after Jeff finished his 204-day, nonstop journey around the planet. As reported earlier, the 70-year-old is now the oldest American to have soloed nonstop via the Five Great Capes. We say three cheers for you, Jeff. You are our hero.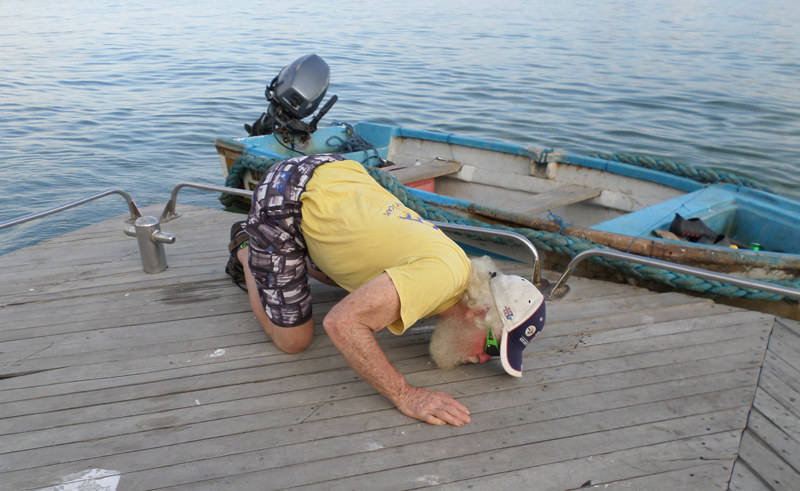 Despite the tremendous relief Jeff felt about finally getting ashore Monday, his focus quickly turned to the people who live in and around this coastal city, which has become an important layover destination for international cruisers. Not only did it suffer terrible damage due to April 17th's magnitude-7.8 earthquake, but there have been at least two smaller quakes since, and an untold number of aftershocks. In a call to us yesterday, Jeff said, "The place is so devastated that it's just unreal. Everyone here seems to be nervous because of the continuing tremors and shakes. A lot of people are even afraid to be inside of buildings."
As you may have read in our Changes in Latitudes section, every year a number of globetrotting cruisers leave their boats in the marina here while they travel inland to Andean destinations such as Quito, Cuzco and Machu Picchu. According to Jeff and Debbie, the marina, which changed ownership recently, is still in pretty good shape. We know of no earthquake-related damage to specific cruising yachts.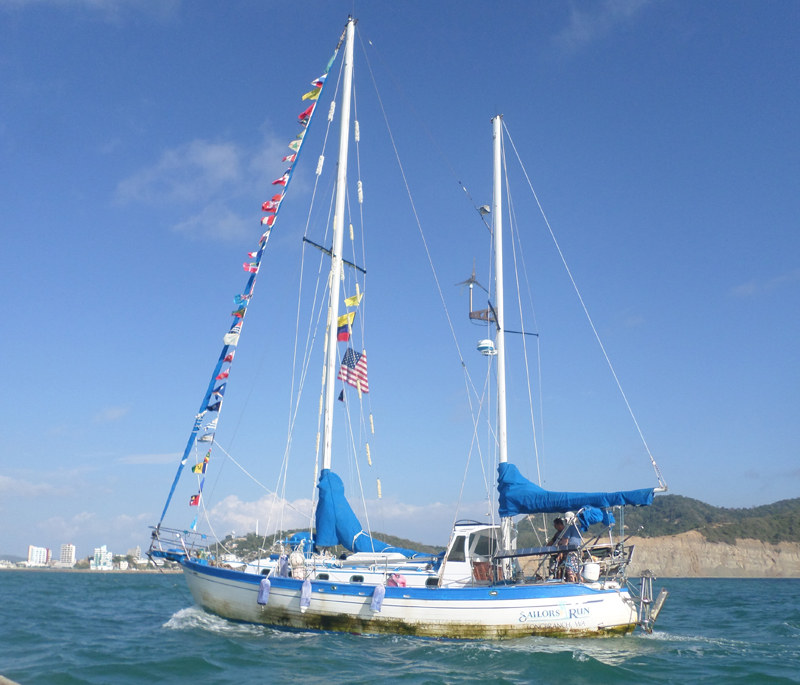 What's next for Jeff and Debbie? They plan to fly north to New Mexico next week in order to R&R with their kids and grandkids. In September, they'll return to Ecuador to retrieve Sailors Run and sail her back to California via the old Clipper Route (way offshore toward Hawaii). Along the way, Jeff will undoubtedly be working on his book about this epic adventure. We can't wait to read it! (To relive his blog posts see this site.)
For reasons we'll never understand, many people choose to take long road trips over the Memorial Day Weekend, and invariably end up spending long hours in ugly, mind-numbing traffic. That's not our idea of fun. Instead, we urge you to spend a maximum of your weekend out on the water, decompressing from the pressures of the workaday world.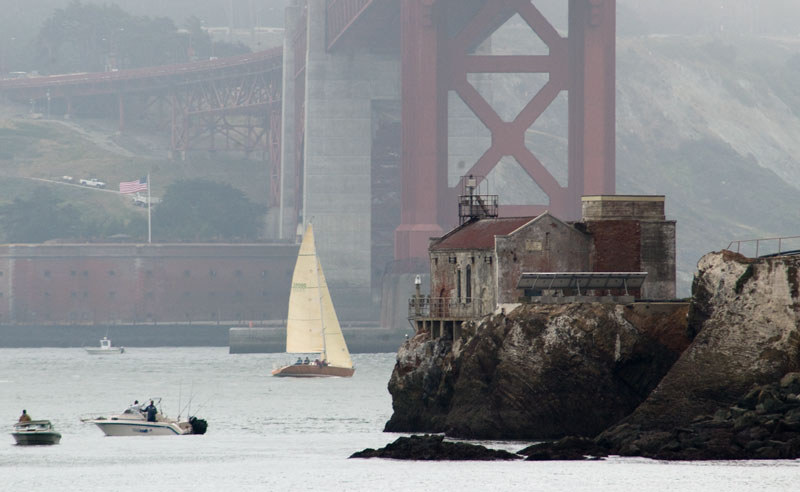 The weekend will actually kick off early with Friday's 11:00 a.m. start of the Spinnaker Cup from San Francisco Bay to Monterey, the first stage in the new California Offshore Race Week. "Twenty boats will compete for the title of 2016 California Offshore Champion," reports Encinal Yacht Club commodore Jim Vickers. "Fifty-five boats have entered the Spinnaker Cup, which is 32 more boats than last year. Twenty-nine boats are registered in the Coastal Cup, and 30 in the SoCal 300." The Coastal Cup will start on Sunday and serve as stage two, carrying the racers from Monterey to Santa Barbara.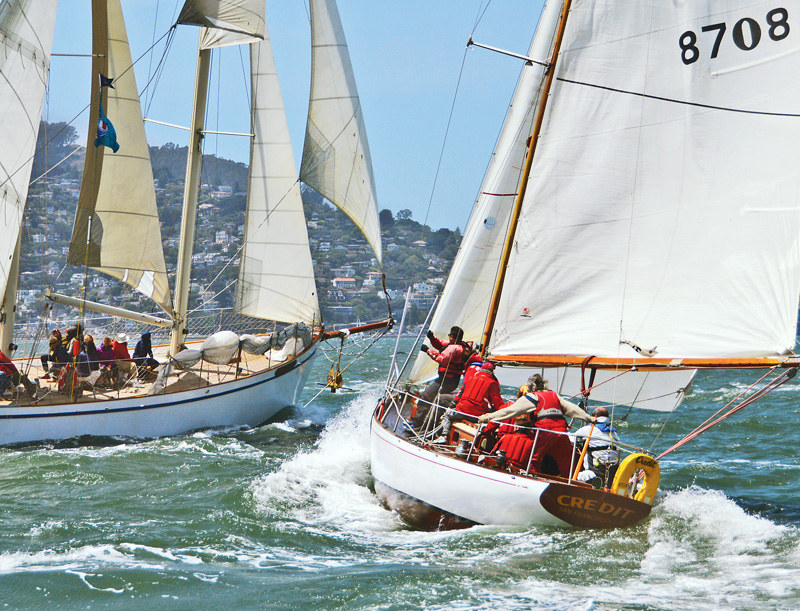 One of the best classic-boat-ogling opportunities of the year will take place Saturday, as the vintage Master Mariners Regatta fleet blasts around the Bay with all its canvas flying. If you're not lucky enough to be on board one of these meticulously cared-for beauties, you might just hang out along the edges of their Central Bay course to take photos and cheer them on. The usual route is from St. Francis YC north toward Sausalito, back to the Cityfront, east to Blossom Rock, north to Southampton Shoal, and on to the finish behind Treasure Island.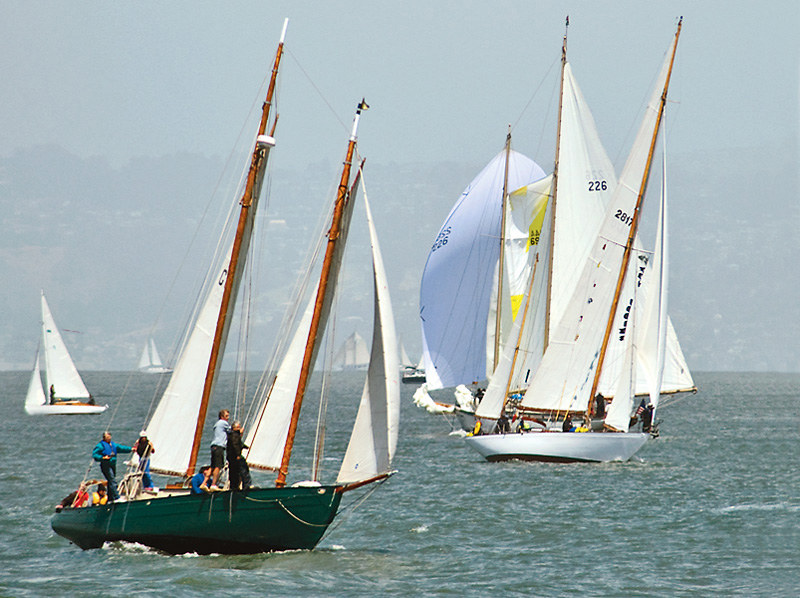 Wooden-boat shows are fun, but the place to grab great photos of these classic sloops and schooners is out on the water where the Central Bay breeze pushes them to their full potential. Whatever you do, though, please stay way clear of them. You wouldn't want your boat to get skewered by a bronze-tipped bowsprit. But if you get some killer shots, we'd love to see them.
For much more goings-on this weekend, see our Calendar.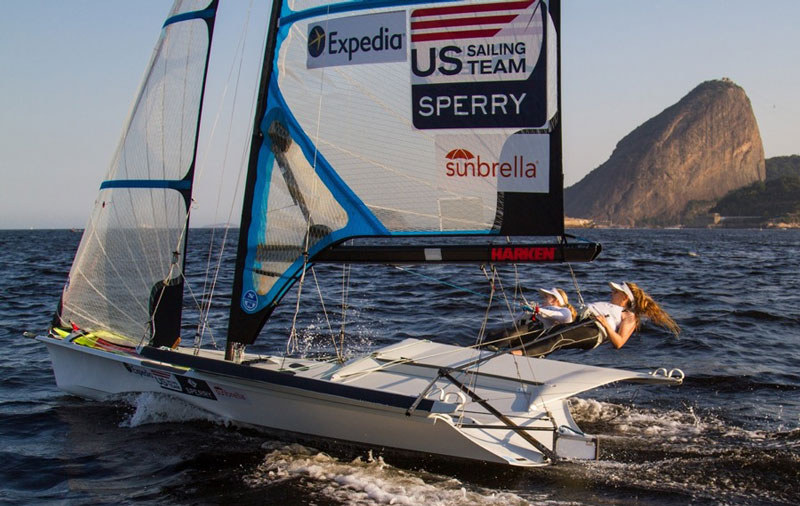 US Sailing has announced the final roster of 15 sailors who will represent the USA at the Olympic Games on August 5-21. "The Rio 2016 team is a potent mix of young, hungry talent, and experienced veterans," reports US Sailing's communications manager, Will Ricketson. "Both 470 teams look strong heading into the summer, with 2015 Olympic Test Event victors Annie Haeger and Briana Provancha in the women's fleet, and North American and Open European champions Stu McNay and Dave Hughes as the men's representatives. McNay will earn the rare distinction of becoming a three-time Olympian." Paige Railey and McNay will be the only returning members of the London 2012 sailing team.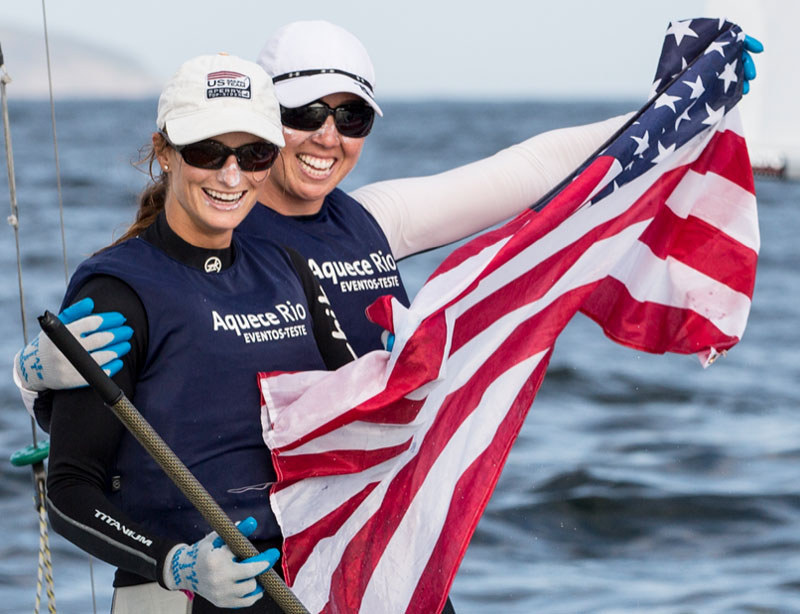 About the 470 women, Latitude contributor Lynn Ringseis wrote, "The pair met while being awarded medals on the podium of a regatta in Kingston, Canada, in 2007 and became fast friends. A year later they both attended Boston College and shared the dream of competing for the Olympics. Dave Ullman, founder of Ullman Sails, came onboard as their coach (two years ago). Briana grew up in San Diego, where she started sailing Sabots at age 8. Annie fell in love with sailing on Optis on tiny Lake Beulah, WI, at a young age as well."
The sailing events, to be based at Marina da Gloria on Rio de Janeiro's harborfront, will feature up to 380 athletes competing in ten classes. Sailing for the USA will be:
49er: Thomas Barrows (St. Thomas, USVI) and Joe Morris (Annapolis, MD)

49erFX: Paris Henken (Coronado, CA) and Helena Scutt (Kirkland, WA). This will be the first Olympic Games appearances for both Henken and Scutt, who won bronze at the Toronto 2015 Pan American Games.

Nacra 17: Bora Gulari (Detroit, MI) and Louisa Chafee (Warwick, RI)

Laser Radial: Paige Railey (Clearwater, FL). Rio 2016 will be the second consecutive Olympics for Railey, a world champion, Rolex World Sailor of the Year, three-time Pan American Games medalist and US Sailing Rolex Yachtswoman of the Year.

Laser: Charlie Buckingham (Newport Beach). The Laser North American Champion, a two-time College Sailor of the Year, will sail at his first Olympics.

Finn: Caleb Paine (San Diego). Paine, a Sailing World Cup Series Champion, has been the top-ranked American Finn sailor since 2012, and will compete in his first Olympics.

Women's RS:X: Marion Lepert (Belmont, CA). Rio will be the first Olympics for the Toronto 2015 Pan American Games bronze medalist, who also made the podium at the 2015 RS:X U21 European Championship and won the medal race at the 2016 Trofeo Princesa Sofia regatta in Palma, Spain.

Men's RS:X: Pedro Pascual (Miami, FL)

Women's 470: Annie Haeger (East Troy, WI) and Briana Provancha (San Diego). 2015 US Sailing Rolex Yachtswoman of the Year Haeger and Youth World Champion Provancha will make their first Olympic appearances.

Men's 470: Stu McNay (Providence, RI) and Dave Hughes (Miami, FL)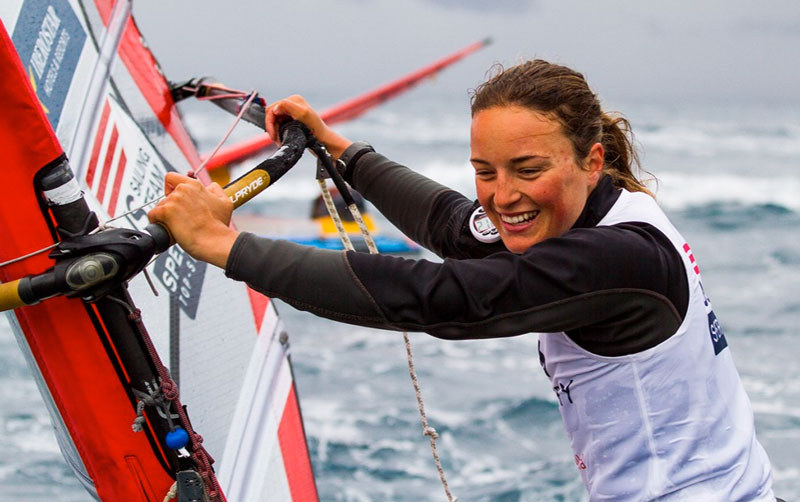 The Paralympic Games will follow the Olympics on September 7-18. Paralympic athletes are currently competing in the Netherlands for the Para World Sailing Championships at the Delta Lloyd Regatta; the final Paralympic team will be announced after the Worlds. We'll introduce them to our readers in a 'Lectronic post in early June.
US Sailing Team Sperry was one of the first teams to set up an extensive training operation at the sailing venue in Rio. The headlines about trash and sewage in Guanabara Bay have been replaced in recent weeks by tales of political upheaval, a financial crisis, and, worst of all, the Zika virus. Add to those woes another kind of danger: Olympic gold medalist Fernando Echavarri and two other members of the Spanish sailing team were robbed at gunpoint by five teenage boys on Friday morning. Echavarri said they were lucky to escape with their lives. Frankly, this is not a good time for all eyes to be on Rio!
Receive emails when 'Lectronic Latitude is updated.
SUBSCRIBE