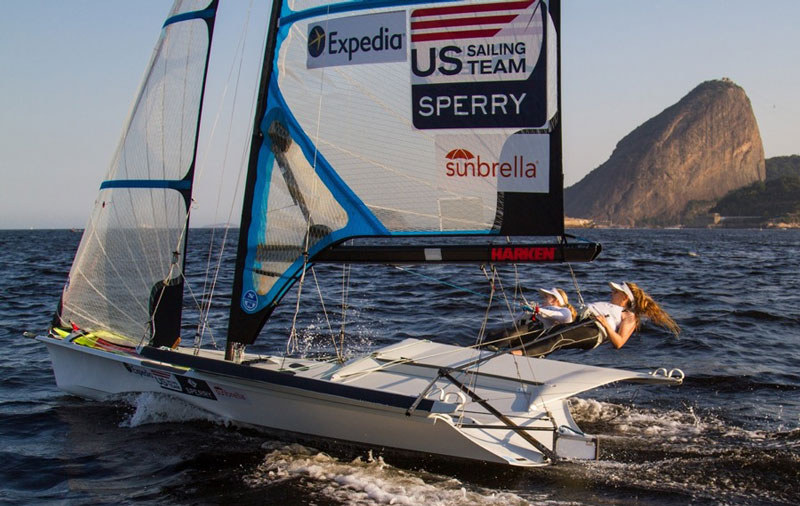 US Sailing has announced the final roster of 15 sailors who will represent the USA at the Olympic Games on August 5-21. "The Rio 2016 team is a potent mix of young, hungry talent, and experienced veterans," reports US Sailing's communications manager, Will Ricketson. "Both 470 teams look strong heading into the summer, with 2015 Olympic Test Event victors Annie Haeger and Briana Provancha in the women's fleet, and North American and Open European champions Stu McNay and Dave Hughes as the men's representatives. McNay will earn the rare distinction of becoming a three-time Olympian." Paige Railey and McNay will be the only returning members of the London 2012 sailing team.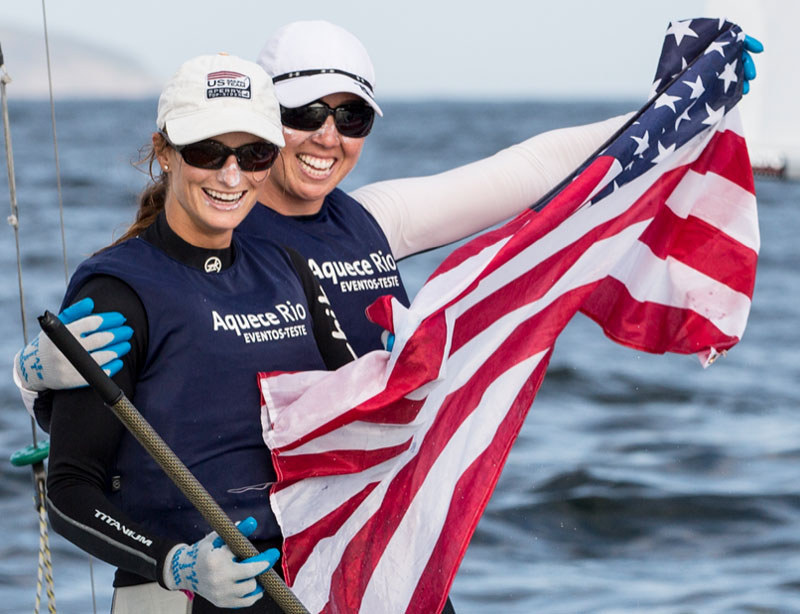 About the 470 women, Latitude contributor Lynn Ringseis wrote, "The pair met while being awarded medals on the podium of a regatta in Kingston, Canada, in 2007 and became fast friends. A year later they both attended Boston College and shared the dream of competing for the Olympics. Dave Ullman, founder of Ullman Sails, came onboard as their coach (two years ago). Briana grew up in San Diego, where she started sailing Sabots at age 8. Annie fell in love with sailing on Optis on tiny Lake Beulah, WI, at a young age as well."
The sailing events, to be based at Marina da Gloria on Rio de Janeiro's harborfront, will feature up to 380 athletes competing in ten classes. Sailing for the USA will be:
49er: Thomas Barrows (St. Thomas, USVI) and Joe Morris (Annapolis, MD)

49erFX: Paris Henken (Coronado, CA) and Helena Scutt (Kirkland, WA). This will be the first Olympic Games appearances for both Henken and Scutt, who won bronze at the Toronto 2015 Pan American Games.

Nacra 17: Bora Gulari (Detroit, MI) and Louisa Chafee (Warwick, RI)

Laser Radial: Paige Railey (Clearwater, FL). Rio 2016 will be the second consecutive Olympics for Railey, a world champion, Rolex World Sailor of the Year, three-time Pan American Games medalist and US Sailing Rolex Yachtswoman of the Year.

Laser: Charlie Buckingham (Newport Beach). The Laser North American Champion, a two-time College Sailor of the Year, will sail at his first Olympics.

Finn: Caleb Paine (San Diego). Paine, a Sailing World Cup Series Champion, has been the top-ranked American Finn sailor since 2012, and will compete in his first Olympics.

Women's RS:X: Marion Lepert (Belmont, CA). Rio will be the first Olympics for the Toronto 2015 Pan American Games bronze medalist, who also made the podium at the 2015 RS:X U21 European Championship and won the medal race at the 2016 Trofeo Princesa Sofia regatta in Palma, Spain.

Men's RS:X: Pedro Pascual (Miami, FL)

Women's 470: Annie Haeger (East Troy, WI) and Briana Provancha (San Diego). 2015 US Sailing Rolex Yachtswoman of the Year Haeger and Youth World Champion Provancha will make their first Olympic appearances.

Men's 470: Stu McNay (Providence, RI) and Dave Hughes (Miami, FL)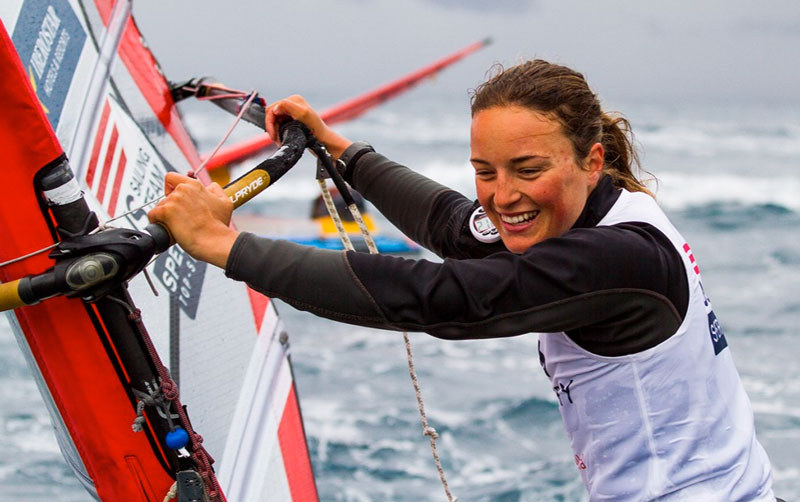 The Paralympic Games will follow the Olympics on September 7-18. Paralympic athletes are currently competing in the Netherlands for the Para World Sailing Championships at the Delta Lloyd Regatta; the final Paralympic team will be announced after the Worlds. We'll introduce them to our readers in a 'Lectronic post in early June.
US Sailing Team Sperry was one of the first teams to set up an extensive training operation at the sailing venue in Rio. The headlines about trash and sewage in Guanabara Bay have been replaced in recent weeks by tales of political upheaval, a financial crisis, and, worst of all, the Zika virus. Add to those woes another kind of danger: Olympic gold medalist Fernando Echavarri and two other members of the Spanish sailing team were robbed at gunpoint by five teenage boys on Friday morning. Echavarri said they were lucky to escape with their lives. Frankly, this is not a good time for all eyes to be on Rio!
Receive emails when 'Lectronic Latitude is updated.
SUBSCRIBE