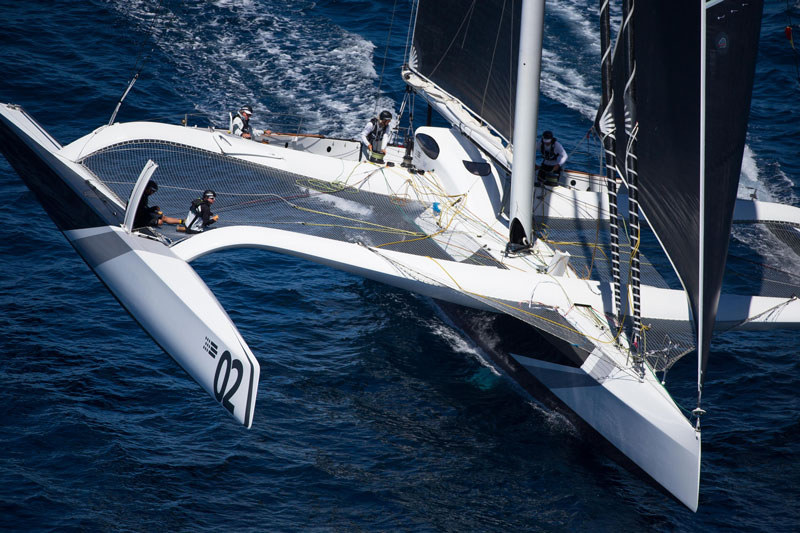 Every yacht race has had that one special year when it blows like stink out of the right direction and an unprecedented level of race craft shows up to absolutely demolish all the records. For the 125-mile Newport to Ensenada International Yacht Race, 2016 was that year. Featuring small cruisers to mini-maxis and with an emerging maxi-trimaran scene in the mix, the 2016 Newport to Ensenada was truly one for the ages.
Offshore on Friday, April 22, the breeze blew a perfect 20 knots, allowing the fleet a quick and record-setting downwind sleigh ride to Ensenada. Tom Siebel's Sausalito-based MOD70 Orion was able to capitalize on the ideal conditions to displace Steve Fossett's race and overall course record set in 1998 on the catamaran Stars and Stripes. Skippered by multi-time Olympian Charlie Ogletree, the 70-ft VPLP trimaran romped down the course at more than 25 knots average boatspeed to cross the finish line in 5 hours, 17 minutes, 26 seconds, breaking Fossett's former record of 6:46:40 by more than 1 hour, 29 minutes.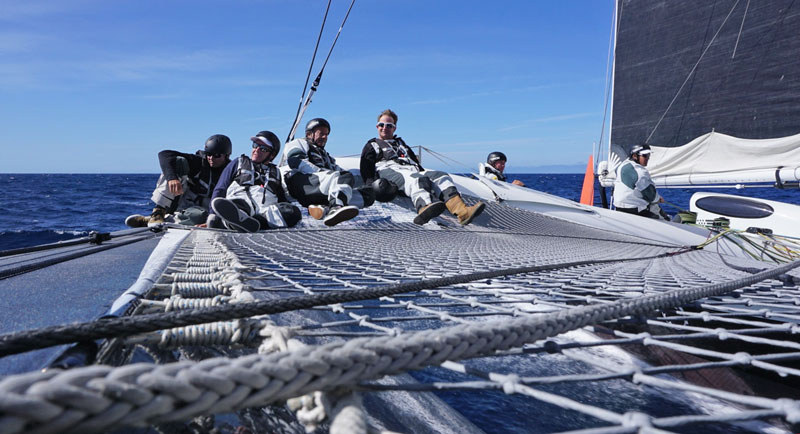 H.L. Enloe's ORMA 60 Mighty Merloe was just 20 minutes behind Orion — itself finishing more than an hour under Fossett's record — having played cat and mouse with the bigger MOD70 down the coast. Unfortunately, John Sangmeister's recently modified-to-foil ORMA 73 Tritium broke a foil just 30 miles from the finish and retired.
Despite having quite a rough start to its life, Bill Gibbs' South African-built Schionning-designed G-Force 1400 catamaran Wahoo appeared to be fully up to speed, having picked up trophies for Best Corrected, All Boats; Best Corrected, ORCA; and Best Corrected, Catamaran.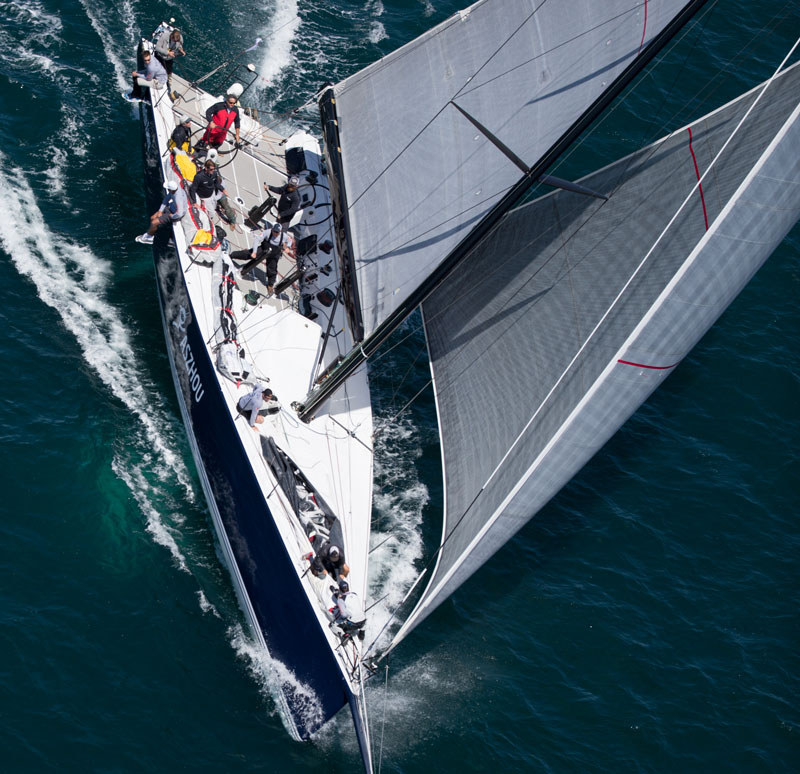 Former Bay Area stalwart Invisible Hand, now owned by Steve Meheen and known as Aszhou, won big in her first N2E. The Reichel/Pugh 63 claimed a dramatic course record, likewise crushing the existing mark by a whopping 1 hour, 28 minutes to finish in 9:35:34. Drugstore owner Bob Lane and his aptly named Andrews 63 Medicine Man would claim division honors, however. Andrew Rasdal's hot new Bolt 37 Valkyrie claimed overall monohull corrected time honors, besting Scot Tempesta's Melges 32 Anarchy by just 25 seconds on corrected time in PHRF-C.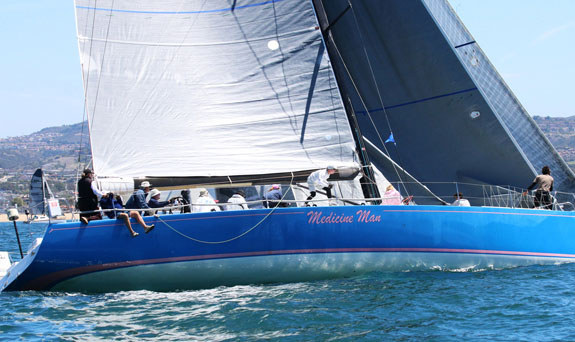 We'll have more in the May issue of Latitude 38.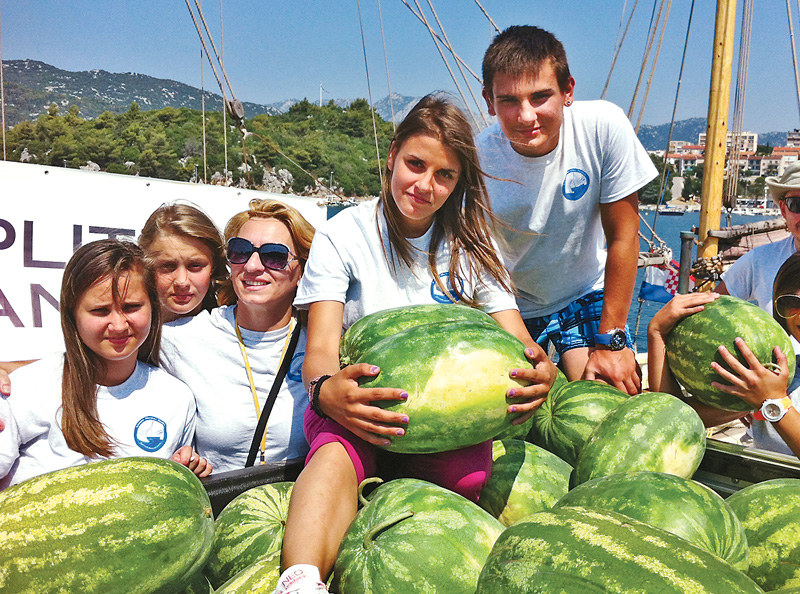 Plenty of West Coast mariners have colorful sailing résumés that include exotic travel on a variety of sailing craft. But we'd bet few could match the diversity of experience acquired by the Bay Area's Jim Bender. Tomorrow, April 26, at 7 p.m. he'll be the featured speaker for a special presentation at Sausalito's Spaulding Marine Center.
During the past 15 years the self-described environmental educator and student of cultural anthropology has sailed to more than 40 countries aboard tall ships and a variety of other sailing craft. Along the way, he's lent his energy and expertise to a number of community programs that involve sailing. Most notably, for the past six years he's been the director of the Adriatic Maritime Institute, an NGO based in Croatia that's dedicated to using traditional boats as a platform for youth development and maritime preservation in the Adriatic.
PHOTO
One of the group's most unusual projects features an annual sail aboard an 18th century cargo vessel to the agricultural center of the Neretva Valley in southern Croatia, where they pick up a boatload of fresh watermelons to sell throughout the islands as a fundraiser for needy kids. This year, Bender's group will also organize a "peace-building boat project" with kids from Bosnia, Serbia and Croatia.
Of course, a side benefit of attending Bender's presentation tomorrow is having an excuse to spend some quality time inside Sausalito's historic Spaulding Marine Center, one of the true gems of wooden boat culture on the West Coast.
"My wife Donna is in the hospital in Puerto Vallarta," reports Richard Pomeroy of the Oregon-based Polaris 43 Flying Carpet. "She got strep throat, and the antibiotics the doctors gave her ate a hole in her stomach, causing internal bleeding. She needed blood, but she's a rare A- blood type, and there were only two pints available in all of Puerto Vallarta. So the call went out to the cruising fleet, and they responded. So far they've donated six pints of compatible blood. We just love the cruising fleet!"
It will be remembered that, on January 6 this year, Katrina Liana of Marina Riviera Nayarit and Veronica Gomez Garcia of the Manos de Amor (Hands of Love) Orphanage brought 25 orphaned kids together for a special King's Day Party at the marina. Richard and Donna were there to make sure each child got a backpack, which the Pomeroys had brought down from the States. Maybe there's something to this karma thing.
Receive emails when 'Lectronic Latitude is updated.
SUBSCRIBE