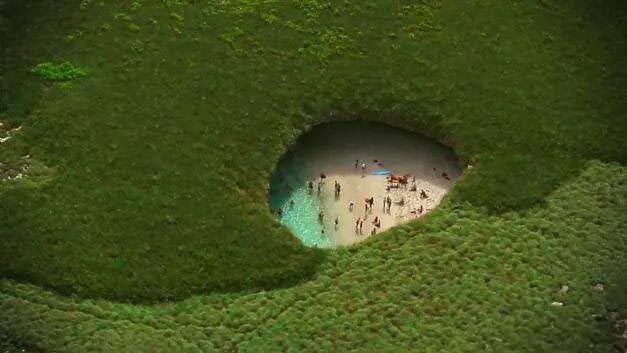 If you want proof that there can be such as thing as too much love, look to the Marieta Islands at the outer edge of Banderas Bay, Mexico. Thanks to unrelenting publicity and a couple of really cool photographs, the number of visitors to Hidden Beach, aka Playa de Amor, shot up from just 27,500 visitors in 2012 to 127,000 last year. The unusual 'beach in a crater' was created when the islands were used as a bombing range by the — we're not making this up — Mexican air force. When famed oceanographer Jacques Cousteau came by and saw what was going on, he had a fit, and the Mexican government put a stop to it. The beach also has a certain attraction because you have to swim through a relatively narrow tunnel to get in.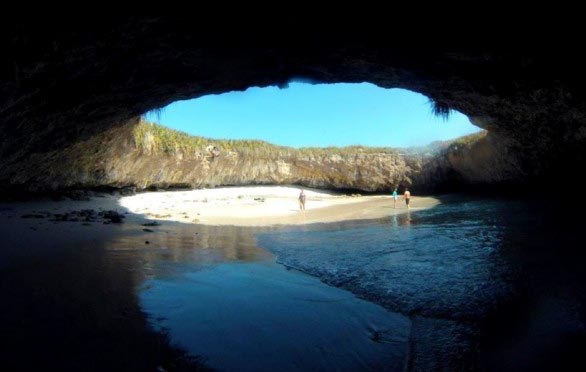 The National Protected Areas Commission (CONANP) has announced that they will close the beach starting on May 9 in order to protect the coral reefs, clean up the garbage, and monitor the condition of sea life. They figure the beach could support 625 people a day, but as many as 2,500 were visiting it during Easter Week. It's unclear if this is a permanent closure or just temporary.
The islands have had a tremendous economic impact on the Punta Mita area and Puerto Vallarta. The panga guys at Mita used to fish until they realized that tourists were a much more lucrative catch. For the last couple of years they've been living the good life. Officials say that as many as 250 boats a day were bringing tourists to the beach over Easter Week. Many of these were from Puerto Vallarta and carried as many as 400 passengers. There are going to be a lot of unhappy fishermen-turned-boat-guides, as well as unhappy owners of big charter-boat businesses.
Latitude's 63-ft catamaran Profligate, which only operates from mid-November through the end of January, is licensed and insured to carry up to 30 passengers at a time. The new ban won't directly affect us because our permit specifically excluded our boat from visiting the islands. The exclusion didn't bother us, because boats often had to wait up to two hours to let their passengers off, and many visitors didn't enjoy the experience because of the Disneyland-like crowds.
Receive emails when 'Lectronic Latitude is updated.
SUBSCRIBE