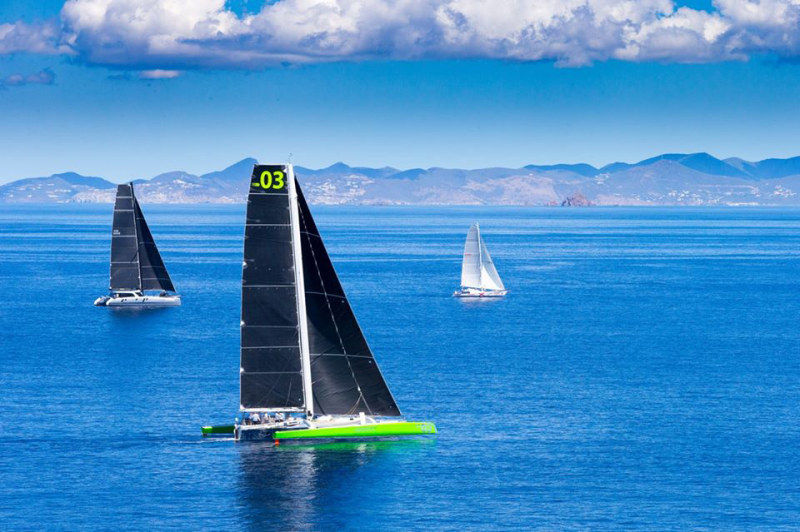 As all sailors know, sometimes the weather just doesn't cooperate for thrilling sailing. That was the case in last week's seventh annual Voiles de St. Barth, where the normally ultra-reliable spring easterly trades just didn't cooperate for the fleet of 65, which included some of the top monohulls and multihulls in the world.
There was a pleasant 14 knots of wind in the first of four races, but the second didn't see much over 6 knots and the third race had to be canceled. It was a nail-biter waiting to see if the final race was going to get off, but it did, in the minimum amount of wind.
Watching yachts race in light air has often been compared to watching paint dry. But that wasn't the case in the last race of the Voiles. We know because we followed the fleet all the way around the island. While they never saw more than 6 knots, it was a great tactical duel among world-class navigators and sailors in the most scenic surroundings.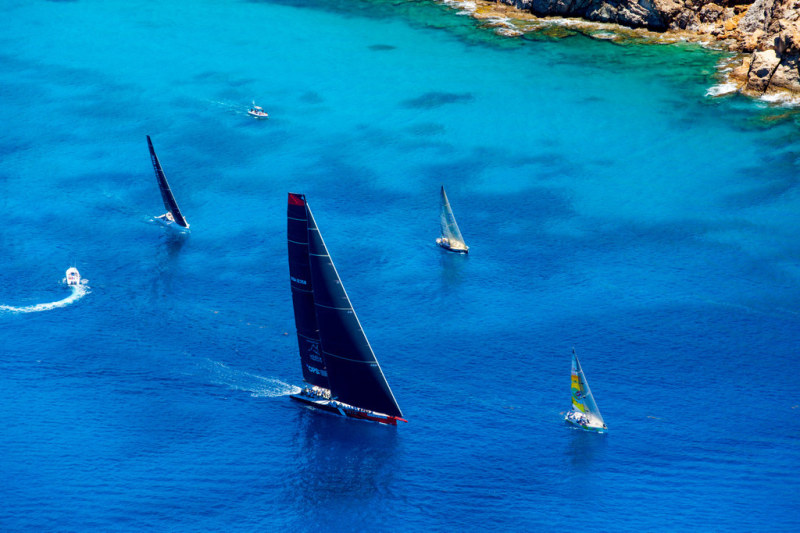 (We asked Ken Keefe to give us a rough idea of the percentage of the world's top pro sailors who were at the event. He guessed 25%.)
The monohull line-honors battle was always between Jim Clark and Kristy Hinze Clark's 100-ft all-out racing machine Comanche, and Michael Hall's Wally/Cento 100 Galateia, which sports a lot of cruising amenities. As Comanche's skipper Ken Read had said before, the "big bottom girl" Comanche is vulnerable in less than 7 knots of wind, and it proved to be the case, as the well-sailed Galateia took line honors. It was only the second time Comanche had ever not taken line honors, the first being in the 2014 Rolex Sydney Hobart Race.
Clark was gracious in defeat, inviting the entire Galateia crew over to his 292-ft Athena for drinks and sliding down the yacht's huge slide into the sea — the same slide on which Comanche's Kimo Worthington had broken his leg going down the year before.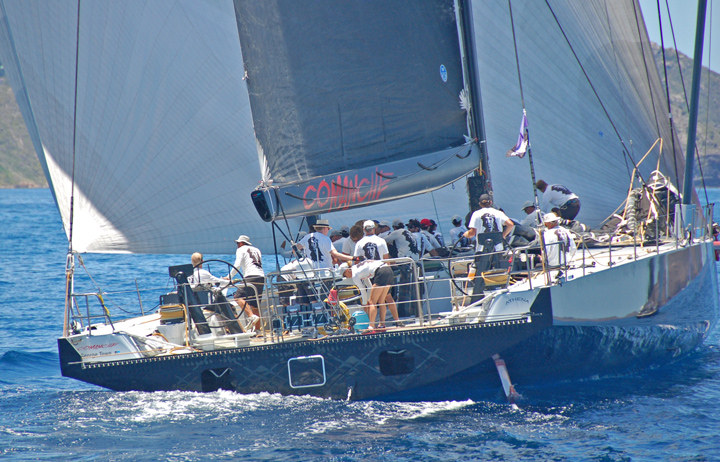 The even closer duel in Maxi 1 in the last race was for elapsed-time honors between Proteus and Momo, a couple of really cool-looking Judel/Vrolijk Maxi 72s that went into the last race tied. Sailing brilliantly, Momo held a good lead until about 100 yards from the finish, when the wind shut down completely. Proteus, which is skippered by Reggie Cole, who ran a lot of race boats on the West Coast years ago, went to school on Momo and nipped them for class honors.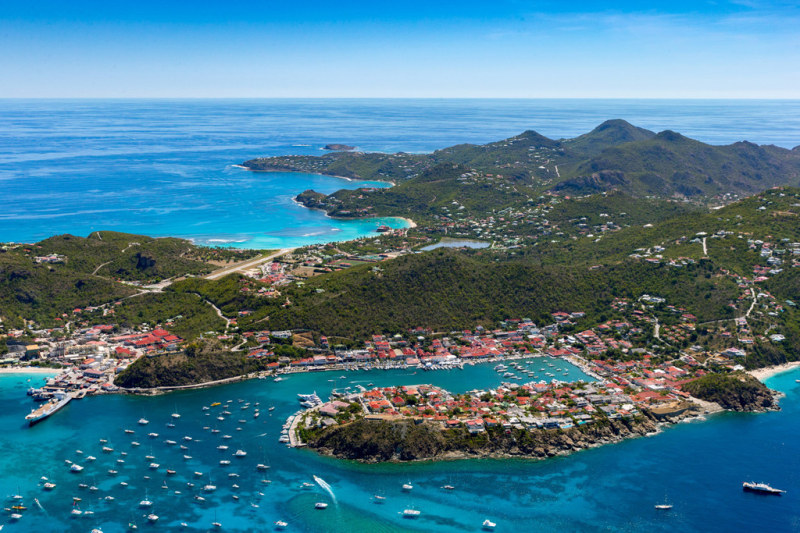 Putting in the best performance of the day, however, was Jim Swartz's Utah-based TP52 Vesper, which was up against three other newer 52s and a couple of nice Ker designs. Vesper was driven for all but a few minutes by the 74-year-old owner, and not only killed the rest of the class — two bullets in the other two races — but had an even faster elapsed time than Comanche. Navigation by Gavin Brady didn't hurt.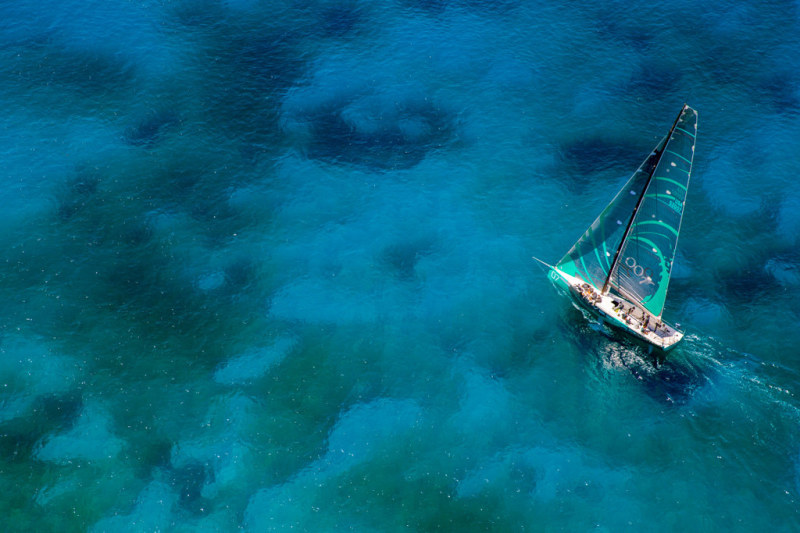 Vesper is managed by Ken Keefe of KKMI in Sausalito, who earlier in the week told us that Vesper was such an old TP52 that she was built of wood. A trusted source, he could have told us she had a full keel and skeg-hung rudder, too, and we might have believed him. Particularly since a friend in St. Thomas had told us he'd seen her there in a termite tent the month before. In reality, Vesper, like all the other 52s, is carbon fiber.
"Rich White Man Wins Yacht Race." How often have you read that headline? One of the cool things about the Voiles is that there was a diverse group of winning owners. For in addition to the bigger boats with all-pro crews, some of the 12 divisions were won by darker-skinned amateur crews from places not noted for high-end racing.
For example, the brilliantly named Humildad Zero (No Humility), a Sota 53 out of Argentina owned by Daniel Figueirido and Hernan Munoz Ruiz, took honors in CSA 2. Puerto Rican Sergio Sagramoso and his all-local crew of old friends won their division again this year with his very well-sailed Melges 32 Lazy Dog. Also back for another class victory was Claude Granel and his all-West Indian crew — except for Marc Emig of Marseille — on Credit Mutuel – Maximarine, a Jeanneau 3200 out of Martinique.
The 'biggest win for the least money' belonged to Richard Wooldridge and Steve Davis's ancient — 1970s — Kelsall 40 trimaran Triple Jack from the Virgin Islands, which they jokingly valued at about $3,000. On corrected time at least, she bested Lloyd Thornburg's all-conquering MOD70 Phaedo3, Tony Teale's brand-new China-built Gunboat 60 Flow, and Greg Slyngstad's new Bieker 53 cat Fujin. To be honest, the three newer boats were all dying for wind — a lot more wind.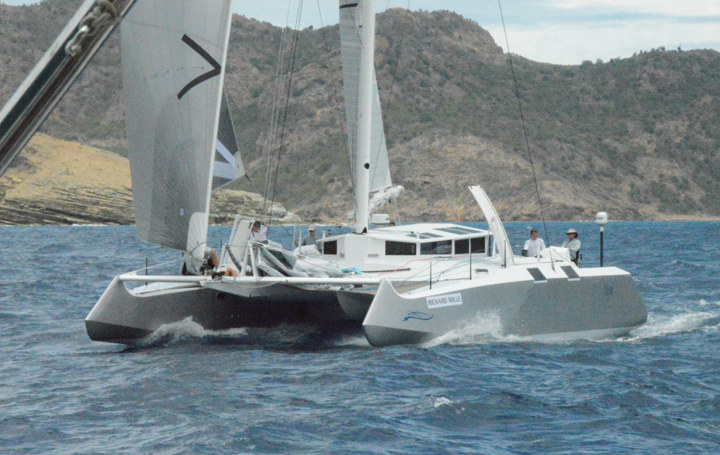 Seattle's Slyngstad, who has enjoyed great Voiles sailing conditions in previous years with his J/125 Hamachi, managed to see the bright side of light weather. "We definitely learned a lot about sailing Fujin in light air, and were pleased with our Saturday performance — although it is a lot more fun in more breeze. We'll be back next year for Voiles as well as the Caribbean 600. We're still trying to decide what to do after that. Either the 2017 Transpac or the Med."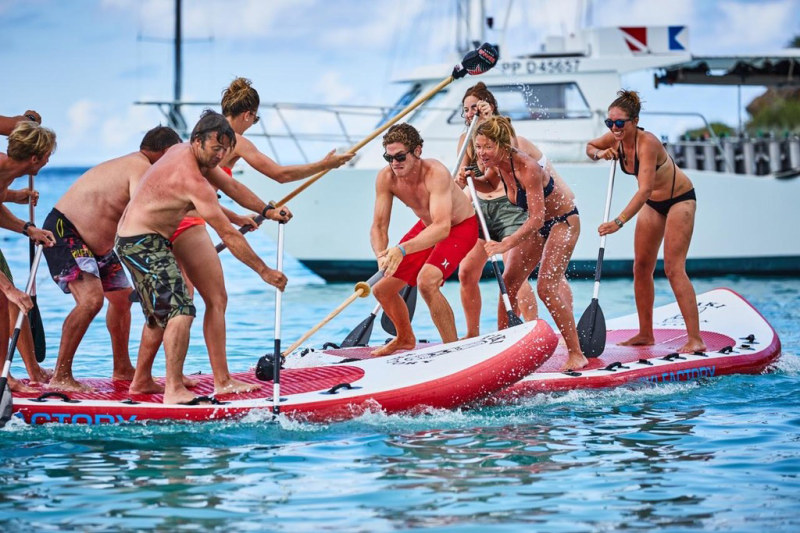 Unless you like to race 'sausages', the Voiles, when it has its normal wind, might be the most fun regatta in the world. The sailing conditions are normally fantastic, the competition is great, the scenery is incredible, the logistical support gets raves from the owners — and the social life and entertainment are decidedly French. For example, before the band came on one night at the quai, a woman dressed in high boots, a red corset and devil's horns poking out of her head walked through the crowd, got up on the stage, and did a wild dance that featured big flares. You don't see that in the Ensenada Race. The 10-year-old boys sitting cross-legged in the front row as if they were waiting to make s'mores at a campfire didn't know what to make of this aspect of French culture.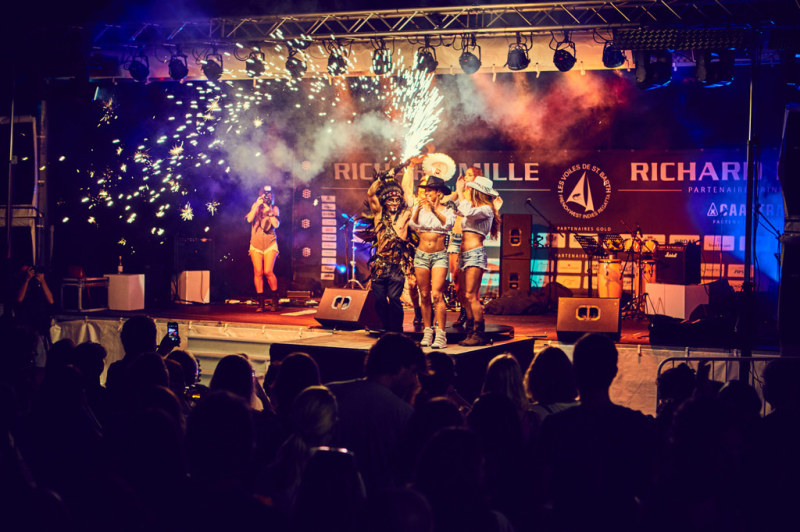 No matter if you're the owner of a world-class 50- to 100-footer, one of a group of people wanting to race a chartered production boat, or someone looking to race in a world-class fun and competitive event, we recommend the Voiles.
Receive emails when 'Lectronic Latitude is updated.
SUBSCRIBE