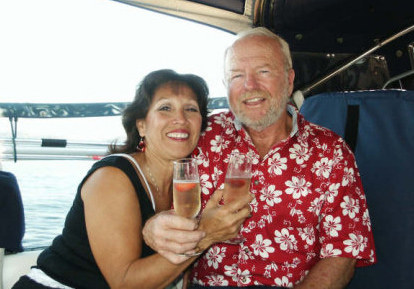 After 167 often-punishing days at sea, Washington state-based singlehander Jeff Hartjoy crossed his outbound track Friday — just two days before turning 70 — making him the oldest American to circumnavigate solo, nonstop and unassisted via the Five Great Capes. He'll be at sea aboard his Baba 40 ketch Sailors Run a while longer, however, as he still has roughly 3,000 miles to go before reaching his point of departure, Bahia Caraquez, Ecuador.
After all he's been through during his six-month ordeal — including being hammered repeatedly by severe weather and having to repair his genoa nearly 50 times — he now faces a completely unforeseen situation: In the aftermath of Saturday's devastating 7.8 earthquake in Ecuador, he worries that normal port services will be unavailable to meet him offshore and tow his Perry-designed ketch upriver to the Caraquez anchorage. That's a problem, as the boat's shaft is sealed, there is no dinghy on board, and Jeff is sorely in need of provisions.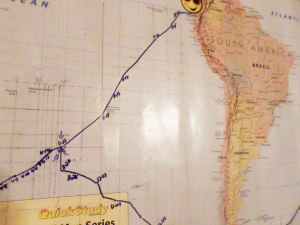 "Looks like the earliest I will get to Bahia Caraquez, Ecuador, is the 7th of May," he wrote via HF radio email, by which time he will be, "out of food, propane and water!" Add to that dillema the fact that he's discovered he only has $10 cash on board. If he can't get a tow in, he figures he might be able to have some provisions brought out to him in the outer anchorage. "I don't really want to do this," he wrote yesterday, "but if I can't get in the river, after getting provisions I might have to sail to either Peru or the Marquesas? We need to be sensitive to the great trauma that all the people there in Ecuador have suffered, not to mention their financial losses."
We're hopeful that it will all work out, though, as Jeff's one-woman shore support staff, his wife Debbie, will soon fly to Ecuador to make preparations.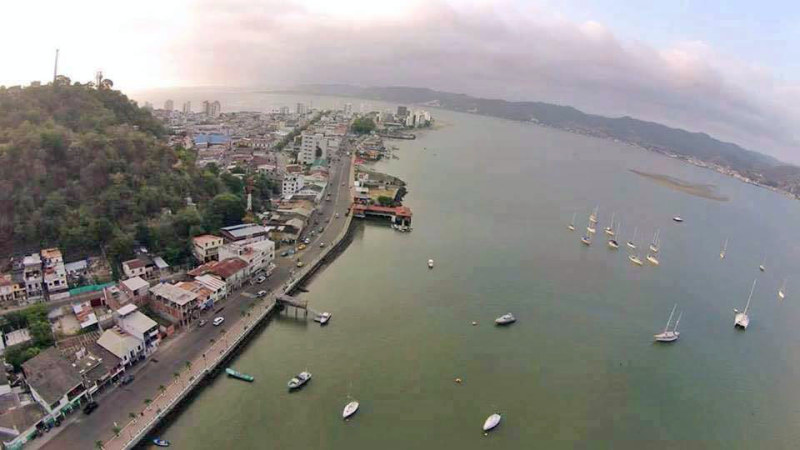 To save you the trouble of looking it up, the oldest person to circumnavigate solo, nonstop via the Capes was Japanese sailor Minoru Saito (2004-'05) aboard the Adams 50 Challenge 7 (ex-Shuten-Dohji). He was 71 — only a year older than Hartjoy. British sailor Jeanne Socrates was 70 in 2013 when she became the first woman to sail solo, nonstop via the Five Capes aboard her Najad 380 Nereida (beginning and ending at Victoria, BC). The oldest circumnavigator by any route and with stops was the late Harry Heckel, who completed his record-breaking lap around the planet at age 89.
Look for more on Hartjoy's trip in upcoming issues of Latitude 38. Until then, remember: Old guys (and gals) rule!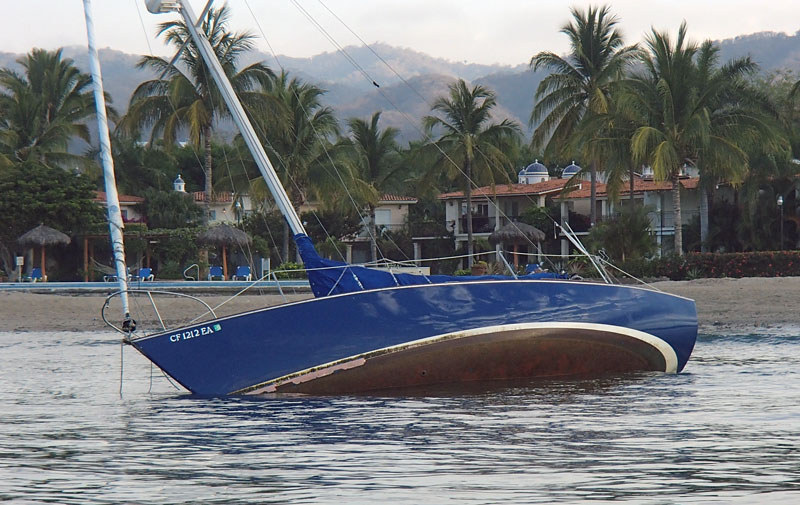 The failure of a shackle pin is being described as the cause of the Pearson 30 Gran Wazoo's going up on the rocks just to the east of Marina Riviera Nayarit on Banderas Bay. An attempt was made to pull her off and tow her to the nearby shipyard, but the hole in her old-school-thick hull was letting too much water in. The port captain called off the salvage to prevent the boat from sinking.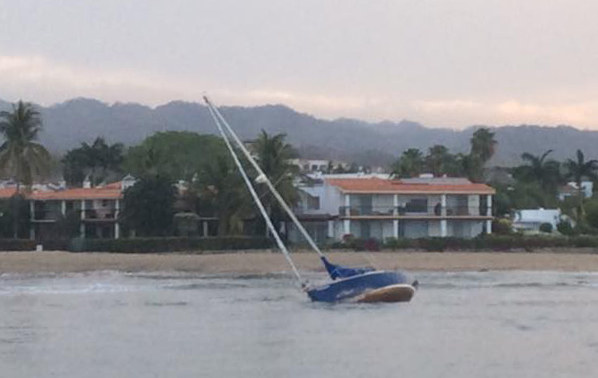 Gran Wazoo is owned by Joe Pilar of Canada, who is said to only rarely come to his boat. She was being watched by Eddie Sanchez. During a telephone conversation this morning with Latitude 38, Sanchez told us that he'd re-anchored the boat on Saturday. He said he'd had a diver make sure the shackle pin on the shackle connecting the anchor to the rode was wired so it wouldn't come loose. But somehow the pin came out, allowing the boat to go onto the beach.
Depending on whom we talked to, the wind was described as "light" or "normal." The latter means a gentle offshore breeze in the middle of the night, which creates a lee shore for boats anchored out.
Gran Wazoo had broken loose in the anchorage earlier this year and had been taken into the marina for several months.
This is the time of year when many owners are leaving their boats for the season in Mexico. If you plan to do so, you have to make sure your boat is prepared — particularly if she's going to be left in the water.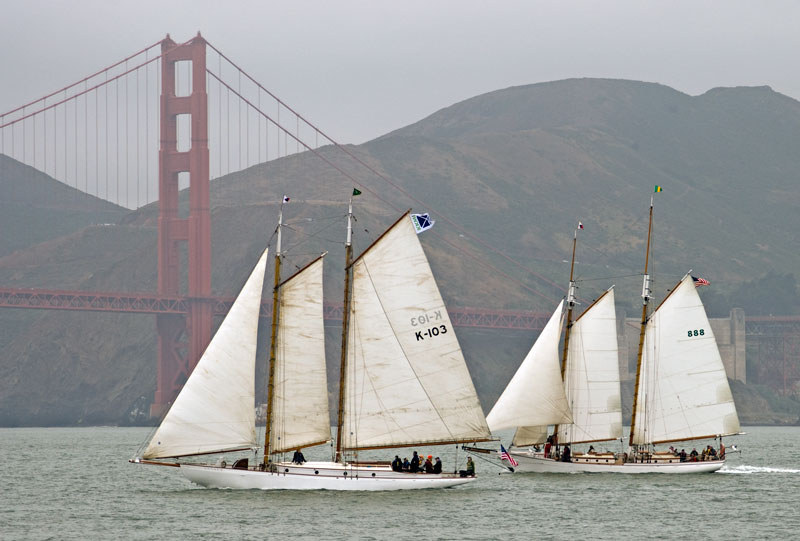 Folks in the Bay Area were reminded by mainstream media this morning that today marks the 110th anniversary of the Great Earthquake and Fire of 1906. The quake, estimated to be a 7.8 on the Richter scale, rattled residents awake at 5:12 a.m. and erased much of the infrastructure of the young City of San Francisco. Over at Stone Boat Yard, in what is now the Marina district, the quake shook a new 53-ft schooner right out of her construction cradle — a premature birth. She fared better than most structures damaged by the quake, as she was returned to her cradle, repaired, finished, and launched properly later that year.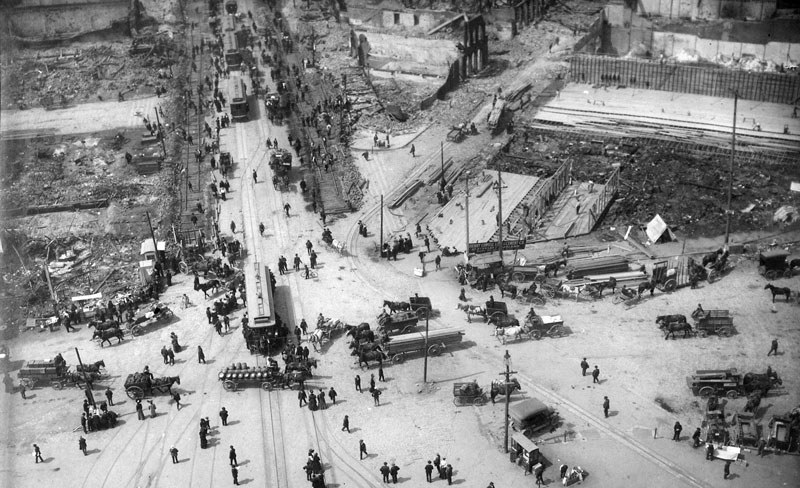 Although a surprising number of quake survivors lived well into their second century, the last-known human passed away in 2015. But the 110-year-old Yankee survives to this day and will soon be kicking up her heels during the Master Mariners Regatta and the Great San Francisco Schooner Regatta. She's officially owned by an LLC, but her caretakers — for the past 91 years — have sprung from the same growing family. The Master Mariners Benevolent Association holds their Regatta annually on the Saturday of Memorial Day Weekend (May 28 this year) and the Great S.F. Schooner Regatta will be hosted by SFYC on June 11.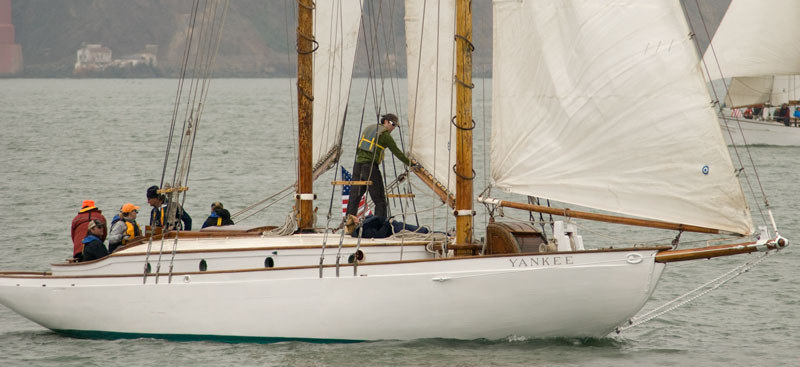 Receive emails when 'Lectronic Latitude is updated.
SUBSCRIBE