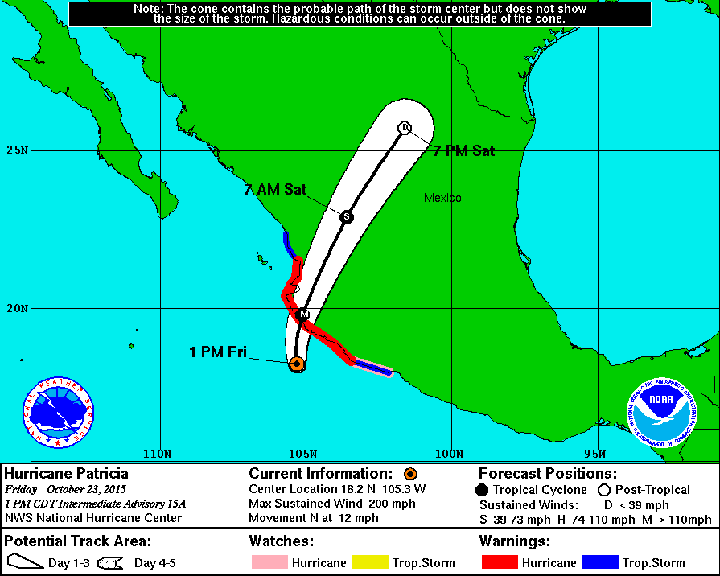 Hurricane Patricia, with incredible 200-mph (175-knot) winds, is being called the most powerful hurricane ever recorded in the National Hurricane Center's Area of Operation. And the NHC covers the Atlantic Ocean, the Caribbean Sea, and the Eastern Pacific. Patricia is generating waves estimated to be 39 feet tall.
After exploding 85 knots in just 24 hours to her current 175 knots, Patricia is expected to begin making landfall somewhere between Tenacatita Bay and Puerto Vallarta later this afternoon.
About 9 a.m. today, Patricia made a rather quick move to the northeast, which suggested her landfall might be at least 50 miles south-southeast of Puerto Vallarta. But at about 11 a.m., she jogged a little to the northwest again, which would put Puerto Vallarta directly in her sights. Puerto Vallarta getting hit by a Category 5 storm would surely result in hundreds of deaths, many from mudslides, and severe losses to boats and maritime infrastructure. One has to remember that 200-mph winds don't pack twice the force of 100-mph winds, but four times the force!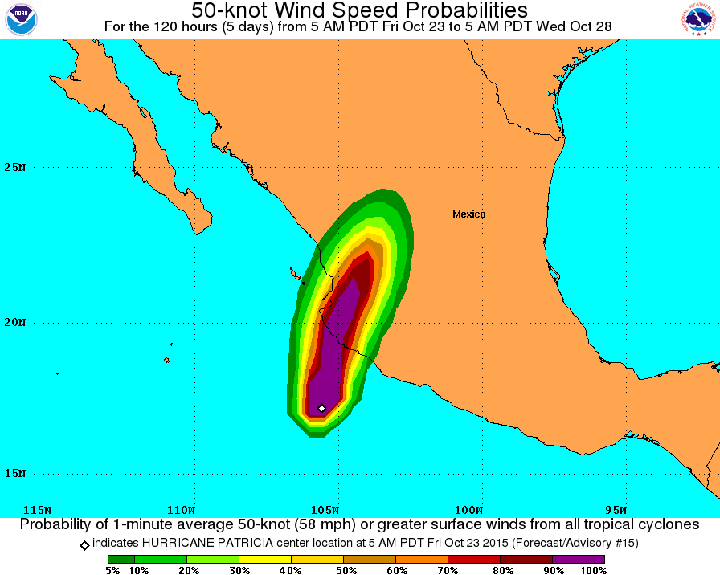 There are two bits of good news about this ferocious hurricane. The first is that forecasts call for her to move more to the east, which would have her come ashore southeast of the major population and boating center of Puerto Vallarta in what's a relatively lightly populated area. If that happened, Patricia would have to battle the 6,000-8,000-ft-tall mountains that have historically protected Puerto Vallarta from hurricanes. Tall mountains rapidly sap the strength of hurricanes. The second bit of good news is that Patricia is not a very broad hurricane. Her maximum-force winds of 175 knots are limited to within five miles of the eye. And her hurricane-force winds, 64 knots and above, only extend 35 miles from the eye. Tropical-force winds extend for up to 175 miles, at least until Patricia makes landfall.
As for the 39-ft seas, we believe they are primarily landing south of Cabo Corrientes and Banderas Bay. We may be wrong, but we believe as long as the eye of Patricia stays to the east of Puerto Vallarta, Banderas Bay will be somewhat less affected. But again, we're not an expert and may be wrong.
The good bits of news aside, Hurricane Patricia is an absolute monster. If you check out some videos of lesser hurricanes, you'll get a general idea of how incredibly destructive they can be.
If you want to follow Patricia closely, we recommend going to eebmike.com, then to the Patricia Long Loop, which is in black and white. As you watch her forward motion, every bit she moves to the east is very, very good. Every bit she moves to the west is very, very bad. Also monitor the National Hurricane Center.
Our heartfelt prayers got out to everyone in the affected area.
How does Patricia affect the Baja Ha-Ha? Not at all, as it was never even a remote threat. Nor is it unusual for there to be a late-October hurricane off mainland Mexico. A late-October hurricane that affected Baja would be unusual.
Both air and water temperatures have been dropping along the Baja coast. For example, the nighttime temperature got down to the high 60s in La Paz last night. Brrrr. Cool air is not a hurricane favorite. The season appears to be rapidly changing, as it should.
Receive emails when 'Lectronic Latitude is updated.
SUBSCRIBE