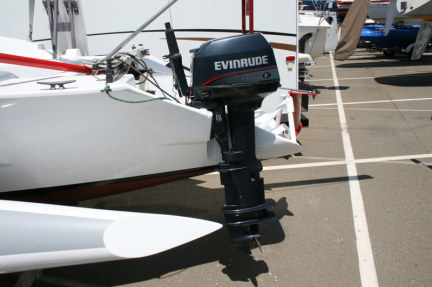 More than anywhere else in the Bay Area, the Oakland-Alameda Estuary has been plagued by outboard motor thefts for years. And perhaps no one has been more frustrated by this ongoing problem than Gary Helms of Helms Yacht Sales, who keeps many boats for sale at Alameda Marina. In recent years, he or his clients have had 12 to 16 outboards stolen, mostly off of the Corsair trimarans that are Helms' specialty.
While Alameda police say they have taken steps to recover the stolen property, few if any motors have been recovered — until now. After the outboard was stolen recently off Helms' client Bret Nelson's trimaran, Nelson took creative steps to recover it. He perused Craigslist in search of an engine for sale that met the specs of his, and when he found one — listed in Monterey — he and his son hatched a plot of their own. Claiming to be curious if the engine was truly a Tohatsu, rather than a Chinese knockoff, Nelson's son convinced the seller to reveal the engine's serial number. Once he'd confirmed that it belonged to their family, the Nelsons took their info to Alameda police, but they were reportedly less than enthusiastic to pursue the lead.
A friend in another police agency stepped up and convinced authorities in San Jose to take action, and we're told that a thief was apprehended who had Nelson's engine plus several others.
If you have had your outboard stolen and want to see if it has been recovered, call Gordie Bowen of the San Jose police at 408-421-6771.
Despite the success of this investigation, it is a safe bet that future outboard thefts will occur in the Estuary and elsewhere. Here are other anti-theft/pro-recovery tips to consider:
Paint your outboard in distinctive colors, so it is less of a target and easier to identify.
Owners should always have the make, model and serial # for their motor available for police.
Outboards should always be locked with a case hardened lock with a sturdy chain and/or stainless steel cable.
Outboards should have the owner's driver's license engraved, preferablly in several places, to facilitate identification and return if recovered.
New GPS-based tech options, some with motion-sensitive sirens, are coming onto the market. Many are already popular with cyclists.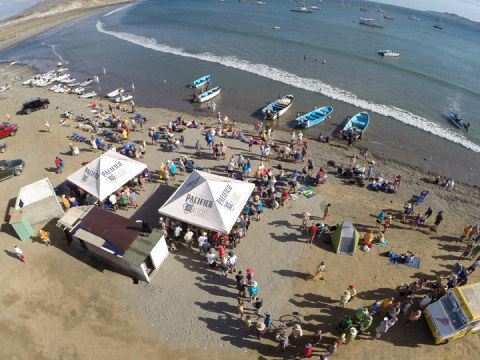 If you're provisioning for the 22nd Annual Baja Ha-Ha that starts on Monday, the Grand Poobah wants to alert you to a minor change in the Beach Party at Turtle Bay. In the past, it's always been a potluck, but this year the Poobah has decided to make it a picnic instead.
In recent years the potluck concept has become difficult for several reasons. First of all, the lack of facilities. The Turtle Bay beach site only has a few tables, so there was very little room to set out all the food. Second, dazzled by literally more than 100 dishes, potluckers had a horrible time deciding what they wanted, which resulted in others having to wait in line for as much as an hour. Third, some new to the potluck concept would contribute a bag of chips, yet walk off with Everest-tall plates of carefully prepared foods, apparently indifferent to the inequality of it all and the fact that some might not get any food at all. This was a problem for the volunteer 'Food Police', who didn't want to be police at all, yet were charged with encouraging moderation.
So we're going to try the picnic concept. We will have four grills on which to cook stuff and plenty of charcoal, so there will still be opportunities to share. But assume you're going to be self-sufficient when it comes to dining.
No worries, however, as we'll still have volleyball, beach games, boogie boarding, the floating island, the war of genders tug-of-war, music, dancing — and lots of cervezas for sale.
Ad: San Francisco Sailing Company
Send resumes and questions to Edward.
Receive emails when 'Lectronic Latitude is updated.
SUBSCRIBE