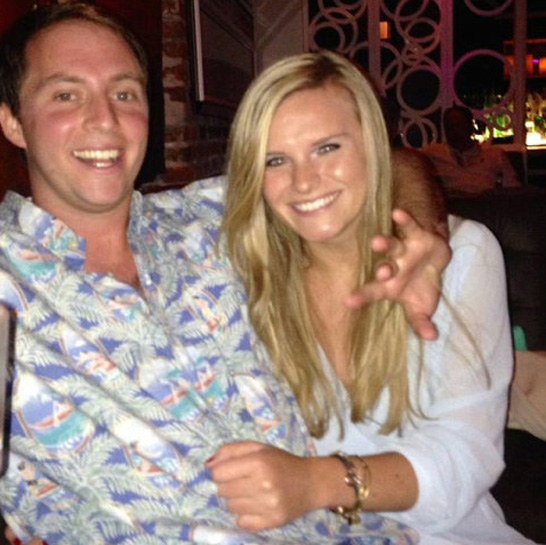 Michael Harris, 26, was killed at about 1 a.m. on Sunday when the inflatable he and four others were riding in was involved in a collision with an approximately 14-ft boat off Catalina's Descanso Bay. The body of a second as-yet-unidentified passenger in Harris' dinghy has not been found despite three days of extensive searching.
The other three passengers in the dinghy, which included Kelly Wells, Harris' girlfriend, were flown to a mainland hospital by helicopter. One of the men had suffered a head injury. Wells and the other unidentified passenger were not too seriously hurt.
The operator of the larger boat suffered minor injuries, but not enough to require hospitalization.
Few details of the accident have been released. About all Capt. Douglas Fetteroll of the Los Angeles County Sheriff's Department would reveal is that both vessels had apparently been underway at the time of the collision, and as yet it's unclear if either was showing any lights. An investigation is underway.
Harris had recently earned a master's degree in psychology, and is the son of the former CEO of the San Francisco 49ers. The online Daily Mail, of all publications, published numerous photos of Harris in what could be seen as a tribute to his life.

We can't say that we were entirely surprised by the news of an accident off Descanso Bay that night. It just so happens that the Wanderer and Doña de Mallorca had motored Profligate past Descanso Bay on Saturday afternoon about eight hours before the incident. We found the situation so chaotic/disorganized that we took a number of photographs. Presumably all the moorings in Avalon and off Descanso Bay were spoken for, so between 30 and 50 boats had anchored as best they could in the deep water offshore of them. There were big powerboats, little sailboats, three catamarans rafted together, fast fishing boats, dinghies going here and there, and ferries heading to or from the mainland. It's always kind of sloppy out there, but the wakes of countless boats made it worse than usual.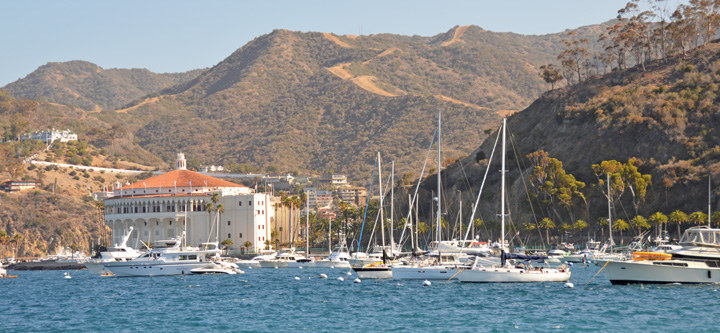 We're not suggesting that any skipper of the anchored boats was being negligent, but rather that the sum total of all of them, plus the boats on moorings, added up to a minefield of blind spots for anyone traveling in a dinghy at night. Combine that with all the ambient lights of the boats on the hook, and all the lights on shore, and it was a situation ripe for tragedy.
Because riding in dinghies and small boats with friends is so much fun, it's often not appreciated how dangerous it can be in a crowded anchorage. Three months a year at St. Barth we have a 1.5-mile late-night dinghy ride home from shore to our anchored-out catamaran 'ti Profligate. We're religious about waving a bright light around like a maniac, but nonetheless there have been many close calls. In the last 10 years there have been three run-down-while-riding-in-a-dinghy deaths, plus many injuries, in that fairway alone. Plus the old carbon fiber Rambler 92 got a big hole near her bow when she was hit by a big dinghy at night. And years ago, six people were killed in a dinghy accident in St. Thomas when two previously hidden dinghies crossed paths after suddenly appearing from behind other boats.
We hate to sound like the grouchy old man that we can be, but please people, please, please, please dinghy carefully and defensively. Particularly late at night when it's possible that operators may have been drinking, and thus are perhaps going too fast or not paying enough attention for the conditions. In saying this we are not in any way suggesting that alcohol, boat speed or inattention played any role in Sunday's collision. We know nothing more than what we've reported above.
Meanwhile, in San Francisco Bay, details are still sketchy in the death of Wouter Van Lier, 42. According to S.F. Gate, he was reported missing Monday morning by his wife and two friends, with whom he'd overnighted aboard a leased sailboat at Angel Island's Ayala Cove. After a multi-agency search of both land and sea, Van Lier's body was discovered near midday yesterday in the cove. A coroner's investigation is ongoing.
Receive emails when 'Lectronic Latitude is updated.
SUBSCRIBE