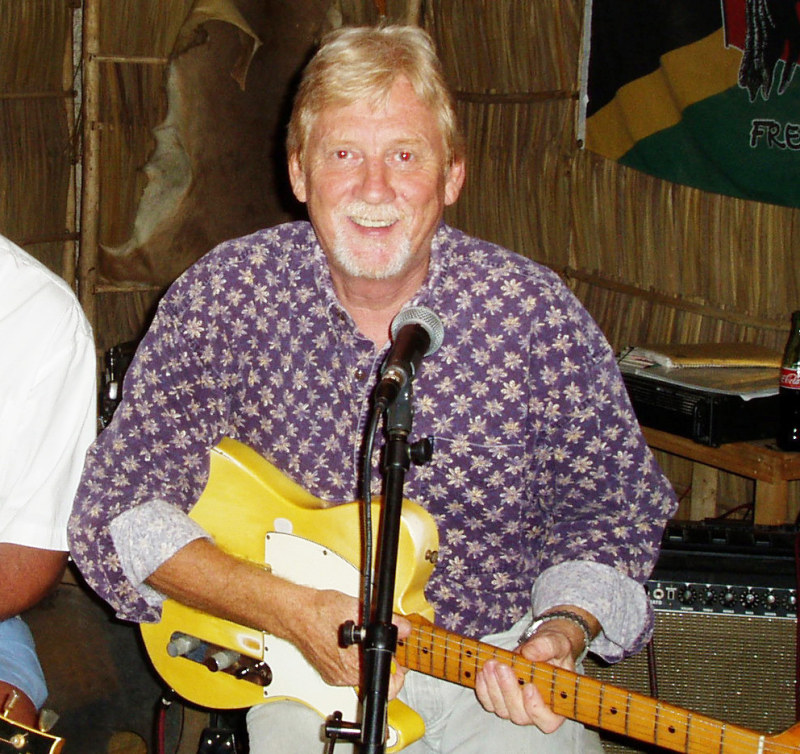 "I've just hit my stride at 70. Still got quite a ways to go." These were the thoughts of Philo Hayward of La Cruz as expressed in his blog on September 2.
Unfortunately, Philo, a great friend of Latitude 38 and virtually every cruiser who ever called at Banderas Bay, and a very close personal friend of the Wanderer and Doña de Mallorca, unexpectedly passed away just three days later.
Having experienced chest pains, Philo had gone to a hospital. He was having stent surgery when he died. About six months before, during one of our many Sunday morning motorcycle rides to Sayulita, he mentioned that he had some minor heart issues. He didn't seem particularly concerned about them.
At age 55, Philo sold his house and recording studio in Mendocino to start cruising aboard his Cal 36 Cherokee. After doing the 2000 Baja Ha-Ha, he sailed over to the village of La Cruz on Banderas Bay. This was long before the marina transformed much of the town. Philo came across a building he thought would make a great music venue and bought it. During the cruising season he continued sailing across the Pacific, and in the off season he'd work on Philo's Bar and Music Club. After a couple of seasons in the South Pacific, he decided to sell his boat and concentrate on his business.
It would be hard to overstate the influence of Philo and his Music Club on cruisers in Banderas Bay and La Cruz itself. Philo's was the default place all cruisers went to. Philo and his backup band, with various guest performers, would play four nights a week in high season. But Philo's was not just for music and dancing, the property also had a Cruisers Lounge, rooms to rent, high-speed Internet, pizza and other food, and much more. We wrote many a Latitude article at a table in his club. Philo's was also extremely popular with non-boating US and Canadian snowbirds, too. Packed houses were the rule during the high season.
Philo made sure that Philo's Bar and Club was not just a business but also a community asset. He promoted all kinds of great causes for the locals. There were English lessons for all who wanted to learn, help with school for kids, free Christmas gifts for all the local children, programs for seniors, and much more. In the days before Philo died, we were making arrangements with him for how the Baja Ha-Ha boats would deliver hundreds of nearly indestructible soccer balls to Philo's for free distribution. Despite his passing that program will continue.
Philo was a gentle soul, and in the last several years he developed a very close and loving relationship with the beautiful Maria Joaquina Sierra. While Maria's young sons, Alejandro and Diego, love their biological father in Mexico City, they were very close to Philo, too, and loved him like a second father. Diego liked to join Philo onstage and 'play' his toy guitar. Philo told us that he considered himself responsible for the well-being of both boys.
The only times we ever saw Philo get mad was when we were watching a 49er game on television in his casita and Colin Kaepernick would make a bonehead play. We don't think Philo hated anyone or anything, but he was less than fond of the Seattle Seahawks.
It's hard to overstate the impact Philo and Philo's Bar and Music Club had on cruisers and La Cruz. Although it's the middle of the low season in Mexico, countless mourners showed up to see Philo for the last time in the open coffin onstage at the Bar and Music Club. There were many tears.
Personally, we're in a state of denial about Philo's passing. It's not going to really hit us until we get to La Cruz in November, and for the first time in all these many years we'll walk into Philo's and not see him on the stage singing 'Dreaming About Mexico'.
With Philo's passing the world lost one of the really good guys.
Receive emails when 'Lectronic Latitude is updated.
SUBSCRIBE