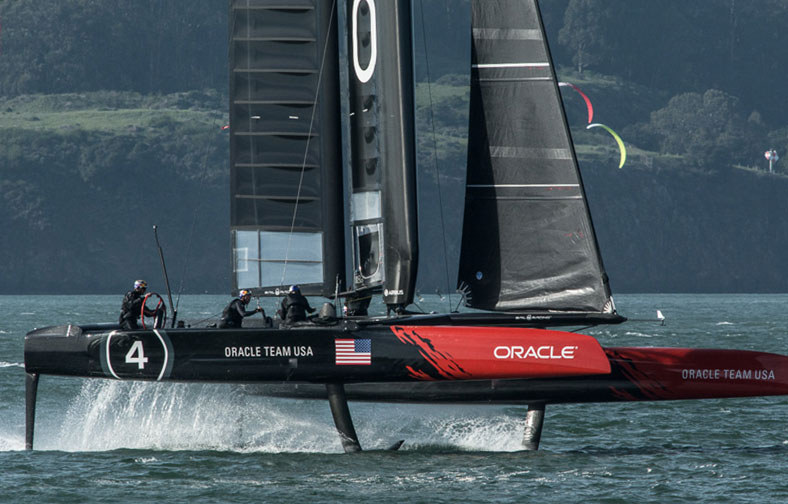 Oracle Team USA's new foiling AC45 rolled out of the shed at San Francisco's Pier 80 on February 16, splashed, and, after a quick systems check, got foiling in a light 8-10 knots of breeze.
"The boat is very complicated and getting it on the water has been a huge achievement, just to have all the systems working," said sailing team manager/tactician Tom Slingsby. "But the first bear-away we were up on the foils and sailing very stable."
The team is training and testing on the foiling AC45 before packing up operations in San Francisco and moving to Bermuda next month.
Artemis Racing, which is based at the old Alameda Naval Air Station, got their AC45 out on the Bay about a week before Oracle's. Paul Goodison has been on the helm (under the supervision of Loïck Peyron), with Freddy Lööf on the wing. "It's a small Bay and we are both out there," said Artemis Racing's Hannah Davis, "so with two competitive sailing teams it's inevitable there will be a few line-ups!"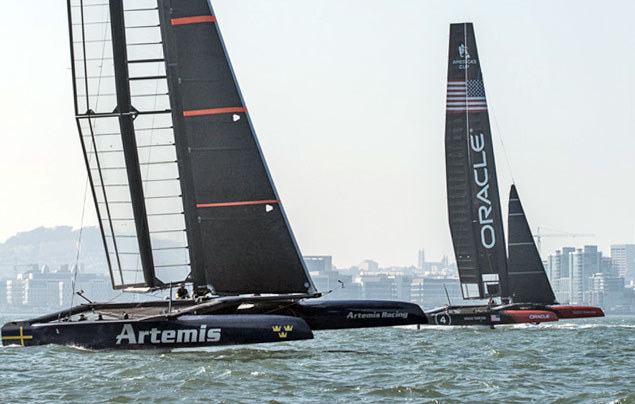 The boat has been fast in not much wind. "February is generally light on the Bay, so we're very happy with how fast we've been going given the conditions! Sorry — we can't tell you more than that," said Davis.
The Swedish team expects to continue testing right up until the first race of the America's Cup. "As for how long we'll be on the Bay — we're still making those plans, but around other regattas and training we'll be here on and off for a while yet."
For Bay Area sailing fans, catching the boats in action is rather hit or miss. "Our daily plan is changing depending on the breeze, so the best bet is to watch the forecast just like we'll be doing," said Davis. "Unfortunately this is another one that is hard to predict. We'll go sailing, do a bunch of tests, and depending on the results of those tests we may need to put the boat back in the shed to do some more modifications."
The Ben Ainslie Racing team has been sailing foiling Nacra 20s in Bermuda, and sailed their foiling AC45 on the Solent last fall. Luna Rossa conducted sea trials this winter with the two AC45s Piranha and Swordfish out of their team base in Cagliari, Sardinia. Team France's Franck Cammas has been busy with the Extreme Sailing Series and his Olympic campaign.
Emirates Team New Zealand announced yesterday that the rumors are true: Dean Barker will be replaced by Peter Burling as skipper. According to the press release, ETNZ wants to retain Barker's services as "Performance Manager and Sailing Coach with a place on the executive committee." The team plans to begin modifying an AC45 to foil in March. Due to budget constraints, they've scrapped plans for a second one. "The announcement of Bermuda as the venue for the next America's Cup series had a serious impact on the team's finances and sponsorship funding, reducing the budget by some $20 million."
See www.americascup.com for more on all the teams.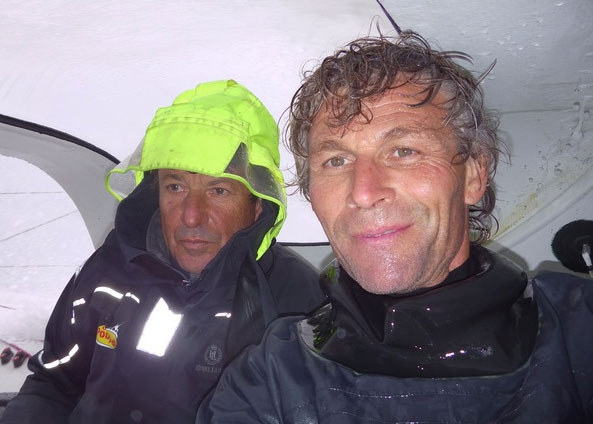 With records being shattered in the Caribbean, AC45s foiling around the Bay at AC72 speeds, and the Volvo Ocean Race fleet steaming into Auckland, it would almost be easy to forget that a fleet of seven Open 60s are still racing around the globe in the Barcelona World Race. Fifty-five days after starting on New Year's Eve in Barcelona, Frenchman Jean Le Cam and Swiss sailor Bernard Stamm on Cheminées Poujoulat have rounded the iconic and infamous Cape Horn with a thousand-mile lead in the third edition of this doublehanded, nonstop race. Currently rocketing up the Atlantic on the top of a moderate low-pressure system, which is creating winds of 30-35 knots, the duo is being afforded a fast and relatively easy downwind passage of a zone that is notorious for boat-breaking upwind conditions. Conditions should go lighter and become more complex later this weekend, but life is good for the leaders, who are 6,000 miles from the finish.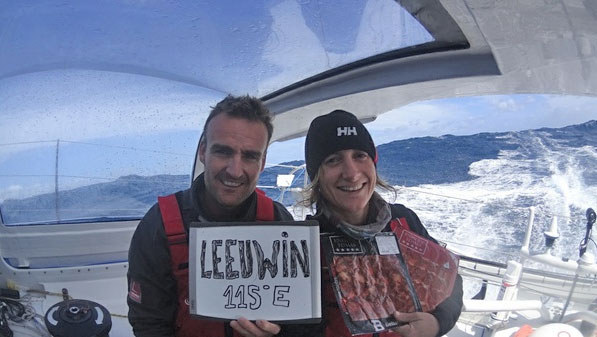 While Stamm and Le Cam are looking rock-solid in the lead, second place is still up for grabs, though Neutrogena has begun to re-extend their lead over GAES Centros Auditivos despite making a quick pit stop at the southern tip of New Zealand's south island. Neutrogena and GAES are currently making their approach to Cape Horn, and both should pass the milestone in the next 24 hours.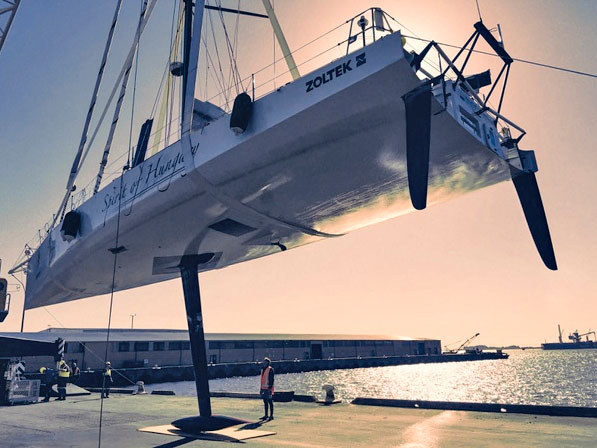 Arguably the hottest battle on the race course, however, is more than 2,000 miles farther back, as Spanish brothers Willy and Bruno Garcia on We Are Water are currently sailing in fourth place ahead of fellow Spanish boat One Planet, One Ocean / Pharmaton, while a rejuvenated and recently repaired Renault Captur is coming up from behind in sixth place after their pit stop in Wellington, New Zealand. At the tail end of the fleet, Spirit of Hungary has just re-started from Bluff, New Zealand, after a technical stop of their own and are set to negotiate light airs for 24 hours before jumping back onto the eastbound express that is the Southern Ocean.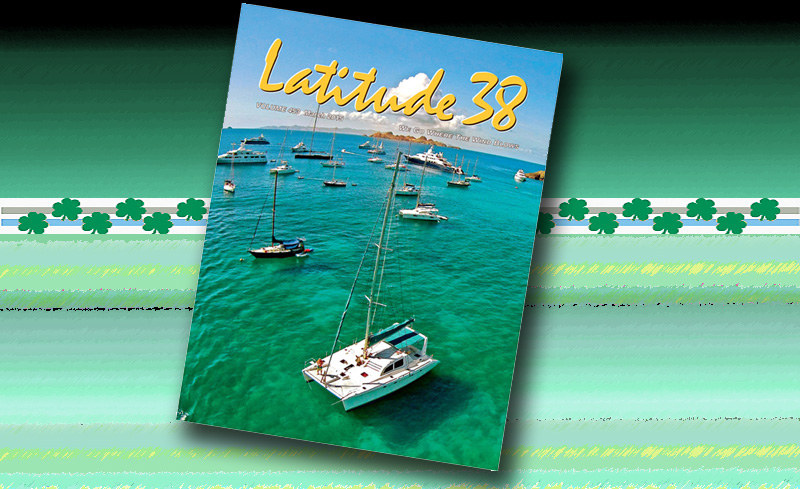 While you're making weekend plans, be sure to factor in a few minutes to drop by your favorite Bay Area marine business and pick up a copy of the just-printed March issue of Latitude 38. Locations outside the Bay Area will be receiving their shipments in a few days, but the entire magazine will be downloadable — or readable online — by mid-afternoon today. (See our complete distribution list here.)
Inside, you'll find our usual mix of sailing, cruising and boating lifestyle reports from the West Coast and beyond. Feature articles include a recap of the recent Three Bridge Fiasco, a retrospective on boats abandoned at sea that were later found, a look at South Pacific planning strategies, and an interview with renowned multihull designer Chris White.
All this and much more! All free of charge, as always. Happy reading.
Receive emails when 'Lectronic Latitude is updated.
SUBSCRIBE