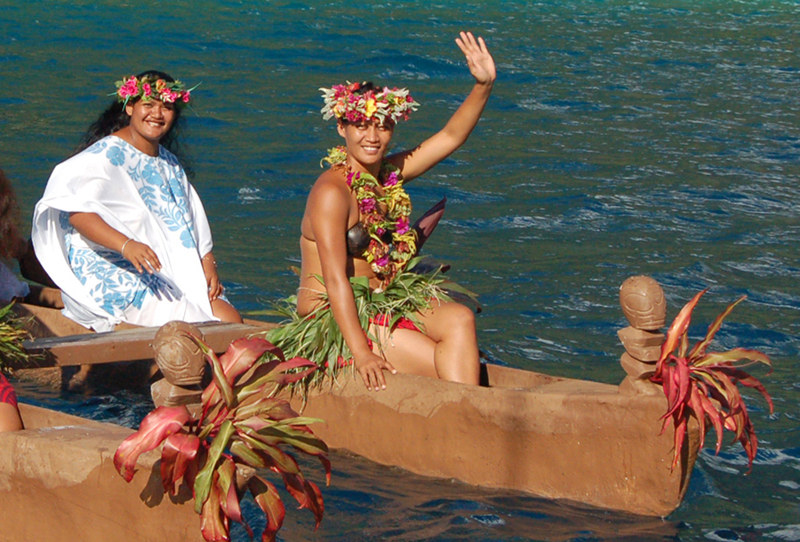 When voyaging sailors need to cross a big patch of water, they typically wait for the ideal seasonal weather window to make the trip. For the international group of westbound sailors now poised for departure to French Polynesia along the west coast of the Americas, that time is right now through the end of May.
Regardless where they jump off from, they'll face a crossing of 3,000 miles or more before making their first landfall in the remote volcanic islands called the Marquesas. Long ago we dubbed the ambitious voyagers who make this crossing Pacific Puddle Jumpers. And each year we look forward to getting to know many of them, and reporting on their journeys in the pages of Latitude 38.
Because the two largest groups of PPJers stage for departure each year in Nuevo Vallarta, Mexico, and Panama, we host free annual Pacific Puddle Jump Send-Off Parties at both places. In addition to giving informational seminars on PPJ issues and interisland cruising, we interview each crew for mini-bios that will appear in the magazine. As you'll see below, that process begins this week at the Vallarta YC, and continues next week in Panama at the Balboa YC and at Shelter Bay Marina. More than 150 crews from at least a dozen nations are currently registered on the PPJ website, so we should have our hands full — and we'll undoubtedly hear many fascinating cruising tales.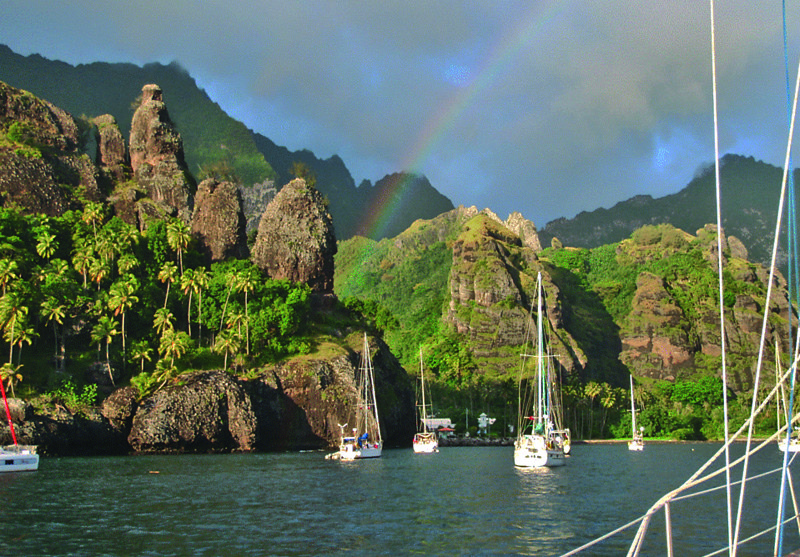 Here are the key dates for 2015:
• Feb 25 — Vallarta YC PPJ Seminar & Party, 3-6 p.m., Nuevo Vallarta (at Paradise Village Marina). Drinks, snacks, PPJ presentation, and interviews of crew for inclusion in Latitude 38.
• March 4 — Balboa YC PPJ Seminar & Party, 11 a.m.-4 p.m. (just past the Pacific end of the Canal). Program similar to above, plus Tahitian rep will attend.
• March 7 — Shelter Bay Marina, 10 a.m.-4 p.m. (Caribbean side of Canal.) Program similar to above, plus Tahitian rep will attend.
• June 19-21 — Tahiti-Moorea Sailing Rendezvous, Papeete waterfront and Club Bali Hai Hotel, Moorea. (A three-day event that celebrates the Puddle Jumpers' arrival and introduces them to traditional Polynesian music, dance, cuisine and sport.)
Latitude staff will also be giving informational seminars on the PPJ and cruising French Polynesia at the Strictly Sail Pacific boat show in Oakland in April (dates TBA). Look for additional updates here, at the website, and in the pages of Latitude 38 magazine.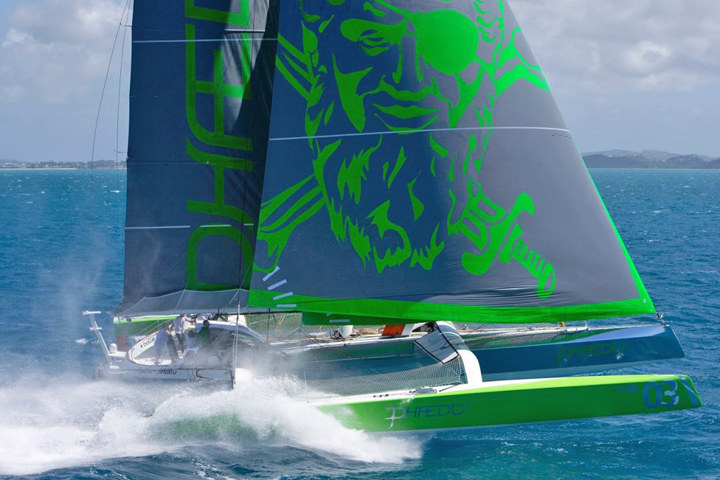 It didn't take long for Lloyd Thornburg's newest member of Team Phaedo, the MOD70 trimaran Phaedo3, to show her stuff prior to today's start of the Caribbean 600.
In one her first practice sails with the Newport Beach/St. Barth/Santa Fe resident aboard last weekend, Phaedo3 set an unofficial around-Antigua record of 2h, 44m,15s, crushing the official record of 4h, 37m, 43s held by Peter Harrison's Farr 115 monohull Sojana. The Phaedo3 crew was led by legendary French skipper Michael Desjoyeaux, who skippered the MOD70 #3 when she was Foncia. Nobody kept track, but the day's top speed was believed to have been 34 knots.
The Wanderer and Doña de Mallorca sailed on the MOD70 Orion when she cruised at 34 knots, but that was on the flat waters of Banderas Bay. In the open waters of the Caribbean/Atlantic, it would have been an entirely different experience.
But today's another day, and Thornburg and his all-star crew have started the Caribbean 600, which, in its seventh edition, can argue for being the best middle-distance race in the world. Among the 68 entries, George David's spectacular new Rambler 88 will be making her major race debut. The fleet is packed with excellent boats and hardcore crews eager to weave around 11 islands of the Caribbean.
Doug Baker of Long Beach, who has always loved racing in the Caribbean, and who for a long time raced two big sleds under the Magnitude name on the West Coast and in the Caribbean, is back for another Caribbean 600 — and Voiles de St. Barth in April — with his Kernan 43 True. Check out the accompanying video to see what tradewind sailing aboard True, which started life as a 1D35, is like in the Caribbean. It's warm and it's wild! You might note that nobody is wearing a PFD.
"We will finish Thursday, we hope early," Baker told the press. "Our main worry is too much wind, as this boat is tender."
The official forecast calls for 15-17 knots of wind, with 7-ft seas. Phaedo3 has to finish by about noon on Wednesday to break the record. We figure she's gonna get it — barring a breakdown. Shortly after the start she was sailing at 28.9 knots.
There are three ways to follow the Caribbean 600: The website, Facebook and boat tracking.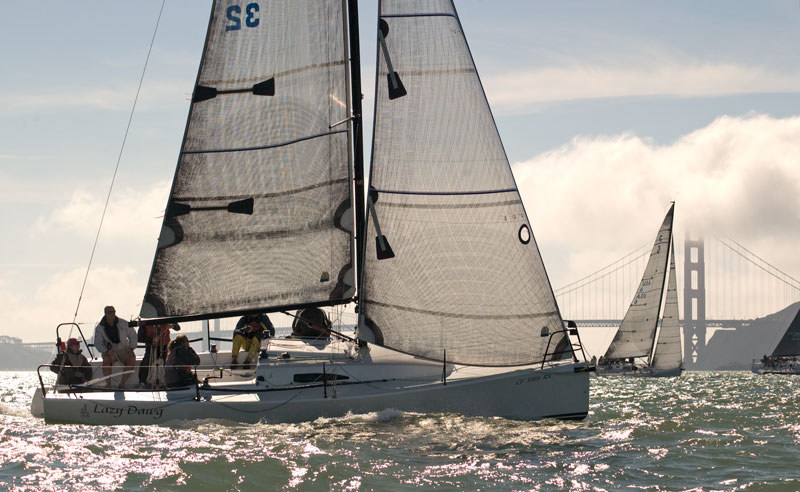 Corinthian YC wrapped up its two-part Midwinter Series over the weekend, and the 94 crews that raced enjoyed two days of romping around San Francisco Bay in sunshine and breeze.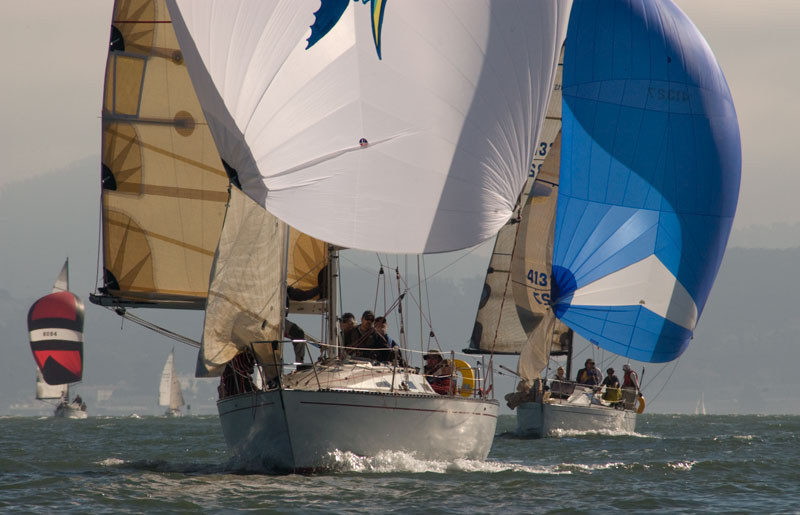 With little breeze in the morning, prospects for racing on Saturday were looking dire, and the day began with more than an hour of postponement. Then the westerly appeared from out of nowhere and ramped up to the high teens. Boats were getting knocked around at Yellow Bluff, with 30-knot gusts swooping down off the bluff.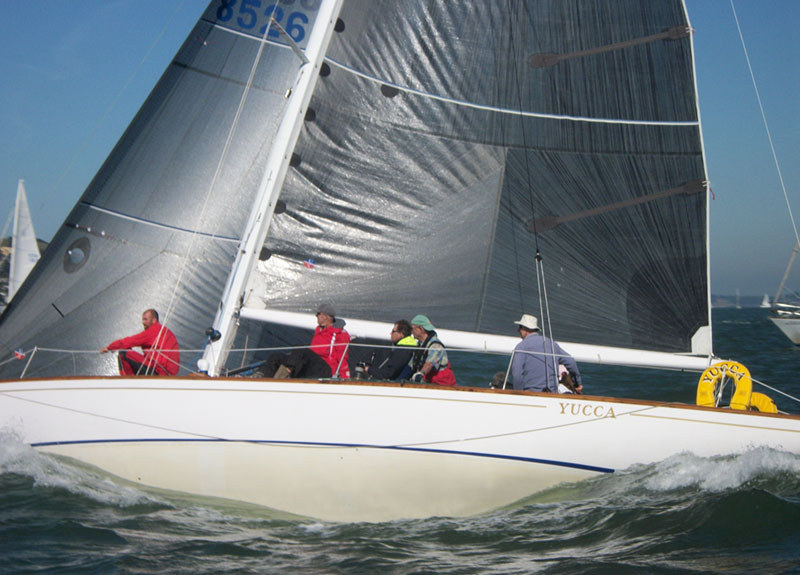 Saturday does double duty as the Rob Moore Memorial Regatta, a fundraiser for Free to Breathe, a lung-cancer research nonprofit. All sorts of Robgatta festivities were held in the club's ballroom after the race. Linnea Olson, from Lowell, MA, flew out to talk about living with lung cancer, which she's had for 10 years. "Linnea wasn't sure she would be up to traveling," said event organizer Leslie Richter, "but the current trial drug is working very well."
Olson's touching speech was a hard act to follow. Cue Bay Area sailing icon Liz Baylis. The 2002 Yachtswoman of the Year chairs the ISAF Match Racing Committee and is the executive director of the Women's International Match Racing Association. But she spoke about her experiences in 2013-14 coaching the all-female Oman Sail Team in Sailing Arabia the Tour.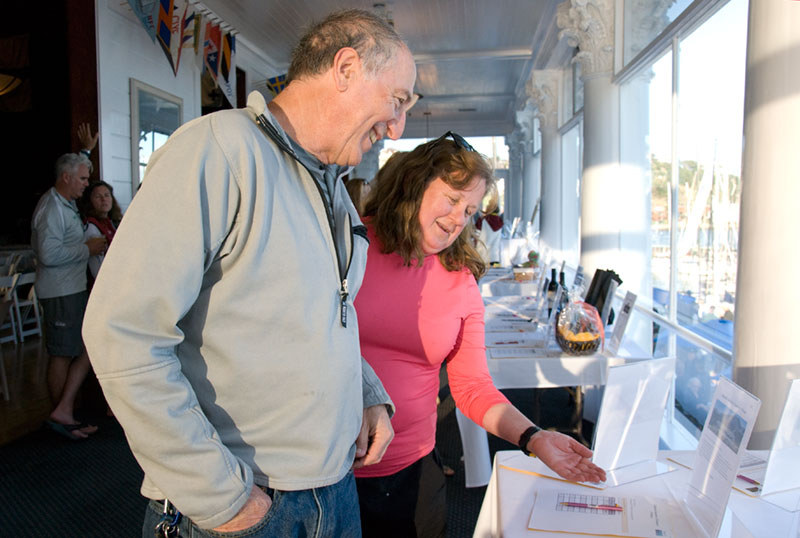 The talks were followed by a live auction, a raffle, and prizes for the day's racing. The Summertime Dream Perpetual Trophy, a tiller extension in a pretty gnarly wrapping, was previously won by the Farr 36 Sweet Okole in 2013 and Yucca in 2014.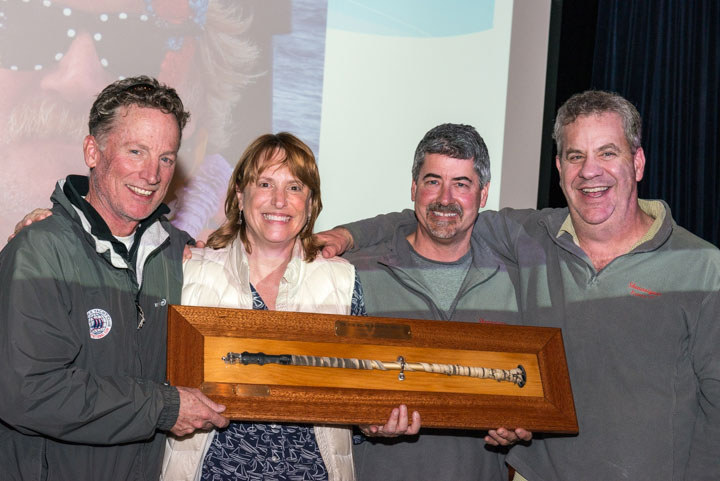 No waiting was necessary for Sunday's race, as the day started out with a brisk northerly that allowed no fog or haze and never let up. More post-race prize-giving followed, including the Aotea Team Trophy for the best performance by three boats from the same club, which went to Richmond YC. We'll have more on that plus final results in the April issue of Latitude 38 (March has already gone to press, and will be out on February 27).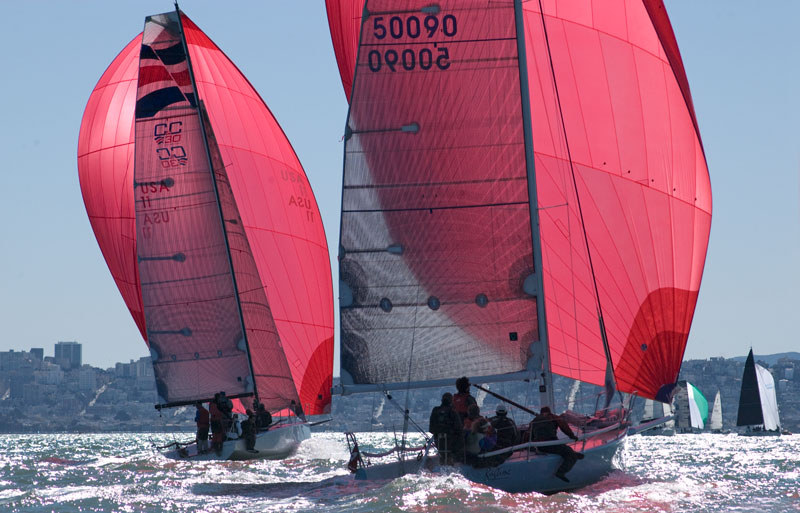 For more on Robgatta, see www.bayarearacingfederation.org — it's not too late to make a donation — and for more on the Midwinters, see www.cyc.org.

Receive emails when 'Lectronic Latitude is updated.
SUBSCRIBE