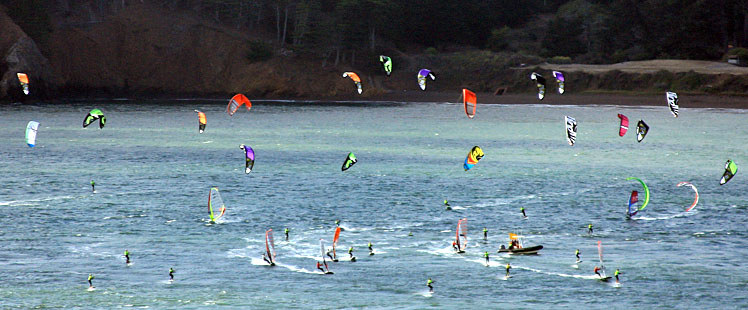 Conditions too rough for most players left the field open to the bravest (or most foolhardy) competitors in yesterday's Ronstan Bridge to Bridge, a dash from the Golden Gate Bridge to the Bay Bridge at 5:30 p.m. The race is a 'counter' for St. Francis Yacht Club's 18-ft Skiff International Regatta, and the 18s are joined by windsurfers and kiteboarders.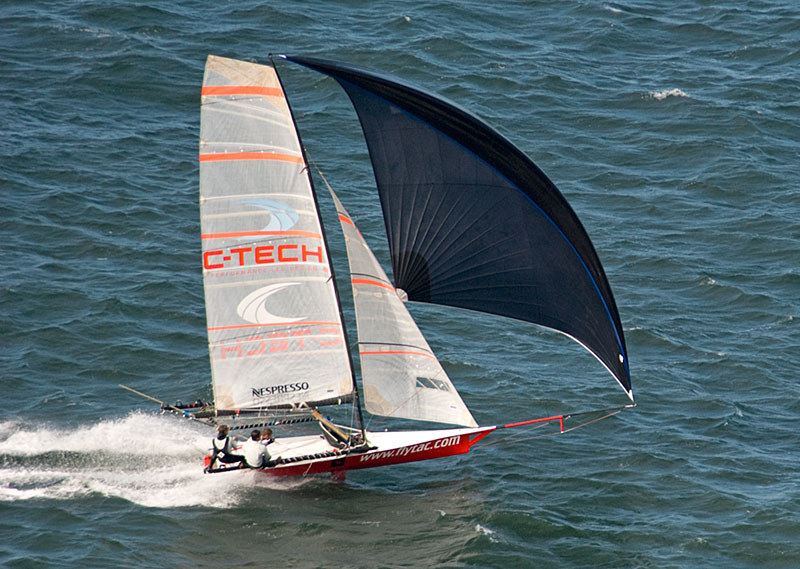 The wind and ebb current built so much that the afternoon's race in the Aussie 18 regatta was canceled. Only two skiffs answered the call for the evening's run on the lumpy whitecaps – both of them skippered by young men who've spent their lives racing on San Francisco Bay. But neither David Liebenberg's Only 18 or JV Gilmour's Flytac was able to complete the course. "You gotta try," Liebenberg said.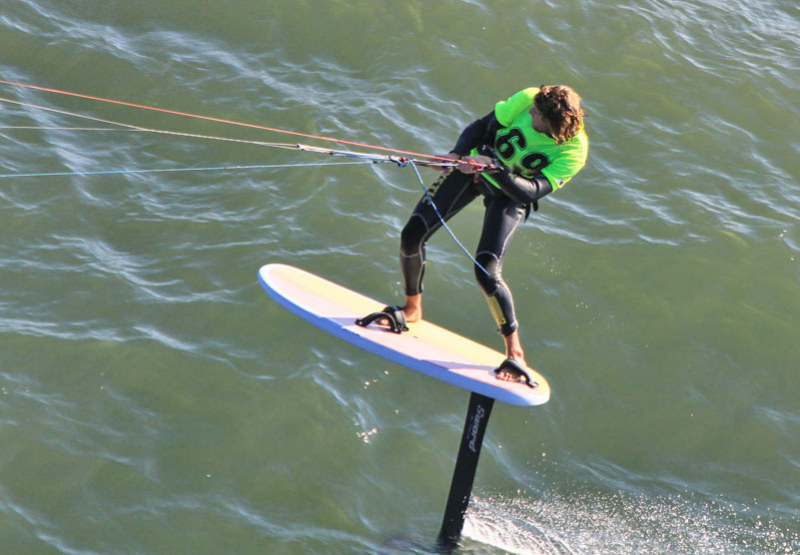 "It was a crazy, survival type of day," said Johnny Heineken, another young local sailor. The kiteboarding phenom hyrofoiled his way to another victory yesterday. "This was the gnarliest year ever." He crashed within 100 yards of the finish, but still finished well ahead of the next four kiteboarders.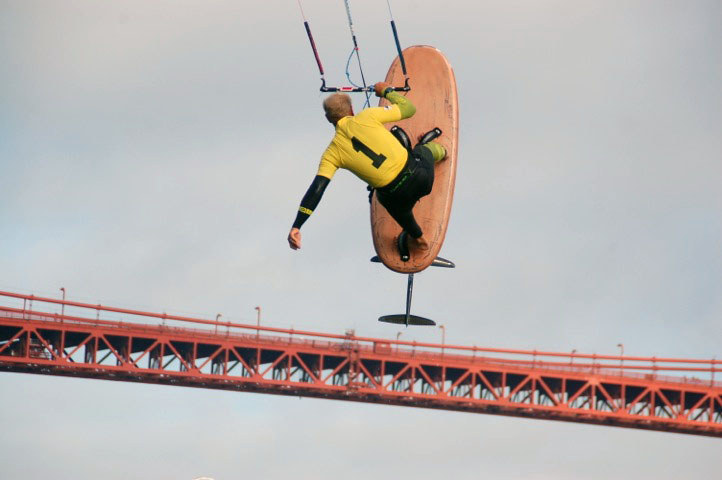 "Sailing the Bay is the best," said Xavier Ferlet, the first windsurfer to finish, "I drove here today, all the way from LA, for a 20-minute sail!"
In recent years the smaller craft have been joined by one or two larger sailboats. This year's token big boat was Peter Stoneberg's ProSail 40 Shadow. "We hit one wave so hard that we stuffed the bows beyond the crossbeams and our port rudder started spinning on its shaft," said Stoneberg. "Fortunately [my crewman] Kyle sprung into action and disconnected the shaft connects the two rudders, and we were able to limp home using only the starboard rudder. Without that problem we almost certainly would have beat Johnny – not!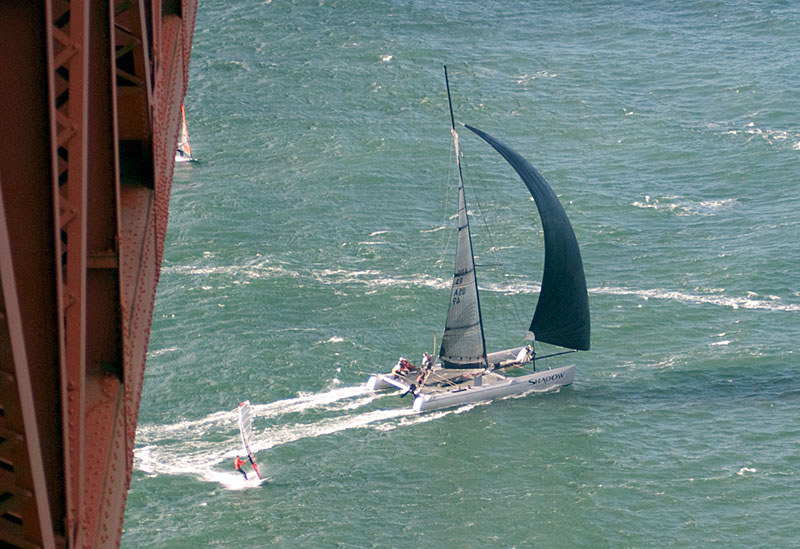 "By our calculations the apparent wind with current was 33 knots," estimated Stoneberg, "or roughly 50% higher than the wind limit for last summer's America's Cup. What are we going to do for fun today? I love San Francisco Bay!"
The 18-ft Skiff International continues today and Saturday. See www.stfyc.com.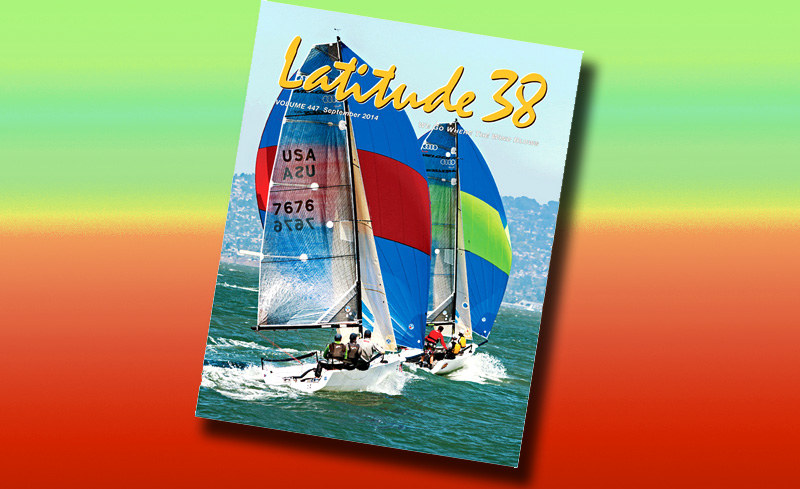 We certainly hope you plan to spend plenty of time out sailing this weekend. But when it's time to kick back and decompress, we suggest you take in all the latest sailing news found inside the just-published September issue of Latitude 38 magazine.
Inside, you'll find our usual mix of cruising tales from around the world, racing reports from a variety of venues, and all sorts of West Coast-centric nautical news within our Sightings section. A few examples are: An in-depth account of surviving a hurricane in mid-ocean, an update on the construction of San Francisco Bay's new tall ship, and a progress report from 72-year-old Webb Chiles on singlehanding around the globe aboard a Moore 24.
In this issue you'll also find our recap report on the 2014 Pacific Puddle Jump, and mini-profiles of entrants in October's 21st Baja Ha-Ha Rally.
The Latitude 38 office will be closed on Monday for Labor Day, and 'Lectronic Latitude will take a break until Wednesday. In the meantime, we hope you have fun out on the water. But keep it safe, and remember that extra marine patrols will be on the lookout for BUIs on this holiday weekend. While you're out and about, don't forget to pick up a Latitude at your favorite marine retailer. It will take a few days for magazines to arrive in Southern California, the Pacific Northwest and Hawaii, but remember: You can always get your Latitude fix online for free. (The September issue will be available online later this afternoon.)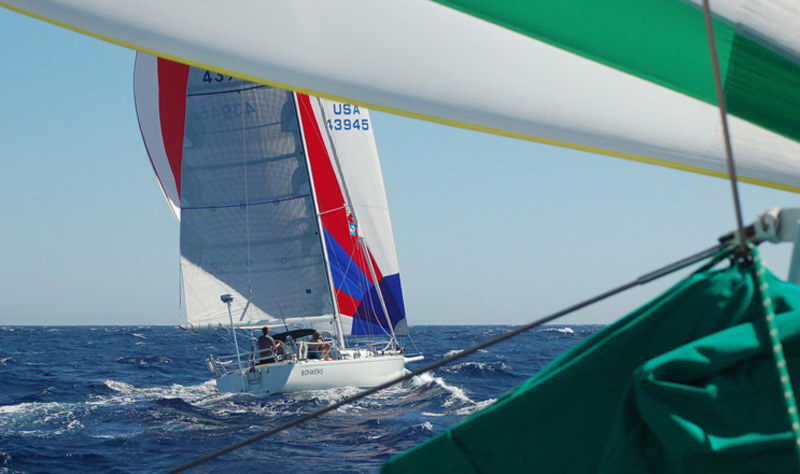 "I have just applied online for our Temporary Import Permit (TIP) for Mexico," writes Desley Oliphant, "as we'll be doing the Baja Ha-Ha for the first time this year aboard our boat Wind Dancer. But when filling out the TIP application form online, there were about 12 choices in the drop-down menu of locations for entering Mexico. Cabo San Lucas wasn't listed. Neither was Ensenada. And there was nowhere that a different choice could be written in. Since Mexicali was the only place on the Pacific side, I selected that.
"My concern is that when we try to check in at Cabo, they won't accept it, and will want to send us back to Mexicali.
"While I have not yet applied for our tourist visas online, I understand there is the same drop-down menu with the same choices. Help! What are we to do?"
In your case Desley, just relax, as we'll get this straightened out either online or with a ship's agent in Cabo. Please be patient.
With regard to all other people who will be heading south to Mexico, DO NOT ATTEMPT TO DO ANY PAPERWORK YET!
Neil Shroyer of Marina de La Paz reports the problem is that Banjercito (the Mexican military bank) adopted their web page from the web page for automobiles crossing into Mexico. Aduana (Customs) is working to get them to change the website now. Shroyer recommends that everyone wait until the end of September or even early October to apply for their TIP.
IMPORTANT, IMPORTANT, IMPORTANT!
At Step 3 in the TIP application form, there is a long list of items that are accessories to one's boat. Do not list your dinghy there, because if you do, your dinghy will automatically only get 180 days in Mexico. List your dinghy at Step 5, and it can legally be in Mexico for 10 years.
IMPORTANT, IMPORTANT, IMPORTANT!
When you apply for the 180 visa, be sure to list only one person per vessel, as this will insure that you get a receipt for everyone. If you do it more than one person at a time, there will only be one receipt, and everyone listed will have to show up at Immigration together to get their Tourist Cards.
But please, if you're signed up for the Baja Ha-Ha rally this year, wait until the end of September or early October to do the paperwork. We'll tell you when, and we'll guide you through it.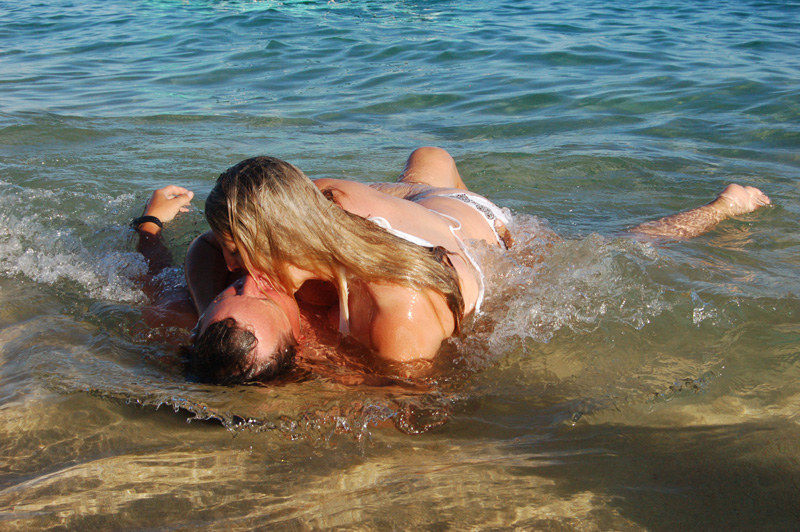 Receive emails when 'Lectronic Latitude is updated.
SUBSCRIBE