There's good news for next month's SoCal 'Reggae 'pon da Ocean' Ta-Ta rally from Santa Barbara to Catalina, as Channel Islands Harbor is replacing Redondo Beach as one of the event's three stops.
When organizing an event for up to 50 boats in Southern California, a big challenge is sometimes where to put so many boats. That said, there isn't a problem at the Ta-Ta's anchor-out stops at Santa Cruz Island and Paradise Cove, as both can accommodate more than 100 boats. Nor is Two Harbors, Catalina, a problem, as the fleet will be arriving there on Friday afternoon, so between the moorings and the anchorage, there should be plenty of space.
The tricky parts have always been Santa Barbara and King Harbor. After a successful first Ta-Ta in 2012, the good folks of the Santa Barbara Harbor Patrol stepped up by allowing Ta-Ta boats to make confirmed reservations — through the Ta-Ta Rally Committee only — for either one or two nights prior to the event's first day of sailing. A tip of the hat to the helpful folks at Santa Barbara.
As for Redondo Beach's King Harbor . . . oh boy, nothing better demonstrates why government drives us so crazy, and why we're such fans of private enterprise. We like Redondo Beach, in part, because we know it reasonably well from visiting our daughter, who is a resident. Plus, we've done countless Santa Barbara to King Harbor races, where we've always received a wonderful welcome from the King Harbor YC.
But here's the King Harbor problem that led to the Channel Islands Harbor solution: The only night of the only week that the Ta-Ta could stop at King Harbor is Thursday, September 11. Alas, that's also the last night of the King Harbor YC's Beer Can Series, which is followed by an awards ceremony. The club was bending over backward by agreeing to let the Ta-Ta boats use a small area of their marina to dock dinghies, and to rent us an outdoor barbecue area. But the one thing they absolutely couldn't do — and we completely understand why — is allow Ta-Ta boats to use their dock space.
That meant that all the Ta-Ta boats would have to anchor in the nearly half-mile-long area behind the big breakwater. No biggie, as this is what we did during the first Ta-Ta. But wait, things have changed. In apparently trying to be helpful to visiting mariners, the city of Redondo Beach decided to put in 25 mooring buoys. When we learned of this many months ago, we figured this would be great, as most of the moorings would not likely be used on a Thursday night. Well, despite the fact that this project has been in the works for nearly forever, and the mooring field is in, the city still hasn't decided who is going to manage the moorings, how much it will cost to use them, and all that.
So when we visited Harbor Patrolman Norm Matte yesterday at the rather palatial new Harbormaster's Office, we were somewhat shocked when he told us that it was unlikely that about 40 boats could be accommodated in the large area behind the breakwater. Imagine an anchorage roughly the size of Clipper Cove, with no boats, and being told there wouldn't be room for 50 boats. Having anchored in lots of rough-weather anchorages in the Caribbean, where boats were chock-a-block, we were a little dumbfounded. But we were polite.
Ironically, the biggest problem was the new mooring field. Norm, who is a very nice guy, told us that although the field was only three weeks old, the moorings were no good, and thus were not available for use. Not only could the buoys not be used, they eliminated a big area where Ta-Ta boats could have otherwise anchored.
We still thought there would be enough room, but Norm was skeptical. "I'm not going to tell you that you can't come in, but when we decide there are too many boats, we're not going to let anymore in." Although he didn't mean it that way, it was the passive-aggressive death blow to King Harbor. We want to emphasize that Norm was in no way hostile, and more than once said he was sorry they couldn't accommodate the Ta-Ta. Nonetheless, if the area behind the breakwater was privately owned, we have no doubt the owner's response would have been, "Sure, we can make it happen." But in case anyone hasn't noticed, government is not about making things happen.
Anyway, there were two possible solutions. One was to cancel the event. We didn't get this possibility halfway out of our mouth before Doña de Mallorca threatened immediate and unceasing mental and physical cruelty. "The heck with King Harbor; we'll spend two nights at Catalina," she said.
The Reggae Poobah didn't much care for that idea, as it would mean one less day of sailing, and a little bit of Two Harbors can sometimes go a long way. Then it hit us. LaDonna Bubak, a Latitude editor until the start of this year, and her guy Rob, had just sent us an email telling us how much they were loving their stay at Channel Islands Harbor. Then we recalled that, for reasons we've never quite understood, Channel Islands is the only harbor in Southern California with lots of empty slips.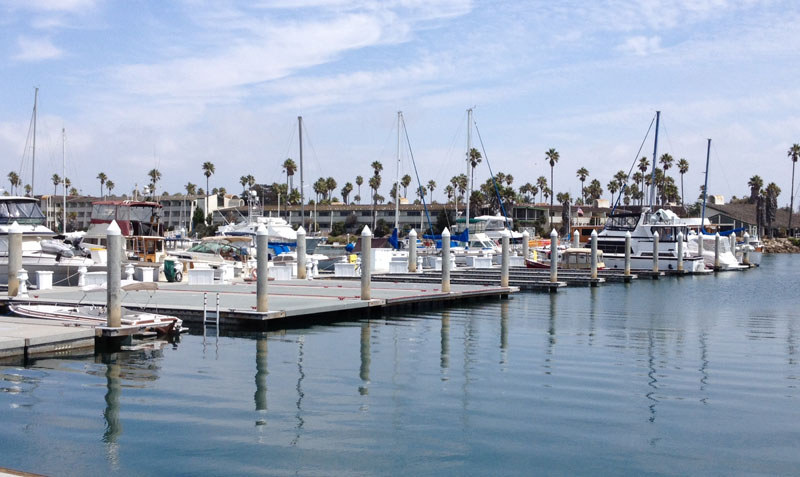 Before long, we were talking to Michelle La Pointe and Dan Ward, administrator and dockmaster respectively of Channel Islands Marina and Vintage Marina. To say that Michelle and Dan were enthusiastic about their two marinas, which are Baja Ha-Ha sponsors, and were welcoming to Ta-Ta boats would be an understatement. We've already gone down the list of available slips with them, and except for one monohull and some of the multihulls, the two marinas have us covered. Channel Islands Harbor also has a lot of harbor-managed long docks, most of which should be available on a Wednesday night. So we're good for berthing.
Did we mention that Channel Islands Marina and Vintage Marina want to roll out the welcome mat to Ta-Ta entries by not charging anything for the berths? That there will be showers and heads? That the beach is only 150 yards away? And that they're going to set up a special floating BBQ area for our dinner that night? Reggae Richard will be cooking.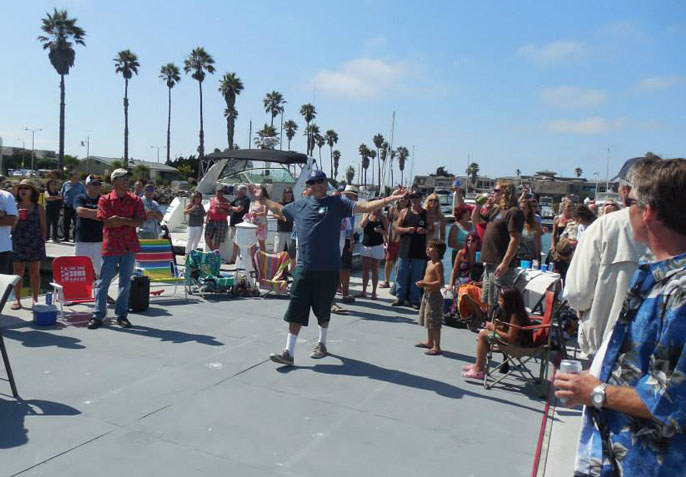 "Rob and I liked Santa Barbara," reported LaDonna when we called her to break the news, "but we love Channel Islands! The area is great. It's quiet and everybody is super friendly. They keep these marinas immaculate. In fact, we're delaying the start of our trip to Mexico to spend a couple more months here."
So the Ta-Ta route is now: Start from Santa Barbara; two nights at Santa Cruz Island; Channel Islands; Paradise Cove; Two Harbors, Catalina. We can't wait.
There are only a couple of the 50 Ta-Ta slots left open. If you want to enter, and you want to get a reserved slip in Santa Barbara, you'll need to enter today. If you don't enter today, you very likely will have to anchor out at Santa Barbara.
Receive emails when 'Lectronic Latitude is updated.
SUBSCRIBE