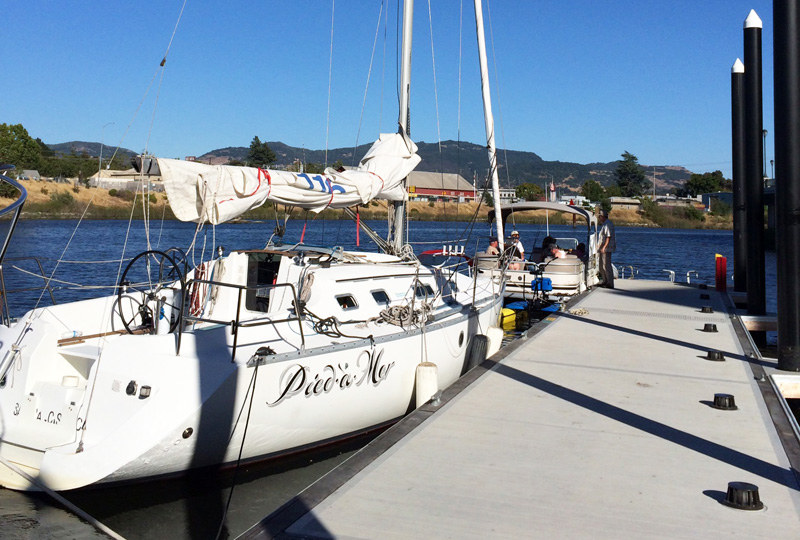 There's no denying that Napa is a splendid city, and a wonderful place to visit during the summer months. But of all the riverside cities and towns in the North Bay and Delta, it's long had a reputation as being only marginally accessible to sailboaters. We're happy to report that's changed now, with the completion of a massive waterfront project that features side-tie or stern-to berthing right in the heart of the downtown business district — only a few minutes' walk from a wide range of restaurants and wine bars; the famous Napa Valley Wine Train; the Napa Valley Opera House, which stages everything from musical theater to hard-driving rhythm and blues; and the Uptown Theatre, that stages everything from bluegrass to Bach.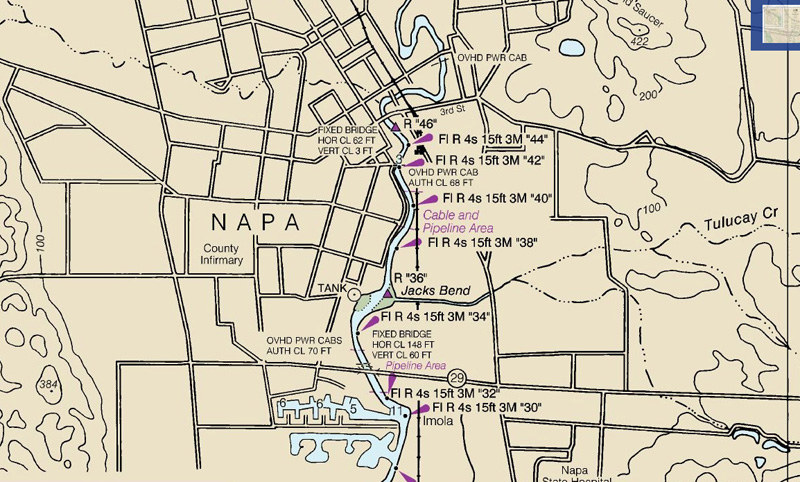 What about the stationary Imola Bridge downstream, you ask? As Bay sailor Art Hartiger discovered on his recent foray upriver, the stated clearance on charts is 60 feet. But that refers to "mean high water," so if the existing height of tide is below MHW, there will be greater clearance. If your boat has a mast less than 50 feet tall, you should have no trouble, and with careful planning those with masts close to 60 feet can also squeak through. That said, we're pretty sure Art was holding his breath when he took his Beneteau First 310 Pied-a-Mer upriver last month.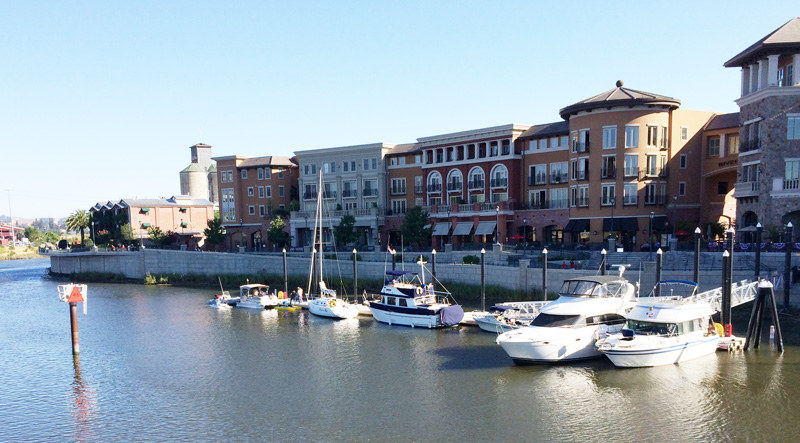 We recommend that you put Napa high on your list of options for summer wanderings. But needless to say, proceed with caution.
Greg Slyngstad, owner of the Seattle-based J/125 Hamachi that won her division in last month's Pacific Cup, and was on the cover of this month's Latitude 38, confirms that he's having an all-carbon, Paul Bieker-designed 53-ft catamaran built at Gold Coast Yachts in St. Croix. Gold Coast has built something like 100 large cats, most of them for the day-charter trade. This will be their first all-carbon effort.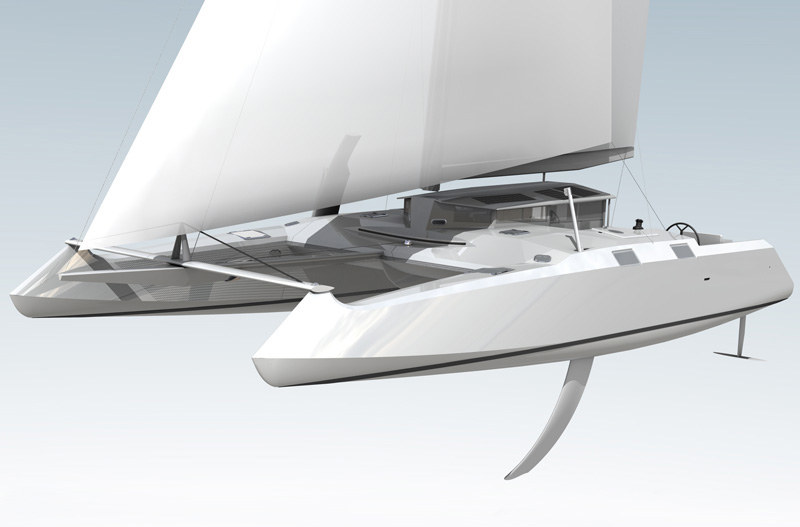 Slyngstad, who grew up in Campbell and is one of the most active racers on the West Coast, describes his new boat as a "super-fast cruising cat." At 53 feet and just 12,000 pounds, she should be a screamer. Check out her step / inverted bow. We've never seen anything quite like it. "The idea behind it is to reduce windage and panel size," Slyngstad told us during a telephone conversation this morning.
"Once the boat is launched, the plan is to keep her in the Caribbean for at least a couple of years. My wife and I have done a lot of sailing in the Caribbean and we love it and events like the St. Martin Heineken Regatta and Voiles de St. Barth. So we'll be doing both of those and other events for a few years, as well as fast cruising with friends."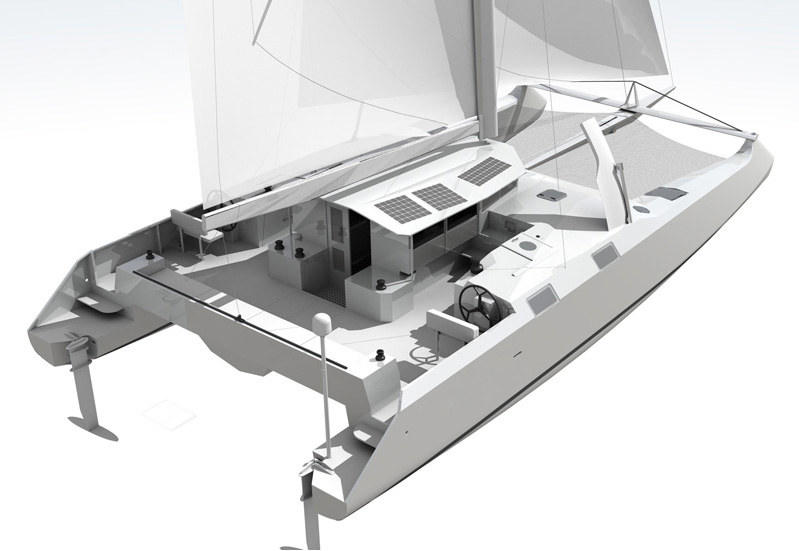 The current schedule calls for the boat to be launched in March or April next year. The Heineken takes place in early March, while the Voiles de St. Barth is in April. Slyngstad says it would be nice to be able to do both of those events, but he's had enough experience with boats to know that a whole lot of things would have to come together perfectly for that to happen. We wish him luck with the launch date, and the exciting new cat.
We can't believe it, but Mexico's 'Nautical Stairway' idea is back. About 30 years ago, a private marina company came up with the concept of a 'stairway' of harbors and marinas between California and the Pacific Coast of tropical Mexico. It got nowhere.
About a dozen years later, Fonatur, Mexico's tourist development agency, not only revived the idea, but they acted on it with tons of money. One of the first things they did was build a breakwater at remote Santa Rosalillita on the Pacific Coast of Baja, which was to be the terminus of a proposed 'land canal' for boats between the Sea of Cortez and the Pacific. As soon as the breakwater was finished, it started filling with sand, and to our knowledge has never been used.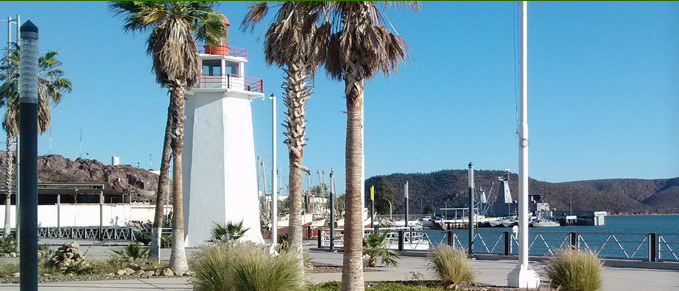 The rest of the project was to consist of high-end resorts with golf courses and about a dozen new marinas located near similarly new airports. It was a brilliant idea — assuming everybody in California with a boat over 30 feet was going to bring their boats down to Mexico every year. In the end, all that got built were nine marinas, the best known of them at Puerto Escondido, La Paz, Guaymas, Mazatlan and San Blas. Except for Mazatlan, most of them have been, to put it mildly, underachievers.
Previous 'Stairway' failures notwithstanding, during a recent tourism festival at Cancun, Mexican President Enrique Peña Nieto unveiled plans for a new $174 million peso 'Nautical Stairway' from Baja Norte as far south as Nayarit (Banderas Bay) "to make of the Sea of Cortez a safe and attractive spot for the practice of sailing and yachting." Isn't it attractive enough already? We hate to be a killjoy, but mariners haven't been crying out for such facilities.
And isn't it oddly comical that just a month after Mexico's IRS horribly harassed hundreds of perfectly legal boatowners, they are pouring tons of money into making the Sea of Cortez attractive for "sailing and yachting?"
No details on the 'Stairway' were released.
There is a lot more tourism investment money headed to Puerto Vallarta and the Riviera Nayarit over the next five years, too. Some $500 million pesos ($38m USD) is earmarked for a new marine terminal in P.V., another $500 million pesos to upgrade the old colonial city center and malecon, and $50 million pesos ($3m USD) for a new terminal at the airport. San Blas, in Nayarit, will get $500 million pesos for tourist development, with the main focus being the historic port. You'll remember that last month the Governor of Nayarit announced that ground would be broken this November to make tiny San Blas the biggest container port in Latin America.
Skeptical by nature, we'll believe all these projects when we see them.
Receive emails when 'Lectronic Latitude is updated.
SUBSCRIBE