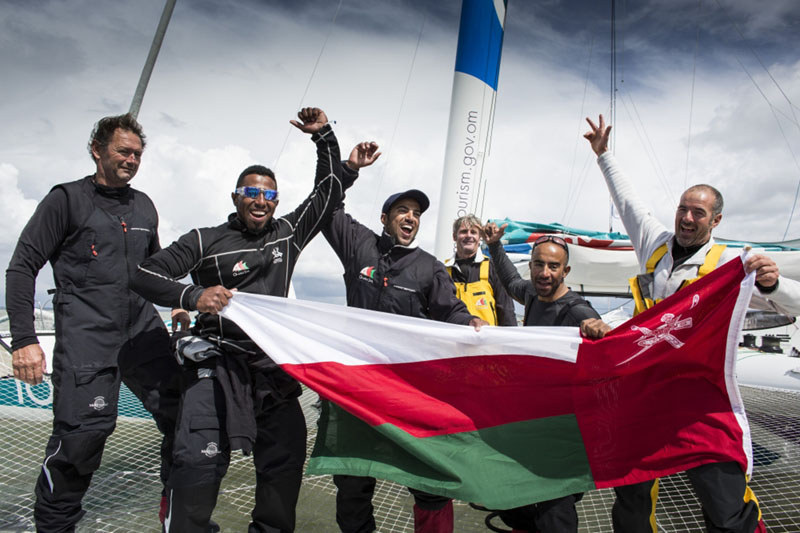 Sidney Gavignet and the crew of the MOD70 trimaran Musandam-Oman Sail, which included three relatively new sailors from Oman, finished the 1,956-mile Sevenstar Round Britain and Ireland Race Thursday in a record time of 3 days, 3 hours, 32 minutes, 36 seconds. That's an average of 23.8 knots. The top speed of this offshore racer was 43 knots.
Take that, America's Cup catamarans, which only topped out at about a knot faster in the flat and comparatively safer waters of San Francisco Bay.

The previous Around England and Ireland record was held by Loïck Peyron and the massive Banque Populaire V, which had two huge advantages. First, she was 140 feet, while Musandam-Oman Sail is a mere 70 feet. Second, Banque Populaire could start when the conditions were perfect for setting a record, while Musandam-Oman Sail had to start at a fixed time.

But Musandam-Oman Sail was lucky, too. Despite sailing a circular course, they never had to tack once, only jibe.

Having sailed on Northern Californian Thomas Siebel's MOD70 sistership Orion at a sustained 34 knots on Banderas Bay, Mexico, we, perhaps more than most, can appreciate what an incredible accomplishment it was for the crew of Musandam-Oman Sail. After all, two of the MOD70s have flipped, and when you consistently sail in the 30s, it means you are on the razor's edge of going over.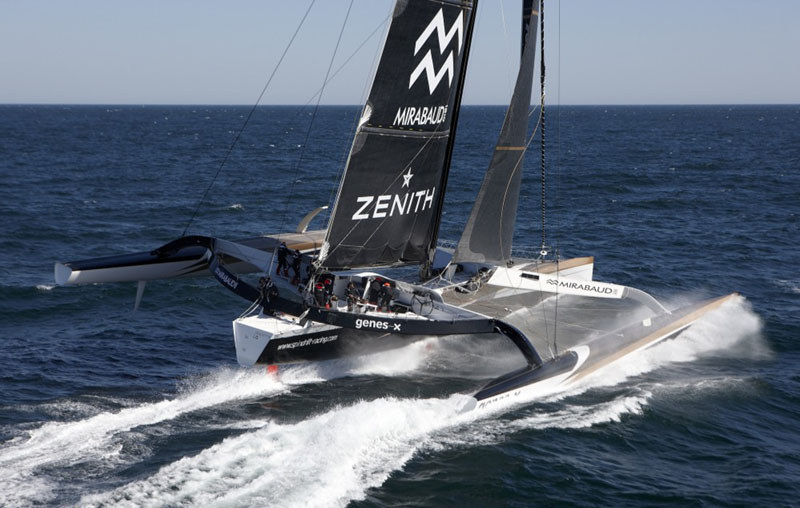 In other news, Spindrift 2, the heavily modified ex-Banque Populaire, which has been on standby in the Northeast to attack the transatlantic record, has given up for the summer. Skipper Yann Guichard will be taking her back to France so she can be reconfigured for singlehanding in November's epic Route du Rhum race from France to Guadeloupe. Who will be waiting for her on the starting line? Sidney Gavignet and Musandam-Oman Sail. But he'll not be alone, as Francis Joyon will be there with his record-setting 100-ft tri IDEC, as will other multihull all-stars.
As the accompanying photo illustrates, a boat fire is one of the worst calamities a sailor or powerboater can experience — either at sea or when tied to a dock.
Marc Lieberman grabbed this shot while at the Monterey Municipal Marina several days ago, and gave us this explanation of how the inferno occurred. "A 32-ft powerboat was having engine work done. Both gas tanks had been drained, but there was a little gas in the bilge. It was ignited by a spark from the electrical system."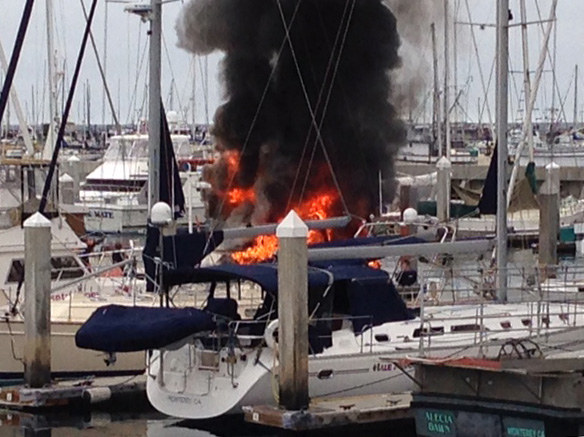 Sadly, the owner suffered minor burns while trying to extinguish the blaze with a dockside hose. Lieberman tells us that damage to an adjacent boat was limited due to the quick action of a passerby who shoved it out of its slip.
The marina's Marine Operations Specialist Brian Nelson clarifies that, "The owner of the boat was apparently removing a battery when something produced an arc." Fortunately, harbor staffers plus Monterey Fire and U.S. Coast Guard personnel were able to respond quickly before the blaze engulfed adjacent boats in the tightly packed marina.
If you've ever been involved in a boat fire, you know how quickly a small fire can get out of hand. So we ask you: Do you have plenty of up-to-date fire extinguishers on board and within easy reach? And is your fire and liability insurance current?
Receive emails when 'Lectronic Latitude is updated.
SUBSCRIBE