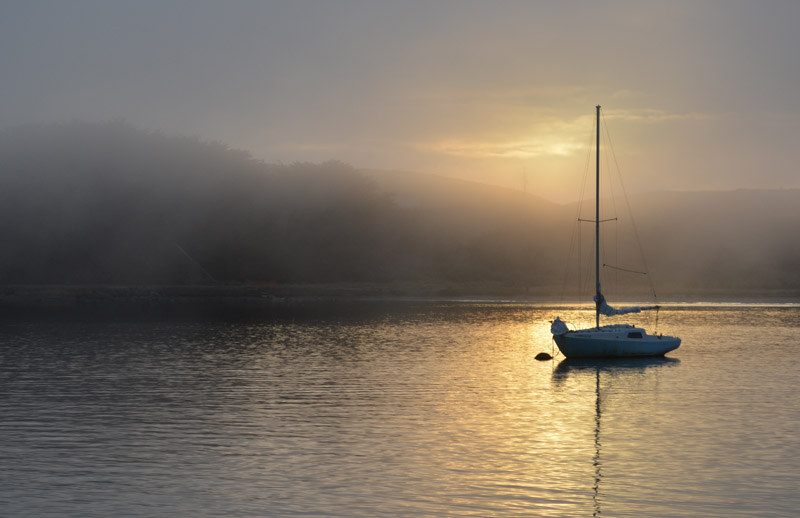 While San Francisco Bay can offer exhilarating sailing conditions, cruising options are, to put it kindly, limited. For those wanting to expand their horizons, Half Moon Bay is just 25 miles south of the Bay — a nice day hop for just about any boat — but a world away.
When leaving the Bay, use caution if you decide to cross the South Bar. Good-sized ocean swells can cause breaking waves at any time of the year — though it's most common in the winter. We've had to report on far too many disasters on sections of beach that lie outside the Golden Gate. If there's any question, don't turn south until you reach at least red buoy #8.
Summer's prevailing northwesterlies will shove you down the coast so fast that, before you know it, you'll see Colorado Reef breaking off to port. Keep a sharp eye out so you don't find yourself inside Red #26, just off the big reef. The approach to Pillar Point Harbor can be a bit confusing, especially if it's fairly calm. Too many boats have been tempted to take a shortcut only to fetch up on a reef that extends south from Pillar Point to Green #3. Watch your chart and don't take any shortcuts!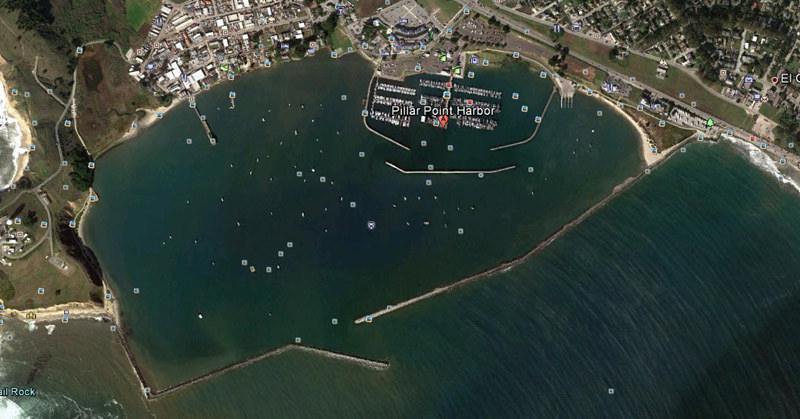 Once inside the outer breakwaters, there is ample room for hundreds of boats to anchor. A few years ago, authorities cleared out a slew of derelicts, opening up space closer to shore. The bottom is sand and broken shell with excellent holding. We sat through several days of 30-knot winds on our Rocna anchor with no issues.
Note: The harbormaster asks that all anchored boats check in, in the event of an emergency. You can stop by their office at the marina, call them at (650) 726-5727, or hail them on channel 74.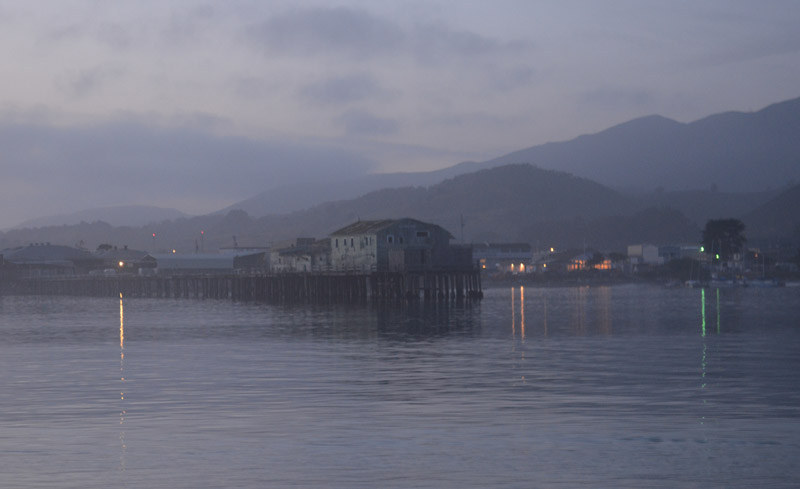 If you'd rather not anchor out, Pillar Point Yacht Harbor usually has plenty of room for transient boats at 85¢/ft/day. Good water, diesel, pump-out, showers and laundry are all available at the marina, with plenty of restaurants and shops within walking distance.
A convenience store is just across Cabrillo Highway, but for more comprehensive provisioning at Safeway or New Leaf Market, you'll need to catch the #17 bus into five-mile-distant Half Moon Bay. It runs once an hour (see schedule) and there's a stop right outside the marina's entrance as you walk toward Hwy 1. The fare is $2 per person each way, no transfers. If you've never been to the town of Half Moon Bay, you'll want to budget some time to stroll along its adorable Main Street downtown area.
If you prefer your strolling to be less touristy, dinghy to the beach at the west end of the harbor and walk along the beach trails. The legendary surf spot Mavericks is just offshore, though don't expect to see any action there in the summer.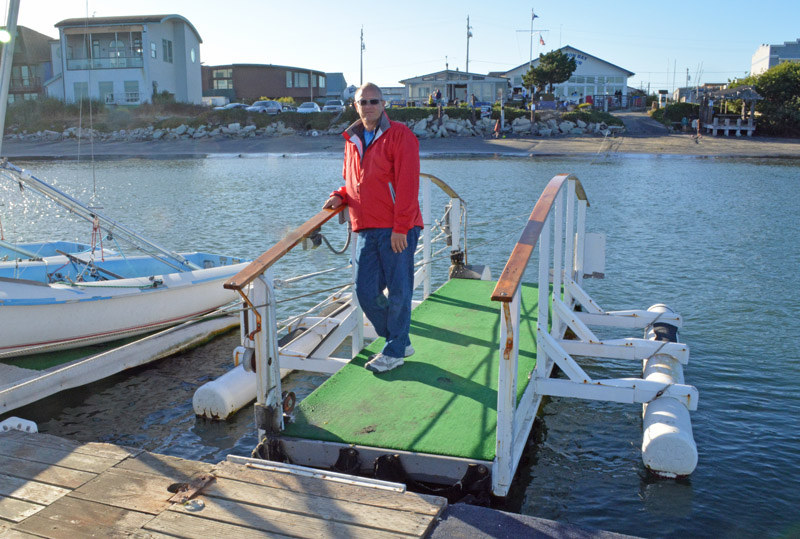 Before you leave, be sure to drop in at Half Moon Bay YC. Their clubhouse is on the north side of the harbor and is easily spotted by the floating docks just off the club. Visitors are welcome, especially to their Friday night dinners. Like most yacht clubs, HMBYC is crazy-friendly and even offers free sails on Sundays.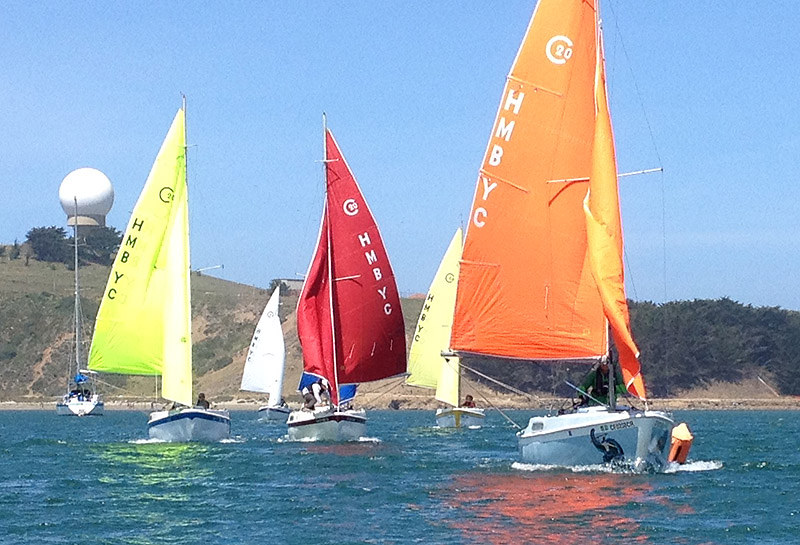 Whether you're preparing to go long-distance cruising and use the trip as a shakedown cruise, or you just want to bring the family down for a long holiday weekend, Half Moon Bay is a relaxed spot with a rich maritime history and is sure to become one of your new favorite destinations.
Following Team Australia's recent withdrawal from the 35th America's Cup as the Challenger of Record, it was announced today that four remaining challengers have pledged their support to the event, regardless of which venue is chosen. According to a joint statement released through Ben Ainslie Racing: "Teams Luna Rossa Challenge, Artemis Racing, BAR and Team France — jointly with the yacht clubs they represent — confirm their full support to the event, regardless from the host venue that will be selected."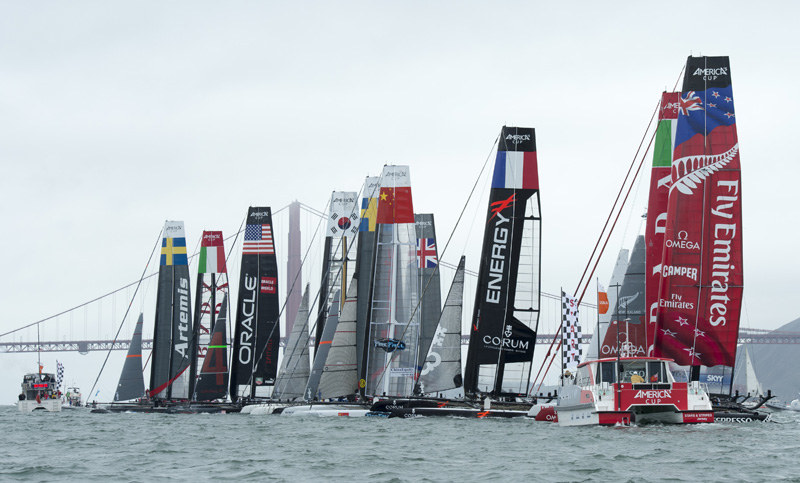 In a welcome boost of support for organizers, the teams pledged to work together to make the event as successful as possible. The aim, according to today's statement, is to "bring this event to the peak of the world's professional sport in terms of media, show, public and the intense sporting competition which has always characterized the America's Cup."
"The next America's Cup is likely to be the most competitive, exciting and sustainable ever. We cannot wait to compete," says Iain Percy, Team Manager of Artemis Racing.
Meanwhile, here on San Francisco Bay, air temperatures are expected to be atypically warm. So, although there's not a lot of racing scheduled, it should be a great time to just get out on the water to soak in some rays and escape the rat race.
Beginning today, and running through Sunday, Monterey Peninsula YC hosts the Santana 22 Nationals on Monterey Bay.
On Saturday in the South Bay, Sequoia YC hosts the fourth race in the Single/Doublehanded series. At the Tiburon YC in Marin, Etchells and Knarrs are invited to participate in the Moseley Regatta. And across the Bay on the Cityfront, the St. Francis YC is running its Team Racing Championships, which should make for some exciting viewing along the waterfront.
If you happen to be up around Lake Tahoe, there are two racing events taking place. On Saturday, Tahoe YC hosts the Sunnyside Restaurant Regatta, and on Sunday Lake Tahoe Windjammers YC is hosting its doublehanded races.
And just in case you didn't know, the Midnight Moonlight Maritime Marathon is returning to San Francisco YC on August 2 after a multi-year hiatus. This fun pursuit race goes from Pt. Stewart, on Angel Island, to the Carquinez Bridge — roughly 35 miles away — and returns to finish under moonlit conditions in Raccoon Strait. Sign up here, then get your family and friends together for this unique event.
Like a lot of sailors, we navigate using an iPad and Navionics charts. It's worked great for us in the United States and the Caribbean, but not so great in Mexico.
The problem is that the Mexico chart data on which the Navionics charts are based are sometimes off by a significant amount. At Punta Mita, for example, our Navionics chart is off by at least a mile. To make matters worse, the Navionics chart doesn't even show the nearby Tres Marietas Islands, all of which are bigger than Alcatraz. So when in Mexico, we use the Navionics for rough navigation, but rely heavily on eyesight, radar and the depth sounder for fine navigation.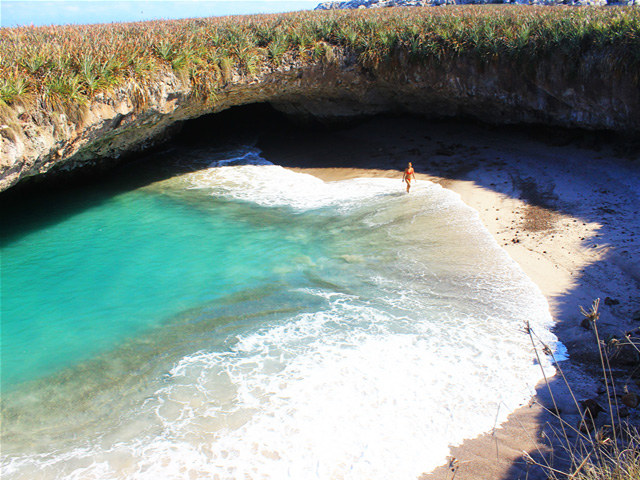 We know, however, that there are places in Mexico where Navionics charts are spot-on. As we recall, Cabo is one of them and La Paz is another. So if you've cruised Mexico recently, and used iPads and Navionics to navigate, we're asking you to
advise us
and
Latitude
readers where the Navionics charts seem to be accurate, and where they aren't.
Receive emails when 'Lectronic Latitude is updated.
SUBSCRIBE