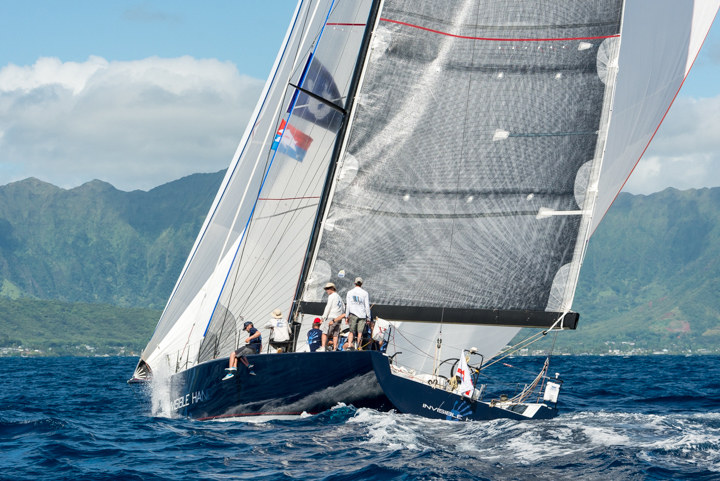 Frank Slootman's Encinal YC-based R/P 63 Invisible Hand, guided by navigator Patrick Whitmarsh, bounced off Molokai on Friday morning on her next-to-last jibe toward the Pacific Cup finish line at Kaneohe Bay, Oahu. She gave her 25-mile report before 11 a.m. Pacific Daylight Saving Time. Having overtaken Michael Chobotov's Holo Holo-Cruising-Division Jeanneau 49 SO Venture last night, Hand was the first of the 55-boat fleet to cross the line. Having romped along at 14 knots at times, she finished in just under seven days. Such a performance would be worthy of the entire crew's being thrown into the Kaneohe Bay YC pool. Photos please!
When it comes to the all-important corrected time honors in Class, Division and Overall Pacific Cup, Robert Date and the bloody Aussies have taken over in all categories with the TP52 Scarlet Runner. To our knowledge this is a Pacific Cup first, and is impressive as Runner lost 20 miles a few nights back after getting caught on a fishing net. Their having finished last in division in this spring's Les Voiles de St-Barth, a Pacific Cup victory would be ever so sweet for Date and crew in their world tour.
But the fat lady hasn't sung yet, as Roy Patrick Disney and his all-star crew on the 16-foot longer, old-school Andrews 68 Pyewacket are only minutes behind Runner. In fact, the two boats have been trading places at the top of all the leaderboards. It smells like a middle-of-the-tropical-night showdown to us, with the 'Fun Race to Hawaii' becoming more serious by the minute. Who knows, maybe there won't be any more red wine with dinner for the Pyewacket crew until it's over.
For the first time in days, a boat other than a Latitude 38 Big Boat Division boat has cracked the top five overall in the Pacific Cup. That would be Greg Slyngstad's J-125 Hamachi in the Sonnen BMW Division D, which, like Thomas Garnier's sistership Reinrag 2, a Transpac overall winner, has come roaring back from the middle of the division and fleet to claim 1-2 in Division and 3-7 in the ORR fleet.
Rankings in the 34-boat PHRF fleet are beginning to be distributed more equally. Karl Robrock's little Moore 24 Snafu continues to own the Iwi Doublehanded Division lead as well as the PHRF fleet lead. At last report, however, she was still 512 miles from the finish, so victory isn't assured. Second in division and class is Ward Naviaux's Santa Cruz 27 Blade Runner, followed by Mary Lovely and Jim Quanci's Cal 40 Green Buffalo, which is 3 and 3.
Fourth in PHRF Overall is Melinda and Bill Erkelen's Donavan 30 Wolfpack, which is comfortably leading the Kolea Doublehanded Division — although Thirsty, Charles Devanneaux's Beneteau First 30, is now second in division just five hours back and 7th in PHRF. Thirsty has made impressive gains in the last couple of days. Both of these boats have done extremely well after being dealt poor hands in terms of weather conditions, but they still have over 500 miles to go. We hope they brought enough food and water.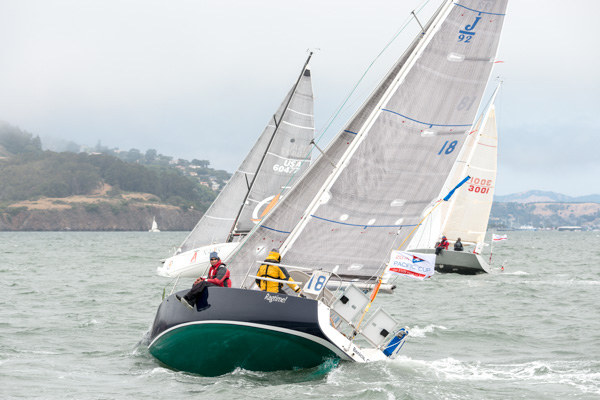 Running first in the Alaska Airlines Division and 5th in PHRF Overall is Rodney Pimentel's Cal 40 Azure, but Victoria Lessley's sistership California Girl, which had briefly taken the lead a day ago, was only five hours back. It's going to be a battle to the finish for these boats, too, which, like the Kolea Doublehanders, got skunked by the wind and are still over 500 miles out.
Dean Treadway's Farr 36 Sweet Okole is first in the Weems & Plath PHRF B and 6th in PHRF Overall. She's led the division most of the race, having briefly lost it to Eric Hopper's whimsically named J/105 Free Bowl of Soup a few days ago. Soup is now second in division, 9th in PHRF Overall, and about 10 hours back with nearly 600 miles still to go. Soup could still come out on top.
John Denny's Hobie 33 Por Favor continues to lead the Matson PHRF Division C, but by the narrowest of margins — 38 minutes with 600 miles to go — over Wayne Koide's Sydney 38 Encore. They are running 17 and 18 in PHRF Overall, and probably have another four days of hard racing left to Kaneohe, with some crucial tactical decisions coming up.
"You can't win if you don't finish" goes the old saying. Steve Stroub's Santa Cruz 37 Tiburon is the first boat to have had a serious problem, as her rudder broke a day or so ago. It's a shame because Tiburon, like the J/125s, was making a big move in her division and fleet. Tiburon now has a replacement rudder in place and is continuing at a pretty good pace under two headsails.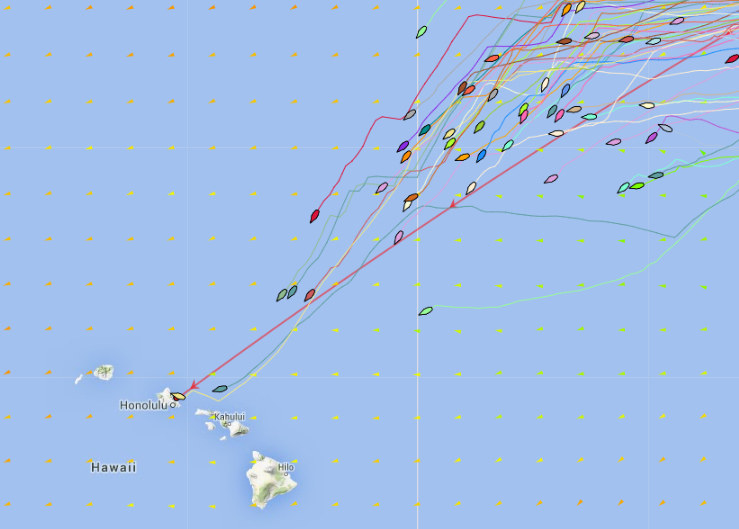 Once the first boat got within 200 miles of the finish, the Yellowbrick Tracker on the Pac Cup site went live, so if you want the latest, go there. While you're there, go to the feature that allows you to replay the entire race, boat by boat, division by division, or all at once, in just seconds. It's hilarious at high speed, but very educational if you slow it down. Aloha and mahalo.
Brian Cline's diminutive Dana 24 Maris and Barry Bristol's Catalina Capri 30 Fast Lane arrived at the Hanalei Bay, Kauai finish line of the Singlehanded TransPac this Wednesday and Thursday respectively.
Maris, one of the smallest boats in the fleet, logged 2,192 miles on her crossing from San Francisco — the fewest miles traveled by any competitor so far. "At no time did I feel in danger or terrified," recalls Cline. "Overall it was a really nice experience save for the first few days — which were pretty awful for everyone. After that everything turned pretty harmonious."
Although it took Maris 17d, 23h, 6m and 31s to complete the crossing — three days after the barn-door winner, Scaramouche V, Maris' 242 handicap placed her third in the Full Galley Division and ninth overall, according to race officials. Not too shabby for a first-time competitor.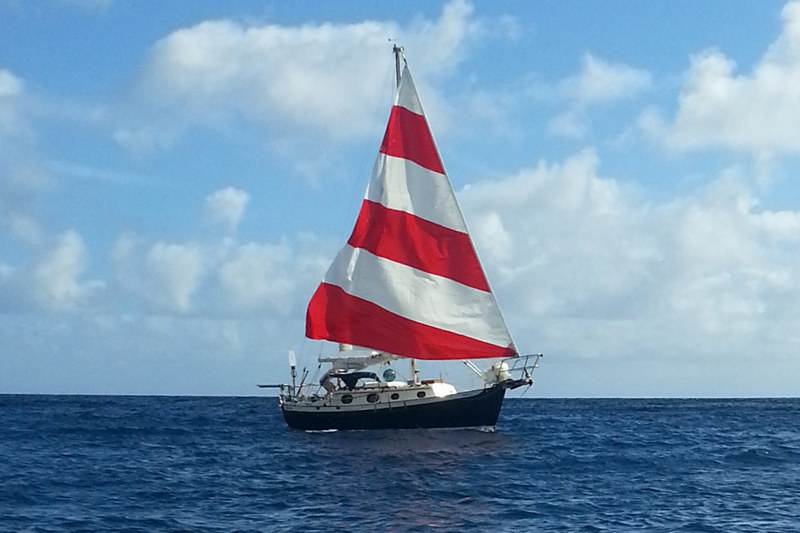 Fast Lane arrived after 18d, 16h, 50m and 38s, placing Bristol second in the Capri + Division and 13th overall. Although this was Bristol's fourth SHTP, it was one of his slowest. "The big southern tropical storm created a cross swell that took almost two days to get through," laments Bristol. "The swells would come across, pick up my boat, slide it over and set it down again — 30 degrees off course. It was just the opposite on the other board." Aside from the frustrating swell pattern, Bristol met up with few obstacles along the way, save for some broken windvane control lines and cloudy weather that limited his solar-power generation.
A potential disaster was narrowly averted when Fast Lane was struck by a piece of debris, one of Bristol's worst fears, and perhaps the low point of his crossing. "A big 12" x 12" x 8-foot-long beam hit the side of my boat and scared the bejesus out of me. It could have broken the rudder off. I scrambled around the whole boat to make sure that there was no puncture, because a small hole can turn into a large one pretty quickly."
Cline and Bristol were two of the last three racers still on the Pacific. As reported earlier, Stuart Paine's Capri 25 Jack continues to make slow but sure progress toward the finish under a jury-rigged mast. He's expected to arrive sometime Saturday morning after spending 20+ days at sea — hopefully in time for the awards dinner that evening at the famed Tahiti Nui restaurant and bar.
When most sailors think about the joys of summer sailing, they imagine sunny days with clear blue skies, and air temperatures in the shorts-and-T-shirt range. But not Mike Johnson. He and a couple of crewmen are about to set out from remote Cambridge Bay, Canada — which lies above 69°N — aboard the 44-ft fiberglass schooner Gitana, in an attempt to complete an east-to-west transit of the Northwest Passage.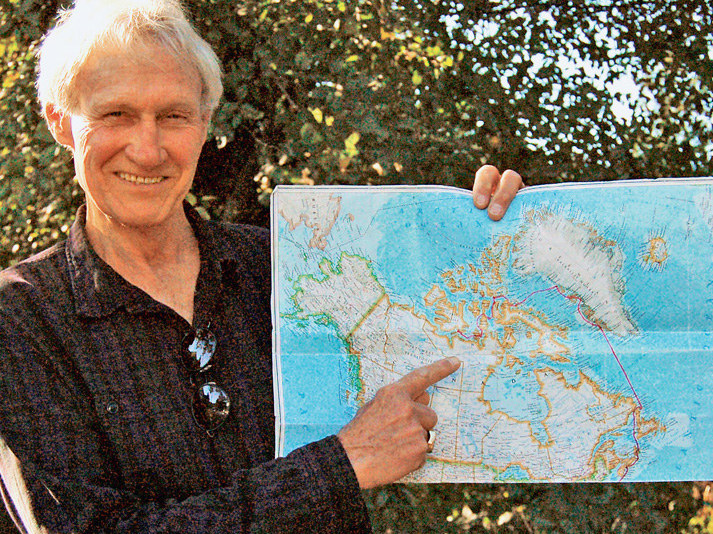 Johnson, now 69, considers himself extremely lucky to have made it safely to Cambridge last season, the only place along the Passage with any sort of haulout capabilities, as there was roughly 60% more sea ice in 2013 than in 2012 — an anomaly that no one seems to be able to explain conclusively. Locals told Johnson they hadn't seen so much ice in 15 or 20 years, which led him to quip: "Why did I think '13 would be a lucky year?"
Although Johnson is not a West Coaster, we've gotten to know him pretty well over the years because he often recruits paying crew from Latitude 38′s Classy Classifieds. He's ventured above the Arctic Circle before, and has twice rounded Cape Horn — the first time in a Westsail 32 named Aissa.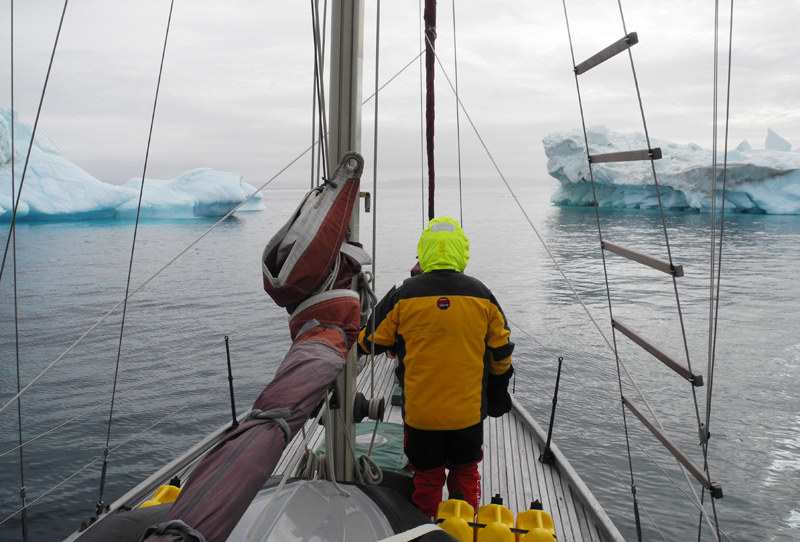 Although temperatures are currently mild in Cambridge Bay, having climbed more than 100 degrees since the 50-below-zero readings of mid-winter, Johnson and crewmembers Rodney Schmitt and Zack Johnson (Mike's nephew) hope to be relaunched by the town's huge construction crane before the end of the month and continue west along a similar route to that taken by Norwegian explorer Roald Amundsen in 1903-06 — the first successful traverse of the Northwest Passage. Fewer than 100 private vessels have done it since.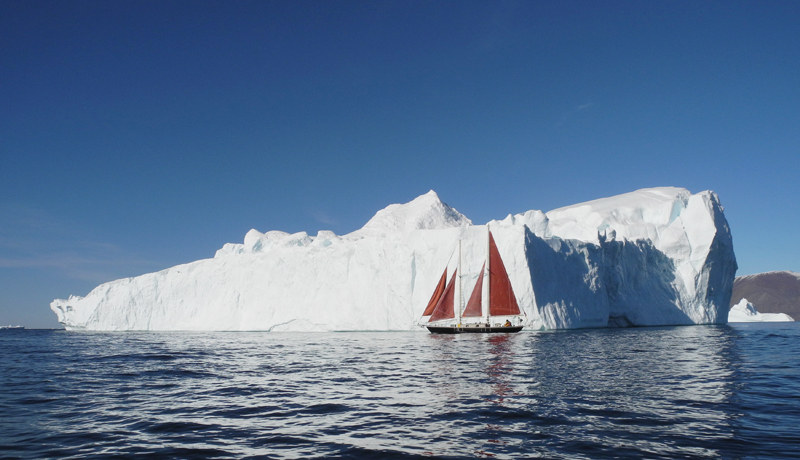 According to Johnson, the classic definition of the fabled Passage is from Arctic Circle to Arctic Circle. So Gitana will have completed her transit when she arrives at Nome, Alaska, a 2,000-mile jaunt from Cambridge. Johnson hopes to arrive there by early September, when he'll pick up fresh crew for the trip down to the relatively 'tropical' latitudes of Sitka or Ketchikan.
Look for further updates on Johnson's travels here and in the pages of Latitude 38 magazine.
Receive emails when 'Lectronic Latitude is updated.
SUBSCRIBE