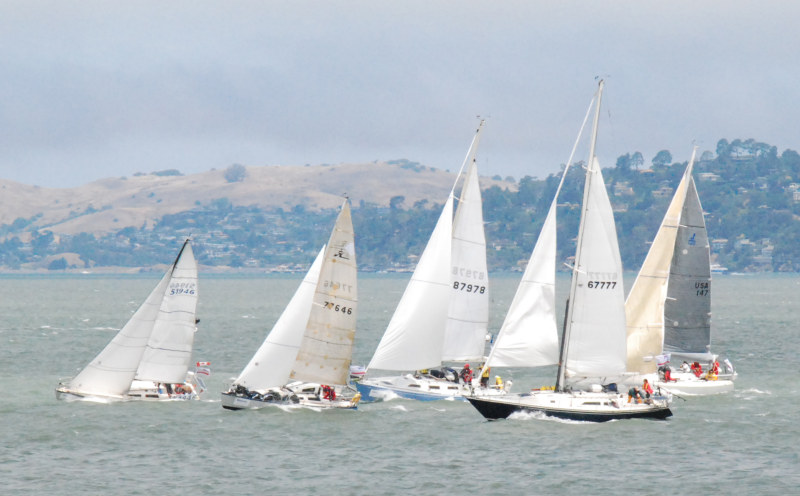 How is it possible for a boat to finish 25th in fleet in the Pacific Cup and have sailed the best race? Easy. There were five different starting days in the Pacific Cup, and whether your division started on a 'good' or 'bad' day can make all the difference in the world.
For example, if you look at the most recent standings in the Pacific Cup, you'll notice that the five boats in the Friday-starting Latitude 38 Big Boat Division are running 1, 2, 3, 4 and 5 in fleet. And that the nine boats on the Thursday-starting Sonnen BMW Division are running 6, 7, 8, 9, 10, 11, 12, 13 and 14. (Detecting a pattern?) And that the top three boats in the Monday-starting Iwi Division are running 15, 16 and 18, and 19, 20 and 21 overall are Alaska Airlines-division boats that also started on Monday.
Not until 22nd does the overall pattern break, with Melinda and Bill Erkelens' Tuesday-starting Donovan 30 Wolfpack. Mind you, these are superb sailors who previously won overall Pacific Cup honors with a Dogpatch 26.
The takeaway from this is that overall standings are important, but in many ways not as important as division standings.
That said, the most recent standings, which were from Tuesday and thus somewhat dated, show Patrick Roy Disney's Andrews 68 Pyewacket ripping off an easy 300-mile day to maintain her hold on first overall and first in the Latitude 38 Division. The all-star crew reports that because the Pacific Cup is the 'fun race to Hawaii', they're enjoying cooked frozen foods for meals instead of the normal weight-saving freeze-dried foods. Yum.
The Aussie R/P 52 Scarlet Runner has made a big move in the Latitude Division, leaping up to second, also with a 300-mile day. Mind you, they ran into a net in the middle of the night and lost more than a hour when a crewman had to jump into the black sea and cut the net away.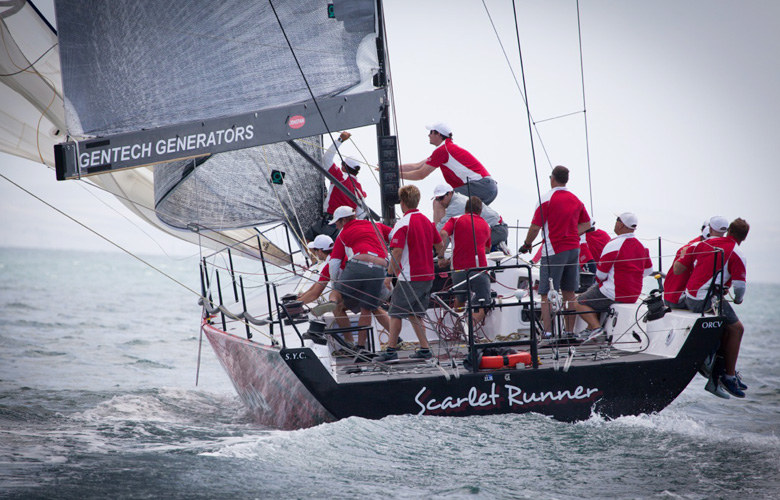 The Latitude 38 Division is also the home of the fastest boat in the race, Frank Slootman's R/P 63 Invisible Hand, which is currently cruising at 14.8 knots and in a big battle for first-to-finish honors with Michael Chobotov's Jeanneau 49 Venture in the Holo Holo Cruising Division. In races to Hawaii, bet on boats that surf. We pick Hand by a mile.
Going through the divisions:
Iwi Doublehanded: A couple of ultralights have taken over the lead from the Cal 40 Green Buffalo. Karl Robrock's Moore 24 Snafu, now doing 8.9 knots, has taken over the lead in division and in PHRF, displacing Ward Naviaux's Santa Cruz 27 Blade Runner, which is now second in division and PHRF. Buffalo's Jim Quanci has resigned himself to the smaller ultralights' pulling away from his much-heavier Cal 40. But if you've spent a week on a Moore 24 or a Santa Cruz 27, even at the dock, you know that life's not comfortable on the smaller boats.
Alaska Airlines PHRF A: Rodney Pimentel's Cal 40 Azure is doing 8.8 knots and continues to hold off Peter Schoenburg's newer Cal 39 Back Bay, while maintaining 4th overall in PHRF.
Kolea Doublehanded: The previously mentioned Erkelens on the Donovan 30 Wolfpack are moving at 9.8 knots and are leading their division. Running 7th in PHRF, that's 13 spots and nearly a day ahead of some boats in their division.
Weems & Plath PHRF B: While the most recent standings show that Eric Hopper's J/105 Free Bowl of Soup came from the back of the division to overtake longtime leader Sweet Okole, the current Yellowbrick tracker shows Dean Treadway's Farr 36 is doing 9.8 knots and has regained the division lead while running 17th in PHRF. Separated by only 12 hours at the halfway point, this six-boat division is one of the tightest.
Matson PHRF C: "It's about time my pick has taken the division lead," says Transpac psychic Lo Von Kailua about Wayne Koide's Sydney 36 Encore. Alas, Yellowbrick has put John Denny's Hobie 33 Por Favor back in first.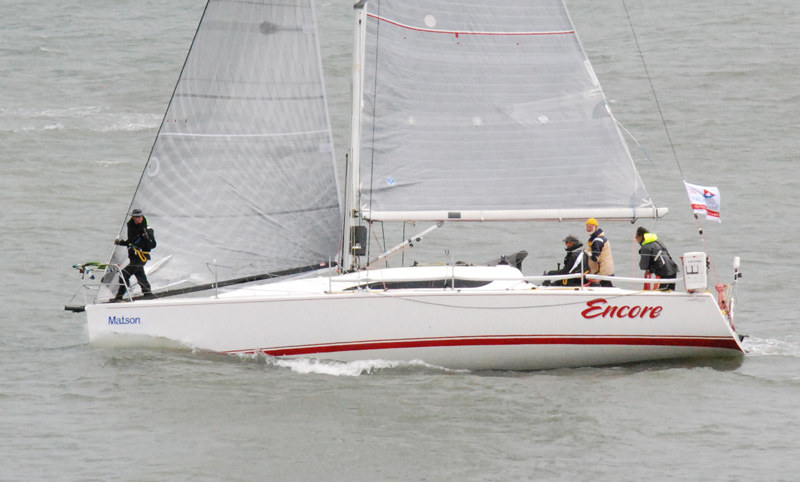 Sonnen BMW PHRF D: Some of the biggest excitement in the Pacific Cup is taking place in this division, as the top seven boats are hauling butt and within 10 hours of each other on corrected time. Greg Slynstad's J/125 Hamachi turned in a 270-mile day, and is currently doing 13.8 knots to claim first in division and 9th in fleet. The Swan 45 Swazik, the longtime division leader, holds on to second, but is about to be gobbled up by Thomas Garnier's J/125 Reinrag, a Transpac overall winner, and Steve Stroub's Santa Cruz 37 Tiburon. Both Reinrag and Tiburon are coming from far behind in division and PHRF, but are sailing in double digits and climbing up the PHRF board.
As for the two boats in the Hokulea Multihull division, let's just say it hasn't been their year, but hopefully they'll get surfing soon.
Receive emails when 'Lectronic Latitude is updated.
SUBSCRIBE