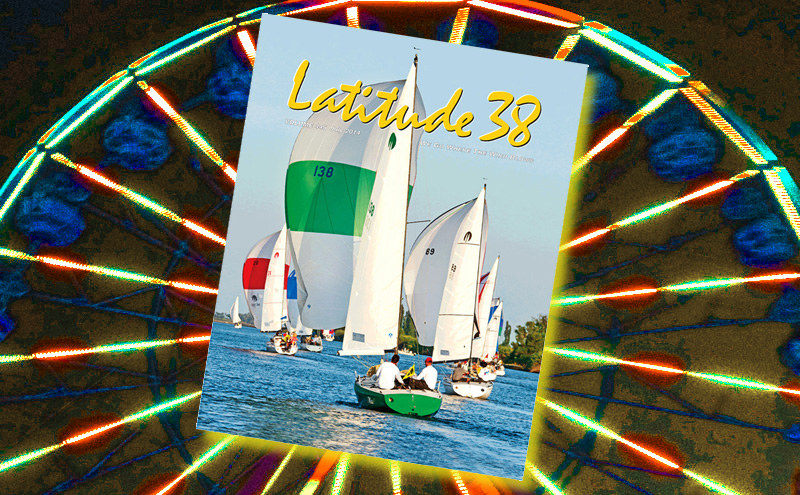 With any luck, you'll have plenty of time to relax during the long Fourth of July weekend, and we hope you'll use some of that time to catch up on all the latest sailing news in the pages of Latitude 38. The July issue was distributed yesterday throughout the Bay Area.
In it, you'll find our usual mix of racing, cruising and recreational sailing news from the Bay and beyond. Our features this month include a Pacific Cup Preview, a recap of the Master Mariners Regatta, an inside look at SSB radio and sat phone communication options, and a look at the trend of young sailors unplugging from the mainstream to do a year or two of cruising while they are young, fit and unattached to kids and mortgages.
In our Sightings section we'll explain the new AC62 class rules for America's Cup 35, celebrate the relaunch of the 1885 sloop Freda, and much more. So before heading down to your boat — or out to your hammock — stop by your favorite marine retailer and grab a copy of the July mag. We think you'll be entertained by what you find inside it. And remember, you can always download the entire magazine, or read it online here.
NO LEC LAT FRIDAY: Even the trolls of Latitude's editorial dungeon will be taking a little R&R this weekend, so there will be no 'Lectronic Latitude posting for Friday.
Enjoy watching 4th of July fireworks from Angel Island this Friday evening. Special Independence Day fireworks ferries will run from both Tiburon and the Blue and Gold ferry terminal at Pier 41 in San Francisco — departing at 5 p.m.
Cost is the normal ferry ticket price, plus a $10/person fee for on-island shuttle service to Battery Ledyard (Angel Island's fireworks viewing area) and return. Don't forget to bring your blankets and compact folding chairs for an even more enjoyable experience.
The Angel Island's Café and Cantina will be serving food and beverages. You can pre-order box dinners online here and pick them up at the café when you arrive. The David Thom Band will be playing live music between 5:30 and 7:30 p.m. Following the fireworks display, shuttle buses will return to Ayala Cove for your departing ferry ride to either Tiburon or San Francisco. Ferry tickets can be purchased online here and also via the Blue and Gold Fleet.
Is it really a Baja Bash if you don't get 25 knots of breeze on the nose and freeze the entire 750 miles from Cabo San Lucas to San Diego?
We know of two boats doing the Baja Bash right now. First is Patsy Verhoeven on her La Paz-based Gulfstar 50, Talion. (The first boat to sign up for this Fall's Baja Ha-Ha and with an all-women crew.)
Patsy, AKA La Reina del Mar, and her crew departed Cabo San Lucas on Saturday night about midnight. They are currently in Turtle Bay hoping to buy some fuel. But, they've had nothing but light air and flat seas.
The second boat is Profligate with the Wanderer and Dona De Mallorca. After total engine control failure they left Cabo San Lucas on Monday afternoon. Instead of strong headwinds and chilly temperatures at Cabo Falso, they had an 18-kt southerly courtesy of Tropical Storm Douglas and it was 92 degrees.
The temps remain tropically warm for the next 36 hours. Commander's Weather is calling for no more than 12 knots at Cedros Island. If the good weather continues Profligate could complete the Bash in 3.5 days making it the fastest Bash of her 18 Bashes to date. But it wouldn't really be fair to call it a Bash would it?
We'd like to hear about your best and worst bashes — send us an email.
Receive emails when 'Lectronic Latitude is updated.
SUBSCRIBE