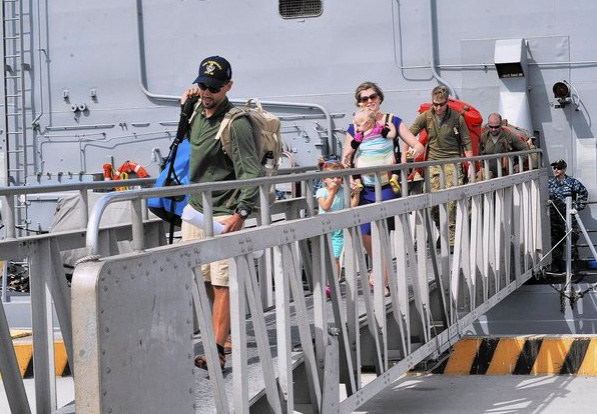 Four days after being transferred to the Naval warship USS Vandegrift, Eric and Charlotte Kaufman and their daughters Cora, 3, and Lyra, 1, disembarked at San Diego's Coronado Island Naval Station Wednesday, ending a tragic chapter that cost them their home — the Hans Christian 36 Rebel Heart — and ended their cruising lifestyle, at least temporarily.
Although the sequence of issues that contributed to the family's calling for help has yet to be clarified, it's been widely reported that in addition to little Lyra's serious illness, the couple grappled with both steering and charging problems, and at some point Rebel Heart began taking on water.
News of the massive multi-agency rescue effort went viral, primarily due to Lyra's infancy, and it energized talking heads of the mainstream media into a frenzy of factless speculation and high-minded accusations of reckless parenting. Non-sailing bloggers seemed, generally, to follow suit, questioning both the safety and appropriateness of the Kaufmans' plan to cross the Pacific to New Zealand this season with their young daughters. Some showed outrage at what they perceived to be the costs of the operation to taxpayers.
By contrast, the many comments we've seen from bona fide sailors almost universally defend the Kaufmans' intentions as being admirable and reasonably safe. However, even some of their staunch defenders question the parents' decision to go now, while Lyra is so young. One look at Charlotte's cleverly written blog and you'll see that she, too, spent time questioning that decision. Not because it was inappropriate for the kids. But because it was so damned hard doublehanding across 3,000 miles of open ocean, while simultaneously attending to the needs of her precious daughters. In one posting she laments having to wash her "third poopy diaper liner, by hand" in the galley sink with no pressurized water.
As for the cost of the operation, a number of military spokespersons have said that the Vandegrift was already operating in Pacific waters, and the other agencies' crews would have been conducting practice operations anyway. But this real-life emergency gave the various teams valuable real-life experience. Lt. Col. Thomas Keegan was quoted as saying, "You can't make exercises like this up."
For now, the Kaufmans are asking the press to respect their privacy while they regroup. But we expect they will soon clarify all the details of their ordeal. After arrival at San Diego, Eric said, "There have been many inaccuracies reported through various media related to our daughter's health, the vessel's condition and our overall maritime situation." In the meantime, he composed a tweet that expressed his gratitude: "The men and women of the Vandegrift are heroes, and words cannot express my appreciation to the 129, the best of the best." (129th Air National Guard Rescue Wing) In addition, the couple urges their supporters to consider donating to the nonprofit That Others May Live Foundation, which benefits the families of rescue personnel who are killed or wounded in the line of duty. Meanwhile, many of the Kaufman's defenders have shown support for the family by organizing a donation site that has received more than $16,000 after only six days.
While tracking the Kaufman rescue, news of another one-year-old sailor and her family came to our attention. As reported in Yachting World, Americans James Burwick, Somira Sao and their three children, Tormetina, 5, Raivo, 3, and baby Pearl, 1, were sailing west from New Zealand through the Southern Ocean when their Open 40 Anasazi Girl was dismasted on approach to Cape Horn in early March. The family was too far offshore for an air rescue, so a Chilean Navy vessel was sent out to effect what was described as a very difficult rescue. Amazingly, the Navy was able to tow the boat to Puerto Williams.
Singlehander Andrew Halcrow also dismasted and had to be rescued, March 8, in the same storm. What makes these incidents truly bizarre, though, is that Burwick had been indirectly involved in the salvage of the Halcrow's boat after he had to be rescued in 2006 — that time due to appendicitis. It's a fascinating small-world story that you can read here.
As more details are revealed on the Kaufmans' saga, we'll bring you updates both here and in Latitude 38 magazine.
Receive emails when 'Lectronic Latitude is updated.
SUBSCRIBE