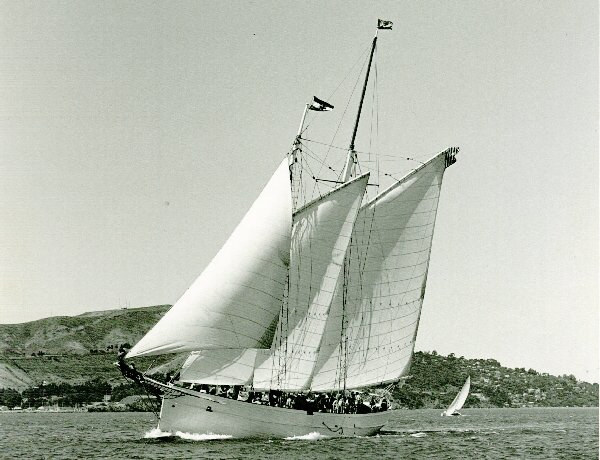 The Sausalito Historical Society is hosting an evening full of sea stories told by some of Marin's most experienced sailors. Next Tuesday evening, January 28, from 5:30-7:30 p.m. at Ondine restaurant, attendees will be regaled with true tales about sailboat racing and cruising, Sausalito's historic waterfront, famous yachts, their journeys and the notable people who sailed on them.
Exceptional local sailors Tony Badger, Mary Crowley, Hank Easom, Bill Martinelli, and Alan Olson have spent their careers plying the waters of San Francisco Bay and oceans beyond. They'll talk about Sausalito's historic wooden boat building facilities and how business changed with the advent of fiberglass. They'll also share unique insights into what it was like, for example, to sail aboard the famous German pilot schooner, Wanderbird, and David Crosby's beautiful Alden-designed, Mayan. Cruisers won't want to miss the tale of the yacht that sailed into Argentina on the eve of that country's 1976 revolution. It's pretty rare to have all these folks together in one room, and one can only imagine the tales they will tell.
Complimentary light hors d'oeuvres and sparkling wine will be served and there will be a no-host bar. The Sausalito Historical Society will also hold a raffle for numerous dining certificates, massages, and a cruise on schooner Freda B, among other items. Entry for Society members is $45 and $50 for non-members. Please call for early reservations as space is limited.
Visit the Society's History Room on the top floor of City Hall, call 415-289-4117, visit the Society's website or send a check to SHS, PO Box 352, Sausalito, CA 94966.
Since you're reading 'Lectronic Latitude, we'd guess that you respect our staff's slant on nautical issues. If that's so, we'll remind you that both Managing Editor Andy Turpin and Associate Publisher John Arndt will be presenting seminars this week.
The brand new Progressive San Francisco Boat Show opens today and runs through Sunday at San Francisco's Pier 48 and AT&T Park's McCovey Cove. Tomorrow (Thursday) Turpin will present two programs: at 3 p.m., an introduction to the annual Baja Ha-Ha cruiser's rally, and at 4:15 p.m., an overview of cruising the Tahitian Islands and the Pacific Puddle Jump — the annual cruiser migration from the West Coast to French Polynesia.
On Sunday, January 26, Arndt will share his in-depth knowledge of sailing on San Francisco Bay, emphasizing the easy access to sailing here in the Bay Area. Here's a complete list of scheduled seminars.
For our readers in Seattle, Turpin will give both Baja Ha-Ha and Puddle Jump seminars this Saturday and Sunday at the Seattle Boat Show. (BHH at noon both Saturday and Sunday; PPJ Saturday at 1 p.m.)
If you happen to be reading this in Chicago, be sure to check out Strictly Sail Chicago this week. Arndt will give a seminar there at 3:30 Friday on How to Grow Sailing via his brainchild Summer Sailstice.
We realize that many of you are sick and tired of reading about this issue, but it is critically important to many North Americans whose boats are in Mexico. So we'll share this detailed update as a preview of what will appear in the February edition of Latitude 38.
As of January 22, over 300 foreign-owned boats, most of them from the United States, remained impounded in eight Mexican marinas after more than 45 days. It's one of the most incomprehensible, self-destructive government actions we can recall for two reasons:
1) The overwhelming number of impounded boats have been found to be in compliance with Mexican law — yet are still being held. And, 2) making life miserable for and/or scaring the bejesus out of owners of foreign boats is diametrically opposed to Mexico's natural and stated best interests. After all, nautical tourists stay for months if not years, spend lots of money, and become Mexico's best word-of-mouth goodwill ambassadors.
The Mexican government's unfortunate actions have been described as "ridiculous" by Jorge Gamboa, Director of Mexico Tourism in Los Angeles, who vowed to fight to the end on behalf of boat owners. Enrique Fernandez, harbormaster at Puerto Los Cabos Marina wrote, "It was a stupid idea by AGACE that created this stupid chaos." Mild-mannered Neil Shroyer of Marina de La Paz, whose marina was not raided, said the appointing of uninformed people to positions of authority is "what's keeping Mexico a Third World country." "We're all scared," said Geronimo Cevallos, harbormaster at El Cid Marina in Mazatlan and another on Isla Mujeres, speaking for all harbormasters. Neither of his marinas has been raided.
The near-tragic series of events started in late November, when AGACE, a newly created sub-agency of Hacienda, the Mexican IRS, conducted audit/raids on eight marinas in various parts of Mexico: Opequimar, Nuevo Vallarta and Riviera Nayarit in the Vallarta area, Marina Coral and CruisePort Marina in Ensenada, Marina Cabo San Lucas and Puerto Los Cabos in the Los Cabos area, Marina San Carlos in San Carlos, as well as a facility in Acapulco, and a sister facility to Marina Cabo San Lucas in Cancun. These represent about one-quarter of the marinas in Mexico.
A little more than 1,600 boats were inspected by auditors from AGACE, who inexplicably were accompanied by teams of marines armed with machine guns. Some teams even brought prison buses. Boat owners who were on the scenes said they thought they were about to observe a major narco bust. In a number of marinas the inspections continued through the night until dawn. Creepy.
That 338 of the boats inspected — 21% of the total — supposedly had to be impounded should have been a wake-up call to AGACE that the problem was with their methods rather than the boat owners. But they blindly charged ahead, oblivious to the damage they were doing to the nautical tourism industry and Mexico's already shaky reputation.
According to AGACE, there were two goals of the raids. The first was to search for stolen boats, and was thus being done for the "safety" of nautical tourists. There is nothing wrong with checking for stolen boats, which could have quickly and easily been done using a Coast Guard database. But no, the bureaucratic ways of AGACE meant the process for each boat would have to involve: 1) The US Embassy; 2) The US Consulate, and 3) The US Coast Guard. AGACE said the process shouldn't take much more than a month, during which time the boats were impounded.
AGACE's second stated reason was to make sure that all foreign boats complied with Mexican tax law, which required that they all have a $70 TIP (Temporary Import Permit.) As Mexico is awash in unregistered cars, stolen cars, cars with fraudulent papers and plates, our belief is that the appointed AGACE official behind the raids thought he was going to catch countless "tax cheats" and thus become a national hero.
As noble as AGACE's goals might have been, their execution was a disaster. In the first place, the auditors — who were either from Tijuana, Mexico City or Guadalajara — didn't know the first thing about boats. For example, they carried simple diagrams to show them the difference from the bow and the stern and other parts of the boats. They didn't know the difference between the brand names of boats and the names of marine components, such as Garmin and Volvo.
The raids were carried out differently depending on where they were conducted. For example, when agents raided Puerto Los Cabos and Marina San Carlos, they didn't even go on boats. Yet in places like Ensenada, if agents couldn't find the HIN (hull identification number), the boat was put in impound. And at Riviera Nayarit, inspectors told some boat owners they didn't need to see HIN numbers at all. Gross inconsistency has long been a hallmark of law enforcement in Mexico.
At Marina Riviera Nayarit, where Latitude keeps Profligate, a major factor in a boat ending up impounded seemed to be whether or not the owner was aboard when the agents made their unannounced visits. In the case of Profligate, we've been using the exact same paperwork — and TIP — for 17 years, and had used professional ship's agents to check in and out of Mexico three times in the previous two months — with no difficulty. Yet now our boat was impounded. We're convinced that had we been aboard when the AGACE came around, our boat would not have been impounded. How could she have been, for as AGACE would later verify, everything was in order.
Having examined the AGACE's paperwork for Marina Riviera Nayarit, we noticed that agents wrote "not visible" in many of the boxes that needing checking on their inspection sheets. Unless the agents came aboard, how were they going to verify the boat's TIP, boat document, engine serial numbers, HIN number, and insurance policy? Much of Mexican law is based on the 'guilty until proven innocent' concept of Napoleonic law. So if you weren't aboard to show the inspectors some document, they couldn't verify that you had it, and thus your boat was impounded for having been assumed to not to be compliance with Mexican law.
It got even more ridiculous. After being surprised to learned their multimillion boat had been impounded in Ensenada, one couple's lawyer was told it was because their boat didn't have a HIN number on the transom. Yet the boat clearly did have a HIN number. Ironically, before agents had left the boat, they had assured the captain and crew that everything was fine.
In the case of Profligate, even now, 45+ days after our boat was impounded, we have absolutely no idea why. Like the hundreds of other owners of impounded boats, AGACE hasn't ever made contact with us! Last week Dona de Mallorca had a chance to speak with a pleasant AGACE agent in person.
"Is all the paperwork and everything else with Profligate in order?" she asked.
"Yes, it is," said the agent after looking through the files.
"Great, then she's no longer impounded?"
"No, the boat is still impounded," the agent said pleasantly. He added that he didn't know how much longer Profligate would remain impounded.
To summarize, AGACE impounded boats even though there was nothing wrong with boats or their paperwork. Then, five weeks later, after verifying everything was in order, still wouldn't released the boats. It's unbelievable but true. And it's true for most of the 338 boats that were impounded.
It is correct that a small minority of boats didn't have a TIP or their TIP had expired. There was then some back and forth about whether not having a TIP was like a fix-it ticket in the States. Marina Owner's Association lawyer Maria Elena Carrillo argued that it was a 'fix-it' situation without any fine. She said she knew, because she helped write the law when she worked for Hacienda. In any event, AGACE did allow boats in some marinas to retroactively get TIPs, and didn't even put them on their impound list.
There has been confusion about what 'impoundment' means. AGACE uses the term 'precautionary embargo,' an embargo being defined as when a vessel is not allowed to enter or leave a port.
After 'impounding' all the boats, AGACE put great pressure on the marinas with impounded boats to become depositarias, which meant they would become financially responsible if the boat owner fled the country with the boat or otherwise made the boat unavailable for future judicial proceedings. It was sort of like AGACE wanted the marinas — and later the port captains — to be the bail bondsmen for the boats. Some marinas agreed, some agreed only under the threat of their business being shut down, and about half the marinas flat out refused.
In the case of marinas that agreed to be depositarias, the marina operators could decide if boats could leave the dock and go for daysails — although they usually wouldn't be allowed to leave the port captain's jurisdiction, and surely not the country. Profligate, however, was in Marina Riviera Nayarit, one of the marinas that steadfastly refused to become a depositaria. As a result, AGACE itself was the default depositaria. Since violating an embargo is a federal offense, and AGACE didn't contact us, let alone give us permission to leave the dock, Profligate hasn't left the dock.
To clarify things further, there are two kinds of embargoes in Mexico. The lesser one is where the owners are still allowed to go on their boats, and if the depositarias agree, take them out. The greater one is where boats are circled in yellow tape and sometimes chained to the dock, nobody is allowed to go aboard, and the boat is not permitted to leave the dock. To our knowledge, none of the boats in this episode have been subject to the greater embargo.
Unfortunately, Mexico has a long history of seizing foreign-owned assets, be it real estate, airplanes, motorhomes, boats and the like, and often without cause. There are two letters in this month's Letters from boat owners who had it happen to them. But until November, it hadn't happened on a large scale since 1996.
After the fiasco of 1996, when the boats were released after 140 days, the Fox administration, after much work with Tere Grossman, President of the Mexican Marina Owner's Association, came up with the TIPs. This was an important step forward, as previously boats had always been attached to the owner's tourist visa. Under Mexican law, the boat couldn't stay in Mexico for more than six months without being taken back to the States, and even worse, the owner of the boat couldn't return to the States for even a day without taking his/her boat along. This part of the law had been widely ignored, but the TIPs finally made it legal.
(Despite the recent episode, Mexico has consistently been making cruising easier for foreign boat owners, which is why the recent action is so baffling.)
There are two schools of thought about the recent inspection/raid/impoundings. One of them is that it's part of the PRI political party of new President Pena Nieto returning to their bad old ways, which was 70 years of massive corruption, if not rigged elections, before they were voted out in 2000. "The impoundings are a money grab," say some.
More optimistic people, ourselves included, think the whole mess is a result of bureaucratic incompetence, and one hand of Mexican government not knowing what the other hand is doing. For while Pena Nieto comes from an admittedly once — and perhaps still — corrupt political party, he's actually been doing a lot of seemingly good things.
For example, he got rid of teacher union president Elba Esther Gordillo, a king-maker of politicians who had embezzled $120 million from the union to start a real estate empire in the United States. Control of the school system was also taken back from the union by the government.
Pena Nieto has taken on some of the biggest monopolies in Mexico, many of which were either created or greatly assisted by the Russian-style privatization process under President Salinas between 1988 and 1994. Among the biggest beneficiaries of Mexican monopolies was Carlos Slim — Nieto's godfather! Slim became the world's richest man through a ridiculous privatization deal of Mexico's phone system, and by charging among the highest telecommunication prices in a country with one of the poorest populations. To put it in context, minimum wage in Mexico, after a 4% raise last year, is about $5.10 day! A family of four with a monthly income of $800 is considered to be 'middle class.'
Nieto has also been instrumental in breaking the 75-year monopoly of the notoriously corrupt state-owned Pemex oil company. According to a Bloomberg Sustain report, the reforms are going to result in, "North America being flooded with oil." Pena Nieto has also taken on the powerful television, cement, and brewery monopolies. Further, he's called corruption "the albatross around Mexico's neck."
Perhaps most important, Nieto has also been attacking Mexico's extremely low taxation rates, and even lower levels of compliance. Mexico's mostly ridiculously low tax rates generally favor the rich over the poor. Not paying taxes in Mexico is common.
As of January 1, many tax laws had changed, with a new 16% tax on junk food, sugary drinks, pet food and many other things. In addition, there are no longer any pequeno businesses which just paid 3% of their gross. Now all businesses, even front-room taco stands, are supposed to have computers to record all expenses and income, and then report them every few weeks to Hacienda. How this is supposed to happen in a country where a large percentage of the population doesn't have electricity is unclear.
All this sounds great, and conceptually we're all in favor. But it won't be easy to accomplish. And many wonder if all the new money collected won't be kept by corrupt PRI members.
One big problem is the Mexican bureaucracy, which can move very slowly, such as AGACE, and which can't see or understand the big picture, such as AGACE. Blindly following laws it doesn't completely understand has been a disaster for Mexico. Furthermore, Mexico has a long history of passing laws that people and the bureaucracy can't possibly comply with. Just one small example: When boat owners attempted to get TIPs online in November, the program asked them to identify what brand boat they had. Alas, it only listed a few names, all of which were powerboats. The program later asked for follow-up documents to be sent to an email address. The email address then shut down. Everybody in Mexico has countless similar stories.
Let's get practical. Because AGACE's action has been so destructive to the nautical tourism industry and to Mexico's reputation, it's our expectation that most of the impounded boats will be released before long. Indeed, a few owners — in full compliance — have already been told they can apply for release, a procedure expected to take two weeks. Talk about adding insult to injury!
If your boat is already in Mexico, do you have to worry that she might be inspected and impounded? While there can be no guarantees, both Tere Grossman, Neil Shroyer and other marina owners tell us given the horrible publicity to date, it's very, very unlikely.
If your boat is in California, should you risk coming south? As with boats already in Mexico, the terrible publicity generated by previous raids makes it highly unlikely AGACE will strike again, at least until it radically changes its policies and procedures. After all, one of the reasons cited for canceling of the Cabo Race was "events in Mexico" and potential participants in March's Puerto Vallarta Race and MEXORC have been seeking reassurances. If you do head to Ensenada, we highly recommend that you check with Fito at Coral Marina or Jonathan at Cruiseport Marina on the current situation and learn exactly what officials are asking for now. As everyone has seen, it can change from day to day and without warning.
Having your boat seized after complying with Mexico law is no fun at all, so we understand those who say they are leaving Mexico as soon as their boat is free, and never, ever coming back.
We're taking a longer view, in part because we do lots of sailing anyway, we've already been most everywhere in Mexico, and thus have primarily been inconvenienced. Our view is that all this has been a colossal mistake on the part of one sub-agency, and once they save face, they won't repeat it.
As we said in the beginning, Mexico is a fabulous place to cruise for so many reasons. Check out Changes in Latitudes in the January edition of Latitude 38 and you'll see that the folks aboard Starship liked it better than any country in the South Pacific. And after a circumnavigation, the Milskis on Sea Level said Mexico had as good cruising as anywhere they'd been.
Absent a complete additional screw up by AGACE, we anticipate that there will be a 21st Baja Ha-Ha in the fall, that Profligate will be back in Mexico next winter — and best of all, this whole disastrous incident will lead to Mexico doing a much better job of making nautical tourists feel welcome and secure than before. Sort a revisiting of what happened in 1996.
Receive emails when 'Lectronic Latitude is updated.
SUBSCRIBE