The Wanderer and Dona de Mallorca are heeding the advice 'if you've got lemons, make lemonade.' In our case, Latitude 38's 63-ft catamaran Profligate remains impounded by AGACE, so we're using the going-on-six-weeks-now impoundment to have a hard bimini made for the cockpit. Peter Vargas and his Sea Tek crew at the La Cruz Ship Yard, who did a huge refit on Profligate last summer, are doing the work.
Even we were shocked at how big the bimini — which won't even cover the settee seats on each side of the cockpit — is going to be. According to our measuring tape, it's 12 feet by 16 feet! A picture describes the project better than 1,000 words could. As you can see, Dona de Mallorca is lying on the mold for the bimini, while Vargas and some of his crew hold up one of the honeycomb sheets that will be used to make the top.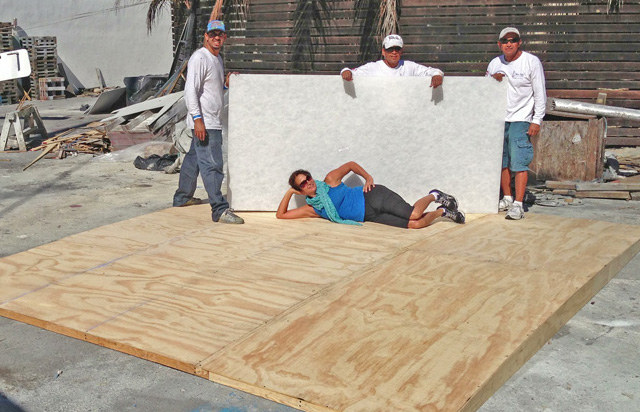 The big bet is which will happen first: Will Vargas and crew finish and install the bimini, or will AGACE release Profligate from impoundment and let her leave the dock? Vargas says he can finish the job in two weeks. As for AGACE, we just don't know. Late last week one of the AGACE auditors told Dona de Mallorca that there were no problems with Profligate's paperwork, yet inexplicably she was still impounded. They gave no indication when she might be released. To the best of our knowledge more than 300 foreign-owned boats, most of them in compliance with Mexican law, remain impounded.
To clarify something that's often misunderstood, after doing the impoundments, AGACE tried to force marinas to be depositarias for the impounded boats. Some agreed, in some cases under great pressure. If your boat is in a marina that agreed to be a depositaria, your boat can leave the dock if the marina gives permission. They are sort of like your bail bondsman. If, on the other hand, your marina refused to cave in to AGACE, then that agency is the depositaria for your boat. And to our knowledge, they haven't told anyone they can leave the dock. It's our understanding that a number of impounded boats have been going out for daysails and whale watching, but since Latitude has been the biggest messenger of the disaster that's been afflicting the nautical tourism in Mexico, no way are we going to risk leaving the dock. But it makes us wonder if our boat isn't a pawn in some game between AGACE and marinas that refused to buckle.
Despite the fact that you just want to weep over what AGACE has been, and is, doing to Mexico's reputation and Mexico's nautical tourism industry, it's still sooooooo much fun down here. The sailing on Banderas Bay is pure pleasure sailing, there are whales everywhere, the air and ocean temps are great, the skies are blue, the SUPing is world class, the surf is supposed to be up tomorrow, the other cruisers and locals are terrific, medical care is good and inexpensive, and the cost of living can be ridiculously low. Plus, no matter what your uninformed neighbors in the States might tell you, everybody feels as safe or safer down here than they do in big cities in the States.
The nice thing about Mexico is life is so much more relaxed down here and there is so much more laughter. In fact, there was a lot of levity in the La Cruz Ship Yard the other day when Dona de Mallorca was checking on the materials for the new bimini. De Mallorca has always been a bit of a mystery to the workers, because Mexico is a very class-based society, and to a large extent there are laborers and there are manager/owners. Managers and owners do not do physical labor. They just don't. De Mallorca doesn't fit this mold, because the boat yard guys know her as one of the hardest working, dirtiest-getting boat captains ever. They are mystified, for example, by the fact that she's the one who changes the oil in Profligate's engines and transmissions, does the watermaker maintenance, and lots of other nasty stuff. (The Wanderer's responsibilities are limited to sailing systems.)
Well, you can imagine the workers' shock when they learned that de Mallorca is a famous Hollywood actress. That's right, as she was walking around the boat yard, the workers were showing her more than their normal deference, and were shyly mumbling words like "actress," "cinema," "movie star" and such. It finally dawned on Mallorca, who is most certainly not a Hollywood actress, that somehow a hoax posting we'd put on our Facebook page about a month ago had made it's way to the Ship Yard. What follows is the posting:
"Dona de Mallorca has always wanted to be a rock 'n' roll star, but the vagaries of life have always conspired against her. Now, in a curious twist of fate, she's been tapped to become an actress in a major movie production. She was 'discovered' at LAX by director Brian de Palma, who was searching for a woman to portray Leona 'Only Little People Pay Taxes' Helmsley in the biography of the notably imperious and sometimes abrasive hotelier. 'It made no difference to me that Ms. de Mallorca has had no prior acting experience,' de Palma told Entertainment Weekly. 'If you've seen the way she gives orders, you'd know she's a natural for the role.' The accompanying photo was taken in Leona's old apartment at the Park Lane Hotel on Central Park West (or South or East or something) during recent filming. Seeking to get into her character, de Mallorca asked one of the bell hops if Ms. Helmsley was still around. 'No,' the bell hop replied, 'Leona's in hell.' Ms. de Mallorca's co-star in the film, which is to be released by Weinstein United on April 1, is Mick Jagger, who plays Harry, Leona's genteel and much-loved, older husband. 'Initially I wanted Keith Richards for the role,' de Mallorca told TMZ, 'but I realized it would be a little too much of a stretch for him. And Mick's not that bad.'"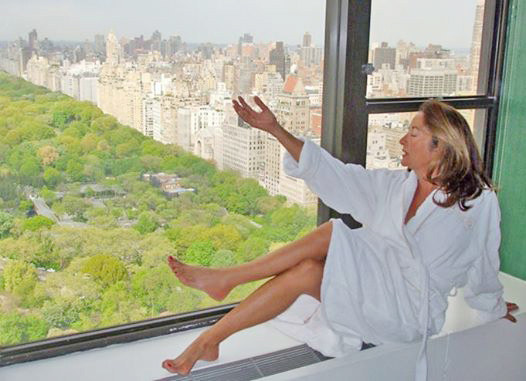 By the way, as soon as we learned a lot of people were going for the hoax, we retracted it as follows:
"I want to apologize to everyone, as I thought the April 1 release date was a big enough hint that the post was a hoax. It's a real photo though, taken during the Wanderer's 60th birthday trip to New York City. And it is true that Leona once lived on the floor above. Just so nobody gets the wrong idea, the Wanderer and de Mallorca normally don't like to pay more than $49/night for a room. Just ask the guys at the Comfort Inn on Rosecrans in San Diego across from the donut shop where we are longtime regulars. For if you go to work early and don't come home until late, why waste money on a nice room? But once again, our apologies."
All this is a very, very long way of saying that except for just one thing, life in Mexico remains pretty grand.
Receive emails when 'Lectronic Latitude is updated.
SUBSCRIBE