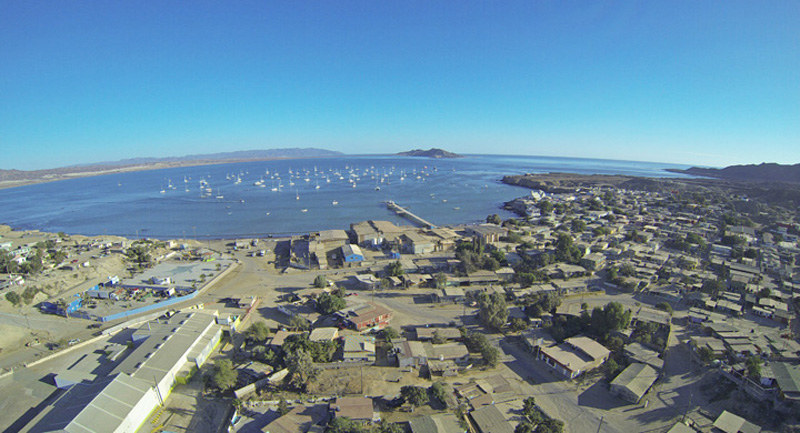 The last of the 125 boats and 520 participants in the Baja Ha-Ha from San Diego to Cabo San Lucas, with stops at Turtle Bay and Bahia Santa Maria, are pulling into Cabo this morning. Despite starting with a rainy parade in San Diego a week ago Monday, the 20th anniversary of the event has been a great one. As with almost all Ha-Ha's, each day the weather got warmer and the sailing conditions better. While it was challenging at times, at least five boats managed to sail the entire 750-mile course.
The stops at both Turtle Bay and beautiful Bahia Santa Maria were fantastic. And we've got proof. San Diego's Kurt Roll brought along his Phantom drone and GoPro camera to take mind-blowing video of starts, the beach party conga line, the Turtle Bay baseball game, the rock 'n roll party on the bluff at Bahia Santa Maria, and much more. He's been showing a quick six-minute mini version that will be the basis of a 20-minute film about the event, and it's blowing minds of the participants. The photos accompanying this 'Lectronic come from the video.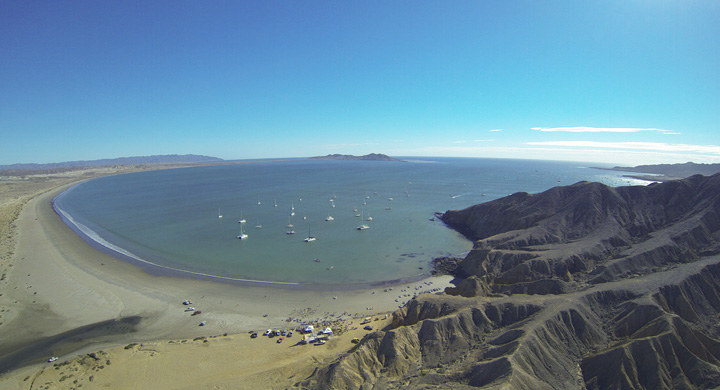 The only really great thing Roll missed was the 10-ft great white shark hooked and lifted out of the water by one of the Ha-Ha boats. Fishing was good this year, with several boats landing the trifecta of wahoo, yellow fin tuna, and dorado.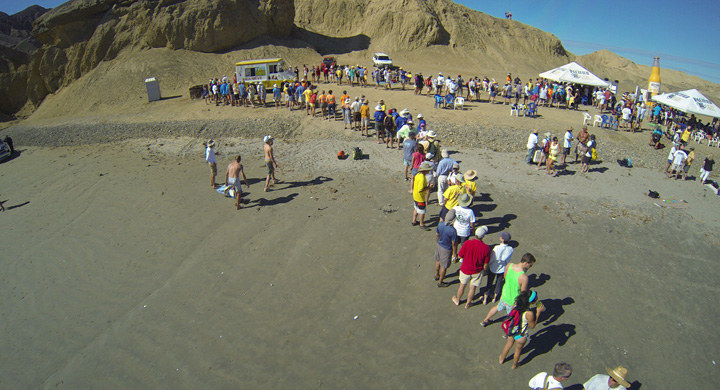 Speaking of blowing minds, the annual Ha-Ha 'get wild and crazy in Cabo' at Squid Roe last night was epic. The DJ, who has seen it all, kept repeating, "The Ha-Ha fleet is awesome, you guys are awesome, what an awesome group!" We've been to every Ha-Ha Squid Roe event since the Ha-Ha started, and it set a new standard in wild and crazy — but responsible — fun.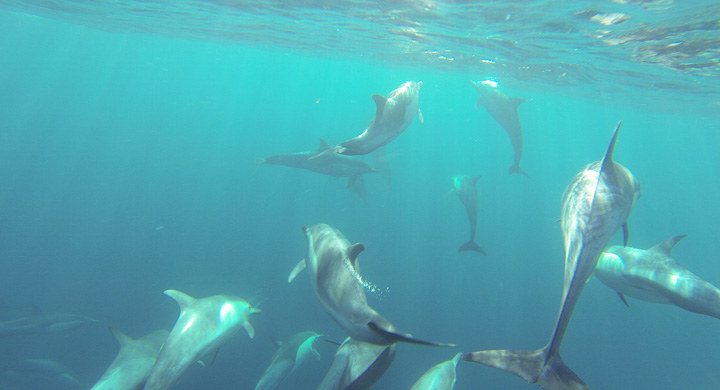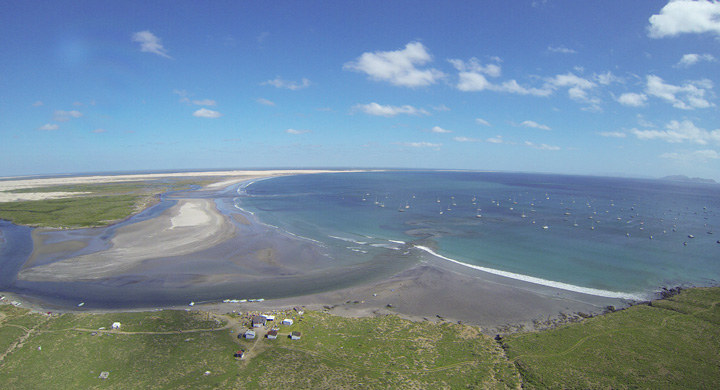 We'll have more next week, but it's time to head for the beach party, so we're going to let Roll's photos speak for the event.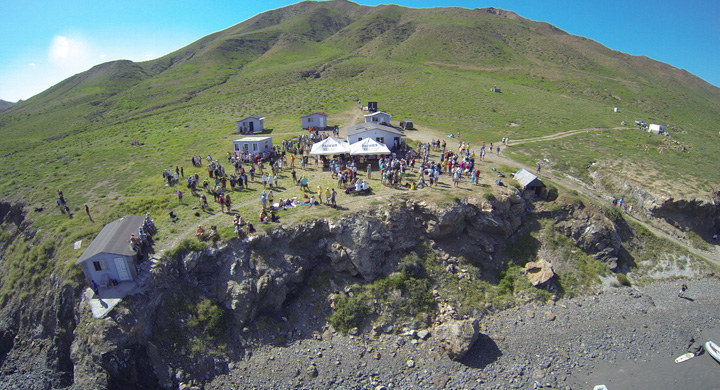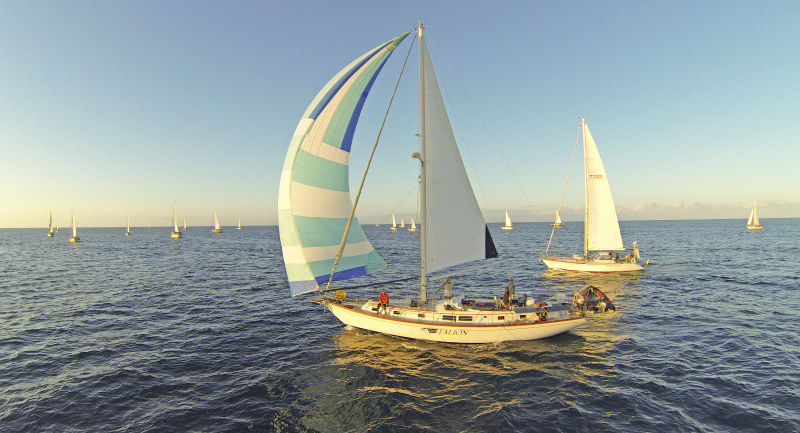 Brutal seas and hurricane force winds battered racers participating in this year's Clipper Round the World Race. The 12 identical Clipper 70s started Leg 4 from South Africa heading toward the 'Roaring Forties' via the Indian Ocean. Some boats have seen winds in excess of 50 knots while crews struggle to sail safely.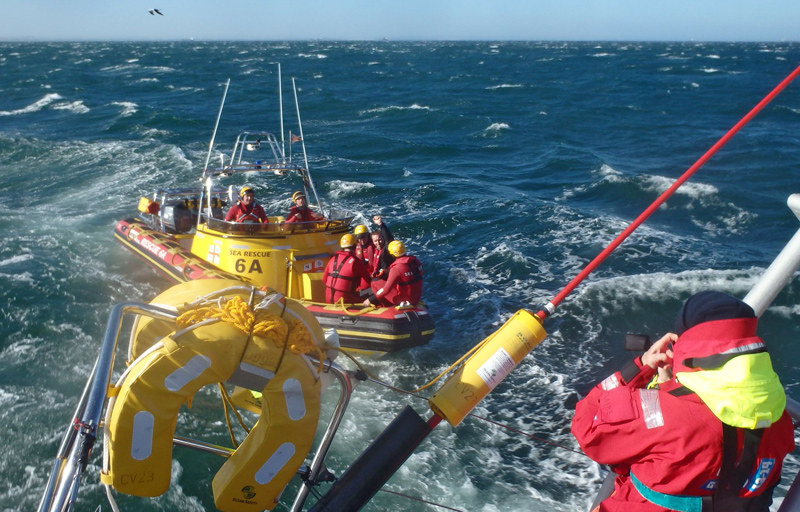 Injuries have been minimal but, on Thursday, two crewmembers were rescued at sea by the South African Coast Guard. Michelle Porter, 36, from London, broke her arm aboard the Derry~Londonderry~Doire after a massive breaking wave hit the boat sideways. The boat has diverted to South Africa's Port Elizabeth in order to safely transfer Porter to a hospital for treatment. "Although she wanted to continue, the thought of running out of pain killers a week from now and having to do a boat-boat transfer with an oil tanker in the Southern Ocean would put Michelle, the boat and all the crew at serious risk," says skipper Sean McCarter.
David Griffen, 40, injured his calf on Mission Performance's foredeck and was also evacuated. "We were on the bow preparing to take down the head sail," says Porter. "I had my back to the bow, down on one knee when a wave broke over me. My leg was flat but the wave pushed me up against the cleat. Then a much heavier wave hit me square in the back, impaling my calf on the cleat.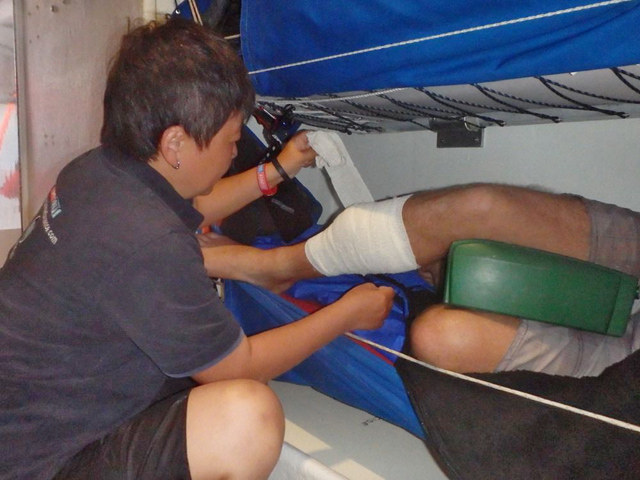 Conditions were very rough when the crewmembers were injured. Reports of 50-60 knots of wind and high seas were common. But the teams are determined to soldier on. "The crew have never seen weather conditions or a sea state like this before but they have all been amazing," says Clipper veteran skipper Pete Stirling, 47, from Hampshire, sailing on Jamaica Get All Right. "I've only seen weather conditions worse than this once before, and that was in the North Pacific on the Clipper 2009-10 Race."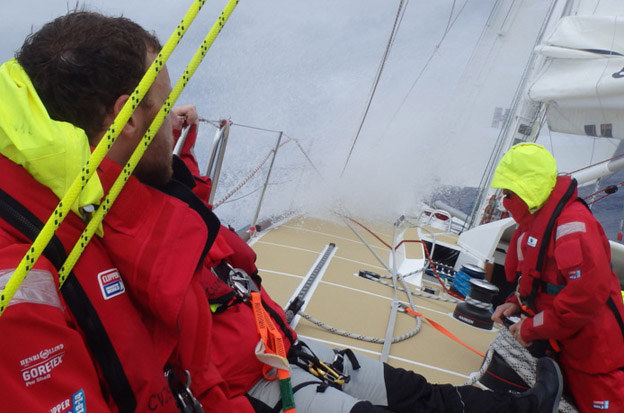 This is the fourth of 16 legs for the mostly amateur crews. They are expected to reach the finish line of Leg 4 at Albany in Western Australia by month's end. Leg 10 brings the Clipper 70s 5,800 miles from Qingdao, China to San Francisco, arriving in the Bay after the first week of April. Should be a party!
I'm a delivery captain and recently underwent fire training again as part of my regular STCW refresher. I also teach safety and offshore sailing skills. I want to respond to the October 14 'Lectronic report from Andrew Rosen of the Beneteau 46 Murar's Dream, which caught fire at Vuda Marina in Fiji. Naturally, I was relieved to read that Rosen and crew were able to deal safely with their fire emergency. The points he made about fire preparedness are mostly good, but I must disagree with two.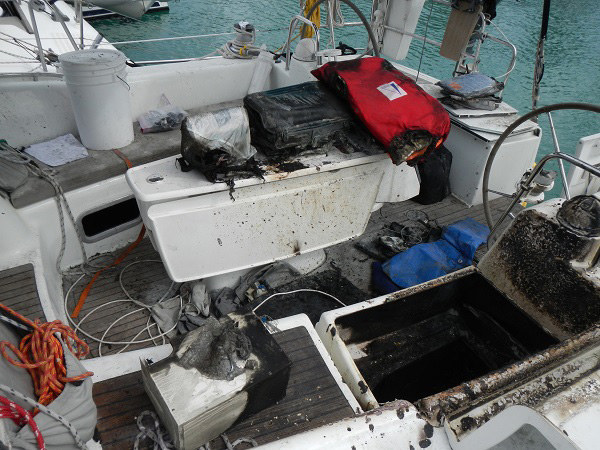 His fourth suggestion — to "open areas above [the fire] to let out hot gases" — is dangerous on a boat, as the introduction of fresh oxygen will expand the fire, and the hot gases can ignite new fuel above, such as biminis and mainsails. A better practice would be to seal the doors or hatches to the fire area, which would reduce oxygen and protect personnel and materials from radiation and convection. Then the combustible materials should be removed from directly adjacent areas and bulkheads to eliminate the fire's spreading by conduction.
When possible, such fires should be attacked from below and the side, with wide sweeping motions of dry chem or CO2. In the case of a lazarette fire such as that shown in the accompanying photo, when there is no other point of attack, opening the hatch just enough to point the nozzle of an extinguisher down onto the base of the fire is the safest and most effective solution. CO2 is excellent for contained fires, such as in relatively closed lazarettes, as it immediately starves the fire by forcing out all the oxygen.
Rosen's fifth point implies that water can be used on a fire once the electricity has been disconnected. That's not entirely safe. Electronic devices — especially things like the AC unit noted in the story — may contain capacitors that carry a deadly charge much higher than the supply voltage, and can hold that charge for hours after the electricity has been disconnected. I recommend that water, foam and wet chem never be used on any fire suspected as electrical in origin, even after source disconnection.
Only CO2, dry chem and Halon should be used on fires suspected of having an electrical origin. Halon is being deprecated due to its proclivity for releasing toxic HCl into the atmosphere. Water is generally only effective for organic fires — paper, wood, cotton or wool clothing, and so forth. Dry chem and CO2 extinguishers are significantly better to have and use aboard a boat, as they are more functional than water on a wide range of typical fire classes.
The Coast Guard requires uninspected passenger vessels of 26 to 40 feet to carry a minimum of two B-I extinguishers. UPVs of 41 to 66 feet need a minimum of three. B is the classification for oil, gas, grease and fuel fires, while the number following is the weight. I = 2 lbs payload. II = 10 lbs payload, and III a 20-lb payload. I recommend that cruising vessels of 30 to 60 feet carry a minimum of four B-II extinguishers and learn how to use them on various classes of fires. Knowing how to properly dispense extinguishers is critical to firefighting, as it's not just 'point and shoot'.
Finally, I recommend that all sailors and cruisers take and regularly update training courses on marine firefighting, and conduct drills on their sailboats on a regular basis. Safety training is only as effective as our ability to remember that training when it is needed.
Receive emails when 'Lectronic Latitude is updated.
SUBSCRIBE