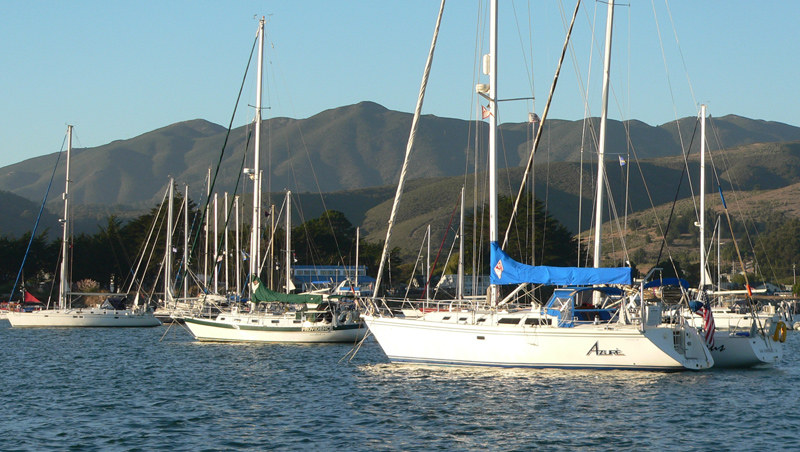 Frequent Half Moon Bay visitor Larry Blank alerted us yesterday to a change in the harbor's fee schedule, noting a new anchoring fee. Indeed, the San Mateo County Harbor District's site clearly states that "vessels anchoring in the outer harbor in excess of four hours will be subject to the daily rate" of 85¢ per foot per day. Whoa! That means Larry and his wife Deborah would be charged $54 to anchor their Freedom 32 Satori for a weekend at Pillar Point!

Needless to say, we were on the phone to Harbormaster Scott Grindy first thing this morning to find out more about the new fee. "That's a typo," Grindy said right off the bat. "That fee applies only to short-term docking in the marina, not the anchorage. I've already contacted the main office to correct the site." What a relief!
But our discussion with Grindy offered up a tidbit of info that we never knew, even after an untold number of cruise-outs to Half Moon Bay: Anyone anchoring in the outer harbor is required to register with the office, even if they're just spending one night on their way south. Registration is easy — just call on VHF 16 or the office phone at (650) 726-4382 and let them know who you are and how long you'll be staying. No onerous forms to fill out and no need to stop by in person. "We just want to know you're there," Grindy said, explaining that if there was an emergency — a tsunami, for example — they need to be able to determine if anyone has gone missing.
PHOTO
Grindy did note that the county is exploring ways to curb the derelicts that litter the placid harbor, but they're not even close to coming to a final decision. So as it stands, don't worry about padding the 'HMB cruise-out kitty' as there are currently no fees and no limits (besides state and federal restrictions) to anchoring in Half Moon Bay.
"I've been writing to the New Zealand government about pet policies and received tons of paperwork," writes Vicky Plett from the Vancouver, BC-based Hans Christian 38 Inspiration at Sea. Currently in American Samoa after having visited Hawaii, Palmyra and Fanning Island, Vicky is preparing to set sail for Tonga, Fiji, and hopefully New Zealand. But she has questions about New Zealand's pet-import rules. "Have any of your readers brought cruising pets into New Zealand on a temporary pass recently? I got my cat into Hawaii with all the required vaccines but now I'd like to see New Zealand. Any pointers would be great."
Vicky has undoubtedly found this webpage dedicated to importing cats and dogs to New Zealand. But perhaps a cruiser with more intimate knowledge of the system and procedures could fill her (and us) in on some of the finer points. Please email Richard with your experiences.
Both the Transat Jacques Vabre and the Mini Transat ocean races were forced to delay their starts due to uncharacteristically bad weather in the Atlantic.
Originally scheduled to start from Le Havre, France, last Sunday, the Transat Jacques Vabre — with 43 boats in four divisions (Class40, Multi50, IMOCA and MOD70) chomping at the bit to start — was postponed thanks to models predicting winds between 35 and 50 knots. Fortunately, the forecast improved and organizers plan to start the race Thursday at 1 p.m.
The race runs through the English Channel and then heads far south, landing the racers on the southeast coast of Brazil, in Itajai — a distance of over 5,000 miles. As a precaution, organizers have planned a weather stop for the Class40s and possibly the Multi50s in Roscoff, France. These relatively slower boats are more likely to be hit by an incoming weather system and may need to take shelter for a couple of days. The final details will be announced just prior to the start.
"The Race Directors have found a good solution for the Class 40 and Multi 50," says IMOCA Open 60 skipper Bernard Stamm (SUI, Cheminées Poujoulat). "Getting the boats to stay in one place while the nasty weather passes over is what any good sailor would want to do."
About 500 miles to the southwest of Le Havre lies Sada, Spain, where the Mini Transat is now set to continue. Dangerous weather detoured the 84 singlehanded racers on their journey from Douarnenez, France to Lanzarote, Spain, forcing them to sail their Mini Transat 6.50s to either Gijon or Sada, Spain.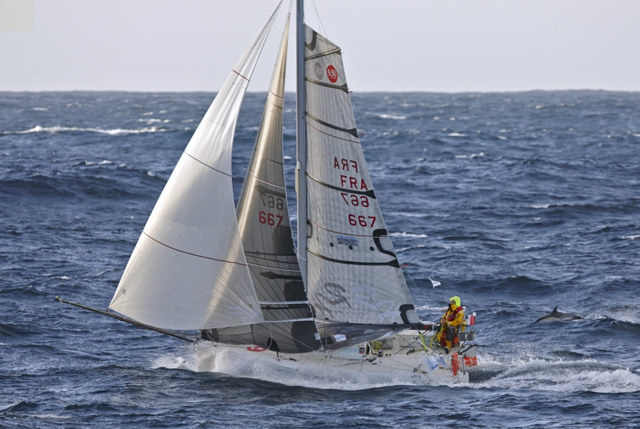 Regrouped in Sada, they've been in a holding pattern for 16 days waiting for the weather to improve. It was announced today that the start of this reconfigured leg to Guadaloupe's Pointe-a-Pitre will begin on Tuesday, November 12. The 3,600-mile passage is the longest leg in the race's history, and a gate off of Lanzarote will provide competitors an opportunity to stop at the Canaries. They're planning to make landfall right around Thanksgiving.
Receive emails when 'Lectronic Latitude is updated.
SUBSCRIBE