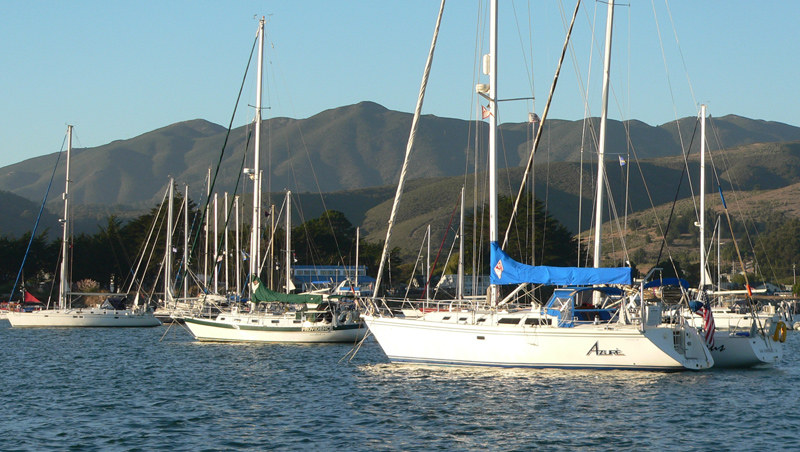 Frequent Half Moon Bay visitor Larry Blank alerted us yesterday to a change in the harbor's fee schedule, noting a new anchoring fee. Indeed, the San Mateo County Harbor District's site clearly states that "vessels anchoring in the outer harbor in excess of four hours will be subject to the daily rate" of 85¢ per foot per day. Whoa! That means Larry and his wife Deborah would be charged $54 to anchor their Freedom 32 Satori for a weekend at Pillar Point!

Needless to say, we were on the phone to Harbormaster Scott Grindy first thing this morning to find out more about the new fee. "That's a typo," Grindy said right off the bat. "That fee applies only to short-term docking in the marina, not the anchorage. I've already contacted the main office to correct the site." What a relief!
But our discussion with Grindy offered up a tidbit of info that we never knew, even after an untold number of cruise-outs to Half Moon Bay: Anyone anchoring in the outer harbor is required to register with the office, even if they're just spending one night on their way south. Registration is easy — just call on VHF 16 or the office phone at (650) 726-4382 and let them know who you are and how long you'll be staying. No onerous forms to fill out and no need to stop by in person. "We just want to know you're there," Grindy said, explaining that if there was an emergency — a tsunami, for example — they need to be able to determine if anyone has gone missing.
PHOTO
Grindy did note that the county is exploring ways to curb the derelicts that litter the placid harbor, but they're not even close to coming to a final decision. So as it stands, don't worry about padding the 'HMB cruise-out kitty' as there are currently no fees and no limits (besides state and federal restrictions) to anchoring in Half Moon Bay.
Receive emails when 'Lectronic Latitude is updated.
SUBSCRIBE