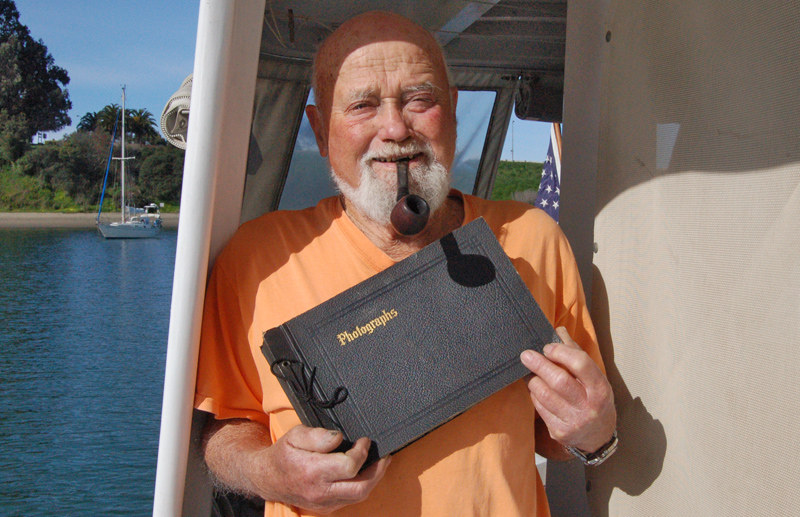 In another installment of 'You Never Know Who You'll Bump into at Clipper Cove', we ran into circumnavigator and Oakland YC Historian Jim Jessie on his classic wooden Grand Banks Alaskan 53 Nalu last weekend. For those with a foggy memory, Jim and his late wife Diana circumnavigated their Lapworth 48 Nalu IV, and then did a North Pacific circuit with her. Diana's writings were printed in Latitude 38 — and many other magazines, including a monthly column in 48° North — many times over the years, and they were a fixture on the world sailing scene for just as long.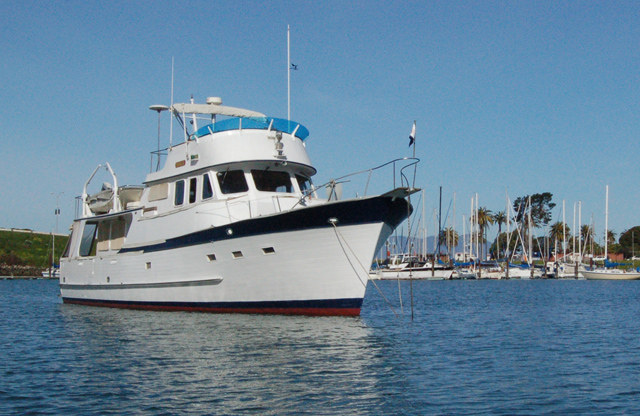 Jim and his friend Jocelyn Nash, another Bay Area sailing legend, welcomed this writer and her husband aboard Nalu for a cold beverage and hot sailing talk. Discussion ranged from the merits of sailing around the world on fast boats to Jocelyn's old friend Manuel Fagundes, whose memory was honored by Golden Gate YC when they named their midwinter series after him — a series Jocelyn's son Gordie just won on his highly modified Santana 27 Arcadia (PHRF 4 Division).
Jim also shared a fascinating piece of OYC history with us: a photo album sent to him by a gentleman in England. "I have enclosed a photo album I found in the loft of my house," his letter said in part. "It seems that the OYC was an important part of somebody's life and the album was obviously very personal. I know that a gentleman who once lived in our house served in the Navy during WWII. I hope that looking through it gives you pleasure; I entrust it to your safekeeping."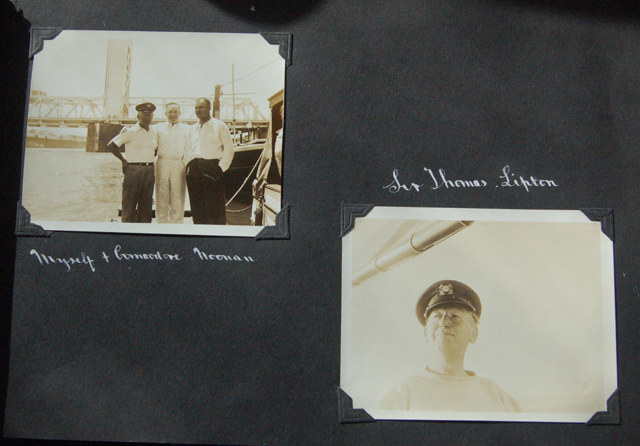 Flipping through the book, Jim recognized the owner right away. "It was Ted Craven, one of the good old boys at the club. He was an old man when I was 10," said the 80-year-old Jim. It appears that Ted was a bit of a pack rat, and when he rented a room in England during WWII, he forgot a few things. It's not only a miracle that the homeowners held onto the photo album for so long, but that it's also in mint condition.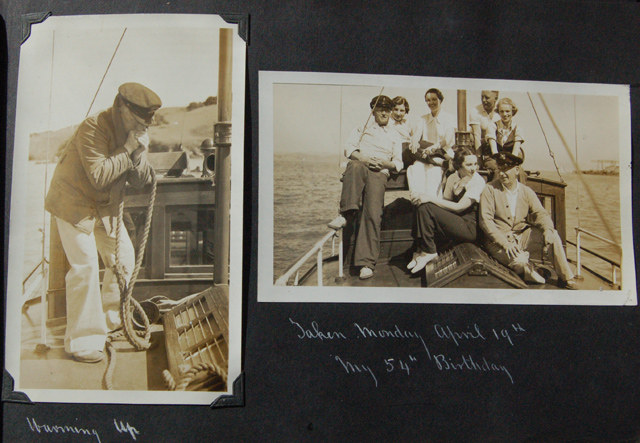 The album is a treasure trove of memories for Jim, as well as OYC. In it were bon voyage photos of Dr. W.F. 'Ted' Holcomb and his family as they departed for a trip around the world on their stays'l schooner Zita. Holcomb was the first OYC member to circumnavigate, and he did it again later on his 46-ft Schock-designed schooner Landfall for which he won the Cruising Club of America's Blue Water Medal award in 1957. (Jim was the second OYC member to circumnavigate, by the way.)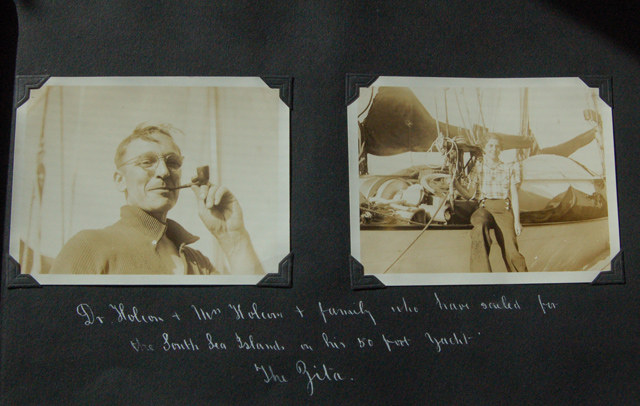 So the next time you're anchored out for the weekend — hey, whaddya know, the forecast looks gorgeous for the next few days! — take a few minutes to greet your fellow anchorage mates. You just never know who you'll bump into!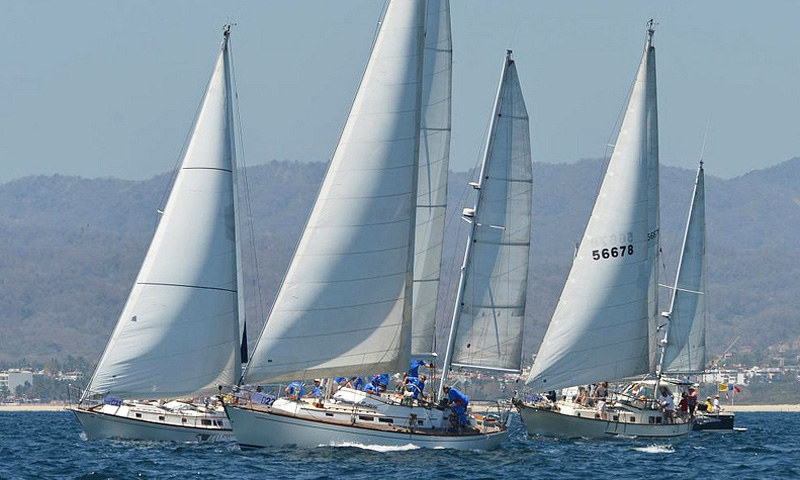 Down in the sunny latitudes of Mexico's central coast, the 21st annual Banderas Bay Regatta is in full swing, with day two of racing taking place today. Fifty-five boats signed up for the not-too-serious regatta, which has long been dominated by cruising yachts rather than purpose-built racing machines.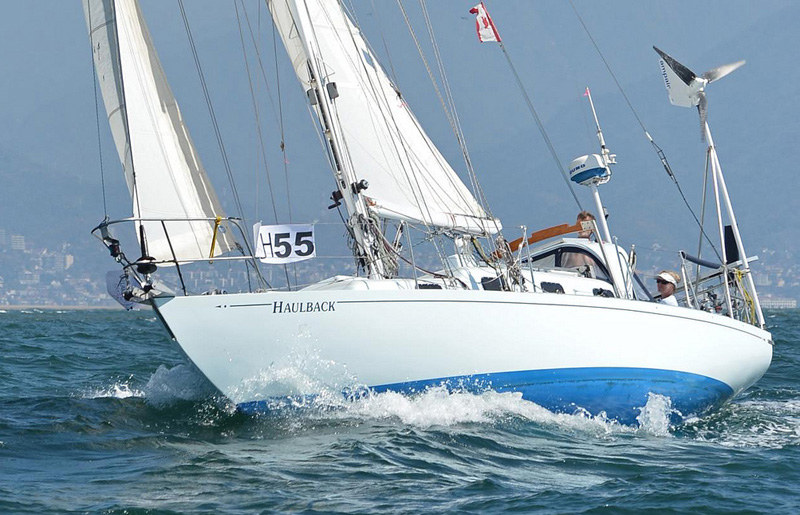 The monohull fleet ranges from several 26-ft J/80 trainers (from the local J-World sailing school) to Stephen Theodore's MacGregor 65 Rum Doodle 11. Another of the biggest monos is the Oregon-based Hunter 54 Camelot, run by the fleet's oldest skipper, 82-year-old Howard Shaw. As expected, many cruising cats are entered, plus a contingent of ultra-fast performance cats including Tom Siebel's Sig 45 Vamanos! (the fleet's scratch boat, rating -9), and Bob Smith's custom 44 footer Pantera.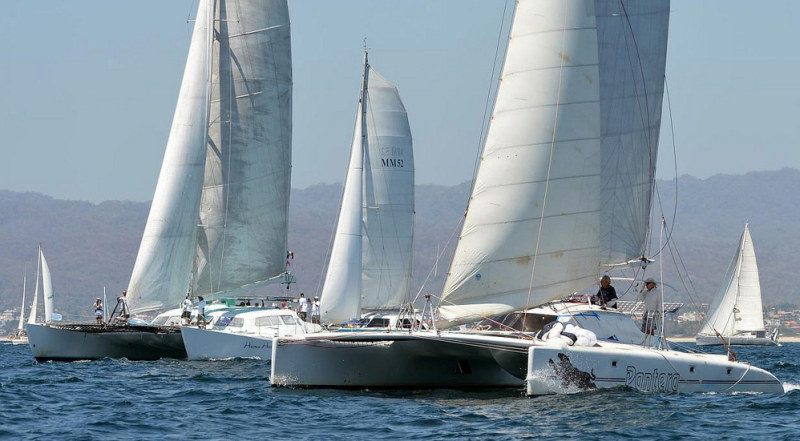 Thursday's conditions could not have been sweeter, starting out at 10-12 knots and building to nearly 20 knots by the final beat. This year the race committee reportedly shortened the weather legs compared to previous years' courses, so there would be more reaching and less beating — apropos the number of cats and heavily laden cruisers.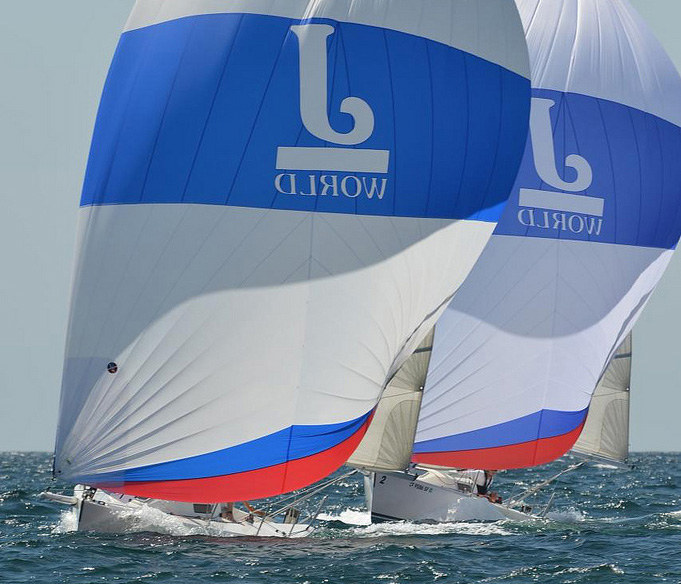 There was a little gear carnage yesterday including a broken rudder, a steering system failure, and at least one blown chute — aboard Craig Chamberlain's Dawn 48 Daring, whose crew had a replacement up in less than five minutes. See this link for complete results, and look for our recap report in the April edition of Latitude 38 magazine.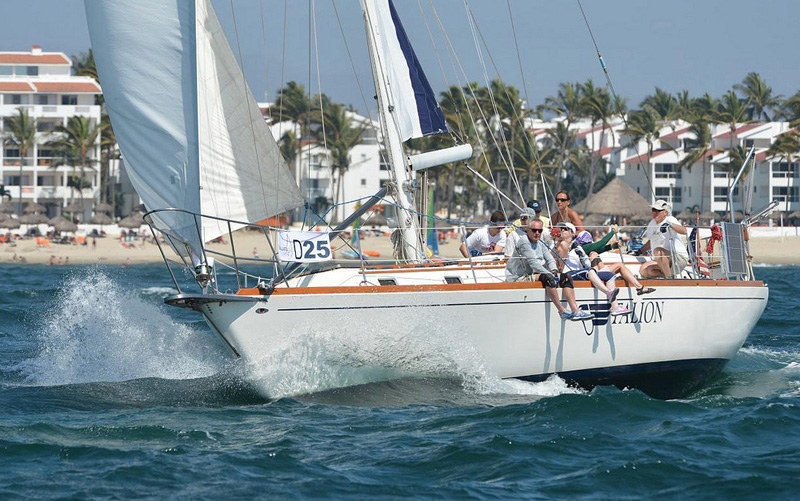 In January, Mark Bettis bought sailing legend Don Trask's old J/29, hull #233 Smokin' J, and moved her to Coyote Point Marina in San Mateo. On Saturday, Smokin' J sailed in the last race of Sequoia YC's Winter Series.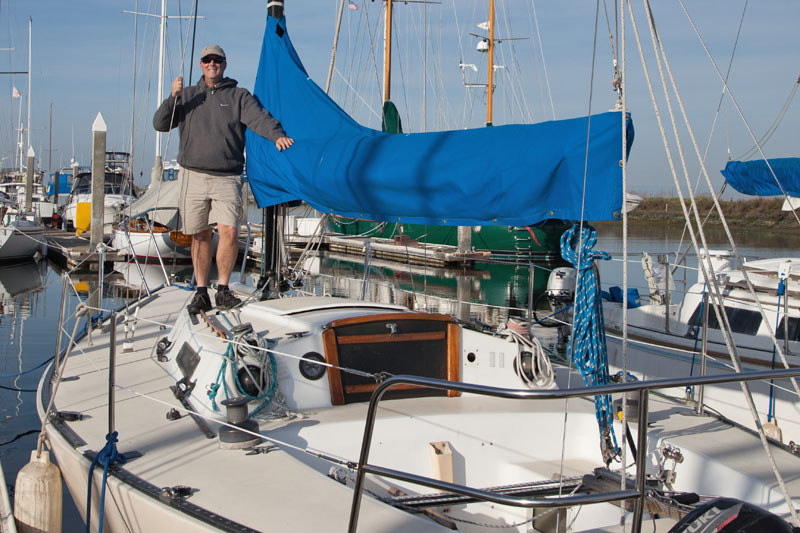 Bettis described a fabulous delivery, with 10-15 knots of breeze, down the South Bay to the start. "We sailed in the company of Sweet Grapes, an Ericson 36 owned by Alan Orr and Mark Green. I crewed with them for the last two years before buying Smokin' J. We set the chute and had a great run down to Redwood City. The wind dropped to five knots right before start time."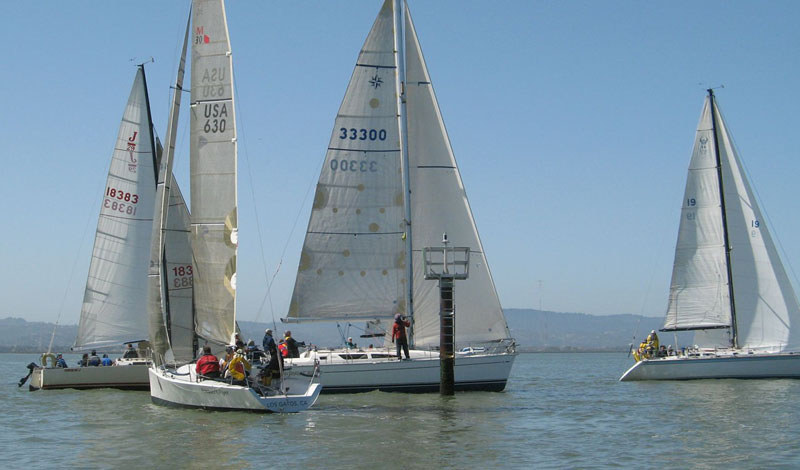 At the start, Smokin' J gave up some position in the interest of avoiding contact. "We ended up starting the race completely covered by the huge sails of the Jeanneau 40 Yellow Brick Road," said Mark. The J/29 was eventually able to tack away for clear air, and headed east across the channel along with several other boats.
"On the windward leg we tacked early right up the middle of the channel. This proved to be a good choice, because a favorable wind shift put us well ahead of the boats that went further east." They rounded the windward mark and, with some heroics by bowman Tom Forrester, set the chute. "A mislead of the guy had to be corrected and, when Tom popped the shackle, the tack pulled completely free and started flapping in the now-15-knot breeze. I headed the boat downwind to blanket the chute, and Tom managed to grab the flailing tack and get it hooked back up — amazing. Off we went on a broad reach toward the next mark."
The end of the race would turn into an exciting battle with Mark's former ride. "The wind continued to build to 22+ knots apparent as we approached the San Mateo Bridge for our final tack. We waited until Sweet Grapes tacked, and then followed her line toward the last mark, rapidly closing the gap. We approached the mark a little above Sweet Grapes, and the two boats rounded together, side by side, with Sweet Grapes on the inside. Just after rounding, as we fell off, we caught a wave and surfed past Sweet Grapes, about 20 feet away from her starboard side. Our friends on Sweet Grapes cheered us on. What a moment! The last leg was a boat-for-boat reaching duel, with Sweet Grapes and her big headsail right on our transom. We made it to the finish line just ahead, with Sweet Grapes finishing three seconds behind us."
But Smokin' J now had to return up the South Bay to Coyote Point. "A quick jibe around channel marker #3 and we began the upwind trek home. This was quite a sail, with the wind reaching 30+ knots. We reefed the main, and punched through a chop that built to 3-5 feet. Once we were all fully soaked, we took turns going below to don foul weather gear. One crewman tossed his cookies on the last tack. We were very happy to be back in the slip." Bettis was also pleased to take third place out of 11 boats in the spinnaker division, less than a minute out of first.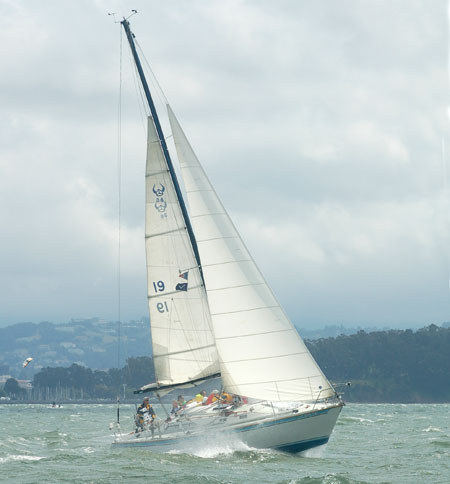 For complete results, see www.sequoiayc.org. We'll have more on this and several other midwinter series that wrapped up this month in the April issue of Latitude 38.
Receive emails when 'Lectronic Latitude is updated.
SUBSCRIBE