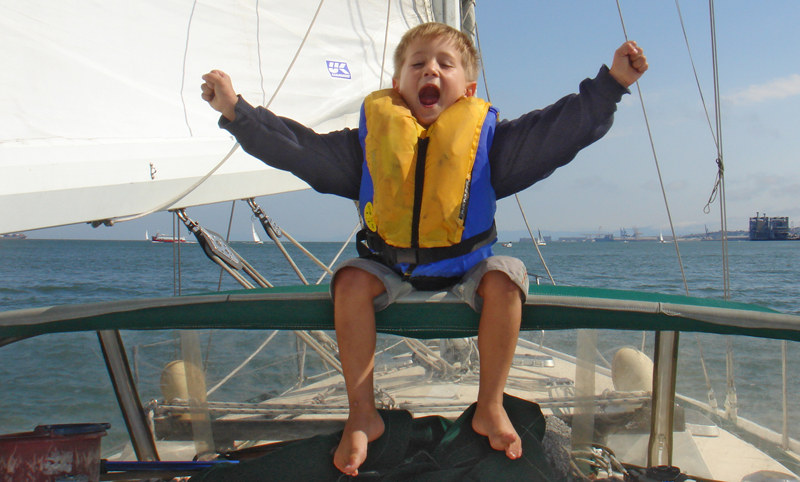 Yeah, us too, buddy!
One of the complaints about the current America's Cup boats is that very little of the technological advances will trickle down to regular boats. We suppose that's mostly true, but then we learned that Frenchman Francis Joyon has equipped his 33-meter trimaran IDEC with foils such as those found on the AC boats. That should make IDEC faster still — and a little more sensitive.
For those not familiar with French sailors, Joyon is something special, a soulful singlehander admired by all, who nonetheless has an astonishing record of achievements. We won't go into his whole history, but in the early days it was marked by around-the-world records set with an ancient boat, worn sails, and no outside help — not even a weather router.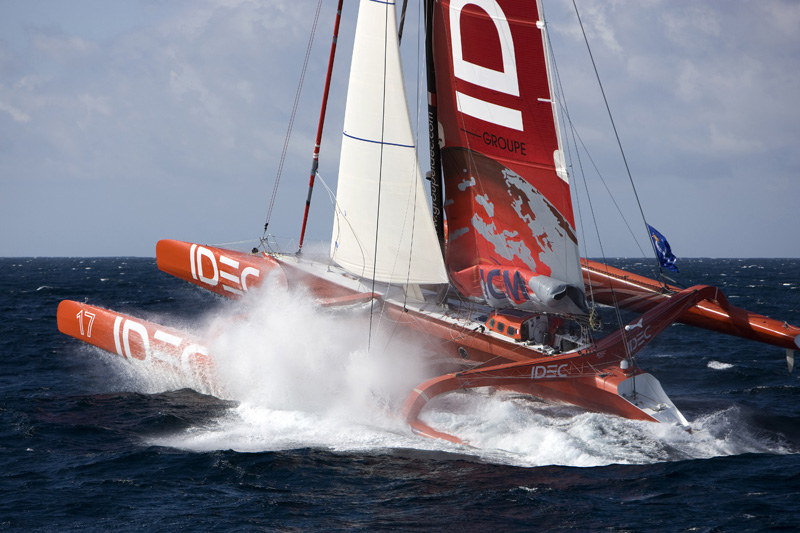 Joyon currently holds three of the biggest records in singlehanded racing: First, there is the big one, the singlehanded nonstop around-the-world record of 57 days. That's not too far off the crewed record of 45 days. Last year he improved on the singlehanded 24-hour distance record, 666.2 nm, averaging 27.75 knots. Recently he set a new Columbus Route — Cadiz to San Salvador — record of 8d, 16h (all aboard the 95-ft tri IDEC). No sailor has ever held these three prestigious records at the same time.
And now Joyon — and his foils — has his sights set on the fourth record in what would give him an unprecedented Grand Slam. That record is the New York-to-Lizard Record, currently held by Thomas Colville and his slightly larger and much more sophisticated and comfortable 105-ft trimaran Sodebo. The record will be difficult to beat, as Colville did the 2,980-mile (rhumbline) route in just 5d, 19h, an average of 21 knots on the rhumbline.
The following is a list of TransAtlantic sailing records. Note what a tremendous improvement in times there have been in just 21 years.
Solo North Atlantic records
1987: Bruno Peyron, Explorer, catamaran, 11d, 11h, 46m, 36s
1990: Florence Arthaud, Pierre Premier, trimaran, 9d, 21h, 42m
1992: Bruno Peyron, Explorer, catamaran, in9d, 19h, 22m
1994: Laurent Bourgnon, Primagaz, trimaran, 7d, 2h, 34m, 42s
2005: Francis Joyon, IDEC 1, trimaran, 6d, 4h, 1m, 37s
2008: Thomas Coville, Sodebo, trimaran, 5d, 19h, 29m, 20s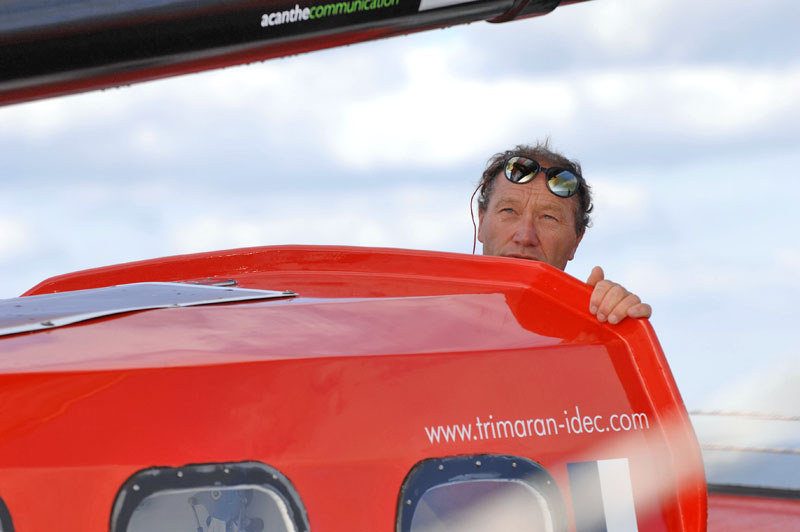 The publicity shy Joyon is a true sailing hero of ours, and we wish him the best of luck. He looks to make his attempt sometime in May.
Duct tape comes to the rescue of mariners all the time. In this case, the mariners came to the rescue of Duct Tape.
Julia Siudyla and her husband Josh quit their jobs in 2012 to spend a year cruising Mexico aboard their Columbia 36 Sweet Cherri. The young Alameda couple were anchored off La Cruz, on the north shore of Mexico's Banderas Bay, on Saturday when they watched helplessly as the imperiled cruising sloop Duct Tape dragged anchor and fetched up on the rocks. "We witnessed one of the most heart wrenching sights a mariner can endure — another mariner in severe distress," wrote Julia.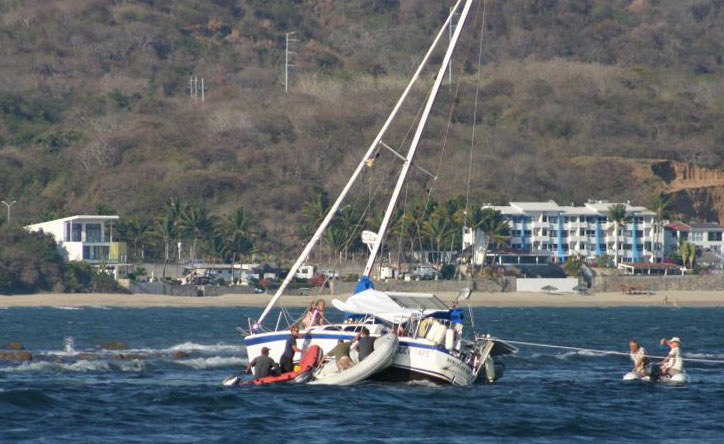 "Our neighbors dragged anchor and ran aground, getting battered against the rocks in the surf. We watched paralyzed in fear for their safety. We listened to their calls for help on the VHF radio. There wasn't much we could do, as we do not have a dinghy with a motor. The boat, Duct Tape, was swept onto the rocks in 15-knot winds on a rising tide. Almost immediately, five dinghies went to try to assist them. The Good Samaritans tried everything to pull them off the rocks.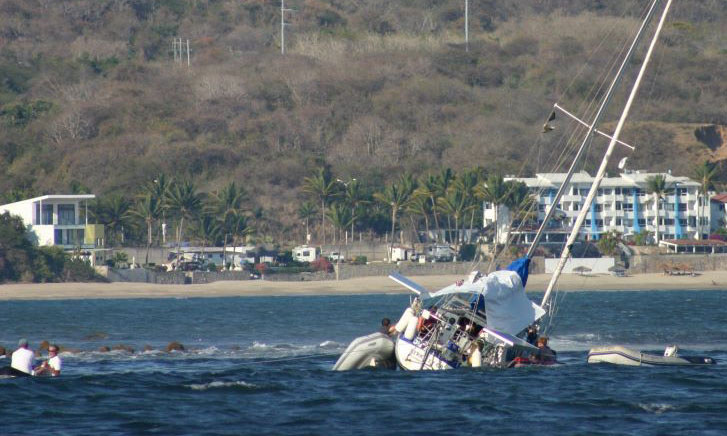 "After about 20-25 minutes of futile attempts by the sailors on the dinghies, several Mexican fishermen in pangas showed up to help. It took the boaters on the pangas and dinghies at least another 20-25 minutes of working together to get the boat freed and towed into the La Cruz Marina. Seeing everyone who could come together to save this boat, to save these people's home, was one of the most spectacular things I have ever witnessed. As they were freed, the anchorage was alive with other boaters in the anchorage sounding their air horns. I was not the only one holding my breath.
"The distress call had gone out: 'Pan pan…pan pan…pan pan…calling all mariners: There is a vessel in distress in the vicinity of La Cruz. All mariners in the vicinity are requested to keep a sharp lookout and assist if possible.' This call was answered today."
Receive emails when 'Lectronic Latitude is updated.
SUBSCRIBE