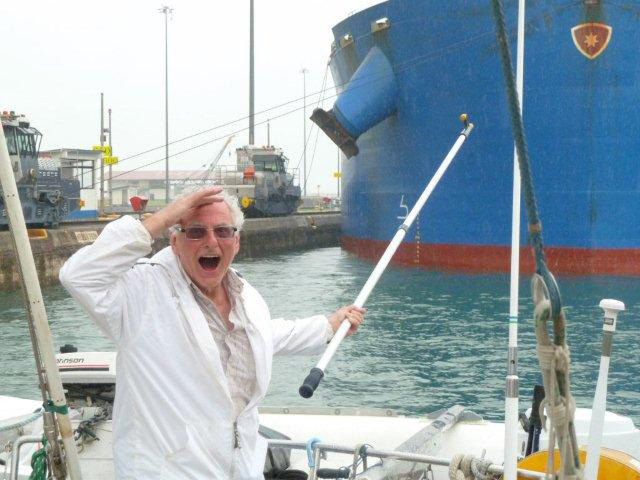 As you may have heard, the shipping capacity of the Panama Canal will more than double two years from now when a brand new series of gigantic locks is completed alongside the original sets, which will celebrate 100 years of operation in 2014. The ambitious construction effort is, of course, being carried out to accommodate larger cargo vessels. Sailboats will probably always be relegated to the original locks, along with smaller (Panamax) vessels.
Having completed such a transit last week, Rodney King shared some first-hand insights: "Richard Owens and I flew down to Panama City from Miami on March 5 to meet Meredith (his Sausalito-based Norseman 535), which Captain Mike and mate Kevin had sailed down from San Francisco. Panama City is on the Pacific coast and we were going to take her through the canal to the Atlantic side.
"We waited four days for our entry, then on March 9, with our required used tires tied to the sides of the boat to protect us from bumps, we got our pilot and two extra line-handlers aboard and set off. The canal is about 50 miles long and runs north-to-south, with a set of locks at each end. Each set of three locks lifts you about 85 feet up. You then motor 50 miles, and the other set drops you down 85 feet.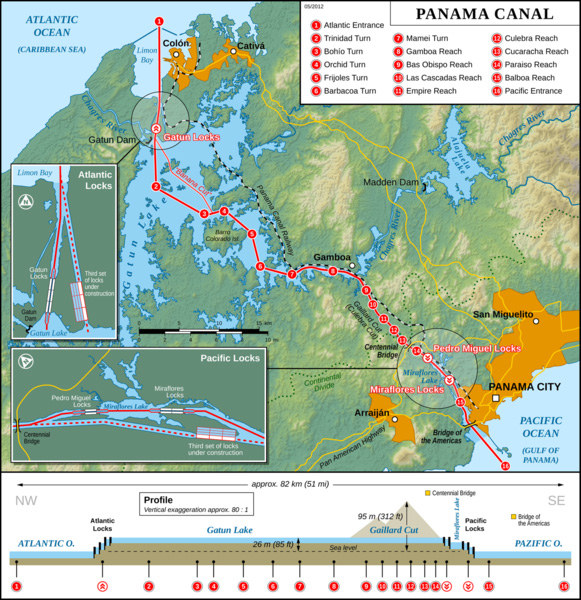 "We were rafted up to a Catalina 38, also from California, and we went through the locks together. It is a really amazing experience to see the water gush upward from the bottom into the 1,000-ft-long lock and lift us up. The canal is really an engineering masterpiece. When you enter a lock the water is 40 feet deep, and then you are raised another 40 feet. Each single lock is like a 1,000-ft-long bathtub that's 100 feet deep!
"After the first set, we separated from the Catalina and motored all day to a mooring in Lake Gatun, where we spent the night, as it was too late to complete the transit in one day. It was a beautiful evening, no mosquitoes, nice temperature, and we didn't need the air conditioning. Our pilot left us there, and the next day we got a new pilot to take us through the last lock set. (A pilot is required to transit the Canal.) At the last lockset a huge bulker followed us into the lock, giving us some dramatic moments as we hoped it stopped before squashing us!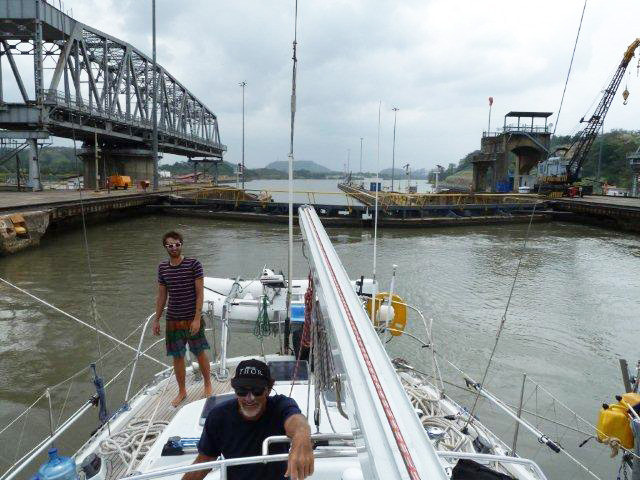 "We then went to Shelter Bay Marina on Limon Bay, a really nice marina with a bar and restaurant, and even a swimming pool and hot tub! You can meet cruisers there from all around the world."
Richard and Rodney are back home now, while the crew travels upwind to Cartegena. Richard plans to rejoin the boat there and sail her up to Fort Lauderdale. Meanwhile many more boats are heading west (south through the Canal) than east these days, as this is the prime season for sailing from the west coast of the Americas to French Polynesia — the 3,000-mile crossing we call the Pacific Puddle Jump. Stay tuned for more on the PPJ and the new Canal's construction in upcoming editions of 'Lectronic Latitude.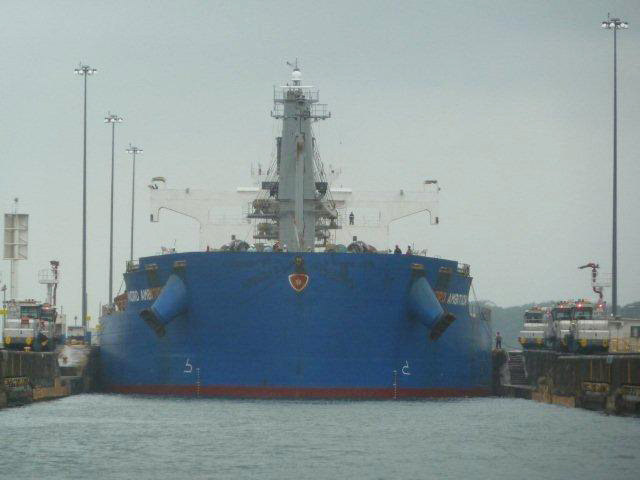 Receive emails when 'Lectronic Latitude is updated.
SUBSCRIBE