Two Out of Three Ain't Bad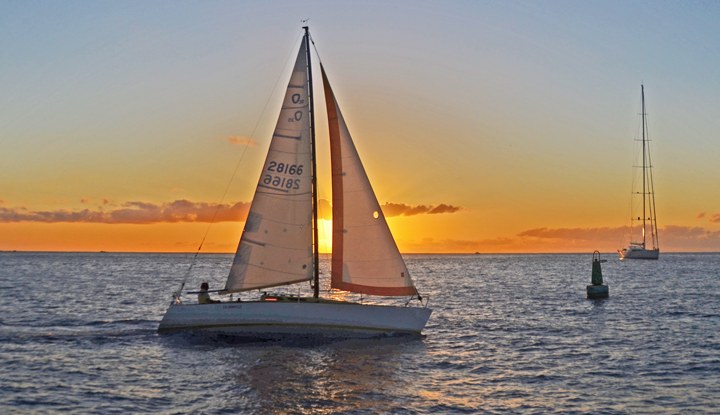 A couple of years ago we came up with the idea of buying an Olson 30 and bringing her to St. Barth in the French West Indies, where she would live out her days as a daysailer in tribute to designer/builder George Olson and all the ultralight folks from Santa Cruz; to Gamelle, the deceased Bartian dog described as a "well-hung Gustavian low-rider"; and the gone-but-not-forgotten bar at La Gamelle restaurant, as iconic a piece of the real St. Barth as we'll ever know.
Many readers will remember our accounts of purchasing La Gamelle in Richmond and using her to Zen sail — no engine — the Bay out of Alameda; having her trucked to Florida; having her shipped to Martinique; and then doublehanding her with Doña de Mallorca for 250 wild miles to St. Barth. It was immensely satisfying for us to get Olson hull #66 to St. Barth, and we had some wonderful sails with her. But a problem with her roller furling (we're still trying to get that sorted out) prevented us from reaching the summit of contentment, which was to singlehand the boat around St. Barth — a distance of about 15 miles — 10 times during the season. We had sailed big Profligate around the island 10 times in 2005, and were looking for symmetry with the smaller monohull.
A week ago we addressed this issue by making three attempts at singlehanded circumnavigations in five days. The first was a normal counterclockwise trip around the island. The conditions were excellent. The wind never blew more than 12 knots, so the full main and #4 headsail combination was ideal. While the seas were huge out of both the east and the north — some say the biggest non-hurricane swell in 10 years — the period between them was about 15 seconds, meaning they were gentle giants. As the windward coast of St. Barth is an endless deadly combination of jagged rocks, coral and steep cliffs, and we were sailing a boat without an engine, keeping in deep water was paramount. Although our first circumnavigation was a relatively easy one, it gave us a sense of quiet satisfaction. Although we could kick ourselves for not recording our time.
Our second circumnavigation was a little more dramatic, for de Mallorca loudly admonished us not to go as she'd made cocktail and dinner plans with friends at 7 p.m. "It's already 3:15," she hollered, "you'll never make it back in time." Socializing with friends is great fun in St. Barth, but it was never the reason we'd come to the island, so we set sail anyway. Besides, we had a greater reason to get back before dark: the running lights were not exactly hooked up. As we left Gustavia, a voice shouted out that we were looking good and had a "hot-looking little boat." As it was Tom Perry, captain of the Dubois 145 Artemis, we set out with a good feeling.
There was an unusual amount of north in the easterly trades, which meant that it was likely we could have a short windward leg to Columbie, then reach rather than beat to the dreaded Grenadiers, as nasty a group of offshore rocks and we've ever seen. This would result in a relatively quick and easy trip around the island. We made Columbie with dispatch, at which point we faced the chop and slop of the open ocean. And the seas were huge once again, with lots of backwash from St. Barth itself and the numerous offshore islands. Once again, there was a blessed long period between the moving mountains that crashed onto the craggy shore with spray shooting 50 to 75 feet in the air. The conditions made the buoyant Olson seem smaller than her 30 feet.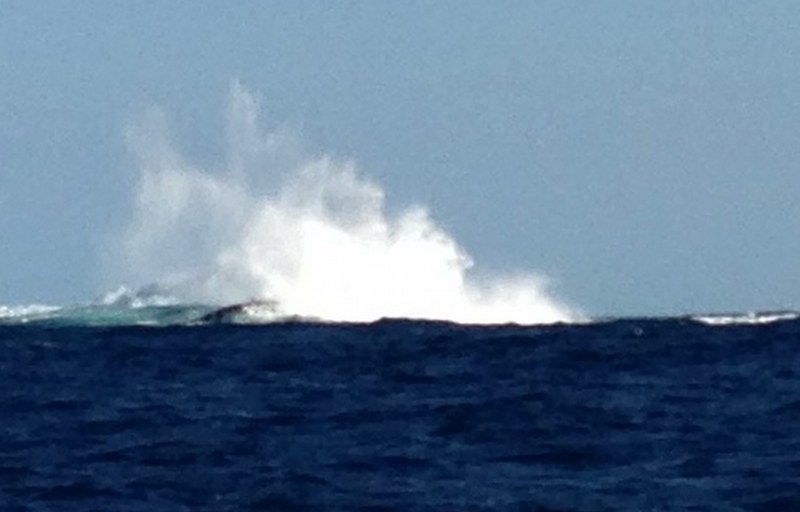 But luck was with us and, thanks to the north in the wind, we were able to lay the wicked Grenadiers. From a distance, we could see nothing but open sea. But suddenly there would be an skyward eruption of white as a huge wave crashed into the soldiers. Being washed over the Grenadiers would not be survivable.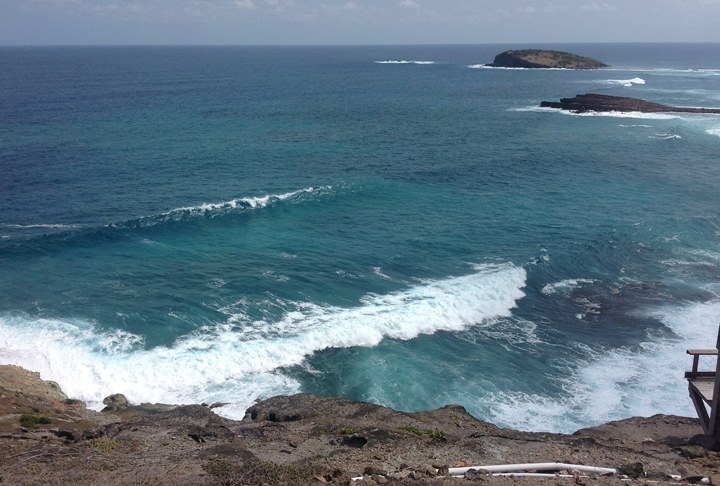 There is a channel a couple hundred feet wide between the Grenadiers and La Torture, and the night before some sailors had told us they'd 'shot the Grenadiers' in the past. As the three-hour small boat circumnavigation record held by our friend Pompidou was in the back of our mind, we thought about doing a little shooting of our own. Then we recalled the fates of Low Speed Chase and Uncontrollable Urge in similar conditions; the fact that we had no engine in case the rudder broke or the mast tumbled; and our promise to our kids to "not do any more crazy stuff." So we took the Grenadiers to windward, which actually was the safest thing to do. While rounding them wasn't a problem, we did breathe a deep sigh of relief once we'd left that cauldron behind.
After rounding Pt. Toiny in huge seas — which was bringing endless pleasure to the surfers — we negotiated the lee of the island in the setting sun. After some flukey conditions, we beat into Gustavia anchorage, where we got a "Looking good!" from Jim and Debbie Gregory on the Pt. Richmond-based Schumacher 50 Morpheus. Minutes later, we crossed the 'finish line' seven minutes shy of three hours, with a Zen-like sense of peaceful satisfaction. Even de Mallorca seemed happy to see us, as we wouldn't be late to her social obligations.
A few days later we set out in very light winds in search of a second counterclockwise circumnavigation. We didn't even make to Isla Coco, a fifth of the way. The winds were too light and the current too strong. But as we were Zen sailing, we felt no sense of disappointment. Besides, as Meatloaf once sang, "Two out of three ain't bad." And we still have quite a bit of time in which to complete eight more times around.
Setting arbitrary sailing goals, no matter how humble they might be, and going after them. It's something we highly recommend.
Receive emails when 'Lectronic Latitude is updated.
SUBSCRIBE