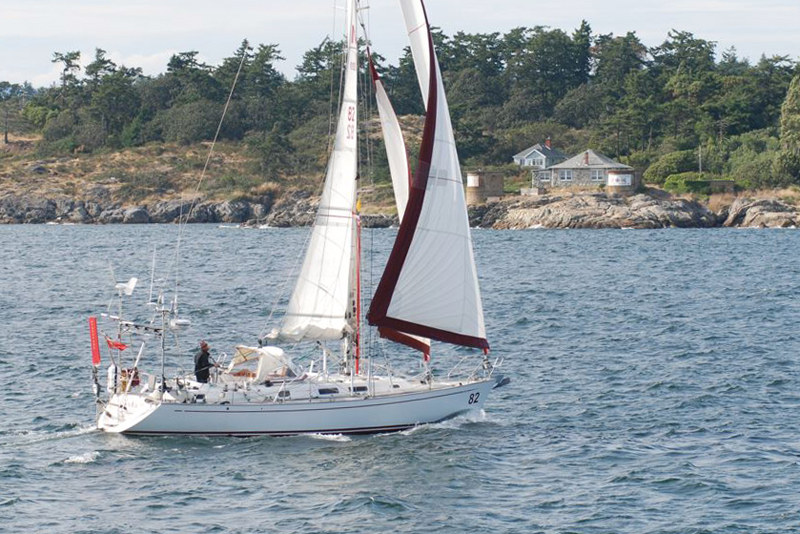 On March 1, 70-year-old Briton Jeanne Socrates passed the midway point of what she hopes will be her first nonstop solo circumnavigation aboard her Najad 380 Nereida. Socrates has attempted the feat twice before, the first time ended in Cape Town with engine (i.e. charging) problems, and the second ended when Nereida sustained considerable damage during a knock-down at Cape Horn.
Nereida sailed out of Victoria, BC on October 22, with record-setting solo circumnavigator Tony Gooch marking her time for the World Sailing Speed Record Council. If she completes the circuit, Socrates will become the first woman to do so with a starting point in North America. "It will also give me the dubious honor of being the oldest female solo, nonstop circumnavigator," she noted. "But far more importantly, it will give me a great sense of achievement and personal satisfaction."
Though she's dealt with all conditions on this trip, unsettled and varied conditions around the Cape of Good Hope was frustrating. "Rounding South Africa became surprisingly difficult," she said. "Several times either being becalmed or needing to heave-to in very strong conditions slowed my progress, so it's taken longer than expected to reach the halfway point."
Gear breakages have not been insurmountable problems, though she says they do hinder her progress in light conditions. "I can no longer safely hoist a full mainsail and need to keep it permanently reefed, but having it down to the third reef in the Southern Ocean is not a problem!"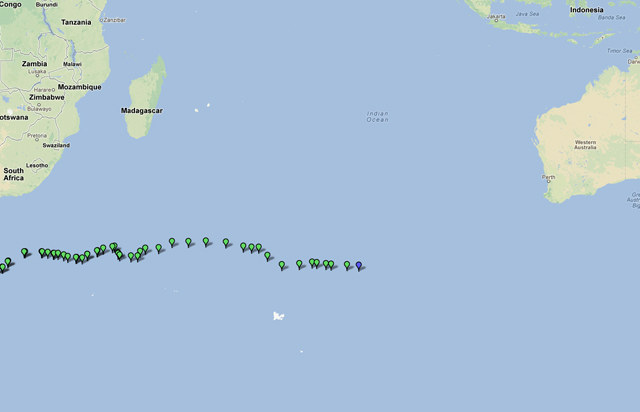 As of yesterday, Nereida was in the middle of the Indian Ocean, on her way toward Cape Leeuwin, and reports light wind. She hopes to sail back into Victoria sometime in June. Keep track of her progress at www.svnereida.com.
When was the last time you checked the date on your flares, the status of your fire extinguisher and the number of lifejackets you carry on board? If it's been a while we'd urge you to spend some time checking all your safety gear — especially since the San Francisco Bay Coast Guard is apparently focusing increased attention on boat inspections and boarding.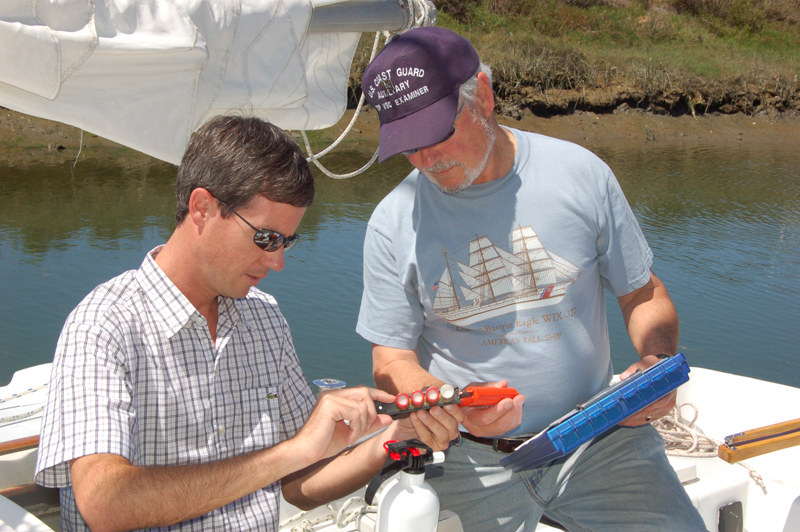 Latitude reader Terri Watson reports, "Two different USCG crews have given me three different reasons: one is that they are training new crewmen, one is that the Charm Blow incident highlights small boats without gear, and the last is the anticipation that the upcoming America's Cup will increase the number of boats on the Bay that don't otherwise go out.
"Whatever the reason, I've watched a handful of small sailboats being boarded and checked recently in Richardson's Bay, as well as near the fuel docks in Alameda and on the San Francisco Cityfront. The USCG has been respectful and courteous — so no complaints at all. In fact, with several boats, they have simply requested that the boat continue on to its slip, and once tied up and secured, they did the safety check.
"It's always the good idea to request a
Vessel Safety Check
and get a decal, which could dissuade the Coast Guard from boarding you on a routine check." We certainly agree that getting annual safety inspections makes sense. However, doing so does not guarantee you won't be boarded out on the Bay. The CG has the right to board any boat in U.S. waters at any time.
Of all the winter offices of Latitude 38, this year's is the most unusual — a former tattoo parlor at St. Barth, French West Indies.
Yes, we're working out of St. Barth again, where there are more sailing stories than sand on the beach. Despite this being one of the most difficult and frustrating seasons ever, we're still managing to enjoy it.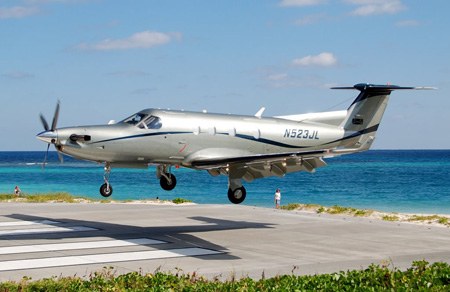 What's difficult? To give you just one example, the normally ultra-reliable easterly trades haven't been blowing. Instead, we've been getting very light stuff out of the south, the west, and the north. The result is that boats that normally all stream in the same leeward direction are going around in circles. It's chaos. The other morning we woke up to find the Olson 30 La Gamelle, which we brought out from California, and which we'd anchored all by her lonesome, side-tied to a Swedish-owned Tayana 55. What the heck!?
"Your boat dragged," said Capt. Swedish Meatball.
"We don't think so," we replied, "She's lying to a big anchor on six-to-one chain and rope, and it hasn't blown more than five knots in the last two days." Indeed, Capt. Meatball had laid his anchor over ours.
Since the Swedes were already headed to town, we all agreed to just leave La Gamelle tied to the Tayana overnight, arranging to take her away early the next morning. As we crashed for the night, we felt weird with the gallant little La Gamelle tied to another boat.
"It's like she's on her first sleepover," the Wanderer said.
"I hope they give her breakfast," added de Mallorca.
People always ask us what makes St. Barth different from all the other islands in the Eastern Caribbean. We saw one reason on pages 174-175 and 178-179 of the this year's CHIC fashion and style magazine. (Imagine an island of 9,000 people with four or five super slick and beautifully done — eat your heart out Anna Wintour — 200-page fashion magazines.)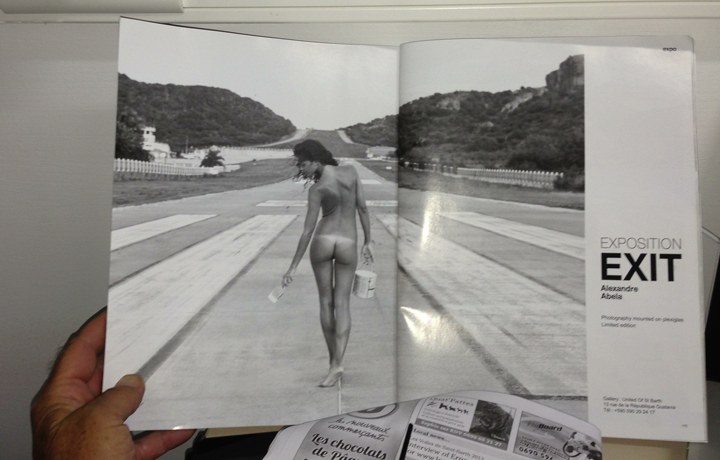 Back to pages 174-175. As you can see from the photo, on St. Barth the aviation authorities let a naked woman paint the runway. They don't do that on other islands. We know that San Francisco International wouldn't either — although they'd probably make an exception for fat, naked, gay guys. But not only do the authorities on St. Barth allow women to paint the runways while naked, as you can see from the photos on pages 178-179, they also let women dance naked on the runway in sequined high heels.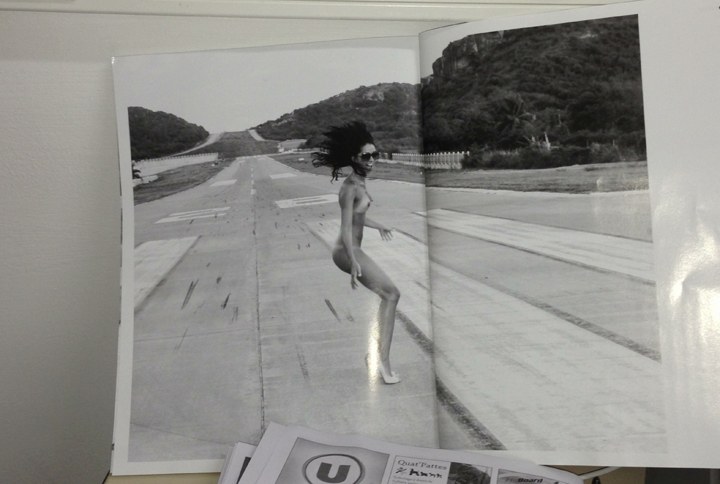 It's called joie de vivre. And yes, we're just as disgusted and appalled as you are.
Receive emails when 'Lectronic Latitude is updated.
SUBSCRIBE