The California sailing community has once again been thrown into mourning. San Diego's Craig Williams, 36, died this weekend during the Islands Race. Williams was crew aboard James Gilmore's San Diego-based Columbia Carbon 32 Uncontrollable Urge for the 130-mile race from Newport Harbor YC to San Diego YC, which leaves Catalina and San Clemente Islands to port. According to crew reports, the brand-new all-carbon boat had come off a particularly large wave when the rudder exploded, leaving the boat disabled.
Gilmore and crew — Mike Skillicorn, Doug Pajak, Craig Williams, Ryan Georgianna and Vince Valdes, the boat's builder — called a pan pan to inform the Coast Guard of their situation, but did not request rescue by the Coasties or other racers. Those who know the crew believe the very experienced sailors felt the situation was under control, as a commercial tow service had been called, and they didn't want to interfere with anyone else's race. Unfortunately, rough conditions of 8- to 10-ft swells and 30 knots of wind prevented the launching of the tow vessel.
As Uncontrollable Urge drifted down onto the lee shore of San Clemente Island, the crew attempted to set an anchor, but it dragged. They contacted the Coast Guard for assistance, but it was too late. The boat was swept into the pounding surf and broke apart. The liferaft they deployed was destroyed in the surf, and all six sailors were thrown into the sea.
A USCG helo plucked the sailors from the island's rocky shore after midnight and transported them to a local hospital, where Williams was pronounced dead. An active racer in Southern California aboard his Olson 40 Uproarious, he leaves behind a two-year-old daughter and a pregnant wife.
Uncontrollable Urge wasn't the only boat affected by hard reaching in strong winds and lumpy seas, which put a tremendous strain on rudders. Phillip Infelise's Flying Tiger Mile High Klub lost its rudder during the race for the second year in a row, but their outcome was much different. Through a cooperative effort by friends ashore and the Coast Guard, a replacement rudder was installed on the boat and she made it safely to Southwestern YC in San Diego.
Before tragedy hit, many racers commented on what a great race they'd had. The top three finishers — Peter Tong's SC 70 OEX, Brack Duker's SC 70 Holua and Roy P. Disney's (run by Robbie Haines) Andrews 68 Pyewacket — corrected out within two minutes of each other. In fact, OEX beat Holua by just nine seconds on corrected time! Ronnie Simpson, crew on Holua, will have a full race report in April's Latitude 38. He'll also report on the loss of Uncontrollable Urge and his friend Craig Williams.
We'll close this with a statement by the crew of Uncontrollable Urge:
"As we try to piece together the horrific events of Friday night and early Saturday morning, the crew of Uncontrollable Urge want to express their appreciation for the support of the sailing and land-based communities at this difficult time. We are all grieving and share in the loss of this loved family man and team member. There are no words to express how much Craig meant to each of us, and we know how much his loss is felt in the Williams family.
"We would also like to thank the US Coast Guard for their assistance and professionalism. Without their heroism, the outcome of this tragedy would have been much worse.
"Thanks also to San Diego YC, Silver Gate YC, and Newport Harbor YC for their assistance and understanding.
"Lastly, we ask that people donate to the memorial fund that has been established to assist the Craig Williams Family. The fund can be found HERE."
The body of William Hoffman was found aboard his boat Dark Star, type unknown, on March 6 at the Perula anchorage in Chamela Bay on Mexico's Gold Coast. Apparently other cruisers had alerted the Navy to the lack of activity on the boat and a strong odor emanating from her.
The navy secured the Ilwaco, WA-based boat, then towed her to Barra de Navidad.
As of now, the death is being considered a suicide. Sources tell us this was based on the fact that Hoffman's wrists were cut, there were no signs of a struggle, nothing seems to have been taken from the boat, the boat was not in disarray, and there was a partially completed suicide note.
Nonetheless, Charlie Free, a friend of Hoffman's, feels as though suicide is totally out of character with Hoffman. He's seeking information from anyone who might have had any contact or even seen Hoffman in February or early March. Free can be reached by email.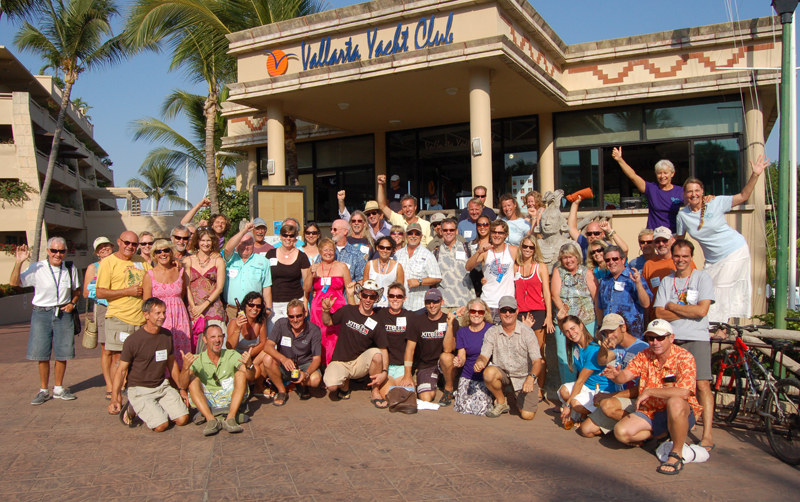 From California to Peru, dozens of cruising boats are now poised to depart for the palm-fringed anchorages of French Polynesia — a crossing of 3,000 miles or more that we call the Pacific Puddle Jump.
We got to know many of them recnetly during our Pacific Puddle Jump Send-off Parties at Nuevo Vallarta, Mexico (March 1 at the Vallarta YC), and Balboa, Panama (March 9 at the Balboa YC). As in years past, we shared info about immigration regulations, cultural traditions, and cruising the islands, then interviewed each crew for mini-bios that will appear in the April and May editions of Latitude 38.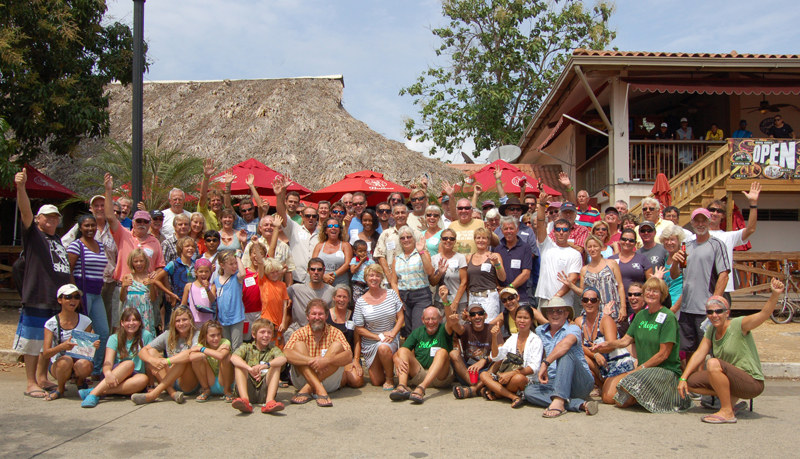 Although all sailors making this annual westward migration (timed between West Coast and South Pacific hurricane seasons) share similar cruising goals, their backgrounds, and the value of their boats, varieas wildly. Some travel aboard modest bargain boats, while others enjoy the luxuries of million-dollar-yachts. But as we often say, any decent boat will take you to the same spectacular anchorages.
Comparing the group of cruisers we met in Mexico with those we met in Panama, there were some dramatic differences. Because the Mexico contingent had been traveling on similar routes along the coast, many of them knew each other from previous encounters. And most come from similar backgrounds, having sailed for years in their home waters, and only recently adopted the cruising life.
By contrast, cruisers from all over the world converge on the Panama Canal, angling toward it from the Caribbean side of Central America, or along the north coast of South America. Two or three new boats trickle into the Balboa anchorages every day at this time of year, but few know each other before they arrive. And their backstories vary widely too. Some had come from Europe, others from New England, others from South Africa, and still others from islands of the Eastern Caribbean. One guy was completing his fourth lap around the planet!
To read more about this year's fleet, pick up a oopy of the April and May editions of Latitude — or download them for free from the Latitude website. Then ask yourself the questions: "When will it be my turn to jump the puddle?"
Receive emails when 'Lectronic Latitude is updated.
SUBSCRIBE