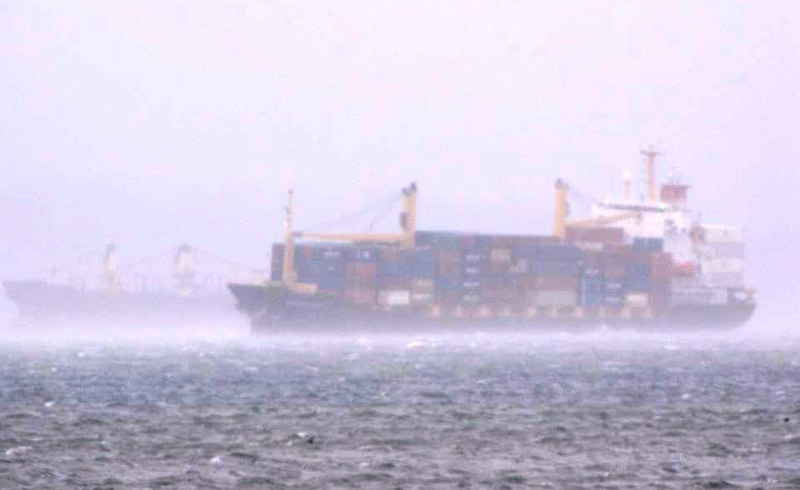 In the aftermath of Cyclone Evan's horrific destruction to western Fiji on Monday, clean-up efforts have only just begun. Some towns on the western shore of Viti Levu, the island nation's largest island, are said to resemble war zones. A wind gust of 104 mph was clocked at Nadi, although sustained winds of up to 135 mph were recorded elsewhere.
Widespread destruction of property and some flooding has been reported, but remarkably, no deaths have yet been discovered. Officials chalk this good news up to ample advance warning time and adequate preparations. A number of deaths were reported in Samoa, however, after the same storm swept through there several days earlier.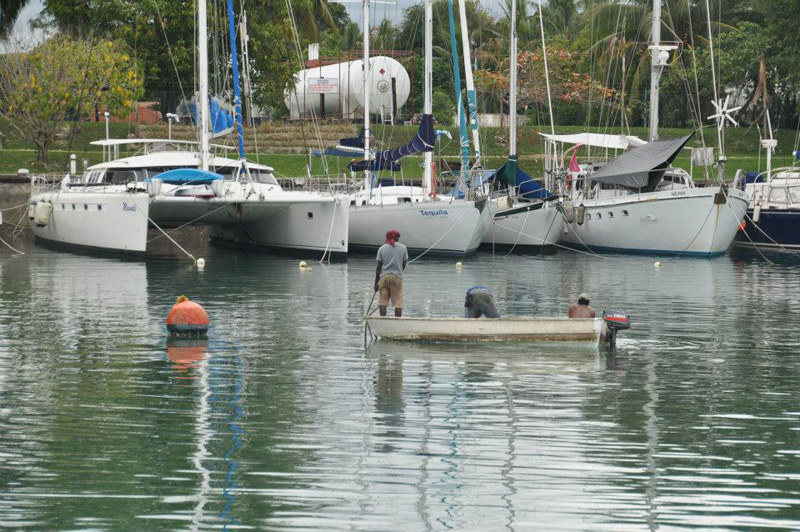 In the chains of small islands called the Yasawas and Mamanucas, which lie north of Viti Levu, Evan has been called the storm from hell, as they were directly in the path of the huge storm's eye which raged overhead for 15 hours.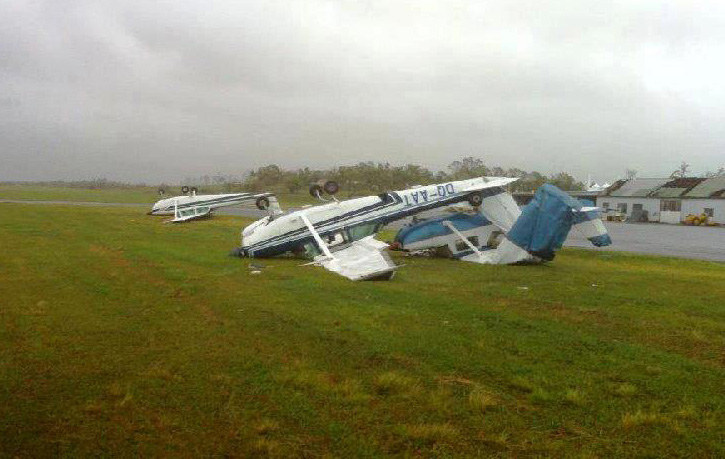 Near Nadi (now temporarily evacuated and shut down), Vuda Point Marina is a popular stopover for international cruisers. A recent post assumed to be by marina staff proclaimed: "We are still here! Everyone is safe." Apparently no boats were lost, although some incurred "minimal" damage. Although unconfirmed, sustained winds at the marina were said to reach 140 knots (161 mph). "We did get a surge, but not too bad. At first glance, we are very lucky!" Lucky indeed, as the brunt of the storm arrived at low tide. In his/her sign-off, the writer added: "Please send rum!"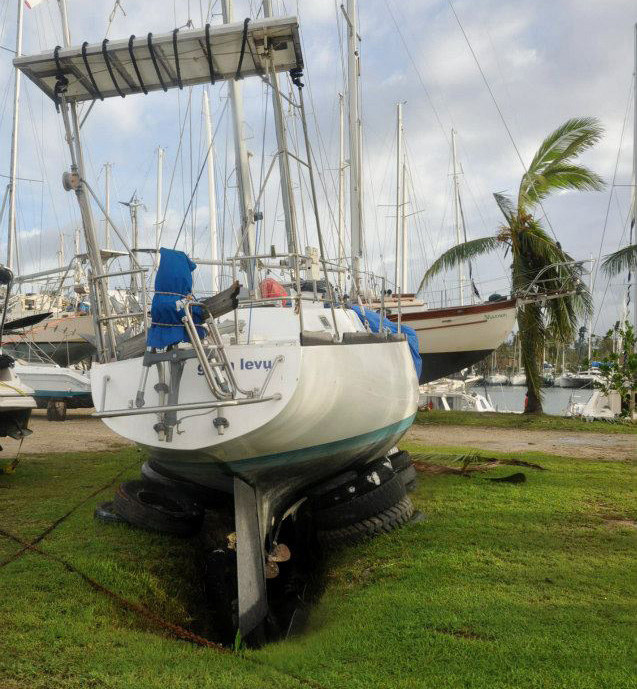 Evan has now downshifted from Category 4 to Category 3 as it moves south toward New Zealand, but its power is expected to diminish further as it proceeds into colder waters.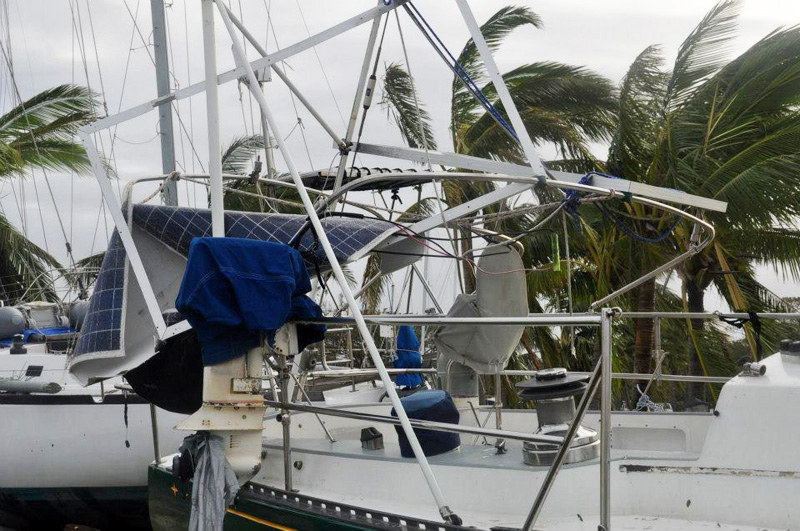 PHOTO
The last time we checked in with circumnavigator Jeanne Socrates, she'd just left San Francisco Bay after a sanctioned pitstop to replace her lost liferaft. Socrates left Victoria, BC on October 22 on her third attempt at a nonstop circumnavigation, which would make her the first woman to do the trip starting from North America. On November 5, Socrates sailed her Najad 380 Nereida under the Golden Gate Bridge and headed south.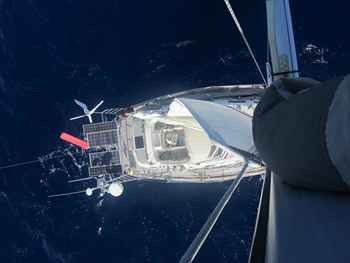 Just after Thanksgiving, Socrates made her seventh solo crossing of the equator, after three weeks of some frustratingly light winds and a blessedly uneventful passage through the ITCZ. In the weeks since, she's seen a mix of rough weather and dead calms, but has only experience minor equipment issues, such as a non-functioning wind transducer and loose bolts on the new liferaft's mounts.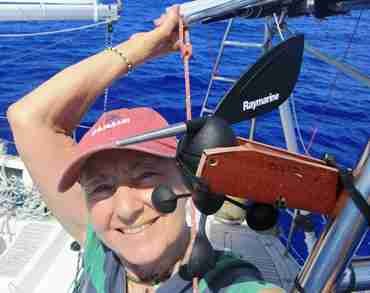 Socrates has been spending these relatively calm days preparing herself and Nereida for Cape Horn and the Southern Ocean. "I received a report that a large iceberg near Cape Horn has broken into three pieces and was now surrounded by lots of growlers and bergy bits," she noted in yesterday's blog post. "That's good news if the pieces melt by the time I — and the Vendée Globe racers — get there."
As of yesterday, Nereida was about 500 miles off Easter Island and 2,200 miles from Cape Horn. Socrates expects to reach the Horn sometime early in the New Year. You can track her progress on her website at www.svnereida.com.
As if the thrilling two-boat match race for the lead of the Vendée Globe isn't enough, sailing fans are going to be absolutely spoiled this Christmas with not just one, but possibly two more races to follow this holiday season.
Down under, the annual Supermaxi showdown Rolex Sydney Hobart Yacht Race is surrounded by hype and anticipation. Perennial line-honors winner and five-time Hobart champion Wild Oats XI is back to reclaim her title as line-honors champion in the annual Boxing Day classic. The custom R/P 100 has been modified to include a pair of vertical winglets on the back of the keel bulb and a light-air daggerboard on the bow.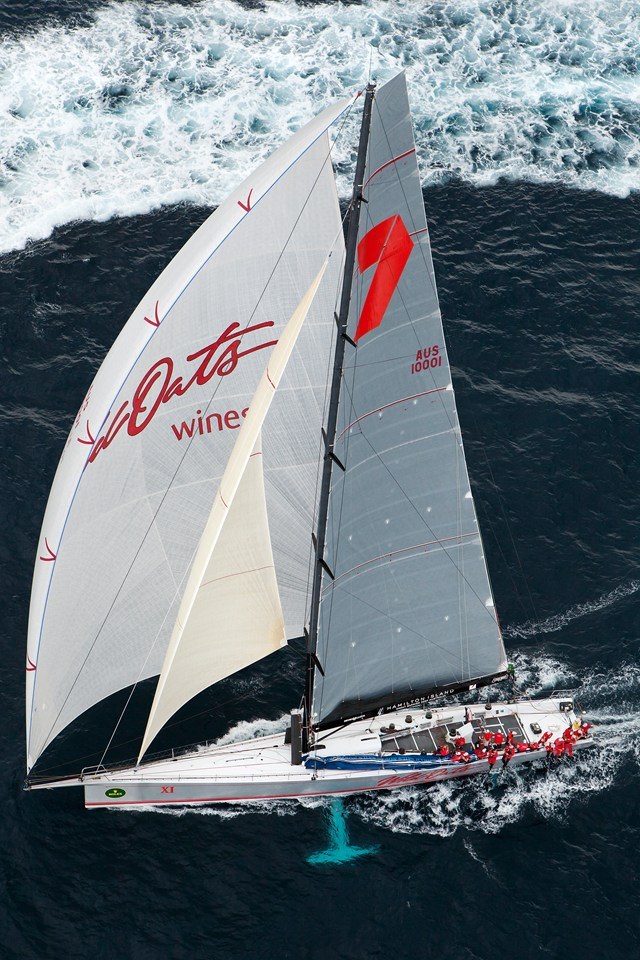 Drastic times call for drastic measures, and after an embarrassing loss to Syd Fisher's Ragamuffin Loyal in last year's race, Bob Oatley and the entire Wild Oats crew are obviously determined to redeem themselves. Ragamuffin Loyal meanwhile looks like a long shot to defend her title as the team is currently scrambling to repair their mast and rigging after crashing it into a bridge! The dark horse this year is Grant Wharrington and his Wild Thing. The 98-ft Supermaxi has been chopped in half, widened and lengthened to 100 feet'. She's longer, beamier and has a more powerful sail plan, and now has six female crew members onboard — the most women ever to race on the same Supermaxi!
Back stateside, the modified VOR 70 Maserati has posted up in the heart of New York's financial district at Manhattan's North Cove Marina to attempt to break Yves Parlier's 14-year-old New York-to-San Francisco record of 57d, 3h, 2m. The route, which takes sailors 13,225 miles from New York to San Francisco via a wrong-way rounding of Cape Horn, will be attempted by a crew of nine, including American Barcelona World Race veteran Ryan Breymaier and his BWR co-skipper, German sailor Boris Hermann.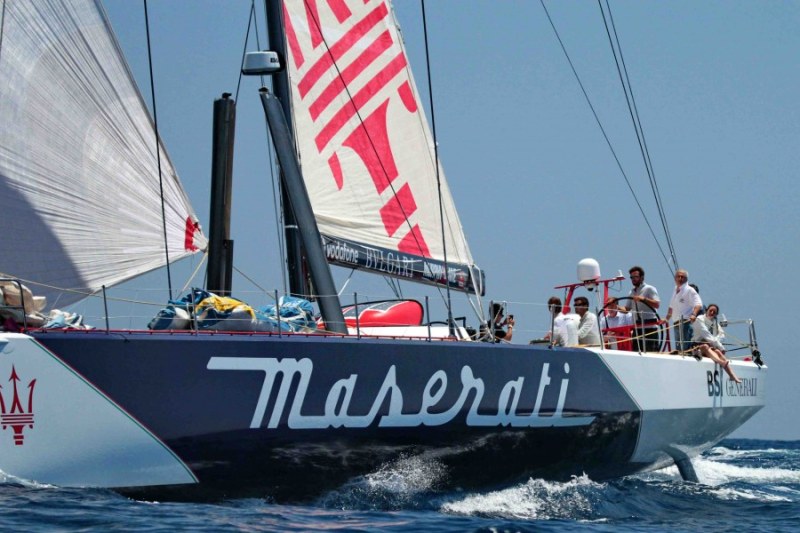 Skippered by 1999 Around Alone Champion Giovanni Soldini, the crew has officially gone on stand-by status and expect to leave on Christmas Eve. "We don't expect the right weather conditions before December 19", explains the veteran Italian skipper. "The best for us would be to set off behind a low pressure with northwest winds of 25-30 knots. It's a cold wind arriving from Canada."
So kick your feet back, grab a glass of egg nog, turn on the Vendée tracker, watch the Sydney Hobart start live over the web on December 26, and hope that Soldini and his boys get the weather window they're looking for to leave Christmas Eve! This Christmas is going to be great!
Receive emails when 'Lectronic Latitude is updated.
SUBSCRIBE