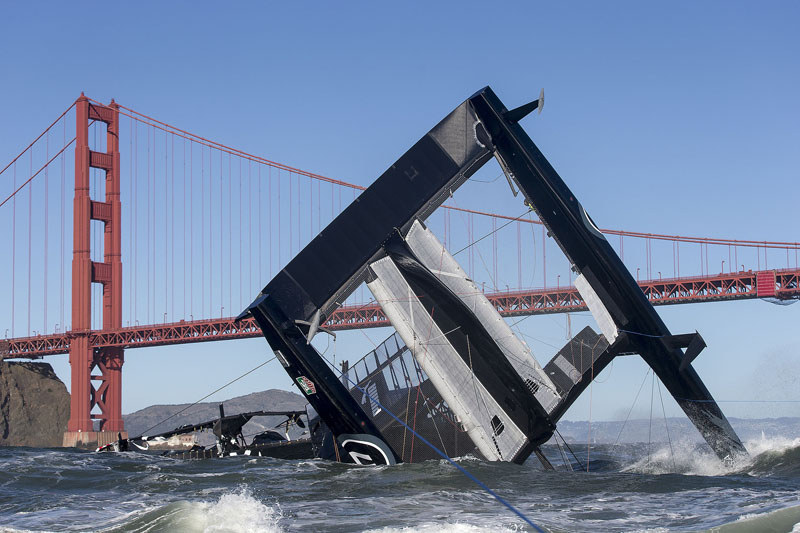 Ever since Oracle Team USA's AC72 catamaran was launched recently, many racing fans — and crew members — have been wondering when and if the radical speed machine would capsize in San Francisco Bay's strong winds. They needn't wonder any longer, as the big cat nose-dived and flipped yesterday at roughly 3 p.m. just inside the Golden Gate.

"We called for a bear-away as we were out training," recalled tactician Tom Slingsby. Winds had built during the afternoon to about 25 knots, accompanied by a strong ebb. "We started the bear-away, and as the boat accelerated it pitch-poled." Per the rules established for America's Cup 34, each team is only allowed 30 days of training prior to January 31, 2013. This was the the team's eighth practice day.
"When the nose went down," Slingsby continued, "the wing hit and a few guys went in the water. We were unsure if the wing would snap, so we all climbed off the boat." Fortunately none of the crew was injured, but the crumpled wing appears to be all but a total loss. Oracle support boats were on the scene, so crew were picked up quickly, with Coast Guard assets standing by also.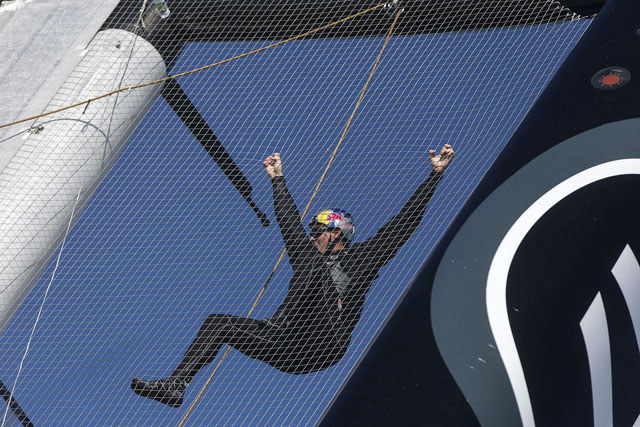 But with the force of the strengthening ebb — which reached a max of 5.5 knots around 5:30 p.m. — the capsized hull was swept about four miles outside the Gate before it could be righted and towed back to its base along the Cityfront, arriving early this morning.
"There's no question this is a setback," Spithill said. "It's going to be a big test for this team. But . . . this won't stop us from winning the America's Cup." For complete info on America's Cup 34 see the official site.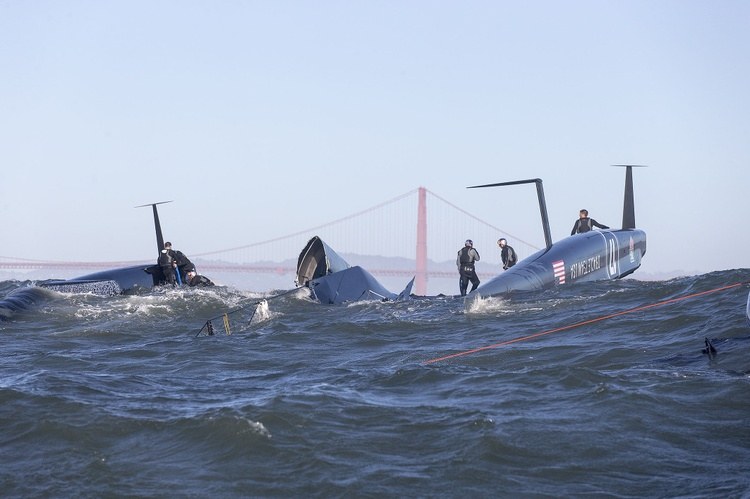 It took yesterday's capsize — and recovery, such as it was — of the Oracle AC72 to make us fully appreciate just how gigantic and unwieldy these catamarans are. Actually, it wasn't the capsizing in 25 knots of wind that shocked us — at some point we all expected that to happen — but rather the video of the nine Oracle rescue boats struggling in vain to keep the askew monster from drifting a reported four miles outside the Gate on a strong ebb. "We're a little out of control here!" the video screamed at us.
Thank god nobody was seriously hurt or killed. Let us repeat that: Thank god nobody was seriously hurt or killed.
We were even more surprised by the fact that — while the capsized Oracle was still drifting out the Gate, and bits of her main were becoming souvenirs all over the Bay — it was announced that nothing has changed, and that the America's Cup 34 will continue as planned.
In the past, Oracle honcho Russell Coutts has seemed to confess that maybe they had gone a little too extreme with the parameters of the AC72s in an attempt to make the America's Cup competition more exciting. Ya think? As such, it crosses our minds that the capsize of the Oracle cat, and the total destruction of her main, might signal a perfect opportunity to take a week or so to digest what has happened, what it portends for the event as planned, and what possible alternatives there might be.
At this stage of the game, it would be extremely embarassing, very poor form, and create an uproar if dramatic changes were made to the very fundamentals of the 34th America's Cup. On the other hand, would it not be even worse form and more humiliating if not even two of the 72s, and their mains, survived their trials for there to even be an America's Cup?
If we were Russell Coutts, and more importantly, Larry Ellison, we would take this opportunity to suggest an alternative to all interested stakeholders. The alternative is that the huge — as well as hugely expensive and hugely complicated AC72 cats — be scrapped as of right now. To make up for what the other teams have invested, Larry would purchase a MOD 70 trimaran for each of the teams that has participated so far. Given the much less expensive option, other syndicates might decide to jump in.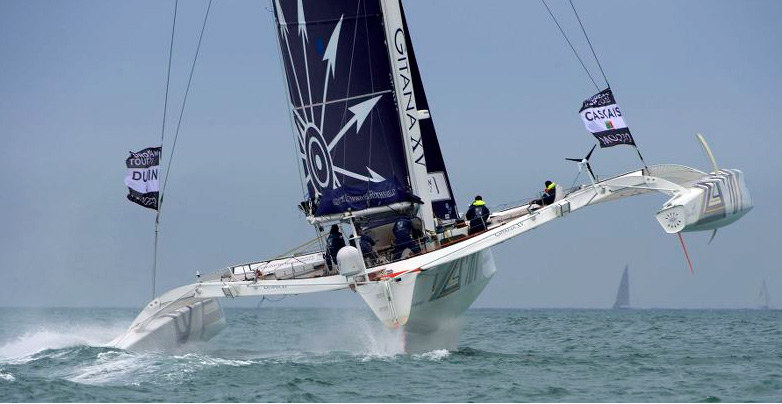 Despite having only soft sails, these brand new extremely high performance trimarans from VPVL have proven themselves, both when sailing across the Atlantic and in inshore races in Europe. We're talking over 700 miles in 24 hours in their first ocean race, and lots of mid-30s at other times. The MOD 70s are only two feet shorter than the AC72s, damn near as fast, and cost a fraction of the price. And having raced across the Atlantic at 30+ knots, have what it takes to race safely on San Francisco Bay.
Since the MOD 70s are one-designs with soft sails, they are compartively easy, quick and inexpensive to build — particularly when compared to the AC72s. And because the first batch was made in Europe, we're sure another dozen could be made in time for next year's slated World Series in Venice, Italy, in April and Naples, Italy, in May, and be already in Europe for those events. After the European World Series, they could be shipped to Newport, Rhode Island, and then San Francisco, for additional World Series events in the summer of '13. That means the America's Cup 34 would be postponed until '14, which is fine with us, as we think it's a much better prospect than what we're sailing toward now. And one last thing that we think every spectator would agree on — the America's Cup should be fleet racing, not match-racing, which is so last century.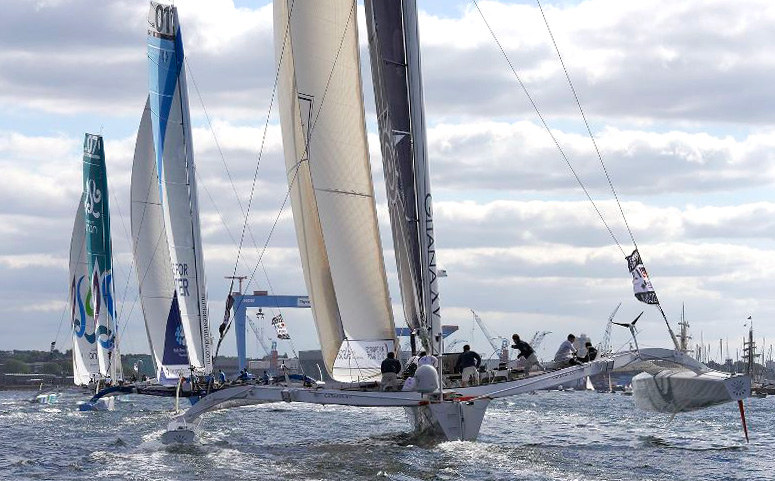 We want to know what you think. But you have to tell us in less than 100 words.
For many years it was Josh Slocum's, then Dennis 'Sexual Chocolate' Rodman took over — and built a bedroom upstairs — and now it's the Div Bar. Despite the name, it's also a smokehouse with great BBQ, wood-fired pizza, and the like.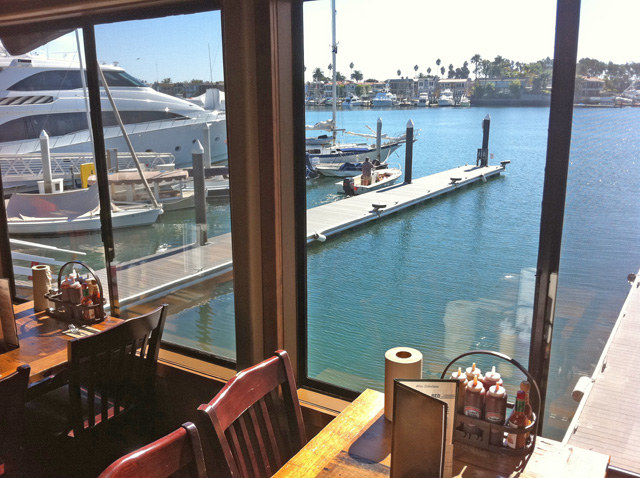 The Div Bar is situated between the Pacific Coast Highway and the western end of Newport Harbor. It has a big double dock for patrons to arrive by boat. Since nobody comes to eat before noon, Markus Mrakovcich, the restaurant manager, had bright idea. Why not let southbound cruisers, many of whom anchor at the temporary anchorage — because of Newport Harbor dredging — use the docks for free until noon?
"We welcome cruisers to come into the dock," says Markus, who is an enthusiastic sailor. "If they have a hose, they can fill their water tanks or even wash down their boats. They can also run to the banks across the street, hit the stores, or even make the short trek up to Minney's Marine Surplus on Newport Blvd. Everyone just has to promise that they'll leave before our customers arrive at noon."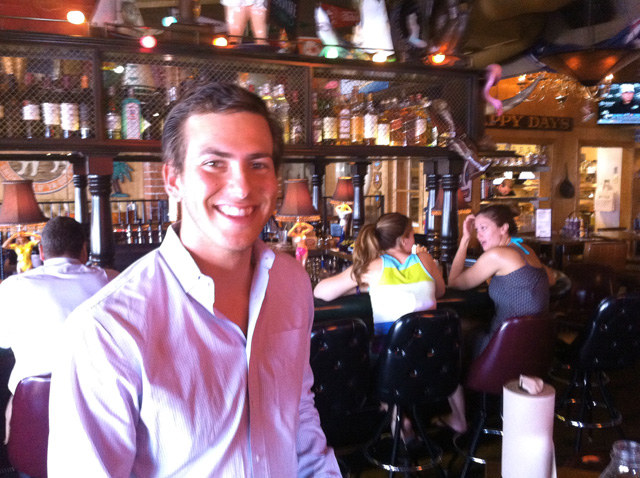 How about that kind of hospitality?!
The Div Bar is easy to find from the water. Just look for Ernie Minney's DownEast 38 Anita. "She's named after my fourth wife," Ernie told us.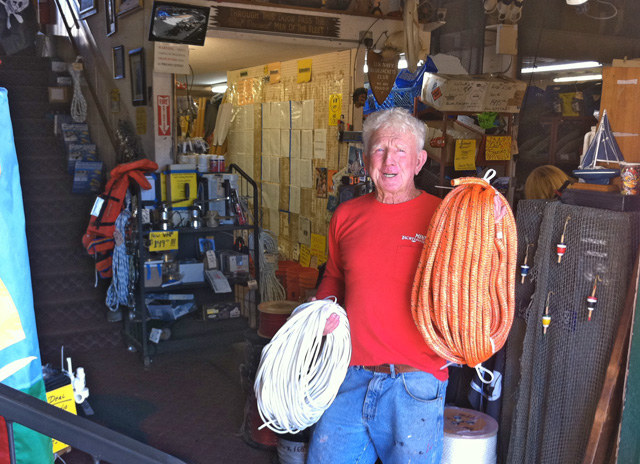 If you're a southbound cruiser looking for bargain on marine gear, Minney's has the biggest selection on the coast. He's probably got more line, anchors, blocks, shackles, charts, lights, flags, and used sails than the U.S. Navy. Tell Ernie you'd like the 'Ha-Ha discount'. There really isn't such a thing, but knowing Ernie, he might give you one anyway.
Receive emails when 'Lectronic Latitude is updated.
SUBSCRIBE