We're saddened to report that Max Young, who spent nine years circumnavigating aboard his Sacramento-based Perry 47 Reflections and who was on his way back to the Bay after spending the last couple years in the Caribbean, lost his boat Wednesday off the coast of Baja after a collision with a whale. According to the Coast Guard, Young was singlehanding about 40 miles west of Punta Abreojos Tuesday night when the whale breached, damaging the boat's prop shaft and rudder and causing her to take on water. Young activated his EPIRB, and the Coast Guard Command Center in Alameda responded by diverting an HC-130 and requesting assistance from the 623-ft bulk carrier Ocean Virgo, which was about 60 miles away.
By the time the plane crew made contact with Young, around 2 a.m. Wednesday morning, Reflections was riding low in rough seas while Young did his best to keep up with the inflow. The flight crew stayed on scene until Ocean Virgo arrived around 4 a.m. Young, who was apparently uninjured, was taken aboard the ship at sunrise and is now bound for Panama, but will be returning to Northern California soon. We hope to have a full account of his story in a future edition of Latitude 38 but in the meantime, check out CNN's video report on the rescue below.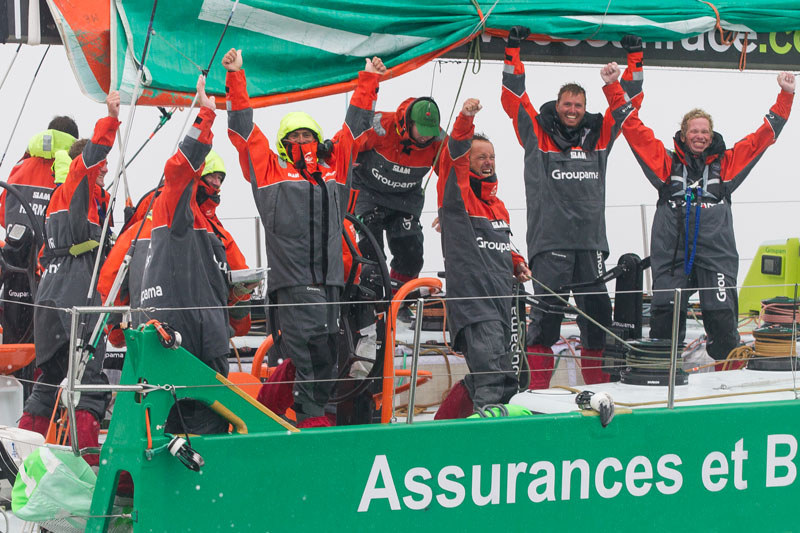 The battle of the red, green and blue boats in Leg 8 of the Volvo Ocean Race is just finishing up in Lorient, France. The green boat, Groupama, has earned more points, and now has a comfortable but not unassailable lead for the overall race. The blue boat, Telefónica, keeps getting into trouble and has lost points. At the last in-port race in Lisbon, Portugal, she fouled Puma, one of the red boats at the start, and after doing a penalty turn she ended up finishing last and losing out on valuable points.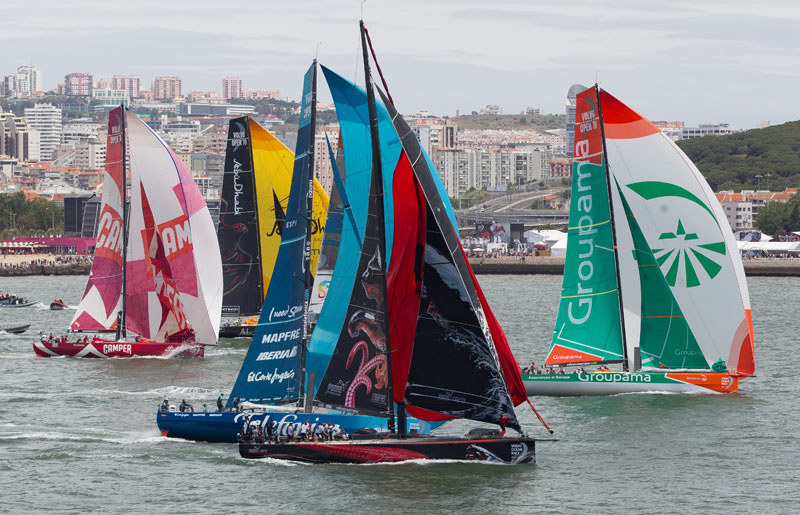 The short 1,950-mile "sprint" from Lisbon to Lorient saw many lead changes and a heavy weather run to the finish. Racing along in 40 knots of wind, the fleet ran at full throttle, and with the boats so close and the finish so important, the crews never had a chance of backing down. "It is that old question, when to pull back and when to keep pushing," said skipper Chris Nicholson on the other red boat, Camper, during the leg. "You just have to judge things at the moment and keep pushing hard. At the moment things are alright, so we keep blasting along, chasing down the leading boats just a handful of miles away." The blue boat Telefónica must have hit the red line too many times – they broke both rudders with only 200 miles to go.
At the finish this morning, Groupama blasted in first with Camper second, Puma third, and Abu Dhabi fourth. As we post this story, Telefónica is still having trouble 45 miles out, with Sanya closing in on them. Telefónica's troubles put Puma in second place overall. Kenny Read on Puma summed up the leg: "I hope I'm wrong, but I have a feeling we've seen the opportunity to win this race slipping away. Groupama struggled in the beginning. But they keep getting better. Good for them, bad for us."
See www.volvooceanrace.com for more.
Receive emails when 'Lectronic Latitude is updated.
SUBSCRIBE